This Lime Ginger Salmon is quick to prepare and packed with flavor for a simple and healthy mid week 30 minute meal! The marinated salmon is tender and juicy and goes well with tons of sides.
You might also enjoy my honey garlic salmon, baked teriyaki salmon, or peanut butter salmon. We even recently air fried salmon with Brussels sprouts!
If you're looking to add more fish to your weekly dinner rotation, there are so many ways to do that. Grilled shrimp skewers in the summer and healthy fish tacos on taco Tuesdays, for example.
However, on weeknights when you want something fast, easy, and low maintenance, simply broiling deliciously marinated salmon is just the thing!
Sweet chili salmon is another family favorite if you like the combination of sweet and spicy.
This lime and ginger salmon recipe takes just a quick 10 minutes for the fish to soak up the healthy salmon marinade made of lime, freshly grated ginger, honey, and simple seasonings.
The flavors penetrate just enough to give the lime ginger salmon a burst of flavor and tender, flaky juicy results.
Need more dinner time inspiration? Browse 65 easy healthy dinner recipes!
Lime Ginger Salmon Ingredients
To make this easy lime and ginger salmon, all you need are pieces of good quality fillets and simple and fresh marinade ingredients.
Salmon fillets: Skin on or off. Wild caught if possible. Other types of firm fish you could use are halibut, snapper, rockfish, or cod. I like to keep some extra for my lemon butter baked cod.
Extra virgin olive oil: The base of this easy salmon marinade recipe. It's neutral in flavor and allows for the other ingredients to shine through.
Maple syrup: The delicious sweetness to balance out the pungent zesty flavors of the lime and ginger. Maple is a classic flavor pairing with salmon, as is honey which you can also use.
Large lime: Use both the zest and the juice, so make sure to wash the lime first.
Fresh ginger: Grated ginger adds a ton of aromatic flavor.
Salt & pepper: Light seasoning is all this lime and ginger salmon needs.
Cooking spray: I use Misto for a nonstick surface to broil the salmon on.
It's always a good idea to stock your freezer when fresh, good quality fish is on sale.
How to Make Lime Ginger Salmon
First you marinate, then you cook salmon, then you eat. It couldn't be easier to make this lime and ginger salmon!
Whisk the lime ginger salmon marinade ingredients together in a medium bowl. Pour 3/4 out into the bottom of a baking dish or platter and place salmon fillets flesh side down in the marinade for about 10 minutes.
Take the marinated pieces of salmon and place them on a parchment-lined baking sheet sprayed with cooking spray. They should all be facing skin side down this time. Drizzle the remaining marinade over top of the salmon.
Broil on high on the top rack about 5-6 inches below the heating element for 12 minutes. Rotate the sheet pan to prevent the lime ginger salmon from burning and to ensure even browning. Enjoy!
How Long Can You Marinate Salmon?
When you use acid in your marinade, in this case, lime juice, after a while it starts to "cook" the fish. If you leave it marinating for too long it will break down the fish too much causing it to become mushy.
I suggest no longer than 12 hours for this salmon with lime, however you really only need 10 minutes!
Can I Reuse Marinade That Salmon Has Been In?
Not unless you plan to boil it and use it as a glaze. It's been contaminated with raw fish, so be sure to discard it when you're done.
Can You Freeze Salmon In Marinade?
You can freeze uncooked lime and ginger salmon in the marinade if you are using fresh, never frozen, salmon fillets.
How Do I Know When Salmon Is Done?
The salmon flesh should be lighter pink, opaque, and salmon flakes easily with a fork.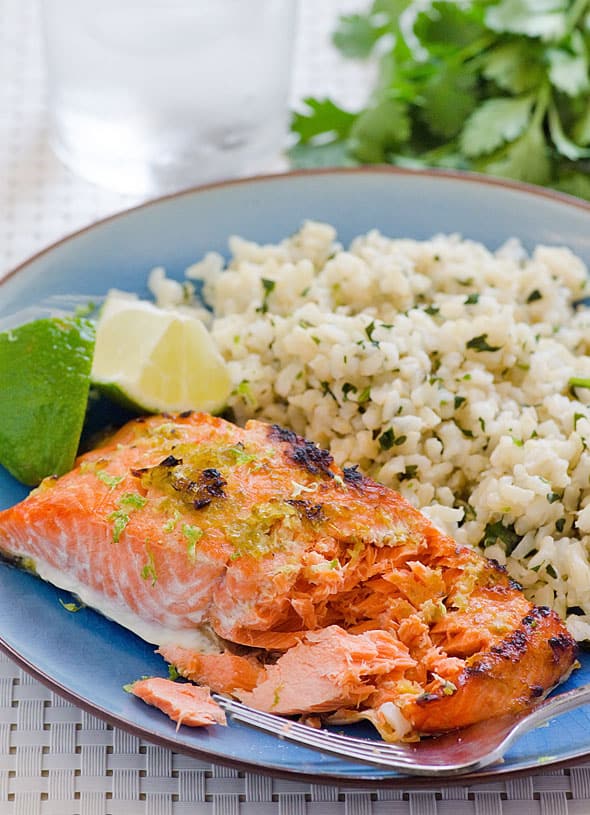 FAQs
Is it safe to marinade lime ginger salmon overnight?
Yes, as long as it's no longer than 12 hours.
Am I able to use other salmon besides sockeye?
Absolutely. Any wild-caught salmon like sockeye, coho, king salmon works. Farmed salmon is more fatty and comes out more juicy. Wild-caught is leaner and healthier. Depends on your budget.
Can I grill marinated salmon?
You can and you should! I have a great recipe for grilled salmon which comes with plenty of tips on grilling the perfect fish. Use to it grill up some lime and ginger salmon once grilling season starts.
Am I able air fry my marinated salmon?
The air fryer is a fast, easy, and convenient way to cook lime and ginger salmon without turning on the oven. My air fryer salmon is another must try recipe!
Serving Suggestions
Lime and ginger salmon served with brown rice and a side of oven baked asparagus is a complete meal ready in under 30 minutes. It's refreshing, tasty, and very healthy!
Serve with a healthy potato salad for a light lunch and don't forget to save some fish for a healthy salmon stir fry for dinner tomorrow night!
As a mom, I know that creating good habits around your family's eating, and building healthy relationships with food is a full time job! My kids love salmon with a side of Brussels sprouts, or garlic green beans but I know not all kids do.
Storage Instructions
Refrigerate healthy lime and ginger marinated salmon in a glass airtight container. Enjoy warm or cold leftovers for up to 3 days.
More Salmon Recipes You'll Love
You might also enjoy browsing all of my salmon recipes!
Healthy Lime and Ginger Marinated Salmon
Lime Ginger Salmon recipe marinated in honey, lime juice and ginger, and then quickly broiled to perfection.
Instructions
In a small bowl, whisk oil, maple syrup, lime zest and juice, ginger, salt and pepper.

Spread 3/4 of it on the bottom of baking dish or platter. Lay down salmon fillets flesh side down into the marinade and let marinate for about 10 minutes.

Turn on oven's broiler on High and position top oven rack 5" – 6" below the heat source. Line large baking sheet with unbleached parchment paper, spray with cooking spray and place salmon fillets skin side down (if any). Coat with remaining marinade.

Broil for 12 minutes, rotating baking sheet to ensure proper browning and prevent burning. Serve hot with brown rice.
Notes
Store: Refrigerate in a glass airtight container for up to 3 days.
You can leave the skin on or remove it. Any firm white fish would work as great. I can think of snapper, halibut, cod, rockfish.
Nutrition
Serving:
1
piece
|
Calories:
277
kcal
|
Carbohydrates:
4
g
|
Protein:
34
g
|
Fat:
13
g
|
Saturated Fat:
2
g
|
Cholesterol:
94
mg
|
Sodium:
463
mg
|
Fiber:
1
g
|
Sugar:
3
g