Budget-friendly Canned Salmon Cakes are the tastier healthy version of this classic appetizer. These salmon patties are crispy and golden on the outside, tender and flaky on the inside with only a subtle salmon flavor.
I also highly recommend to try this incredible canned salmon salad recipe!
Why You'll Love This Recipe
It's a crowd pleaser: Kid and adults love these canned salmon cakes because they are fried, have subtle salmon flavor and are a finger food. Just like tuna zucchini cakes are!
Easy to make: You will have to combine just 6 simple ingredients in a bowl and fry.
Budget-friendly recipe: Canned salmon is one of the most affordable proteins at the grocery store, making for one very inexpensive healthy dinner.
Healthy: There are no processed ingredients in these canned salmon patties, not even breadcrumbs. So these cakes are also gluten-free if you use certified gluten-free oats!
Foolproof recipe: I grew up in a household where money were tight, so we made all kinds of cakes all the time. I'm very familiar with what it takes to make salmon cakes that don't fall apart!
Ingredients for Canned Salmon Cakes
Canned salmon: I recommend to use canned pink salmon. Not only it is wild salmon but it's also much cheaper than canned sockeye salmon. Please see more on that below.
Sweet potatoes: Skin on and cubed. You can also use yams which are a bit more starchy. We will cook them first in a pot with water until soft. They act as a binder, add fiber, volume, bright orange color and nutrients to the canned salmon cakes.
Oats: Used for binding along with the eggs. You can use either quick oats or rolled oats. It is my way to avoid breadcrumbs.
Eggs: You'll need large eggs for this recipe. I don't recommend to skip!
Garlic clove: Grated garlic adds a lot of flavor without calories.
Fresh herbs: I love to use fresh dill because dill and salmon are a wonderful pairing. But fresh cilantro or parsley will also work.
Salt and pepper: Canned salmon has quite a bit of added salt already. Just a bit more of salt brings out natural flavors of the rest of the ingredients.
Oil: Use any neutral oil with high smoke point like avocado oil, coconut oil or olive oil for frying the salmon patties.
What Is the Best Canned Salmon to Use?
More likely at any grocery store you will find 2 varieties of canned salmon: pink salmon and sockeye salmon. Pink salmon is considered a lower grade salmon species with light pink color flesh, and is more affordable. Sockeye salmon is more high-end salmon with bright red color meat and costs quite more.
Both varieties are wild-caught salmon. Both are pressure-cooked the same way with skin and bones, then canned in a salty broth.
For this canned salmon cakes recipe, you will use all meat, skin, bones and juices. No need to drain your cans of salmon. And don't worry, the bones are soft because they have been pressure cooked.
I think the best canned salmon to use is canned pink salmon because it costs less and tastes just as good when combined with other ingredients. Feel free to use sockeye salmon as well. I say, it all depends on your budget!
How to Make Canned Salmon Cakes
In this easy salmon patties recipe, you have to pre-cook sweet potatoes first, which takes just 15 minutes or so. Then make the cakes mixture and pan fry them until golden.
Cook and mash sweet potatoes: Cook chopped sweet potatoes in a pot of water for about 15-20 minutes. You want them to be fork tender. Then drain, transfer to a large bowl and mash with a fork or a potato masher.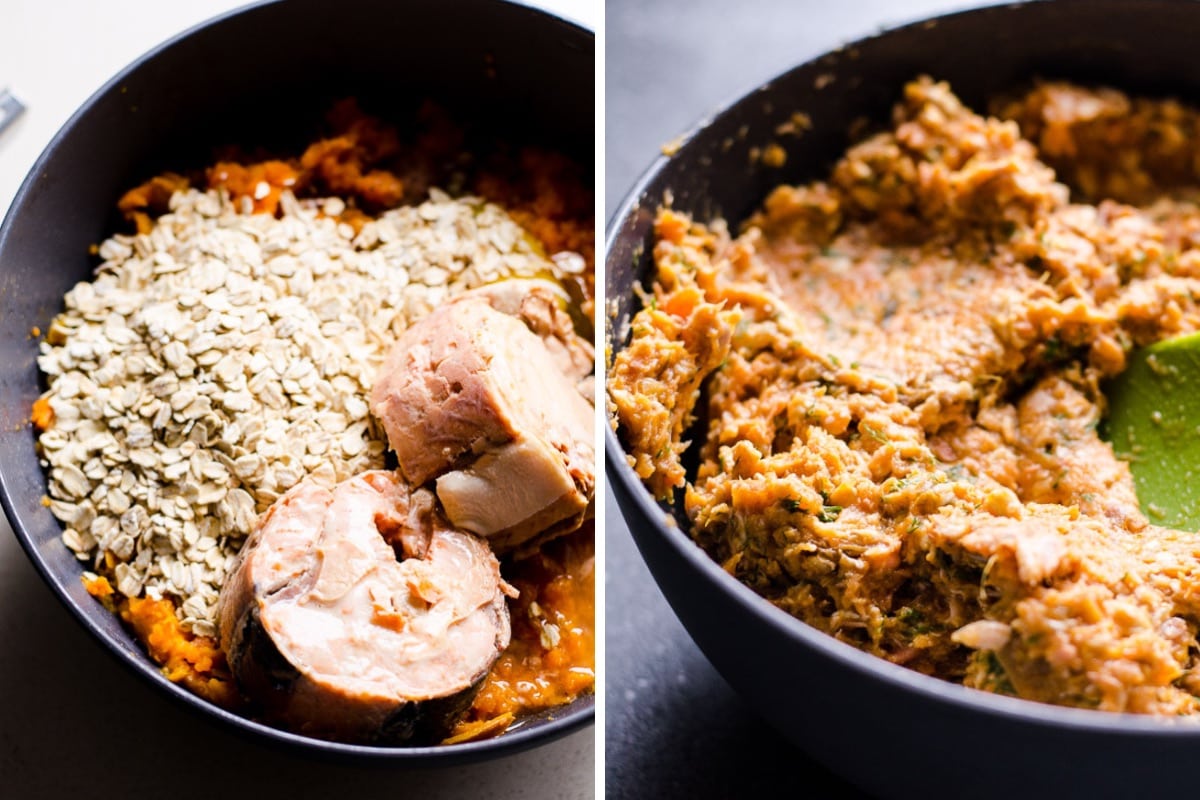 Add remaining ingredients: Add canned salmon including the juices, eggs, oats, garlic, dill, salt and pepper. Mix with a spatula, breaking up salmon into small pieces and until uniform mixture is formed. Let it sit for 15 minutes to allow the oats to soak up the liquids and act as a binder.
Preheat the pan and form patties: Preheat large skillet on medium heat, then add oil and wait a little bit for it to heat up but not smoke. Scoop out less than a 1/4 cup of salmon mixture at a time and form it into small cakes. If you make them too big, they won't hold their shape as well.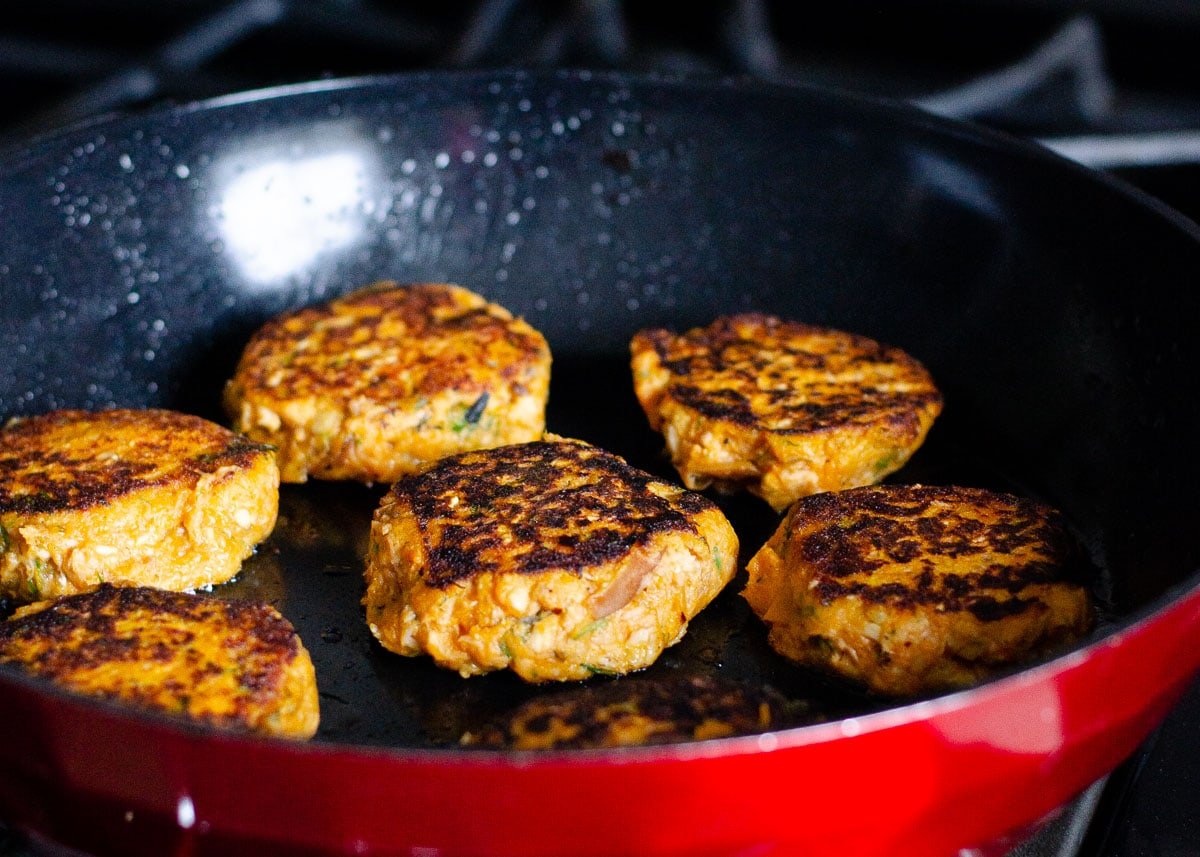 Pan fry the cakes: Place salmon cakes on a hot skillet and cook. Watch for the patties to turn golden brown on the bottom and carefully flip with a spatula. Cook for another 5-7 minutes. Keep an eye on them and watch for a nice crust to form.
Tips for Best Results
Be sure to use hot skillet: Make sure both your skillet and oil are hot before adding anything to it! This is the secret for crispy on the outside salmon cakes.
Cook patties undisturbed: It might be tempting to peek under the spatties prematurely before flipping but please don't. You will break the seal created between the meat and skillet ending up with less of a golden brown crust than you should have!
Mashing sweet potatoes tip: If you like the fine texture that a food processor yields, you can puree cooked sweet potatoes instead of mashing by hand.
Reduce heat on the stove: Remember that as the skillet gets hotter, salmon patties cook faster.
Salmon leftovers: If you have baked salmon leftovers, mash them up and voila.
What to Serve with Salmon Patties?
These delicious canned salmon cakes can be served hot or cold. Either way they are extremely tasty!
You can serve fish patties with a side of your favorite creamy dip like Greek yogurt tartar sauce, healthy ranch or even cottage cheese ranch dip. Add a lemon wedge and squirt a bit of fresh lemon juice over the salmon cakes before eating them. The pop of citrus balances the fish so nicely!
Serve salmon patties on a tray as an appetizer for a crowd, or sandwich them between two buns or English muffin. They would pair nicely with some creamy healthy coleslaw or simple side salad like butter lettuce salad.
And the best part is, this recipe yields enough to leave you with plenty of leftovers for healthy lunch.
How to Store and Reheat
Store: Store salmon cakes leftovers in an airtight container in the fridge for up to 5 days. You can enjoy them cold or reheat.
Reheat: You can reheat them by sauteing on low heat in a skillet with a bit of oil until warmed through. Or microwave in 1-2 minutes increments.
Freeze: This recipe makes a lot, which is great for freezing! Freeze salmon cakes in airtight container in a freezer for up to 3 months. Thaw in the fridge overnight or on the counter for a few hours.
FAQs
How do you keep salmon cakes from falling apart?
To prevent canned salmon cakes from falling apart follow the recipe closely, let mixture sit for 15 minutes before frying and shape it into small patties. Eggs combined with mashed sweet potatoes and oats create a solid binding base for the cakes!
Can I use fresh salmon instead of canned salmon?
Readers ask all the time if they can use fresh salmon instead of canned salmon in this recipe. Yes, you can use fresh salmon to make salmon patties but you have to cook it first! Here is a quick tutorial how to bake salmon or how to grill salmon. Also you might want to add a bit of water to substitute for lost canned salmon juice. Helps to keep the cakes moist.
What else can I use instead of canned salmon?
Salmon cakes are the lower-budget version of a fancy crab cake. If you happen to have some crab on hand, this recipe will work for crab cakes as well.
Can I make salmon patties ahead of time?
Yes you can prepare the salmon mixture ahead of time. Cover the bowl with plastic wrap and refrigerate for up to 2 days. When ready to cook, just pan fry the cakes as per recipe.

If you would like to freeze them, form individual patties, wrap each one in a plastic wrap and freeze for up to 3 months. Cook from frozen adding a few minutes to cook time per each side.
Can I bake or air fry these?
Yes. To bake salmon cakes, bake them on lined with parchment paper baking sheet in preheated to 400° F oven for 12 to 15 minutes per side.

To air fry the cakes, place them in a basket of air fryer, spray with cooking spray and air fry for 10 minutes at 400° F.
More Salmon Recipes to Try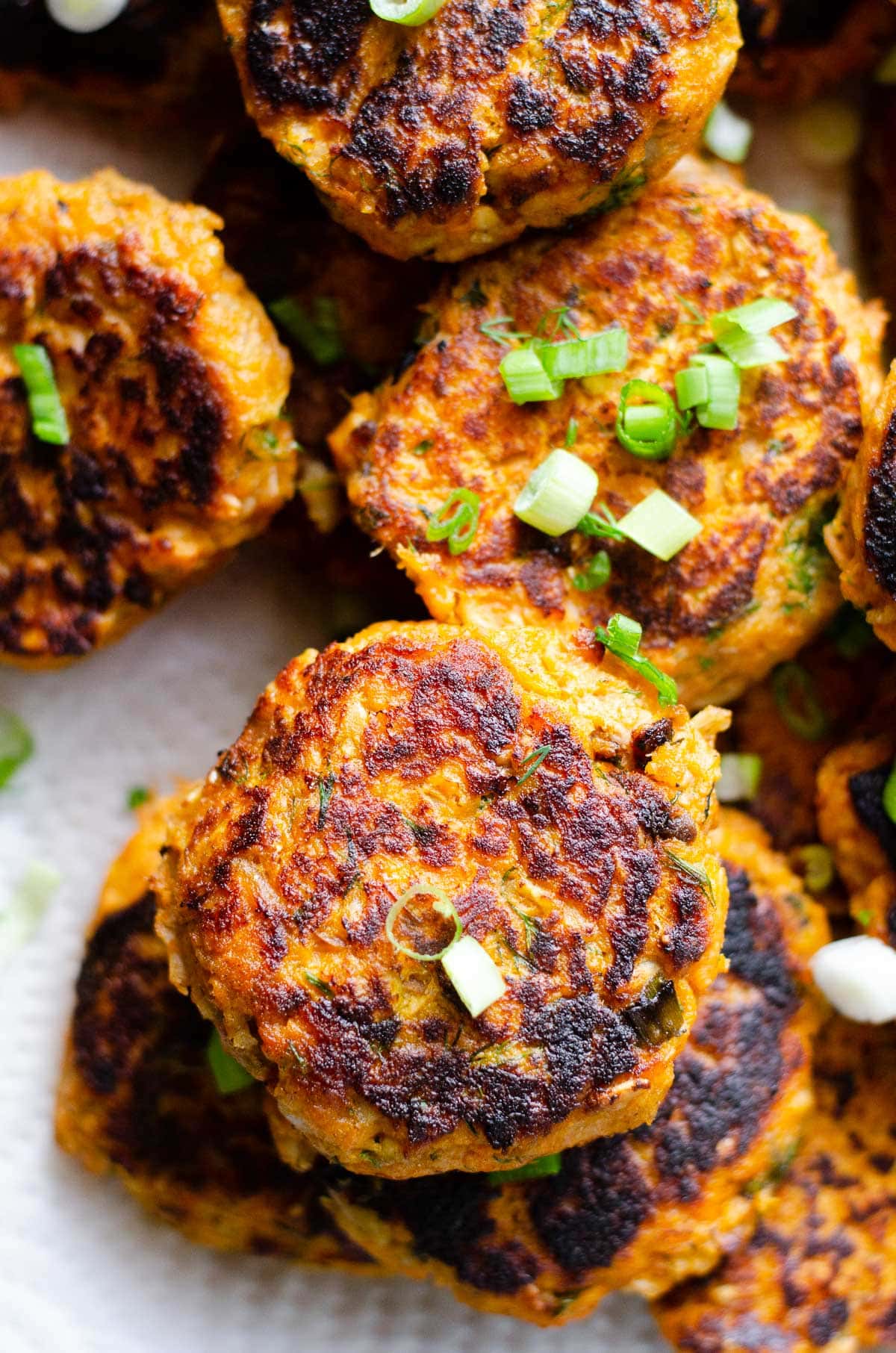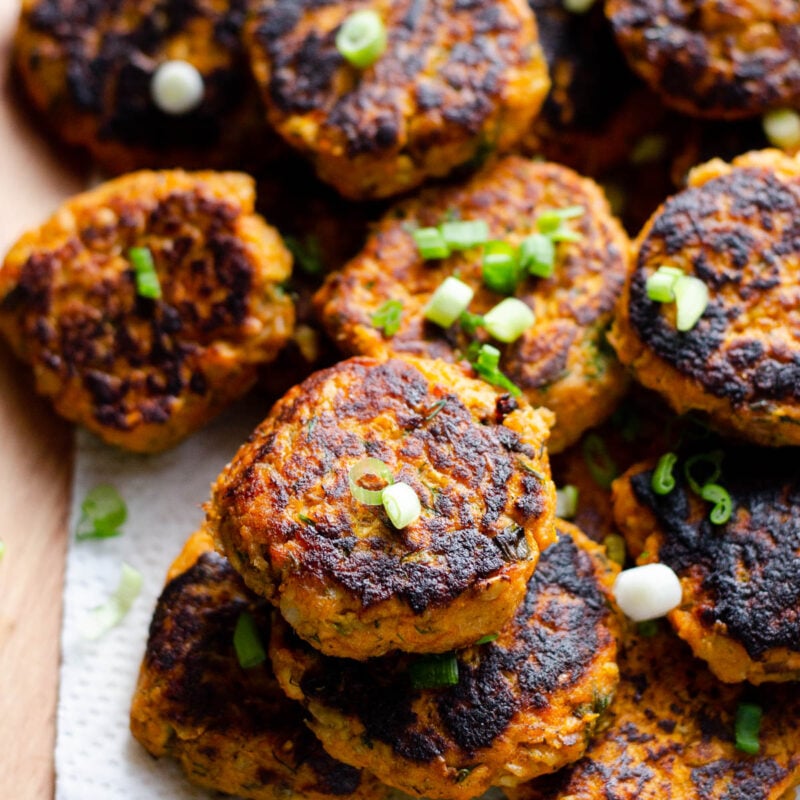 Canned Salmon Cakes
These budget-friendly Canned Salmon Cakes are crispy and golden on the outside, and tender and flaky on the inside with only a subtle salmon flavor.
Instructions
In a medium pot, combine sweet potatoes and enough cold water to cover. Cover with a lid and bring to a boil on high heat, reduce heat to low and cook for 15-20 minutes or until fork tender.

Drain potatoes and transfer to a large mixing bowl. Mash sweet potatoes with a masher (I do not like the fine texture that food processor yields but you could use it).

Add salmon including the juices (all that flavor!) and mash a bit more. Add eggs, oats, garlic, dill, salt, pepper and stir with spatula until combined. Let mixture sit for 15 minutes to let oats soak up and act as a binder.

Preheat large ceramic non-stick skillet on medium heat and add a tablespoon of oil to coat. It is important that skillet and oil are hot. Using under 1/4 cup mixture, form small salmon cakes and place on a skillet. These are delicate, and I found large size patties do not hold their shape as well.

Cook for about 5-7 minutes or until golden brown, carefully flip with a spatula and cook for another 5-7 minutes. As a skillet gets hotter, cakes cook faster, so reduce heat a bit. Work in batches until you run out of mixture.

Serve patties hot or cold. You can use your favorite sauce for dipping, serve with a salad or on a whole grain English muffin.
Notes
Store: Refrigerate leftovers in an airtight container for up to 5 days.
Freeze: Freeze in an airtight container for up to 3 months.
Nutrition
Serving:
1
medium cake
|
Calories:
70
kcal
|
Carbohydrates:
10
g
|
Protein:
5
g
|
Fat:
1
g
|
Saturated Fat:
1
g
|
Cholesterol:
25
mg
|
Sodium:
153
mg
|
Fiber:
1
g
|
Sugar:
2
g