Welcome to my collection 45 quick healthy dinner ideas. From chicken tostadas to baked chicken breast, and from beef stir fry to shrimp tacos, be sure you will find an answer to "What's for dinner tonight?" among these easy 30 minute healthy dinner recipes.
By the way, I hate that question too!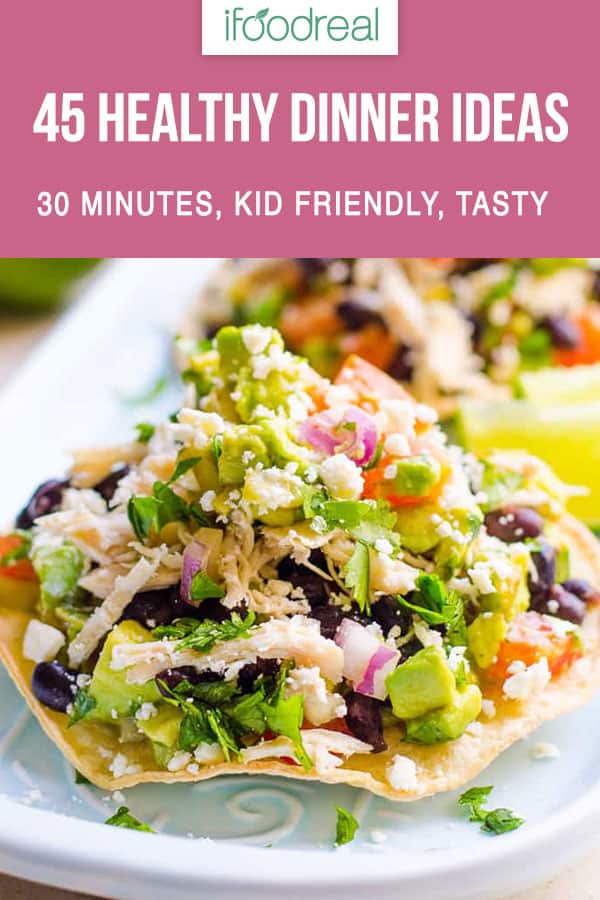 Healthy Dinner Recipes
As a busy mom of 2, I know your struggle. I can help you!
During 7 years of running this blog, I have put a lot of effort to create a variety of healthy dinners you can feed your family. Be sure all my recipes are ready in 30 minutes or less, use simple ingredients and are tasty.
Bookmark this link for "[email protected], what's for dinner?" moments. And be healthy!
What Is a Healthy Dinner?
What make dinner healthy? Let me just say first and foremost that everyone has their own understanding of "healthy". What's healthy for someone on a paleo diet isn't healthy for a vegan. You know what I mean?! So, let's be nice to each other and except our differences.
Without Googling the definition "healthy", here is what I strive to put on my family's dinner table 80% of the time. Because let's be honest, there is real life with mall outings, travel and because everyone gets sick and tired of cooking by Friday. Even me!
Our family healthy dinner is:
That's it. I personally think it is quite easy to eat healthy if you do not overthink it.
Now let's help you to put easy dinner on the table!
45 Easy Healthy Dinner Recipes – Quick Links
I think it's the best collection of easy dinner recipes on the web.
Please don't be shy to share! The more people eat healthy, the lower our medical bill. I'm serious. YOU CAN make a difference. So, share away, share away.
Healthy Chicken Dinners
We eat a lot of chicken. Probably just like you. When buying chicken I usually buy organic because of what it was fed and the way it was raised. Costco is my go-to source for chicken.
I usually serve these simple chicken dishes with a side of quinoa, brown rice, buckwheat or mashed potatoes. And a simple salad like cucumber and tomato salad and lots of lettuce salad. When we are "lazy", my husband makes a green smoothie.
Healthy Tacos and Finger Foods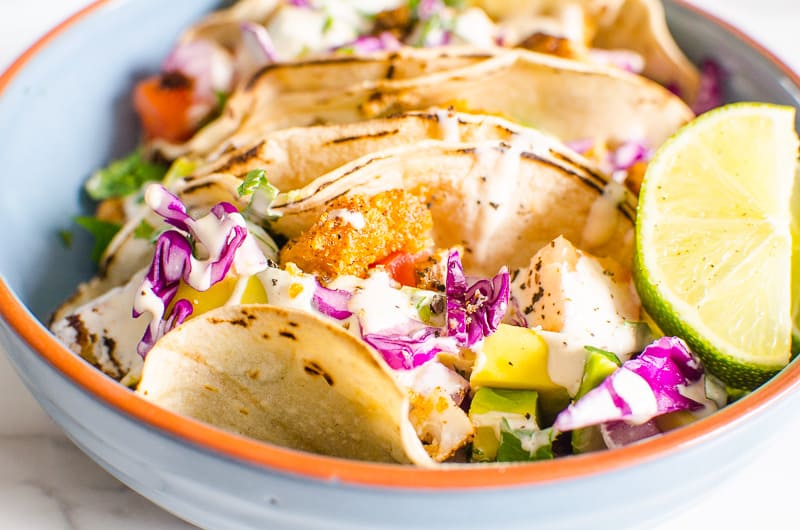 Kids love anything tacos, quesadillas and burritos. Can't get away from cheese when making those. I try to use a bit less of quality natural or organic cheese. And load these finger foods with veggies, protein and wrap in whole wheat or corn tortillas. Healthy and easy!
Healthy Skillets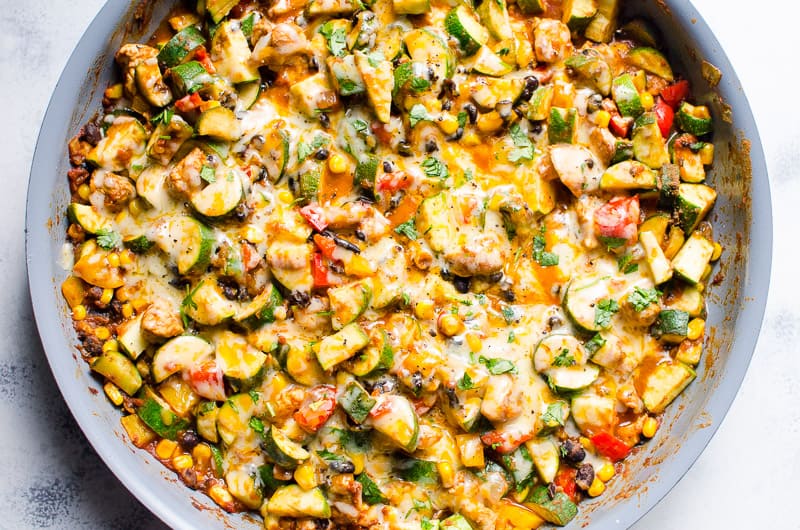 Skillets are as forgiving as soups. You throw everything together and can adjust taste as you go. This quick and easy healthy dinner is so hard to screw up. Skillets are great for beginner cooks. And I also love that many can be made low carb with lots of veggies and served with a grain for more hungry people like kids and husbands.
Which skillet is best? I like to use ceramic non-stick PFOA free skillets. Large size with deep edges. Keep in mind, any non-stick coating loses its non-stick qualities after about 6 months. So, it's not you. So far, I had the most luck with Green Pan.
Healthy Stir Fry and Curry
Again, kids love stir fry and most love curry. What makes these curry healthy is canned full fat coconut milk and no store-bought sauces. And I always use super easy homemade stir fry sauce in my stir fries. Again, no bottled stuff with preservatives or complicated ingredients.
Stir fries are loaded with veggies, therefore are so healthy. So serve on its own for low carb meal (for a mom) and with complex carb side for everyone else. Healthy dinner made easy!
Healthy One Pot and Sheet Pan Dinners
These one pot and sheet pan dinners prove that 30 minute healthy dinner can be flavorful without washing 3 pots. With one pan cooking it's important to figure out the right combination of foods, so pasta doesn't get mushy or meat remains not fully cooked. Below, are all tried and true one pot wonders and I'm working on more.
Healthy Ground Turkey Dinners
It is true that ground turkey can be dry. I love adding shredded zucchini when cooking with ground turkey. Be sure, only juicy turkey recipes are included. I like to serve meatballs with whole wheat spaghetti, and kids squeeze organic ketchup all over them. It's fine by me. Also that's Mexican street corn salad in case you are wondering. I truly do not overthink if Mexican goes with Italian. We just eat healthy.:)
Healthy Salmon Dinners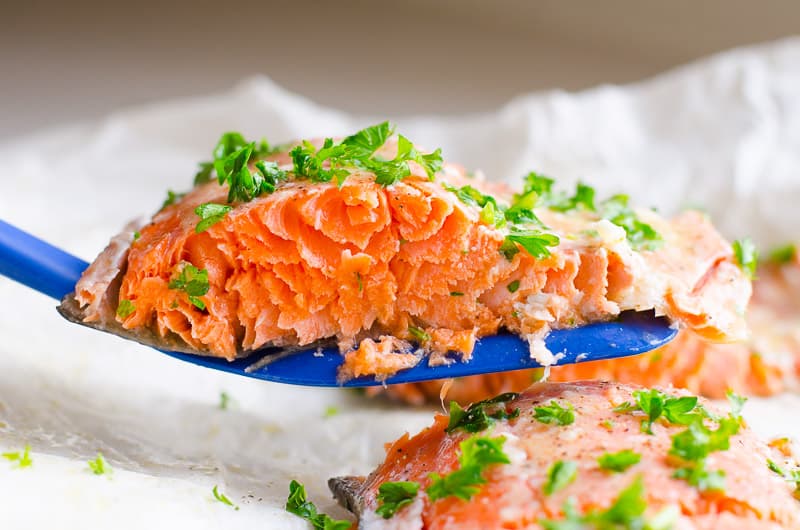 Salmon is a treat because of its price. I truly believe in eating wild salmon vs. farmed. These healthy salmon recipes are ready in under 30 minutes. And again, serve them with a whole grain and a side of veggies instead of salad for a change: corn, asparagus, butternut squash and cauliflower.
Need More Healthy Inspiration in the Kitchen?
Print
45 Quick Healthy Dinner Ideas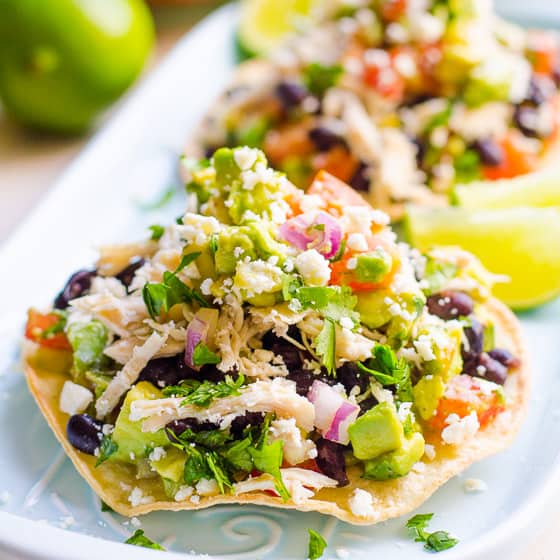 Welcome to my collection 45 Quick Healthy Dinner Ideas. From chicken tostadas to baked chicken breast, and from beef stir fry to shrimp tacos, be sure you will find an answer to "What's for dinner tonight?" among these easy 30 minute dinner recipes.
Author:
Total Time:

30 minutes

Category:

Dinner

Method:

Stove, Oven

Cuisine:

American Ukrainian
★ Did you make this recipe? Please give it a star rating in the comments.