The best collection of 65 Healthy Dinner Ideas on the web! Recipes with simple ingredients, kid approved and easy to make. If you are looking for a quick 30 – 45 minute healthy meal for dinner tonight, you have come to the right place.
Are you busy? Then 65 easy healthy dinner ideas to the rescue!
Hello. My name is Olena and I am a busy working mom of 2. I know your struggle – I can help you! I hate "What's for dinner?" question too. During the last 10 years of running this blog, I have put a lot of effort in testing and creating healthy dinner recipes you can feed your family.
Why These 65 Healthy Dinner Recipes Work?
Quick: Ready in 30 – 45 minutes for busy weeknights. Think one pot meals, quick stir fry and curry recipes, and everyone favorite hand held foods like tacos and quesadillas all packed with healthy ingredients and a ton of flavor.
Easy: All these healthy recipes use simple ingredients you can find at any grocery store. Also I cut back on unnecessary steps and clean up with each single recipe. Ain't nobody got time for that!
Kid approved: Think – now you are armed with 65 healthy dinner ideas your family will enjoy! These are tasty healthy meals I tested on my own children and then picked their favorites out of 250 healthy dinner recipes we have here on iFOODreal. Dinner table will be quiet 100%!
Bookmark this link for "Cr@p, what's for dinner?" moments. And be healthy! I think it's the best collection of dinner recipes on the web.
Common FAQs
What should a healthy dinner have?
A healthy balanced meal consists of lean protein, complex carbohydrates, healthy fats and fiber. In terms of food items, it means meat/seafood/plant based protein, whole grain or starchy vegetable, avocado or healthy oils, and veggies. It also falls into a daily recommended limit of sodium intake for your gender and age. This is a general rule of thumb.
What is the healthiest dinner you can eat?
The healthiest dinner you can eat, in my opinion, is a balanced meal that covers all food groups mentioned above, and made with fresh local and/or organic ingredients.

For example, grilled chicken breast made with organic meat, served with quinoa and cucumber and tomato salad made with farmer's market produce is one of the healthiest meals in my books.
What do normal families eat for dinner?
We all know everyone has their own understanding of "normal". I can tell you what our family eats for dinner inspired by healthy lifestyle, West Coast location, and Ukrainian and Russian heritage.

We strive to cover all food groups to keep everyone full. We do not worry about making fancy meals, if it fits certain cuisine or looks pretty. We also buy simple ingredients and do not like food waste.

Often for dinner, it is one of our dinner recipes. Many nights, I love making a huge pot of soup or stew because it makes 2 dinners or leftovers for lunch – we grew up eating soup every day! Then another night it can be leftovers of all sorts plus fridge items that have to be eaten. And quite often it's "everything but kitchen sink" salads with store-bought healthier dressing. And occasionally cereal, frozen pizza, potstickers and Annie's mac and cheese when we are just "done".

Healthy eating is all about balance including dessert like healthy banana cream pie! We do not follow diets.
Can these dinners be made in advance or frozen?
Yes, many can be. If particular recipe can be, you will see recommendations Make Ahead and Freeze in recipe card's instructions. Also lots of good info in the post itself.
How can I cook any of these healthy dinners for two or one person?
Cut recipe in half and cook as per instructions. I think this is the easiest math calculation for ingredient amounts, and not too many leftovers.
Will these meals help me to lose weight?
Disclosure – I am not a doctor, so I just share what works for us. We eat what you find on ifoodreal recipes page plus occasional treat, a glass of wine and a night out. It is all about balance. We eat 80% healthy and do not have issues with weight. We also keep active with walks, working around the property, bike rides, runs (my husband) etc. 5 days a week on average. But even grocery shopping or house cleaning is an activity.

I think weight management and weight loss is all about living a "normal" lifestyle without extremes – not eating junk food all the time but not being on restrictive diet like keto, low carb etc. You can read more about my food philosophy and me here.
Popular Chicken Recipes
Chicken dinner recipes are our go-to. I usually serve these simple chicken dishes with a side of quinoa, brown rice, buckwheat or mashed potatoes. And a basic salad like Ukrainian cucumber and tomato salad or lettuce salad.
Baked Chicken Breast is easy, juicy and ready with 5 minutes of prep. This simple chicken breast recipe will become your go-to! You can also make this easy Instant Pot chicken breast using spices from this recipe, use leftovers for chicken salad or whip up a batch of healthy waffles to make your own light version of chicken and waffles.
Perfectly cooked basic Air Fryer Chicken Breast – this chicken is lightly spiced and perfectly tender and juicy in under 30 minutes from start to finish! Prep 10 minute healthy cucumber salad while it is in the air fryer for an easy dinner idea.
Healthy White Chicken Chili is a 30 minute meal with chicken breast, white beans, corn, cumin and yogurt. This healthy dinner idea is easy to make on the stove, crockpot or just make Instant Pot white chicken chili. A true crowd pleaser!
Honey Garlic Chicken is amazing chicken recipe to have as a backup plan. Delicious honey garlic sauce with simple ingredients from your pantry will transform fresh chicken breasts or thighs in delicious meal the entire family will love! Use leftovers to make teriyaki chicken meal prep.
Chicken Breast with Tomatoes with quickly seared chicken tenders, then sautéed with fresh tomatoes, garlic and oregano. It is one of light healthy dinner ideas inspired by my Ukrainian grandma's fresh cooking, serve with healthy Caesar salad for a complete dinner!
Lemon Chicken is quickly pan seared until crispy and then coated in lemon butter sauce. This 30 minute restaurant quality chicken recipe is perfect for a weeknight!
Cajun Chicken Recipe that can be baked, pan fried or grilled. Lean chicken breast coated in easy homemade cajun seasoning for easy and delicious weeknight dinner with a lot of flavour. Serve it with olivier salad for a delicious meal!
30 Minute Healthy Chicken Lettuce Wraps with chicken cooked in tasty savory sauce and loaded up on crispy lettuce leaves.
Healthy Chicken Alfredo with less calories and fat but so flavorful. Whole wheat noodles and veggies with delicious creamy sauce for kid approved meal.
Chicken turns out flavorful and tender! Choose from fajita, greek, lemon, teriyaki and ranch marinades. Each simple marinade is made ingredients you probably already have on hand!
Tips
Wash your hands and sink for food safety: Handling meat requires basic hygiene for food safety – just wash your hands, utensils, board and sink with soap after each use. Nothing more.
Buy internal read thermometer to simplify life: Simple food thermometer like this one will let you know quickly when your chicken is ready.
Buy organic or local chicken if you can: Generally speaking, organic chicken is better for you and for the planet. It eats organic feed like grain or grass, is not pumped with antibiotics and has higher nutritional value that conventionally raised chicken. However, if you find local chicken farmer that lets chickens roam in his garden and eat grass, worms and kitchen scraps, that is very good "organic" chicken meat as well.
Cut up whole chicken to save $: Whole chicken is the cheapest cut of meat per pound. To save money, especially if you would like to eat organic meat, buy a bird, follow this tutorial on
Healthy Tacos & Burritos
Kids love anything tacos, quesadillas and burritos. Just like they love anything muffins. Can't get away from cheese when making those. I try to use a bit less of quality natural or organic cheese. And load these healthy taco recipes with veggies, protein and wrap in whole wheat or corn tortillas. Easy and healthy!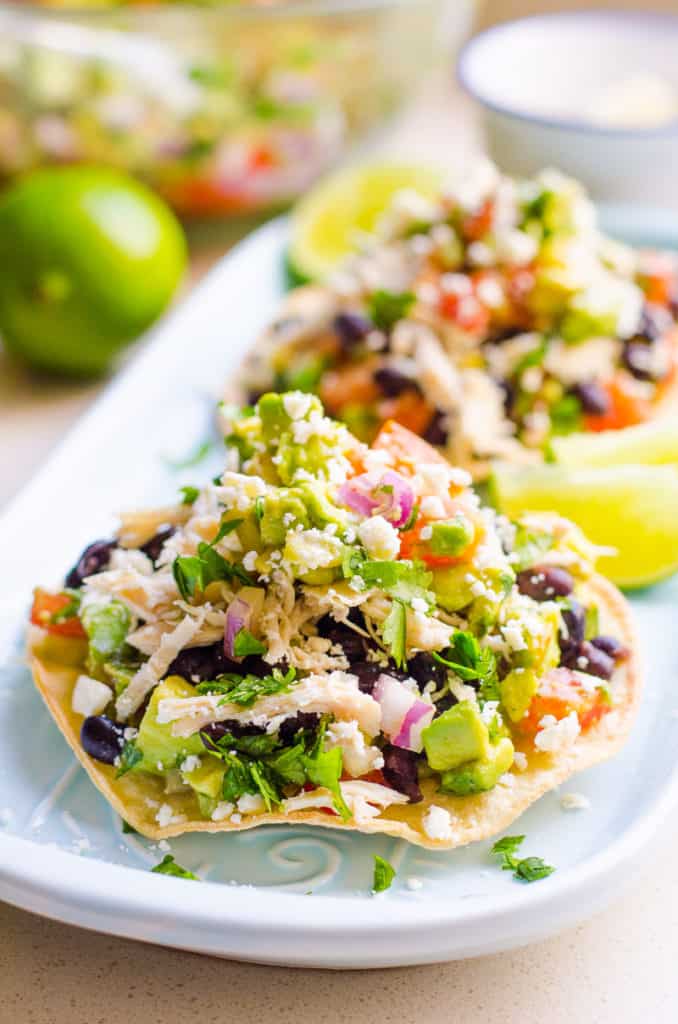 Chicken Tostadas with simple ingredients in 20 minutes. Tostada is tasty, healthy and quick dinner if you make it at home. Instant Pot frozen whole chicken leftovers are perfect for chicken tostadas.
Make a weeknight meal or last minute entertainment a breeze with these Shrimp Tacos. Spicy, creamy and healthy! I even used store bought packaged slaw. It is one of the top 5 healthy dinner ideas here on the blog because it takes only 15 minutes!
THE BEST Healthy Fish Tacos with spicy crispy battered fish, diced avocado, crunchy slaw and the best crema sauce. I promise, this healthy fish taco recipe is better than any food truck!
30 minute Ground Chicken Tacos cooked with vegetables and all the fixings in one skillet for a healthy taco family meal. Perfect for busy weeknights and kids absolutely love these chicken tacos!
Ground Turkey Tacos are saucy, flavorful and oh-so-easy in 20 minutes. Your family will not miss the beef and ask to make them again and again. No dry turkey tacos here!
Craving wings? Make these Buffalo Chicken Tacos smothered in Frank's red hot sauce and dipped into homemade healthy blue cheese Greek yogurt sauce. To die for!
Chicken Quesadilla with lots of veggies, less cheese, whole wheat tortillas and baked instead of fried. Only 5 ingredients! Healthy, easy and delicious Mexican food.
Vegetarian Quesadilla with black beans, veggies and a moderate amount of cheese tucked inside a whole wheat tortilla and then baked. You can even turn this into a freezer meal for busy weeknights.
Chicken Burrito Recipe is perfect for busy people! Meal prep 17 chicken burritos in an hour in the Instant Pot or on the stove and freeze for later. Turn it into a low carb burrito bowl or try my easy Instant Pot chicken and rice without the tortilla.
Tips
Learn to cook and enjoy brown rice: Brown rice and white rice differ in cooking time and nutrition. Brown rice is a healthier option containing an outer bran but cooks longer. That's why cooking brown rice in Instant Pot is my favorite method.
Canned goods can be healthy: I consider canned Mexican goods like diced green chiles, chipotle pepper in adobo sauce, salsa and even organic refried beans all healthy options. All you have to watch out is how much to use because of added sodium. Buy low sodium whenever possible.
Choose whole grain and corn tortillas: Tortillas made with all purpose flour are stripped of nutrients. Use whole wheat and corn tortillas to add fiber and complex carbs that will keep your belly full longer.
Wheat tortillas are easier for rolling: Wheat contains gluten which makes goods more pliable. Choose wheat vs. corn tortillas when making
Kid Friendly Skillets
Skillets are the best! You throw everything together and adjust the taste as you go. This type of quick and easy healthy dish is so hard to screw up. Skillets are great for beginner cooks. And I also love that many can be made low carb with lots of veggies, but also served with a grain.
Mexican Chicken and Zucchini cooked in one skillet with black beans, corn, fresh herbs, taco seasoning and melted cheese on top. One pan and low carb supper. It is one of top 3 healthy dinner recipes here on the blog.
This Teriyaki Chicken and Cauliflower combines juicy chicken, crispy cauliflower, and a sweet and sticky healthy teriyaki sauce. 30 minute dinner that will satisfy all your take out cravings.
This Garlic Chicken Zucchini and Corn Recipe is a 20 minute healthy meal idea that was inspired by my Ukrainian roots. Low carb, easy and one pan deliciousness!
Mushroom Stroganoff is a 30 minute vegetarian meal that is hearty, creamy and flavorful even for carnivores. It is quick, easy and you will not miss the meat!
One Pan Mexican Chicken and Rice is an easy chicken skillet recipe made with pantry staples. Rice and chicken breasts are simmered in salsa broth, then finished with gooey cheese and served with avocado.
Taco Skillet is everything you love about tacos in one pan. Easy, quick and healthy Mexican food you can make exactly the way your family likes it.
Caprese Chicken and Zucchini cooked in fresh tomato sauce, with melted buffalo mozzarella cheese on top and garnished with basil. Serve on its own for easy low carb dinner or with spaghetti for a family meal. Finish it off with healthy trifle with berries, a perfect summer meal!
This Low Carb Ground Turkey and Zucchini Skillet with pesto is delicious 30 minute one pot family dinner idea. Minimum ingredients and effort with maximum flavour.
Healthy Pasta with broccoli, sun dried tomatoes, Parmesan cheese and pasta of your choice in 30-ish minutes. It is in top 7 of quick, easy and delicious healthy meal ideas here.
Quick and easy 30 Minute Skillet Sweet Potatoes with beans, corn, fresh lime juice and melted cheese on top. To die for healthy vegetarian dinner! Want to kick it up a health factor a notch? Make pan world's most crispy fried tofu at same time and you will never regret it!
Tips
Which skillet is the best? I like to use ceramic non-stick PFOA free skillets and prefer a larger 12″ wide with deep edges. Keep in mind, any non-stick coating loses its non-stick qualities after about 6 months. So, it's not you. So far, I had the most luck with Green Pan where it lasts well beyond 1-2 years.
Buy large lid: Most large skillets do not come with a lid which often recipe calls to use to provide a tight seal (important!). I use this universal lid or a pizza stone for my extra large 14 inch wide skillet.
Substitute with Dutch oven: Since Dutch oven sears and retains heat well, you can use it to cook a skillet recipe in it.
Quick Stir Fry and Curries
My family loves curry and stir fry dinner recipes. Stir fries are loaded with veggies and are super healthy; especially when you make homemade stir fry sauce. You can eat stir fry on its own for a low carb meal or with a complex carb side. Healthy meals made easy!
Healthy Chicken Stir Fry is a 30 minute meal everyone will love! Veggies and chicken are thickly coated in homemade sweet and savory sauce in this chicken stir fry recipe.
Korean Ground Beef and Rice Bowls for a weeknight easy meal or lazy Saturday. Chock full of vegetables with twice less sodium and sugar, your kids will be going for seconds of this healthy 30 minute meal.
Low carb Mexican Cauliflower Rice with ground turkey and lots of veggies for a healthy 30 minute dinner entire family will love. This quick skillet is easy, flavorful and filling!
20 Minute Salmon Stir Fry Recipe with vegetables the whole family will love! Healthy, easy and delicious.
Make authentic Thai Chicken Curry in 30 minutes with simple ingredients from any grocery store. Healthy dinners like this one save a lot of money on take out.
This Chicken Curry will be the best you ever tried! Chicken simmered in a flavorful sauce with coconut milk and yellow curry powder, then served over rice. So aromatic!
Chicken and Broccoli Stir Fry is a simple and healthy 30 minute meal made with chicken breast, broccoli and a sweet tangy stir fry sauce your whole family will love!
Cauliflower Fried Rice is healthy, low carb and and so tasty kids will think it is real rice. Ready in 15 minutes with fresh or frozen cauliflower, this will become your new favorite stir fry.
Healthy Peanut Chicken Soba Noodles Recipe with bell peppers, kale and delicious sauce. 30 minute dinner idea your family will actually eat.
This Beef Stir Fry is loaded with vegetables, tender juicy beef and healthy beef stir fry sauce. Homemade Chinese restaurant style dinner that comes together in 30 minutes.Serve with brown rice, quinoa or over cauliflower fried rice for a low carb meal.
Shrimp Stir Fry with sweet and succulent shrimp, crispy vegetables and homemade stir fry sauce. Serve over brown rice, spaghetti, quinoa or cauliflower rice and best dinner in the world is ready.
Craving Asian but not MSG? Try this Healthy Beef and Broccoli Stir Fry with homemade sauce that can be on your family dinner table in 30 minutes.
A sweet and sticky orange sauce that is healthier than traditional take out, is the key to this lightened up Healthy Orange Chicken that is ready in 30 minutes! Serve over brown rice with a side of air fryer broccoli for a delicious dinner.
Tips
Have all veggies chopped for a stir fry: Stir fry cooks fast! So the key to crispy rather than soggy and overcooked veggies is to have them all ready to go before you turn on the skillet to preheat.
Preheat well: First preheat the skillet, then preheat the oil in it. Only then add meat and veggies.
Use proper oils: When stir frying, the heat is at the highest. Using high smoke point oils like avocado or coconut oil is the best option.
Stir frying garlic and ginger: Both burn fast. You want to stir them constantly and cook only for a few seconds.
Thick sauce: For proper consistency homemade thick stir fry sauce use cornstarch and do not cover when cooking. This will make veggies leak their juices and make dish watery.
Use fresh aromatics: Spices like curry powder, chili powder, cumin etc. have to be fresh for the most flavor. It means they can be stored for a few years tightly sealed in a cool dark place. It doesn't mean you have to buy fresh spices every year but rather use them on a regular basis, buy as much as you need and replace when become unflavorful.
One Pot/Pan Healthy Meals
These one pot and sheet pan dinners prove that healthy dinners can be flavorful without washing 3 pots, plus now you will have time to make healthy no bake cheesecake. With one pan cooking it's important to figure out the right combination of foods, so pasta doesn't get mushy or meat not fully cooked. Below, are all tried and true one pot wonders and I'm working on more.
Steak Fajitas with tender juicy slices of beef, onions and bell peppers cooked together on a sheet pan for a quick dinner. Healthy, easy and always a hit with the entire family!
Healthy Mac and Cheese in one pot in 15 minutes. Creamy, cheesy and flavorful and as healthy as it gets. I serve this with a side of healthy shrimp salad for easy summertime dining. Discover more pasta wins by browsing 45 of my favorite healthy pasta recipes!
This quick and easy one pot Chicken Stew is made with chicken, potatoes and carrots simmered in a deliciously seasoned broth and garnished with fresh herbs. Anticipating that first hot sip off your spoon is what will happen every time you smell the stew cooking on the stove. This is my Ukrainian grandma's recipe just like her popular Instant Pot beef stew recipe and borscht recipe.
Roasted chicken thighs, potatoes, carrots and onion tossed in simple spices, garlic and oil. Then oven baked until chicken is juicy with crispy skin and onions are roasted. Major yum! One of my mom's easy healthy dinner ideas often served with creamy cucumber tomato salad!
Tuscan Chicken Pasta with healthy creamy garlic sauce, sun-dried tomatoes, spinach and chicken. 30 minute one pot meal for busy weeknights. Kids will approve!
One Pot Chicken Quinoa is loaded with broccoli, wholesome quinoa, juicy chicken and delicious flavours. Nothing is "boring" about this healthy one pot meal perfect for a weeknight dinner!
10 minute spaghetti with tomato sauce. I call it a Million Dollar Spaghetti Recipe because it is easy, quick and tastes like a fancy Italian restaurant meal. Serve with lamb roast or turkey roast for a very fancy meal!
One Pan Chicken and Potatoes prepared and baked with tomatoes, garlic and oregano on same sheet pan. Easy, healthy and absolutely delicious quick dinner solution for busy weeknights.
One Pot Chili Mac Recipe from Thug Kitchen 101 cookbook with beer, beans, pasta, olives, spices and cheese or make it vegan, all in 30 minutes. Also try my easy Instant Pot turkey chili and you will not be disappointed.
Pasta with Ground Turkey and Broccoli is 30 minute one pot meal with turkey, broccoli, tomatoes and Parmesan cheese. Inspired by this ground turkey pasta casserole. It is one of those dinner recipes your family will ask to make again and again. And if you make them almond flour banana bread for dessert, they will love you forever!
Skillet Enchiladas is a one pot meal a.k.a wonder. 30 minutes and you have lazy beef enchiladas for supper. And healthy!
Tips
Invest in a Dutch oven: I own two 6 quart Lodge dutch ovens and they are worth every penny. They last forever, are affordable and cook food evenly and very-very nicely. A must for a healthy cook!
Do not take a peek: When cooking whole grains like rice or quinoa, do not peek in to see "how it is doing down there". Leave the lid on for required amount of time – it is the most common reason for complaints "my rice is hard".
Follow the recipe: With one pot cooking, all items go in in stages for a reason. These kind of recipes are truly tested to avoid mushy mess and "hard rice".
Light vs. dark baking sheets: When making sheet pan meals, keep in mind that dark baking sheet will cook food faster than light colored one.
Juicy Ground Turkey Dinners
It is true that ground turkey can be dry. But rest assured, I have included only the juiciest turkey dinner recipes.
For more uses for that pack of ground turkey that is better for you than beef, browse our collection of 45 ground turkey recipes.
Turkey Meatballs without breadcrumbs baked in the oven until juicy inside and golden outside. Serve with spaghetti, add to homemade vegetable soup or double the recipe and freeze. So easy and healthy!
Juicy and flavorful Healthy Turkey Burgers with 5 simple ingredients. Sumptuously moist, smack-your-lips and the best turkey burger recipe on the web! You might also love these favorite healthy burger recipes!
Super easy and juicy Mexican Meatballs with ground turkey, baked for 15 minutes, then served with rice or as an appetizer.
These Healthy Turkey Sliders are fast, juicy and flavourful. With a bit of bacon, cheese and traditional fixings, everyone will love wrapped in lettuce mini burgers!
Healthy Thai Meatballs with turkey, coconut milk, red curry paste and zucchini instead of breadcrumbs. Rave reviews from EVERYONE!
Tips
Ground turkey is an acquired taste: Especially if you are used to ground beef and now are trying to eat healthier. Give it time.
Mix with veggies: Adding shredded zucchini or mixing with veggies always makes lean poultry more juicy without compromising the health factor.
Cover up with sauce: Going back to an acquired taste factor, if you mix it in into
Salmon Healthy Dinner Ideas
Salmon is a treat because of its price. I truly believe in eating wild salmon vs. farmed. These healthy salmon recipes are ready in under 30 minutes. And again, serve them with a whole grain and a side of veggies instead of salad for a change: corn, asparagus, butternut squash and cauliflower stir fry.
Thai Broiled Salmon with easy homemade sweet chili sauce cooked until caramelized on top and juicy inside.
Delicious Air Fryer Salmon and Brussel Sprouts in 20 minutes! Perfectly cooked salmon is tender and flaky in the middle with crisp edges and when paired with nutritious veggies it's a quick, simple high protein, low carb meal.
Honey Garlic Glazed Salmon is the best stove top salmon recipe for busy weeknights. Juicy salmon and crispy skin make this meal crazy good!
Teriyaki Salmon is made with healthy homemade teriyaki sauce and doesn't require long marinating. Easy salmon recipe that can be pan fried or baked, is super flavorful and ready in 30 minutes.
Lime and Ginger Marinated Salmon with honey, lime juice and ginger, and then quickly broiled to perfection.
Easy Baked Salmon in Foil with simple seasonings in 20 minutes. Healthy, moist and delicious meal even picky eaters will enjoy. Flake up cold leftovers and use instead of tuna in this healthy tuna salad recipe or healthy tuna pasta salad.
Tips
Buy wild salmon: Species like sockey, king, spring, chinook, coho, chum or pink salmon are all wild-caught. Look for one of these names.
Avoid Atlantic salmon – it is farmed: Farmed Atlantic salmon is widely available at the store. Wild Atlantic salmon is now considered an endangered fish, so catching it is no longer allowed. Which means it is now a farmed fish.
Choose wild Alaskan salmon: If possible, choose wild Alaskan salmon. Alaska has banned salmon farms, so right away you know Alaskan is wild-caught. Look for any pacific wild-caught salmon and you are on the right path.
Don't buy organic salmon: As crazy as it sounds but organic label means it's from a fish farm. You can't guarantee organic wild salmon, so it's a myth.
Choose fattier salmon: Like a king salmon. It contains a higher level of omega 3s which as we know are great for brain health.
Opt for darker red/orange colour: It means it carries more antioxidants which help fight cancer, inflammation, and other health-related issues.
Don't overcook: Wild salmon is more lean, so I always tend to cook for a few minutes less than recipe suggests to make sure it doesn't dry out.
So, here you have 65 dinner recipes to feed your family well and end a busy day on a good note.
Would you like to start your day right as well? We always drink warm lemon water recipe first thing in the morning, followed by good fats and carbs loaded chia pudding along with 1-2 egg bites for a protein intake. All these dinner recipes are easy to make ahead add them to your rotation along with my healthy breakfast ideas!
Need More Healthy Recipes?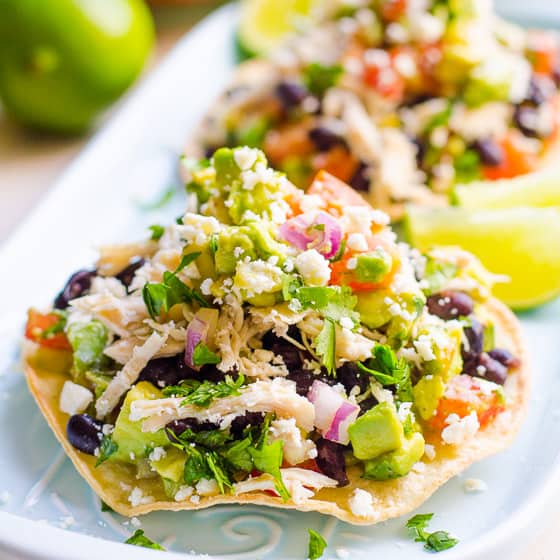 65 Quick Easy Healthy Dinner Ideas: Chicken Tostadas
One of the most popular healthy dinner ideas, Chicken Tostadas are tasty, easy to make and kid approved. If you are looking for a quick 20 minute healthy meal for dinner tonight, you have come to the right place.
Print
Rate
Ingredients
8

corn tortillas or tostada shells

3

medium tomatoes

diced

4

medium avocados

diced

3

tbsp

red onion

finely chopped

1/4

cup

cilantro

finely chopped

1

tsp

ground cumin

1

tsp

chili powder

3/4

tsp

salt

Juice of 1 lime

15

oz

can low sodium black beans

drained and rinsed

3

cups

shredded chicken

like rotisserie or chicken breast

1/2

cup

feta or Cotija cheese

crumbled

Cooking spray

I use Misto
Instructions
Bake tostada shells:
Line a large baking sheet with a silicone mat and place tortillas in a single layer. Spray both sides of the tortillas with cooking spray and a sprinkle of salt. Bake at 400 degrees F for 6 minutes per side.
Make guacamole salsa:
Mix tomato, avocado, red onion, cilantro, cumin, chili powder, salt and lime juice.
Assemble tostadas:
Top each shell with guacamole salsa, beans, chicken and cheese.
Notes
I like making my own tostada shells, but you can use pre-made.
You can substitute refried beans for black beans.
In this recipe, adjust the amount of salt in the guacamole salsa to taste. Add more or less depending on the salt content in the homemade chicken, canned beans or store-bought tostada shells.
Nutrition
Serving:
1
tostada
|
Calories:
391
kcal
|
Carbohydrates:
26
g
|
Protein:
19
g
|
Fat:
21
g
|
Saturated Fat:
5
g
|
Cholesterol:
48
mg
|
Sodium:
451
mg
|
Fiber:
10
g
|
Sugar:
3
g
Recipes and images are a copyright of ifoodreal.com. It is against the law to republish recipes without permission. Nutritional info is approximate.