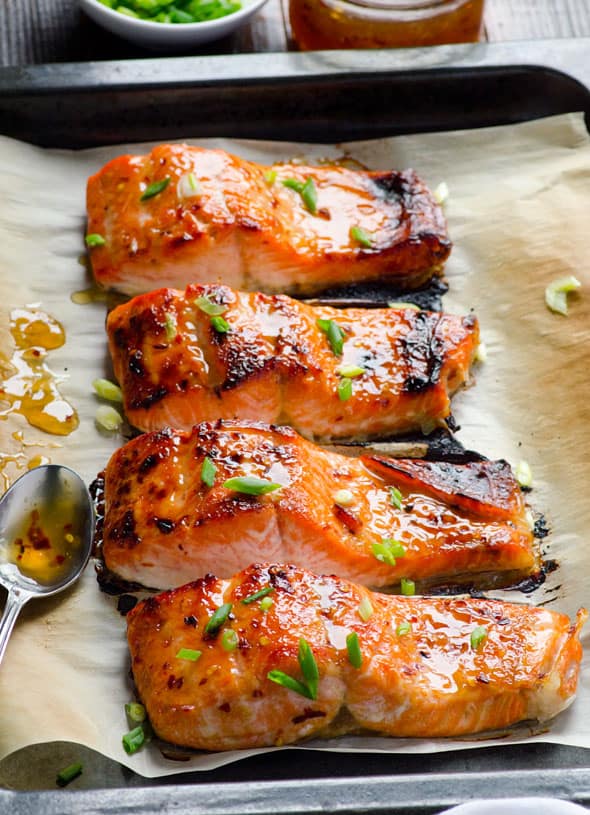 In our household, we have been enjoying this Thai salmon with sweet chili sauce for 14 years now. In winter, I bake it in the oven and in summer months we turn it onto cedar plank salmon on the grill. Second version is unbelievable tasty but oven method is as good minus the smoky cedar flavour.
For years, as a marinade we used Thai Kitchen sweet chili sauce. Nowadays, we try to eat as healthy as possible, so I came up with homemade Thai sweet chili sauce recipe. It can be refrigerated for months, you can use it in so many other Thai dishes or simply with grilled chicken.
If you are a fan of Thai Kitchen sauce, you gotta try mine – exact copy but healthy.
How to Make Thai Salmon
I love broiling salmon instead of baking because it is such a delicate meat that cooks fast. A blast of heat on the outside is enough, just like with steak. You want fish to retain its natural juices and moisture. My kids didn't find this baked salmon recipe spicy at all and they are picky with spices. It was a perfect amount of a heat kick and nobody complained about sweetness.:) I would omit green onions for kids and a must for adults!
Source: David Suzuki
In our household, we eat a lot of wild sockeye salmon – good quality fish with healthy Omega 3s that is affordable in Pacific Northwest (hello, peanut butter salmon and honey garlic salmon). I highly suggest you stay away from farmed salmon! Atlantic salmon is farmed salmon, don't be fooled by its name. It is artificially coloured, fed antibiotics and is exposed to pesticides, high in Omega 6s and is a devastation for wild marine life.
Also don't fall for "organic" salmon. Last month, at CHFA West I came across a stand with samples of "organic" smoked salmon. I know you can't certify wild salmon "organic" because it is hard to know exact conditions it has lived in. So, I asked a few questions and got my answer – "Yes, our organic salmon is farmed".
Enjoy Thai sweet chili salmon and know where your food comes from!
Print
Thai Salmon
Thai Baked Salmon Recipe made with 3 ingredients in 15 minutes, can be grilled or oven baked. Out of this world Thai sweet chili salmon with rave reader reviews!
Author:
Prep Time:

8 minutes

Cook Time:

13 minutes

Total Time:

21 minutes

Yield:

6 servings
Ingredients
6 x 6 oz sockeye salmon fillets, skin on or off
Pinch of salt
1/2 cup + 2 tbsp Thai sweet chili sauce, divided
2 – 3 tbsp green onions, chopped
Cooking spray (I use Misto)
Instructions
In a large baking dish, lay down salmon fillets in a row. Each fillet – sprinkle with a pinch of salt and top with 1 tbsp Thai sweet chili sauce. Brush or rub with your fingers to coat fish with sauce evenly on top, bottom and sides. Cover and let marinate in the fridge for at least 2 hours or overnight is the best (up to 24 hours).
Turn on oven's broiler on High and position top oven rack 5″ – 6″ below the heat source. Line large baking sheet with unbleached parchment paper or silicone mat, spray with cooking spray and place salmon fillets skin side down (if any). Coat with remaining marinade from the dish (if any).
Broil for 8 minutes, rotating baking sheet once. Remove from the oven and brush top of each fillet with 2 tsp of Thai sweet chili sauce. Return to the oven and broil for another 5 minutes or until salmon has caramelized. Serve hot garnished with green onions, extra sauce (if desired) with brown rice or quinoa on a side.
Store: Refrigerate in an airtight container for up to 3 days.
★ Did you make this recipe? Please give it a star rating in the comments.