How to grill salmon until it's tender, juicy, and slightly charred! This Grilled Salmon Recipe uses just simple seasonings and no marinating necessary (just the time it takes to heat your grill!), for quick, flaky, flavorful healthy grill recipes that's perfect for pairing with all your favorite grill recipes!
Want to wrap your head around additional cooking methods for salmon other than healthy grill recipes? You'll love this cedar plank salmon, healthy salmon burgers, air fried salmon and/or salmon stir-fry!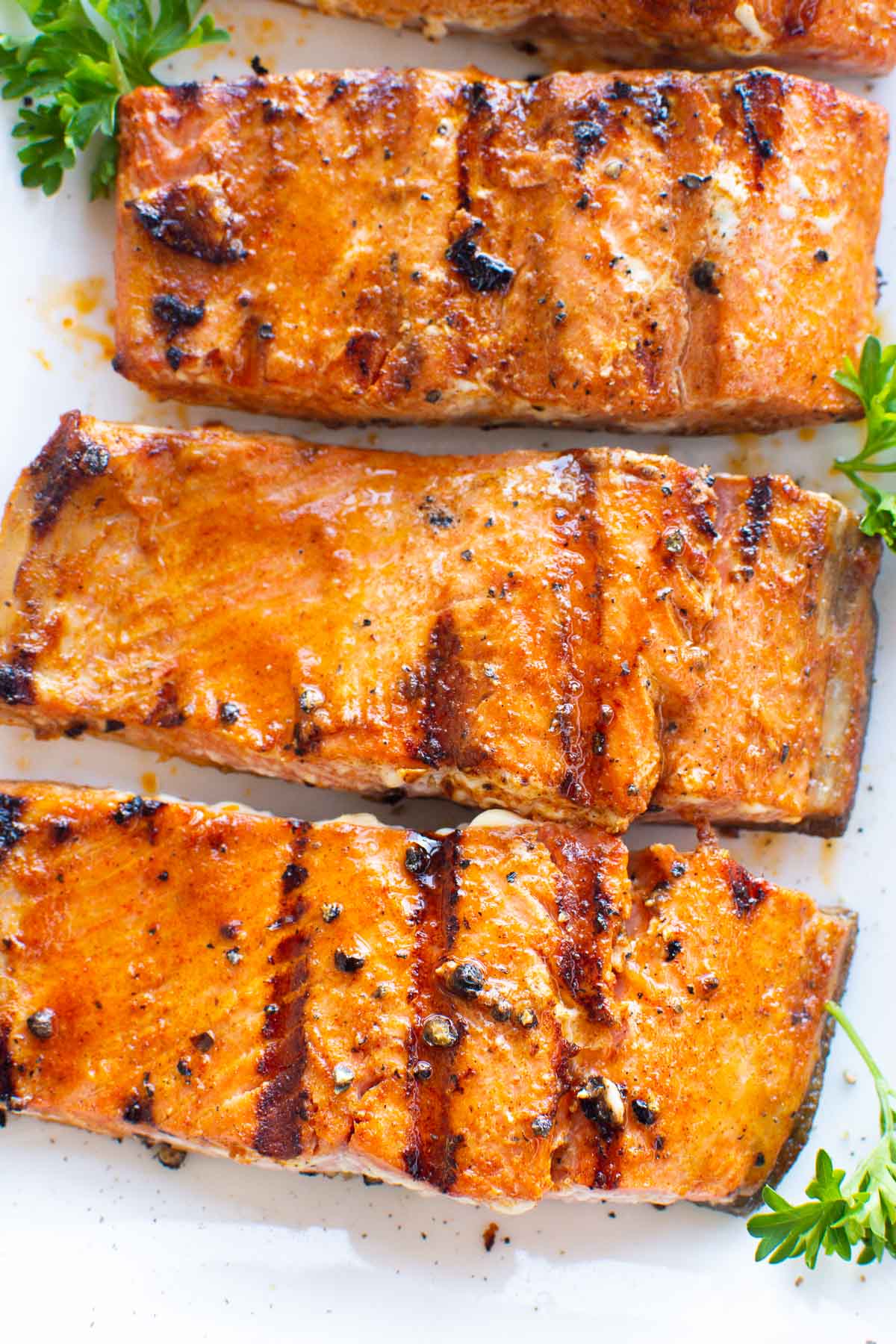 The Best Juicy and Flakey Grilled Salmon
If you're looking for the perfect addition to your summer recipe repertoire, you've found it! Learning how to grill salmon should be on every fish-lovers to-do list (along with grilled shrimp!). Healthy, fast, simple, and super flavorful grilled salmon is a great addition to your BBQ table or even for mid-week meals; give it a try – you won't regret it!
I'll admit when I go to restaurants, I've been known to order grilled salmon dishes and pay ridiculous amounts 'for the privilege.' The truth is, you can make restaurant-quality grilled salmon fillets at home in under 30 minutes and a few simple seasonings (like this whole-cooked cedar plank salmon, which is grilled whole on a cedar plank for smoked flavor). However, there are tons of ways to customize it with different spices, herbs, and marinades.
For now, here is the perfect 'blank canvas' grilled salmon recipe, using just a few simple spices that are in most kitchen pantries and that pair well with tons of ingredients and dishes! First, marinate the fish for as long as it takes to pre-heat your grill (no hours of waiting around for it to marinate!), then pop on your grill, and within 10-15 minutes say hello to flaky, juicy, tender grilled salmon perfection!
This grilled salmon recipe has become a staple of my summer diet – perfect for topping with a fruity salsa and sharing alongside other grilled meats like healthy grilled chicken recipe, Greek chicken kabobs, and with all your favorite BBQ dishes like healthy coleslaw, potato salad (or mashed potatoes), and other veggie and leafy salad dishes! But it's not only perfect for cookouts; this grilled salmon recipe is also the perfect accompaniment to all sorts of dishes like pasta, grains, and salads. Keep reading for tons of suggestions on how to serve and enjoy this salmon!
Within this post, I'll take you through all my top tips for the best-grilled salmon, including what salmon to use, how long to grill salmon, and all my top tips for the best results. Best of all, if the weather isn't cooperating, you can even use an indoor grill pan, so you don't miss out on this tasty dish!
Looking for more summery salmon ideas? Why not try this one-pan salmon and veggies, smoked salmon salad, or even canned salmon cakes.
Why This Grilled Salmon Recipe Works?
This method for grilled salmon yields tender, flaky, juicy salmon every single time!
It uses just a handful of pantry basics for a simple, flavorful seasoning!
Skip the hours of marinating time! All you need for this grilled salmon recipe is the time it takes for the grill to pre-heat!
This grilled salmon is the ultimate 'blank canvas'—perfect for serving with all your favorite dishes or adapting to personal taste with other herbs, seasonings, and marinades!
You can have this fish from your kitchen, then grill, to the table in under 30 minutes, with under 15 minutes grill time!
You can swap the outdoor grill for a non-stick grill pan during the winter months and enjoy this flakey salmon year-round! (you can also broil salmon–like I have with this Thai salmon).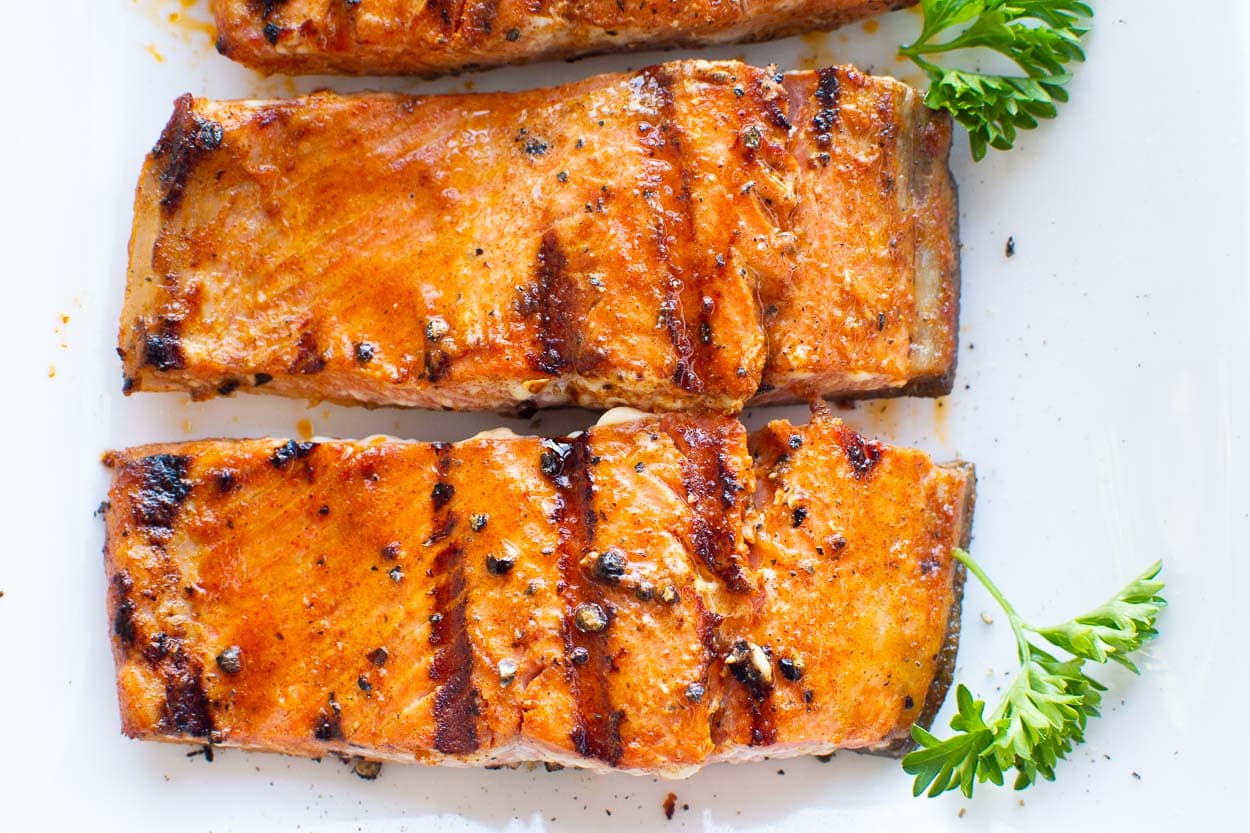 Ingredients for Grilled Salmon Marinade
Salmon: Read below for tips on buying salmon. I prefer to use wild salmon, which has more flavor and is leaner in comparison to farm-raised. Sockeye, King, Coho, Spring, etc. are all types of salmon you can look out for.
For those who aren't massive fish fans, farmed salmon may actually be preferred as it tends to be slightly more mellow in flavor. Though it's often more fatty too!
The grilled salmon marinade Ingredients:
Oil: I recommend using a neutral cooking oil like avocado oil or olive oil (which has a lower smoke point- so is best for lower temperature grilling).
Seasonings: I used a really simple combination of smoked paprika (or use regular/sweet paprika), garlic powder, and salt and pepper.
Acid: You can use lemon/lime juice or apple cider vinegar.
I love how smoked paprika boosts the color and smokiness added to the grilled salmon from the grill and is a spice I use often with grilled salmon. However, the grill will add smokiness too, so get creative with the spices and use what you have!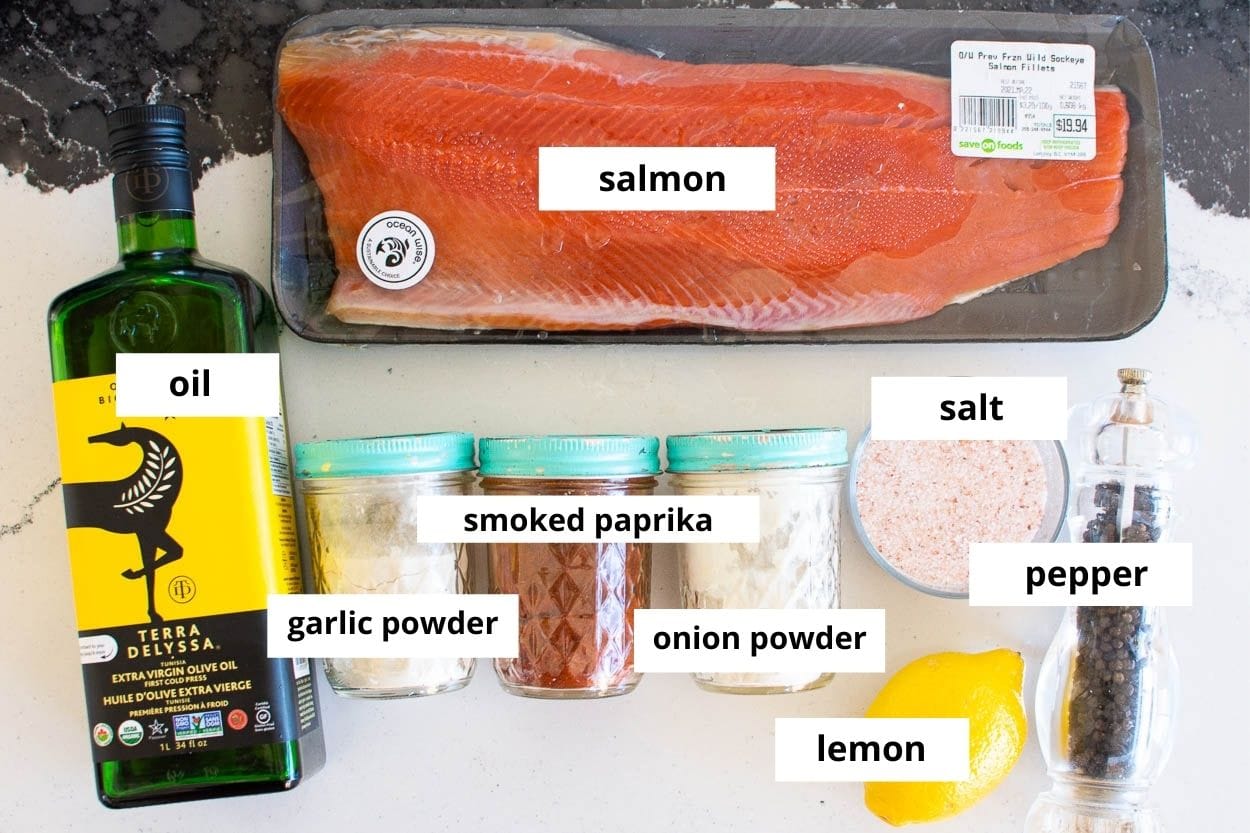 How to Grill Salmon
Prepare and brush the grilled salmon marinade: In a small bowl, combine all the marinade ingredients, mix well, and then pour over the fillets in a wide dish with edges. Allow it to marinate while you pre-heat the grill.
This grilled salmon recipe doesn't require a long marinating time at all, however, you can leave it to marinate for up to 24 hours – for even more flavorful salmon!
Heat the grill: Clean and oil the grill grates with an oil-soaked paper towel (or use grill mats). Then preheat the grill to between 450-500F. If you don't have a thermometer, the temperature is ready when you're able to hold your hand above the grates (don't touch them!) for 5 seconds before it becomes too hot to handle.
Grill the salmon: Place the fillets on the grill, skin side up, close the lid (this creates more of an oven environment with more even heat distribution so it's important for the cooking process), and leave untouched to grill for between 4-5 minutes. Check it's ready to flip by using a spatula to lift the salmon. If the salmon has nice grill marks and lifts from the grates easily, it's ready to flip. If it's still sticking, wait for another 30-60 seconds and try again.
The key to preventing your grilled salmon from falling apart is to slowly slide the spatula under the salmon, wiggling slightly if needed. Then slowly and carefully flip.
Cook uncovered: After flipping, grill the fillets for a further 3-4 minutes, or until a thermometer reads 125F (for medium-rare) or 140F (for medium). Allow it to rest for 5 minutes and then serve.
It's important to note that how long to grill salmon will vary based on your particular grill, the thickness of your salmon, and how well done you like it. If it isn't to your exact requirements the first time around, it'll be easier to tweak next time, though!
To make even more of a meal, you could grill some veggies at the same time; like grilled zucchini, marinade for grilled vegetables, or grilled romaine lettuce.
Tips for Best Salmon on the Grill Results
Which Salmon to Buy?
In this household, buying salmon is a treat – it's definitely not the most cost-efficient ingredient. However, when I do buy salmon, there are a few things to look at; primarily whether to buy wild vs. farmed salmon.
Wild salmon: This includes Sockeye, Coho, Spring, etc. Wild salmon contains more minerals, higher levels of Omega-3's and a 3x reduction in Omega-6's (which can cause inflammation and are a fat often found in processed foods). Wild salmon is also leaner (as wild fish naturally move more) but more expensive.
Farmed salmon: Most fish labeled 'Atlantic' are farmed. Farmed salmon (and fish in general) can contain more contaminants, are often fed antibiotics and artificial GMO feed. Farmed salmon is also very confined with limited movement, which results in higher amounts of Omega-6s (harmful when eaten in high qualities). However, it is cheaper than wild salmon, and the extra fats can mean it's more 'buttery' in flavor and texture.
We live on the Pacific ocean, so we fish all the time. Salmon is not that easy to catch. But when we do, we stock the freezer and make a stock of healthy salmon recipes.
Other Top Tips
Use skin-on salmon fillets: Even if you don't plan on eating it (it's 100% edible, but some just prefer without), grilling the salmon with the skin helps to hold it together as it cooks.
Preheat and grease the grill: The best-grilled salmon is made when cooked on a searing hot grill (450-500F) that's lightly greased to ensure the best cooking results and avoid the fish sticking to the grates.
Don't forget to oil the salmon: The grilled salmon marinade I use naturally contains oil, but don't omit this! Some people don't oil the grates and just oil the fish– it's important to do both for the best results.
Only flip the salmon once: The more you touch or fiddle with the salmon, the more chance you have of it falling apart. Flipping it once is enough to get perfectly tender results and wonderful grill marks.
Use a grill basket or mats: If you struggle with your ingredients sticking to your grill, you can always use grill baskets or mats, which make the process so much easier!
Using an indoor grill pan: If you don't have a grill/BBQ or the weather is not cooperating, you can use a grill pan on the stovetop. Make sure it's properly preheated and oiled then cook in a similar way (covered, flip, uncovered).
FAQs
Can I eat the skin of salmon?
Even if you don't want to eat salmon skin, keep it during barbecuing. Grilling salmon with skin helps to keep salmon slices together and not falling apart. Make sure you remove scales before cooking with a knife. Salmon scales are small and are easy to remove. Often salmon is sold already cleaned.

If you eat salmon skin, know it is very good for you. It contains more of the same minerals and nutrients contained in salmon, which may be an excellent addition to any diet.
How do I know grilled salmon Is done?
There are a few indicators that your grilled salmon is ready:

Technically grilled fish is ready when it reaches an internal temperature of 145F. However, we have to factor in the residual heat, which further cooks the grilled salmon filets, even after removing them from the grates. For that reason, my recommendation is to check the salmon with a meat thermometer and remove it at 125F for medium-rare or 140F for medium. Then, allow it to rest for 5 minutes before serving.

When ready, salmon should also easily flake with a fork and have changed from a red color to pale pink. Keep in mind that wild salmon is leaner and can overcook quicker!

Can I grill skinless salmon?
You can – but it is trickier to handle and flip without it falling apart. I recommend grilling it with the skin then remove the skin when serving if preferred. However, you could also make grilled salmon in foil (with or without the skin).

If you want to omit all risk of your salmon falling apart (especially when using skinless fillets), sticking to the grill, or becoming overly charred – then you can grill salmon in foil (like I do for this oven-baked salmon in foil) for super juicy, moist, flaky salmon.

When doing so, I like to lay some herbs beneath where I'll place the salmon (parsley, dill, and rosemary are my favorite options) on the heavy-duty tin foil and, optionally, lemon slices. Then lay the oiled and seasoned salmon over that, seal the foil parcel, and then grill for 12-16 minutes (time will vary, though based on the size and thickness of your salmon fillets). You can use a thermometer to ensure it reaches the correct internal temperature – then enjoy!
How to flip salmon without it breaking?
The key to flipping salmon without it falling apart is to make sure it's READY to flip. Try to flip it too soon and you're asking for a nightmare.

When you place the salmon fillets on your grill they will naturally stick to the grills during the first few minutes of cooking before starting to release (about 4-5 minutes grilling covered for me)- then it's time to flip. If you feel resistance when trying to flip, stop and give it more grilling time!

You also have to make sure to flip it carefully! Use a spatula and slowly slide it under the salmon fillet, wiggling it ever so slightly. Then flip carefully.
What else can I season grilled salmon with?
There are dozens of ways to flavor grilled salmon, whether you want to use a spice rub or a grilled salmon marinade. For the ultimate 'base' option I recommend a simple combination of olive oil, salt, pepper, and lemon to serve!

You can experiment with all kinds of dried herbs and spices, though. I often like to add a sprinkle of brown sugar to the grilled salmon marinade. It sounds odd but tastes amazing once it caramelizes on the grill. Bump up the heat with the addition of chili flakes or hot sauce, marinade with a BBQ sauce or healthy sweet chili sauce – the options are endless.

Fresh herbs are trickier to use, as they burn easily on the grill. However, if you want to experiment then dill, parsley, and rosemary work particularly well in a grilled salmon marinade. Or perhaps used in a sauce to brush over the salmon when serving.

Here are a few of the flavor options already on my blog: peanut butter miso salmon, lime and ginger marinated salmon, or honey garlic glazed salmon.
Serving Recommendations
To say that this fish is versatile would be an understatement. If I were to list all the ways to enjoy it, I'd be here for days. So here's a short list of some of my top picks:
Making This Recipe in Advance
Make ahead: You can leave the fillets marinating for up to 24 hours, covered, in the refrigerator before grilling.
Storing: Allow the grilled salmon to cool down, then refrigerate, covered, for up to 4 days. The leftovers are great for enjoying cold in a canned salmon salad recipe, a sandwich, or wrap!
Freeze: Transfer the salmon to a freezer-safe airtight container and store for up to 3 months. Try to do this within a couple of hours of cooking them to prevent bacteria growth. Thaw in the refrigerator before re-serving.
More Tasty Salmon Recipes
You may also want to check out all my healthy seafood recipes or healthy grill recipes! Alternatively, you might also like this recipe for grilled shrimp skewers, 13 healthy shrimp recipes or grilled fish tacos!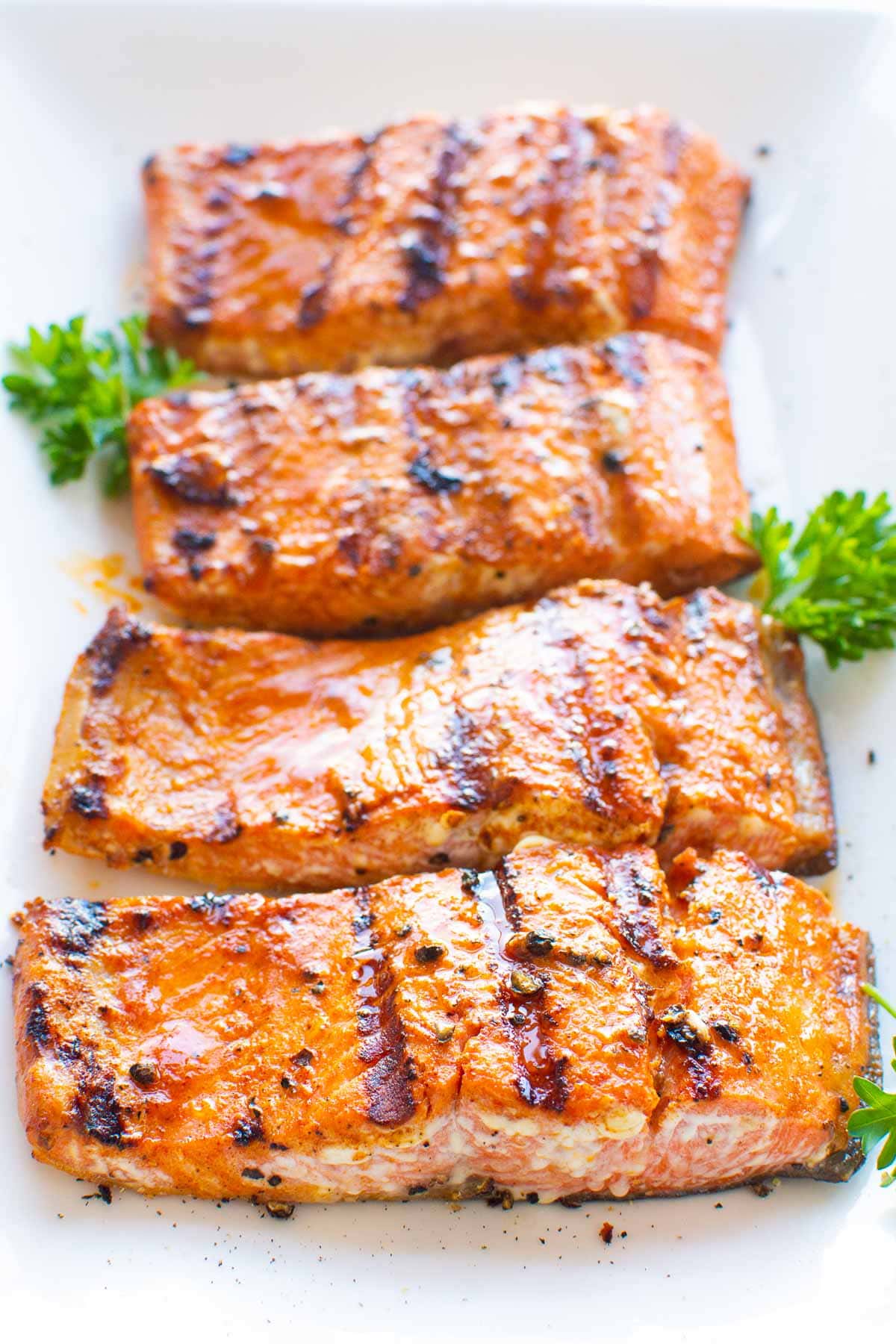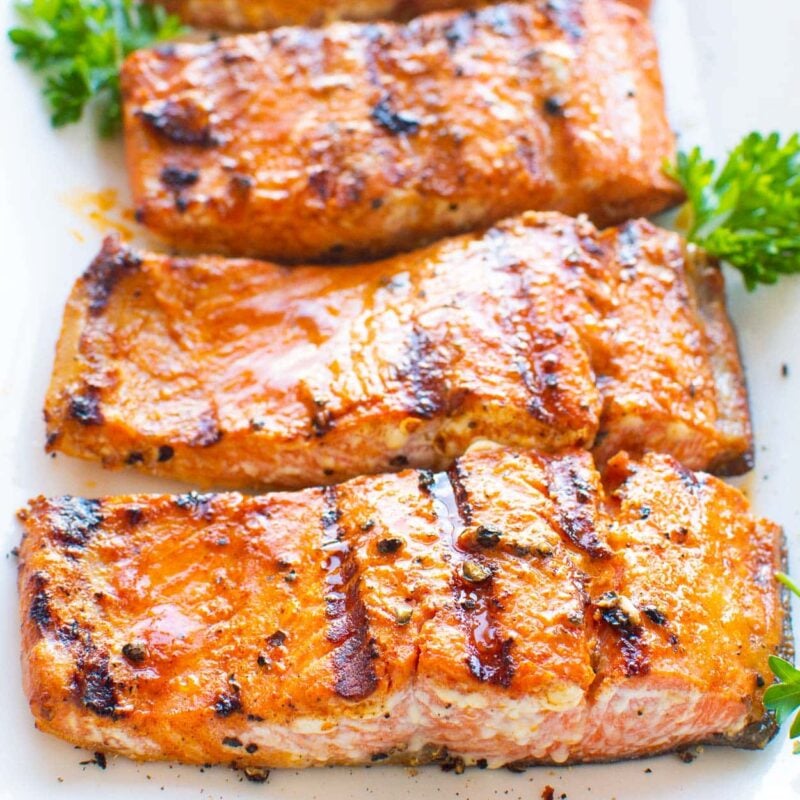 Grilled Salmon
How to grill salmon until it's tender, juicy, and slightly charred! This Grilled Salmon Recipe uses just simple seasonings and no marinating necessary (just the time it takes to heat your grill!), for quick, flaky, flavorful grilled salmon that's perfect for pairing with all your favorite grill recipes.
Instructions
In a small bowl, add olive oil, lemon juice, smoked paprika, garlic and onion powders, salt and pepper. Whisk to combine.

In a shallow flat dish with edges, lay salmon slices and brush with marinade. Marinate from 10 minutes for up to 24 hours. Longer marinating time, more flavorful salmon.

Preheat grill to high heat of 450-500 degrees F. Clean grill well and oil the grates with soaked in oil paper towel. It is important to avoid salmon sticking to the grill.

Place salmon on the grill skin side up, close the lid and grill for about 4-5 minutes.

Check with spatula – if salmon has nice grill marks and comes off the grill easy – you flip it. The key to prevent fillet from falling apart is to move spatula under it slowly and flip.

Cook uncovered for another 3-4 minutes or until thermometer reads 125 degrees F for medium rare or 140 F for medium.
Notes
Store: Refrigerate leftovers for up to 4 days in an airtight container.
Freeze: You can freeze leftover cooked salmon for up to 3 months in an airtight container.
Wild salmon is more lean than farmed salmon and can come out dry. Make sure not to overcook and by following recipe instructions.
Nutrition
Serving:
1
slice
|
Calories:
207
kcal
|
Carbohydrates:
1
g
|
Protein:
23
g
|
Fat:
12
g
|
Saturated Fat:
2
g
|
Cholesterol:
62
mg
|
Sodium:
438
mg
|
Fiber:
1
g
|
Sugar:
1
g