These Healthy Mashed Sweet Potatoes are unbelievably fluffy, creamy, light, and so easy to make. This sweet and savory side dish is perfect for a holiday table or year round weeknight dinners!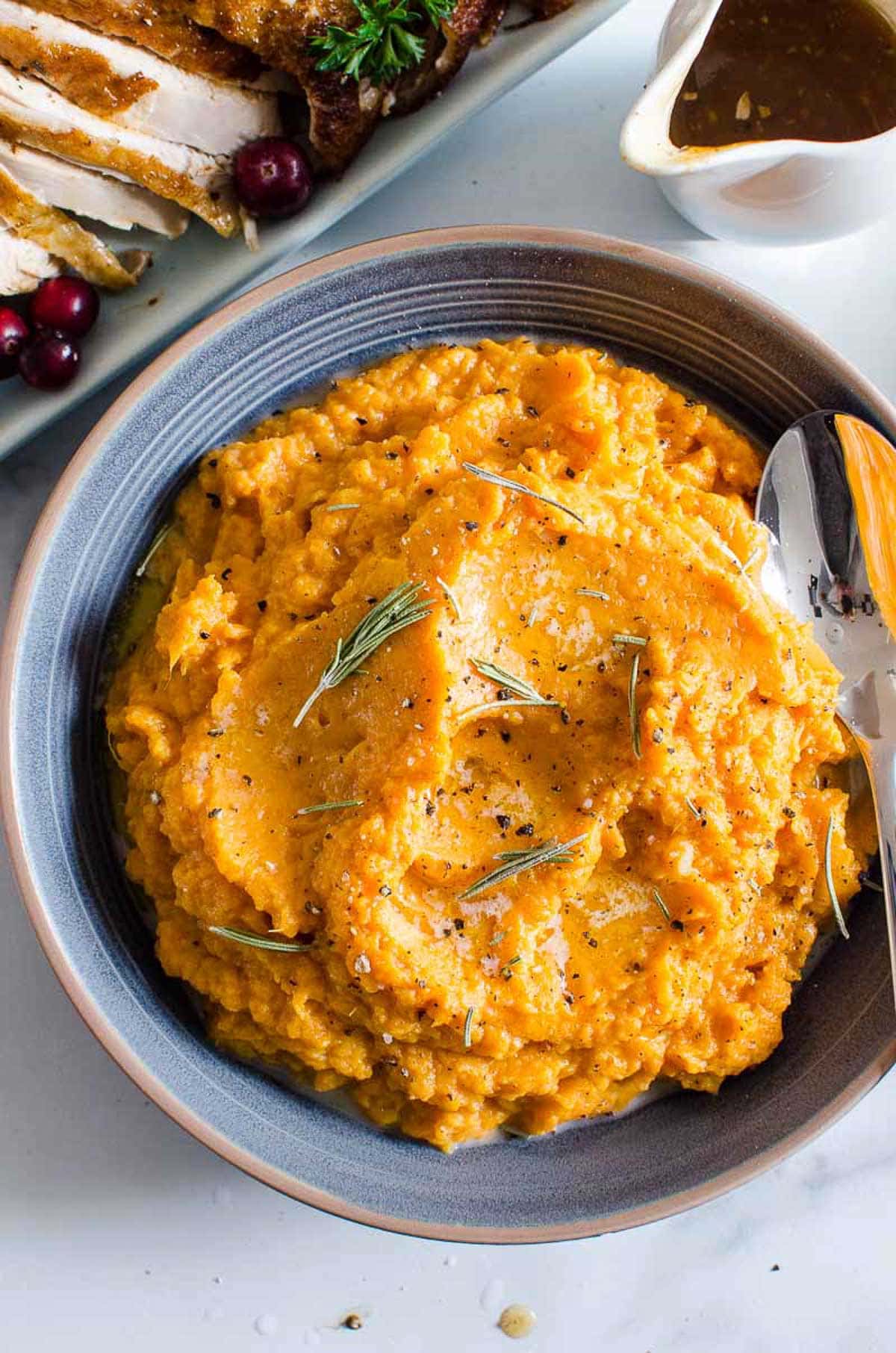 Healthy mashed sweet potatoes do not need many extra ingredients as they are one of the naturally sweetest vegetables in existence!
They are a nice change at the holidays from traditional healthy mashed potatoes.
While we love healthy sweet potato casserole with a pecan sugar topping, sometimes you just need a simple, light side to compliment your dinner! Plus, these are ready in only 30 minutes.
We make ours creamy with a bit of milk and butter, and highlight their sweetness with a touch of maple syrup and cinnamon. And a tiny clove of garlic. Well, I am from Ukraine.
This simple sweet potatoes recipe pairs so well with just about any main protein! During the holidays with savory oven roasted turkey breast and year round with pork chops, chicken, steak or even seafood.
Why You'll Love These Mashed Sweet Potatoes
Nutritious: Sweet potatoes are a starchy root vegetable high in fiber, vitamins, minerals and antioxidants.
Easy to make: Only 6 ingredients (not counting salt and pepper) and ready in 15 minutes.
Versatile: Boil your sweet potatoes on the stove or use your Instant Pot!
Creamy and delicious: The perfect healthy comfort food!
Ingredients Needed
Most of these ingredients you probably already have on hand! Just grab some sweet potatoes at the store and this is a breeze to whip up for healthy sides.
Sweet potatoes: These will need to be first peeled, then cubed. You can also leave skin on.
Salted butter: We are only using a small amount, please use the real deal. You could use unsalted but then you will have to season the mash more.
Whole milk: Whole milk will make these creamy.
Maple syrup: Just a touch of real maple syrup to enhance the natural sweetness.
Cinnamon: Warm and inviting, it pairs perfectly with sweet potatoes.
Garlic: This savory spice balances the sweet ingredients.
Salt and pepper: To taste.
How to Make Healthy Mashed Sweet Potatoes
Cook, season, and mash. It's so simple to make this healthier sweet potato mash!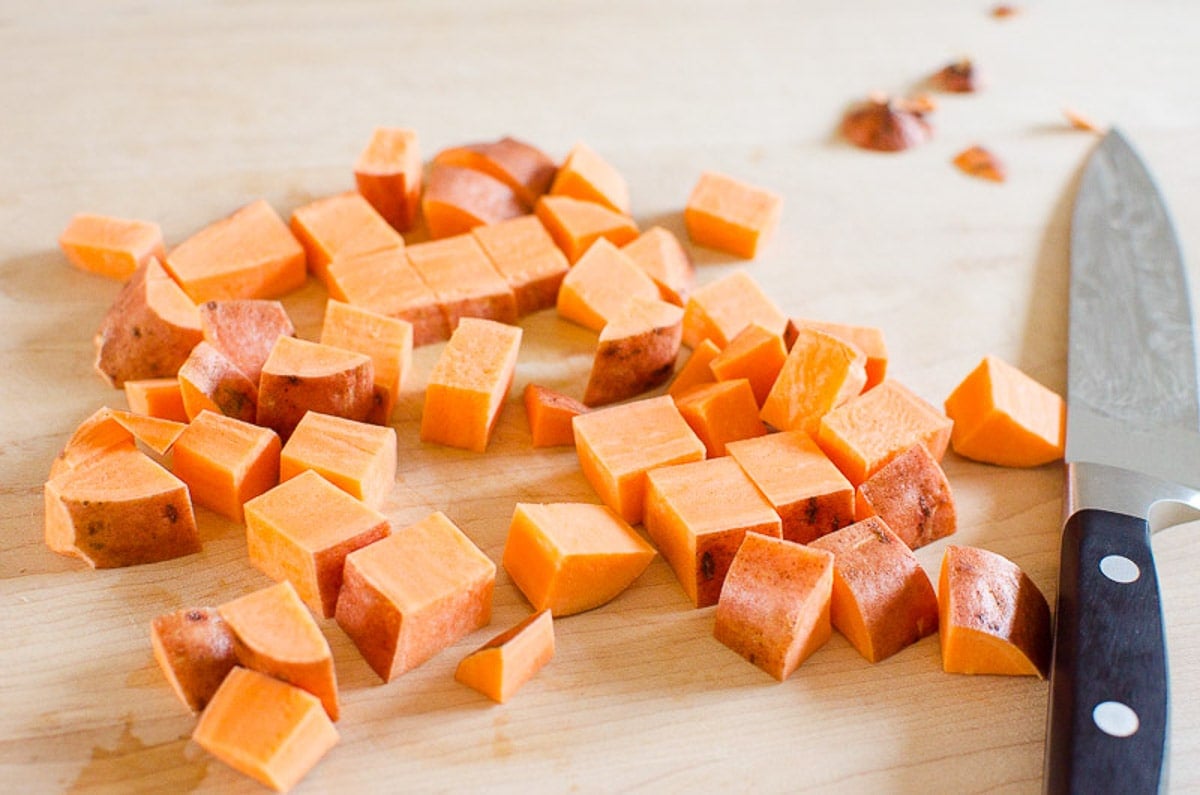 Prep and cook: Peel sweet potatoes and cut into evenly sized pieces. Add sweet potatoes and cold water to large pot.
Cover with lid and bring to a boil. Reduce heat to low and cook for 15 minutes or until potatoes are fork tender.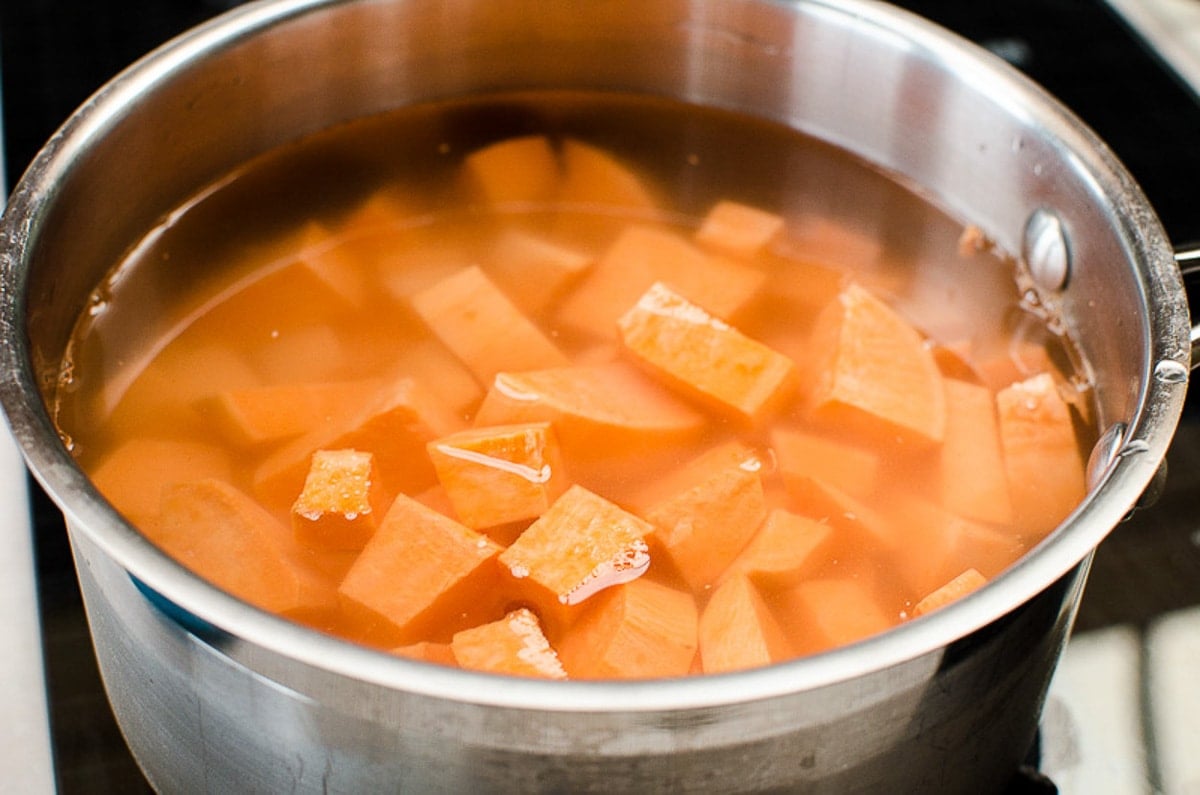 Drain: Either hold onto the lid, leaving a small opening to drain, or drain in a colander.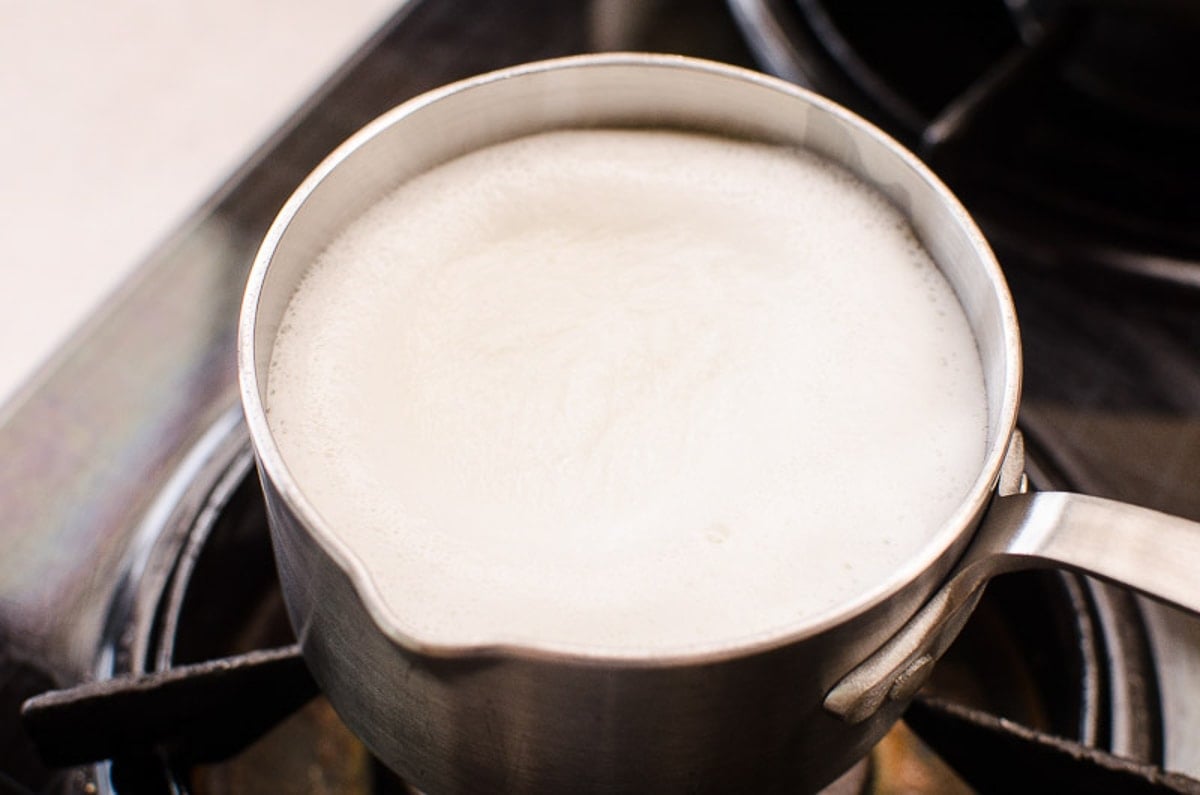 Heat milk: Add milk to a small saucepan and bring a to a boil.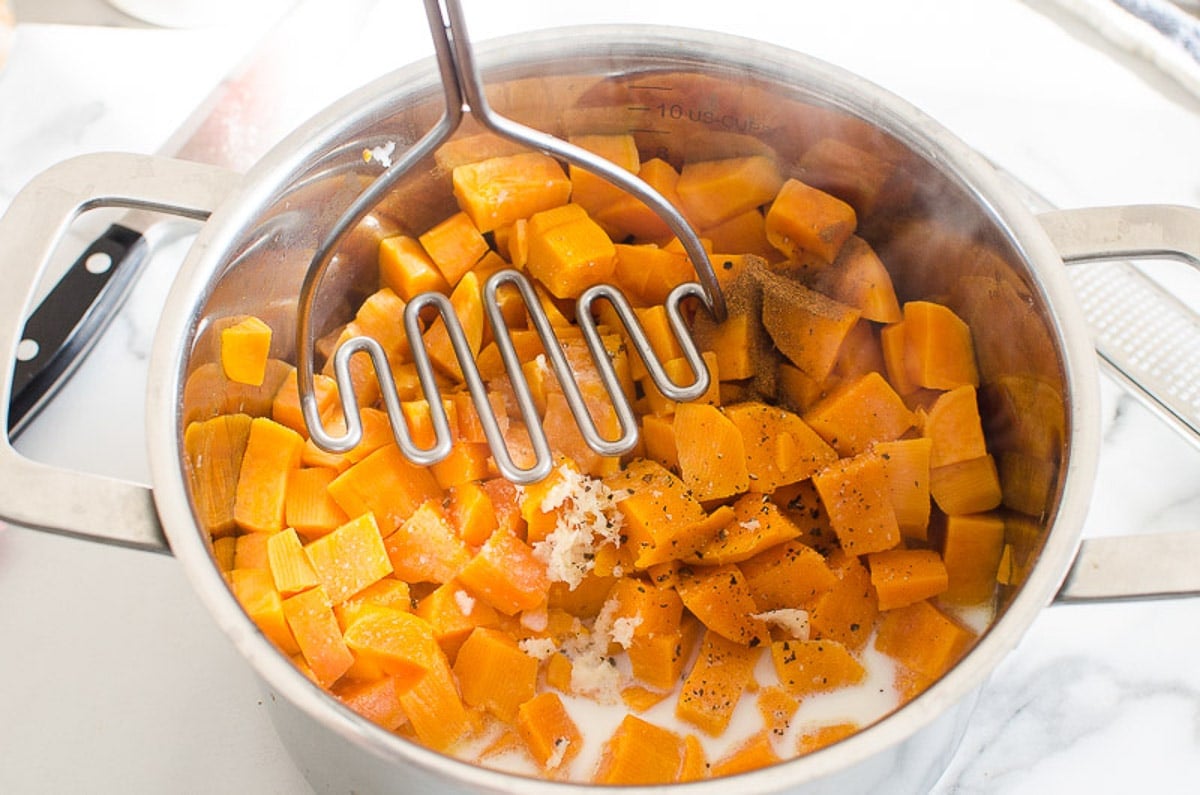 Season: Add butter, whole milk, fresh garlic, maple syrup, salt and pepper to cooked sweet potatoes. This combo produces savory sweet potatoes with a bit of sweetness.
Mash: You can mash sweet potatoes with a fork, potato masher, immersion blender, food processor, or hand mixer.
We love creamy with tiny pieces mash regular potato masher produces!
Tips and Substitutes
Hot milk: Do not use cold milk. Hot milk absorbs better and ensures you don't overmix your potatoes.
For a vegan option: Substitute butter with a vegan butter and milk for a plant-based option. Taste might slightly change but your mashed potatoes will now be dairy free.
Do not overcook the potatoes: Cook until fork tender. Otherwise they will absorb too much water and turn into a mushy consistency.
Honey: Replace maple syrup with honey and make more sweet if you wish. I think both sweeteners go so well with sweet potatoes.
How to Store Leftovers?
Store: Refrigerate leftovers in an airtight container for up to 3 days. Stir before reheating.
Reheat: To reheat simmer on low with a splash of milk to rehydrate. Stir constantly to prevent burning.
Can I Freeze Mashed Sweet Potatoes?
Yes! Place in an airtight glass container and freeze for up to 3 months. Thawing will take less time if you freeze mash in smaller portions or thinner layer.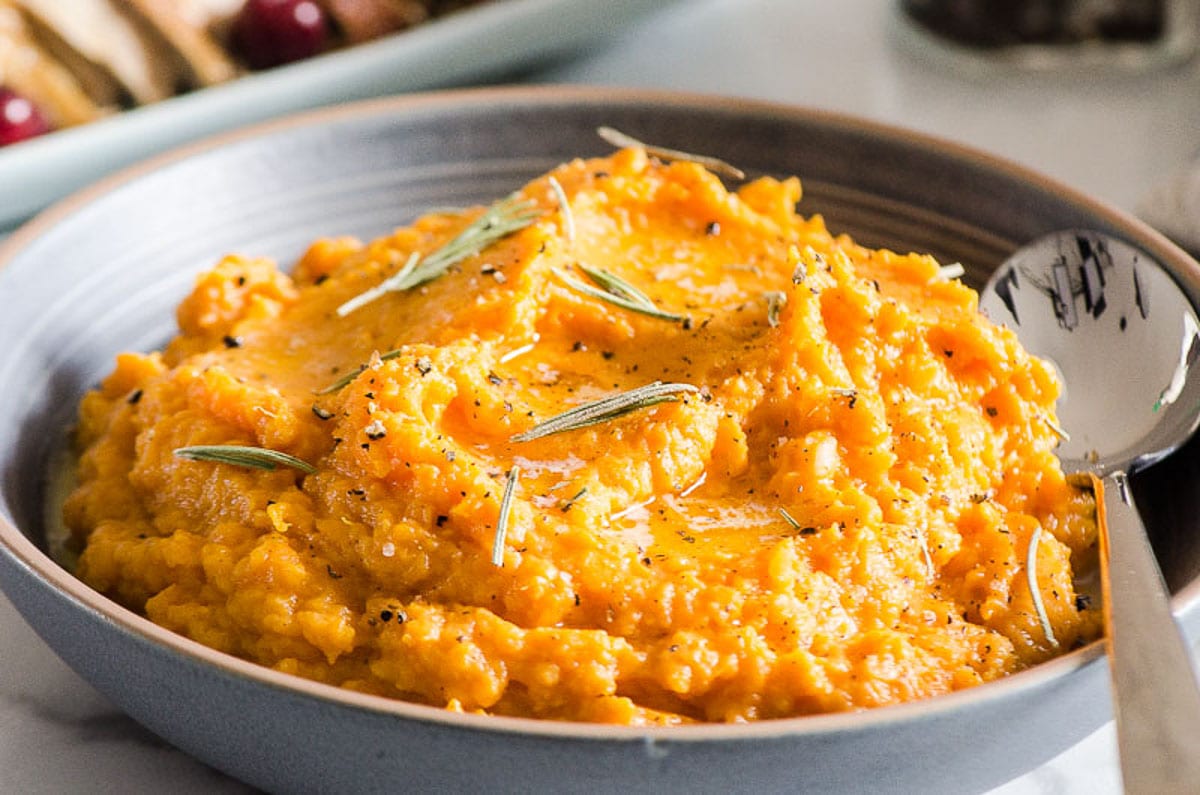 Serving Suggestions
Traditionally, sweet potatoes are made for healthy Thanksgiving recipes or Christmas dinner table.
Serve along with juicy boneless turkey breast roast with healthy turkey gravy. You will have zero regrets!
FAQs
Can I make it ahead of time?
Yes. Cool then store covered in the refrigerator up to 3 days. Reheat by simmering on the stove with a splash of milk. Or stir and then reheat in microwave.
Do I need to peel my sweet potatoes?
While this is a personal preference, peeling your sweet potatoes will result in a creamier, smoother mash. While it is easier to peel them before you boil them, to retain nutrients you could cook them in their skin, cool and then peel.
How to make sweet potato mash creamy?
Cook your potatoes only until fork tender, use warm milk, and if you have a food processor I think that makes the creamiest mash.
What are some savory toppings I can add?
I love to top these potatoes with freshly ground black pepper and fresh rosemary or fresh thyme. A drizzle of olive oil on top makes a pretty presentation!

Pan fried bacon pieces, freshly grated cheese, or toasted pecans are some other delicious options! If you love a little heat, try some red pepper flakes.
Are sweet potatoes healthy?
Yes! They are higher in fiber than white potatoes and among one of the best sources of beta-carotene. Sweet potatoes also contain roughly 10% of your daily potassium intake, which is great for supporting your nervous and muscular systems as well as metabolism. They are also naturally gluten-free.
More Healthy Sweet Potato Recipes
Healthy Mashed Sweet Potatoes
Healthy Mashed Sweet Potatoes are fluffy, creamy, light, and easy to make. A sweet and savory side dish perfect for holidays or weeknights.
Instructions
In a large pot, add sweet potatoes and enough cold water to cover. Cover with a lid and bring to a boil. Reduce heat to low and cook for 15 minutes or until potatoes are fork tender. Drain potatoes very well by holding onto the lid and leaving a small opening or in a colander.

In a small saucepan, bring milk to a boil. Don't walk away to prevent milk from running.

Add butter, milk, maple syrup, garlic, cinnamon and pepper to cooked sweet potatoes. Mash with a potato masher until smooth. You can also use an immersion blender or food processor.

Serve warm with melted butter and rosemary garnish on top.
Notes
Store: Refrigerate leftovers in an airtight container for up to 3 days.
Freeze: Freeze in portions with future use in mind in an airtight container for up to 3 months. Thaw on a counter for 4-5 hours or in the fridge overnight. Warm up on the stove on low with a splash of milk.
Make ahead: Refrigerate peeled and cubed potatoes in a bowl with cold water for up to 2 days. Cook as per recipe.
Instant Pot: You can also cook whole sweet potatoes in Instant Pot for 15 minutes on high pressure with Natural Pressure Release. Then let them cool a bit, scoop out the flesh and proceed with the recipe. Or cook cubed sweet potatoes with 1 cup water on high pressure for 7 minutes.
Nutrition
Serving:
1
cup
|
Calories:
203
kcal
|
Carbohydrates:
34
g
|
Protein:
3
g
|
Fat:
6
g
|
Saturated Fat:
4
g
|
Cholesterol:
17
mg
|
Sodium:
337
mg
|
Fiber:
5
g
|
Sugar:
9
g