Mashed Sweet Potatoes are unbelievably fluffy, creamy, healthy and so easy to make. Delicious side dish for a weeknight dinner or a holiday table. These are so good!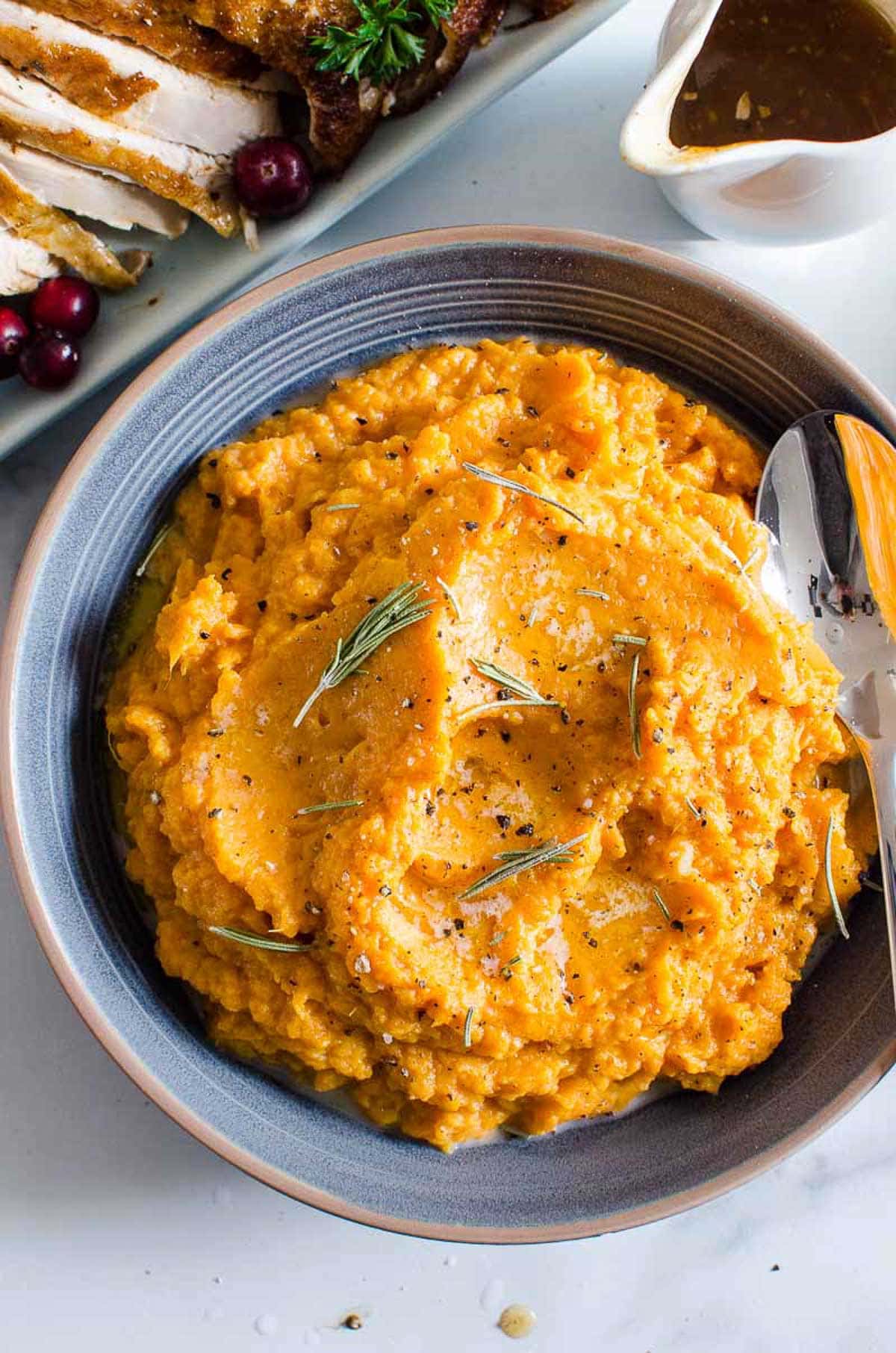 Mashed sweet potatoes do not need many extra ingredients. Sweet potatoes are already the sweetest vegetable in existence.
We make ours creamy with a bit of milk and butter, and highlight their sweetness with a touch of maple syrup. And a tiny clove of garlic. Well, I am from Ukraine. 🙂
Sweet mashed sweet potatoes would pair so well with savory turkey breast or pork chops.
How to Make Mashed Sweet Potatoes
First I am sharing 3 ways to cook potatoes and then season and mash.
Cook sweet potatoes on the stove: I usually peel and dice sweet potatoes. You don't have to peel though because skin contains many nutrients and vitamins but final result will have pieces of skin. The smaller you dice sweet potatoes, the faster they will cook. And bring sweet potatoes to a boil with water, do not add them to boiling water.
OR Cook sweet potatoes in Instant Pot: Poke medium size potatoes, place them on a trivet or in a basket, add 1 cup of water to the bottom of pressure cooker and cook on high pressure for 15 minutes. If you have chubby and large potatoes, cut them in half lengthwise. This method is easy on prep but after you have to let potatoes cool down enough to scoop out the flesh.
OR Bake sweet potatoes: Wash potatoes, pierce with a fork and place whole on a baking tray. Bake for 1 hour in 400 degrees F oven. And then scoop out the flesh.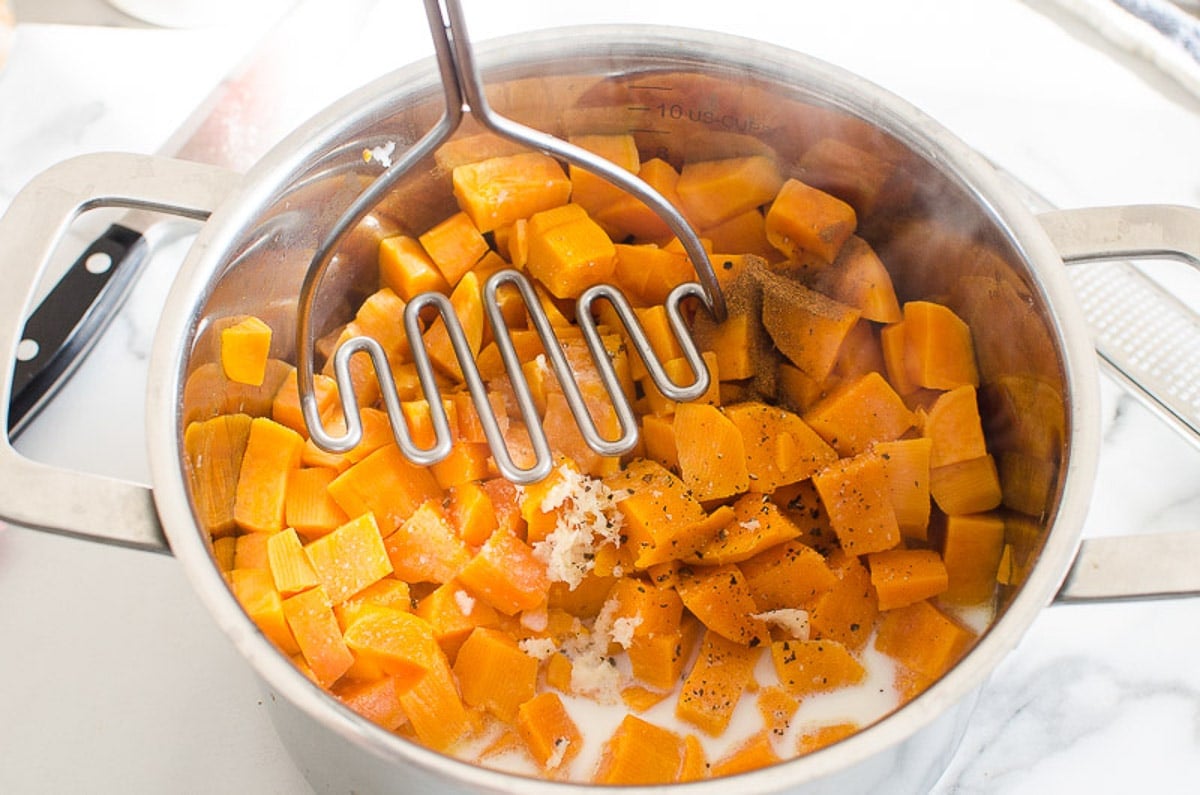 Season: I add simple ingredients like butter, whole milk, fresh garlic, maple syrup, salt and pepper. This combo produces savory mashed sweet potatoes with a bit of sweetness.
Mash: You can mash sweet potatoes with a fork, potato masher or hand mixer. We love creamy with tiny pieces mash regular potato masher produces.
Unlike white potatoes with a lot of starch that are not recommended to blend due to glue like consistency, sweet potatoes can be mashed with an immersion blender or food processor. They are very low in starch.
I would say, food processor make the creamiest mashed potatoes.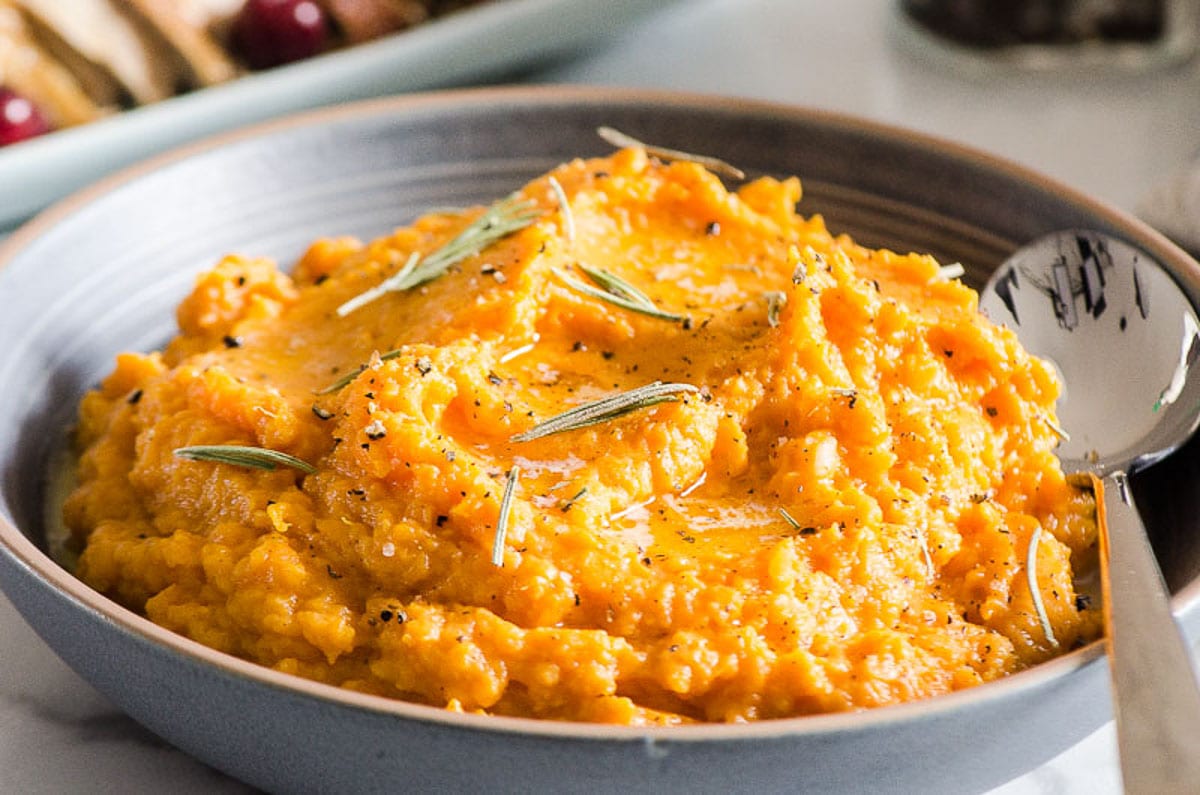 Variations of Mashed Sweet Potatoes
Bacon: Pan fry bacon pieces until crispy and add to mashed sweet potatoes along with some drippings. Heaven!
Apple: You can add chopped apple to cook with sweet potatoes. Or pan fry apple slices with butter, maple syrup, cinnamon and salt to taste and top the mash with. What a fall side dish!
Honey: Replace maple syrup with honey and make more sweet if you wish. I think both sweeteners go so well with yams.
Pecan: Toast pecan halves in a skillet until fragrant watching closely and stirring often.
Rosemary: Give dried rosemary a rough chop and directly to the mash. Or if you are pan frying bacon, apples or pecans, add to the skillet. Heat makes any dried herb extra flavorful.
Spicy: Add red pepper flakes, sriracha or any hot sauce to taste.
Storing, Freezing and Reheating Tips
Store: Refrigerate leftovers in an airtight container for up to 3 days. Stir before reheating.
Reheat: To reheat mashed sweet potatoes, simmer on low with a splash of milk to rehydrate. Stir constantly to prevent burning.
Freeze: Place in an airtight glass container and freeze for up to 3 months. Thawing will take less time if you freeze mash in smaller portions or thinner layer. I am not a fan of plastic bags unless you wash and re-use them. I do because sometimes containers won't cut it.
What to Serve Sweet Potatoes With?
Traditionally, mashed sweet potatoes are made for Thanksgiving or Christmas dinner table.
More Sweet Potato Recipes
Mashed Sweet Potatoes
Mashed Sweet Potatoes are unbelievably fluffy and creamy, healthy and so easy to make. Delicious side dish for a weeknight dinner or a holiday table. These are so good!
Print
Rate
Instructions
In a large pot, add sweet potatoes and enough cold water to cover.

Cover with a lid and bring to a boil. Reduce heat to low and cook for 15 minutes or until potatoes are fork tender.

Drain potatoes very well by holding onto the lid and leaving a small opening or in a colander.

In a small saucepan, bring milk to a boil (don't walk away to prevent milk from running).

Add butter, milk, maple syrup, garlic, cinnamon and pepper.

Mash with a potato masher until smooth. You can also use an immersion blender.

Serve warm.
Store: Refrigerate leftovers in an airtight container for up to 3 days.
Freeze: Freeze in portions with future use in mind in an airtight container container for up to 3 months. Thaw on a counter for 4-5 hours or in the fridge overnight. Warm up on the stove on low with a splash of milk.
Make Ahead: Refrigerate peeled and cubed potatoes in a bowl with cold water for up to 2 days. Cook as per recipe.
Notes
Add more salt if using unsalted butter.
You can also cook whole sweet potatoes in Instant Pot for 15 minutes on high pressure with NPR. Then let them cool a bit, scoop out the flesh and proceed with the recipe. Or cook cubed sweet potatoes with 1 cup water on high pressure for 7 minutes.
Nutrition
Serving:
1
cup
|
Calories:
203
kcal
|
Carbohydrates:
34
g
|
Protein:
3
g
|
Fat:
6
g
|
Saturated Fat:
4
g
|
Cholesterol:
17
mg
|
Sodium:
337
mg
|
Fiber:
5
g
|
Sugar:
9
g
Recipes and images are a copyright of ifoodreal.com. It is against the law to republish recipes without permission. Nutritional info is approximate.