Sautéed Garlic Green Beans are a healthy, easy to prepare vegetable side dish ready in under 15 minutes. Fresh green beans are tossed with olive oil and savory garlic then ready to be enjoyed year round or at the holidays.
Looking for more easy to prepare, healthy side dishes for weeknights or the holidays? Favorites include healthy green bean casserole and roasted asparagus recipe.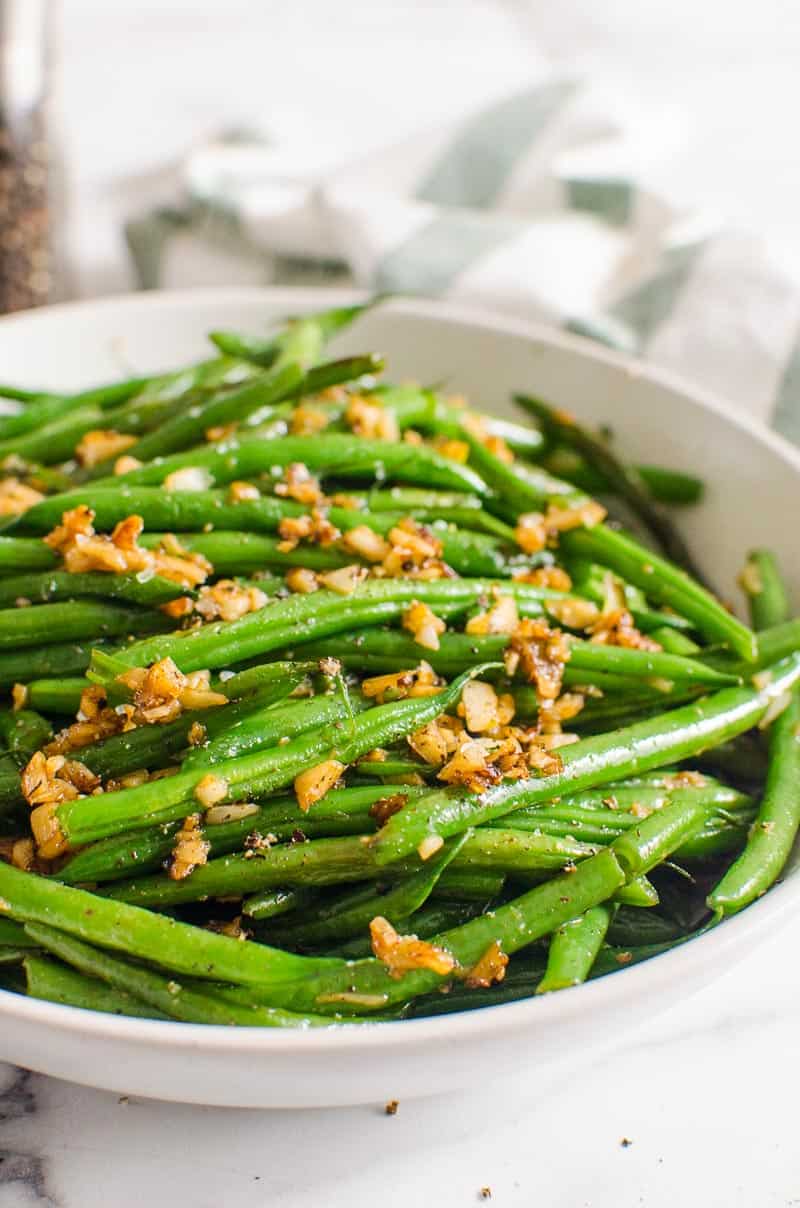 Sauteed Green Beans with Garlic
These garlic green beans will change your perspective on bland string beans. Perfectly cooked until firm, then quickly sauteed with lots of garlic in butter or olive oil- they are slightly crisp with so much flavor!
Garlic complements the green beans so well in this quick and easy stove-top recipe. Only minutes to prep/make in one pan, yet tastes so incredible- they are my go to side for oven baked chicken breast or boneless leg of lamb.
Why Make Green Beans and Garlic?
Simple ingredients: 5 ingredients plus water is all you need for these sautéed green beans.
Quick and easy: Ready in under 15 minutes, the perfect last minute side from healthy grilled chicken recipe to a holiday turkey! 
So much flavor: Quickly cooked garlic adds sharp flavor to otherwise bland green beans.
Versatile: Enjoy these green beans year round with a roast, lasagna or grilled salmon.
Healthy: Low calorie with vitamins A, C and K, eating your vegetables never tasted better.
Diet-friendly: When using olive oil, this green bean recipe is gluten-free, dairy-free, whole 30, paleo and keto friendly! 
Ingredients for Garlic Green Beans Recipe
Green beans: You can use fresh or frozen green beans.
Garlic: Garlic is the all star ingredient in this garlic green beans recipe. And you know how much I love garlic- it's my secret ingredient finisher in many soup and stew recipes!
Olive oil/butter: Extra virgin olive oil will add a light nutty undertone to the beans, whereas butter is creamier and sweeter and will result in perfect garlic butter green beans.
Salt and pepper: To season and taste.
How to Make Garlic Green Beans
There is a full recipe card below.
Wash frozen or fresh green beans: Sadly, they are on the dirty dozen list which means they are high in pesticides. For this reason, I don't often buy them in winter unless I can find organic and only local in the summer. Washing helps to remove pesticides. So, wash well.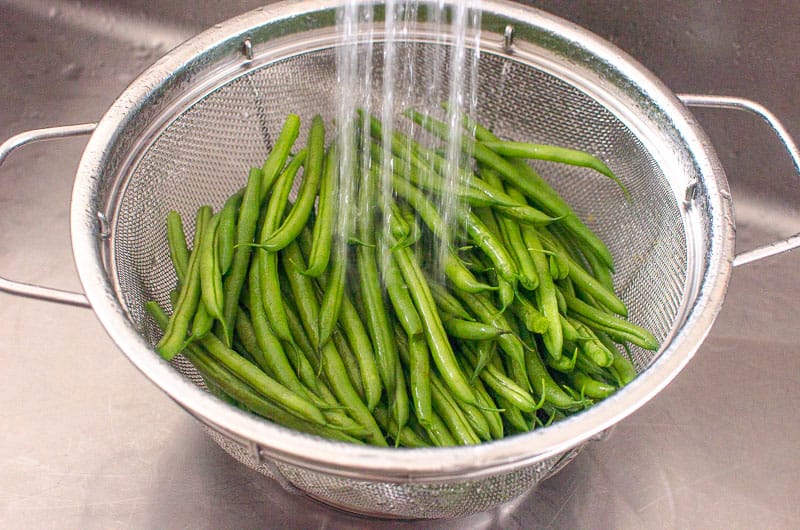 Cook green beans: In a large preheated skillet, add beans with 3 tbsp water. Cover and cook for 4 minutes. Beans should be "al dente". If you are using frozen beans, cook on the skillet without water. After 3 minutes, check to see if they need more water or time to cook.
Season sauteed green beans: After pushing the beans to one side of the skillet, add butter/olive oil and minced garlic and saute for about 30 seconds. Sauteing garlic makes it more flavorful and less spicy.
Combine it all together. Finally, mix string beans, garlic, salt and pepper together and cook for 30 more seconds. Serve warm.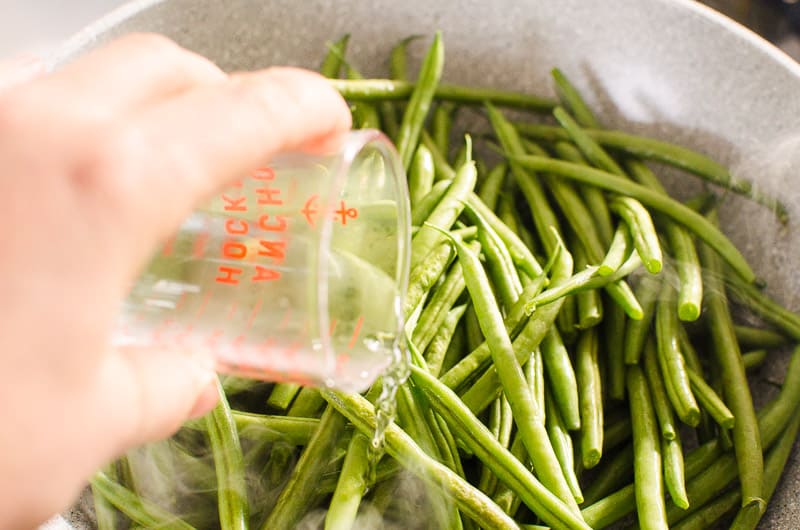 Optional Add-Ins and Variations
There are so many ways to change up this garlic green beans recipe and add a different flavor. Here are some of my favorite things to add:
Lemon: Squeeze fresh lemon over the sauteed green beans.
Parmesan cheese: Sprinkle 2 tbsp of freshly grated Parmesan cheese over beans.
Bacon: Cook up ~ 3 slices of diced bacon in a skillet then stir into the sauteed green beans. This gives the beans a salty, smoky taste just like in Ukrainian skillet potatoes.
Almonds: 1/4 cup of skillet toasted slivered or sliced almonds is the perfect addition to this side dish.
Other nuts would be delicious, too! Try toasted walnuts, pecans or even mixed nuts like I use in grilled chicken salad!
Ran out of garlic? Try a shallot! Use a half a teaspoon to a whole teaspoon of minced shallot in place of a one clove of garlic.
Bourbon: Just a splash at the end, and then saute for an extra minute or two to give them an extra special holiday flair!
Maple syrup: Contrasts well with the savory garlic – add just a small amount near the end of cooking time.
Balsamic vinegar: Adds some depth and sweetness, add just a splash.
Fresh herbs: Toss with a few tablespoons of fresh minced herbs at the end- savory thyme, rosemary or fresh parsley would work best.
Chinese garlic green beans: Garnish with a sprinkle of sesame seeds and chili flakes, pairs well with cauliflower fried rice.
Pair these add-in's wisely! For example, bourbon and maple syrup with savory bacon, lemon with parmesan or balsamic with almonds.
Tips for Best Results
Freshly minced garlic: Mince your own garlic clove for the freshest taste.
Olive oil substitution: You could use avocado oil or coconut oil, they might lend a different taste to end results.
Get the pan hot: For best sauté results, you will want your pan hot so you can quickly 'cook' garlic then toss with beans.
Sauté long enough: Use the full 30 seconds to saute the garlic to get the delicious garlic flavor without the garlic bite.  
Blanch the beans: If you prefer an extra 'crisp veg' texture, after you gently steam them, run them under cold water to stop cooking process.
FAQs
What spices go well with green beans?
This sauteed green beans with garlic uses minimal spices – only fresh garlic, salt and pepper. For Chinese green beans, add chili flakes. Other spices/herbs that would work include basil, oregano, thyme or tarragon. Finishing with minced fresh herbs of the same would also be delicious!
Can you cut green beans before cooking?
If you are using fresh green beans, you will want to trim ('snap') the tip of the stem where it was once attached to the rest of the plant. Fun fact: This is why green beans are sometimes called snap beans! You could cut them if you would like, shorter beans might cook faster though.
Are green beans actually good for you?
Yes! They are low in calories, full of fiber and antioxidants such as vitamin C. A single serving size can also provide you 1/3 of your daily intake of folate!
Is it better to steam or boil green beans?
This recipe lightly steams green beans before sautéing them. I love this method as it prevents beans from overcooking as well as it retains their vibrant color.
Why are my green beans tough?
You may have overcooked them, or they might have been freshly picked past their prime. If you see the green bean seeds bulging from their pod, this could be a sign they are overripe.
Why won't my green beans soften?
Most often the case is because the green beans were picked past their optimal harvest time. You could try shelling the beans from their pod or boiling the whole green bean for 20-30 minutes then adding to jambalaya or vegetable soup.
Should I soak green beans before cooking?
No, they don not need to be soaked.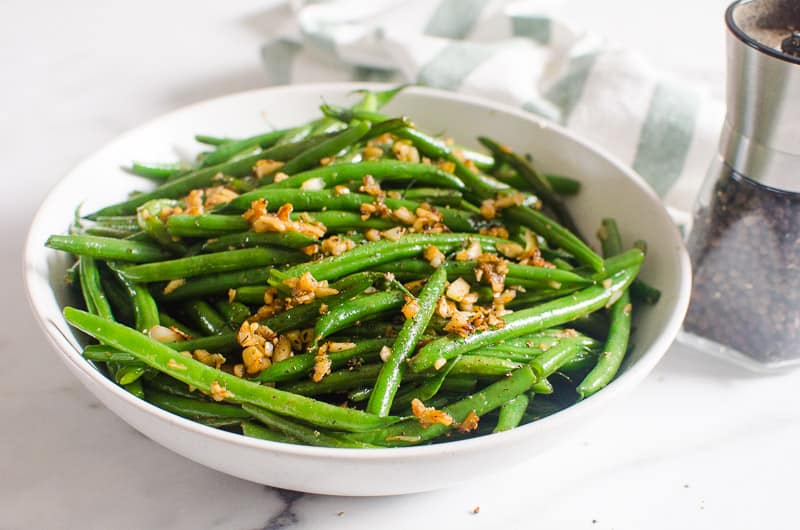 Serving Recommendations
For regular healthy dinner sides, serve garlic butter green beans with:
Sauteed green beans will also add a vibrant punch of colour to your Holiday table along with:
Making This Recipe in Advance
Prep green beans: You could trim your green beans in advance then store them in the refrigerator. Unfortunately, I don't recommend making this fresh green beans recipe in advance, as green beans do go somewhat limp in storage.
Store: Green bean leftovers can be stored in an airtight container for up to 2 days in the refrigerator.
Freeze: Do not freeze.
More Side Dish Recipes
Garlic Green Beans
Instructions
Preheat large ceramic non-stick skillet on medium heat. Add green beans and 3 tbsp water.

Cover with lid and cook for 4 minutes. Remove the lid and if there is any water left, cook green beans until water has evaporated.

Push beans to the side and add butter or olive oil and garlic. Cook for 30 seconds and then stir with green beans.

Sprinkle with salt and pepper; and sauté for another 30 seconds.

Serve warm.
Notes
Store: Refrigerate leftovers for up to 2 days in an airtight container. Do not freeze.
How to use frozen green beans:
Wash frozen beans well with cold water to remove dirt and pesticides. No need to thaw. Skip this step if you washed vegetables before freezing.
Then add to the skillet without water, cover and cook for 3-4 minutes on medium-high heat. Frozen green beans will release their own water during cooking.
Check after to see if they need more water or more time to cook.
See recipe post for more tips and FAQs.
Nutrition
Calories:
71
kcal
|
Carbohydrates:
8
g
|
Protein:
2
g
|
Fat:
4
g
|
Saturated Fat:
2
g
|
Cholesterol:
10
mg
|
Sodium:
235
mg
|
Fiber:
3
g
|
Sugar:
4
g