Easy Honey Roasted Cashews are the perfect combination of sweet, salty and spicy plus are so simple to make. Serve this quick snack at your next party and watch them disappear!
You better plan to make a double batch of this honey roasted cashews recipe and hide some for later. Because buttery cashews with a sweet and smoky coating and hint of spice are seriously addicting!
It's a delicious treat for everyday snacking or serve during holiday parties and game nights. You could even give this as a gift to friends and neighbors for Christmas.
I think I will even pack some for a road trip the next time the kids have a hockey tournament. Definitely more delicious and better for you than any snack I can buy at the gas station on the road.
Why You'll Love This Recipe
Quick and easy: Ready in just over 20 minutes, plus minimal ingredients or equipment is needed.
Perfect for gifting: Everyone loves cashew nuts and the honey coating makes these the ultimate sweet snack for gifting.
Versatile: Make a double batch just to try a few different ways to season honey cashews.
Wholesome: Nuts are heart-healthy, rich in dietary fiber, a great source of protein, and contain antioxidants.
Ingredients Needed
This recipe for honey roasted cashews calls for only a handful of simple ingredients. And the honey butter is quite possibly the best flavor combination in the world!
Raw cashews: You will need raw nuts for this recipe as we will be roasting them in the oven with a delicious coating that adds crunch and flavor.
Honey: Any liquid honey works to caramelize the nuts.
Butter: Gives cashews even more buttery, rich taste. I used unsalted butter.
Spices: Smoked paprika, salt, ground black pepper and a pinch of cayenne adds the perfect sweet-smoky-spicy blend that makes them irresistible!
Substitutions
Other roasted nuts: Cashews are delicious but in all practicality can be on the pricier side. Try peanuts, walnuts, almonds or whatever tree nuts you have on hand.
Butter: You might be able to skip it or try coconut oil or a dairy free butter.
Previously roasted salted cashews: You will need to use less salt and reduce the oven temperature to 325 degrees F.
Maple syrup: You could add up to one tablespoon of maple syrup to the honey mixture for a maple taste.
How to Make Honey Roasted Cashews
Here is a quick overview of how to roast cashews from scratch at home. So much better than store-bought. There is a full recipe card below.
To start, line a large baking sheet with parchment paper to prevent a sticky mess.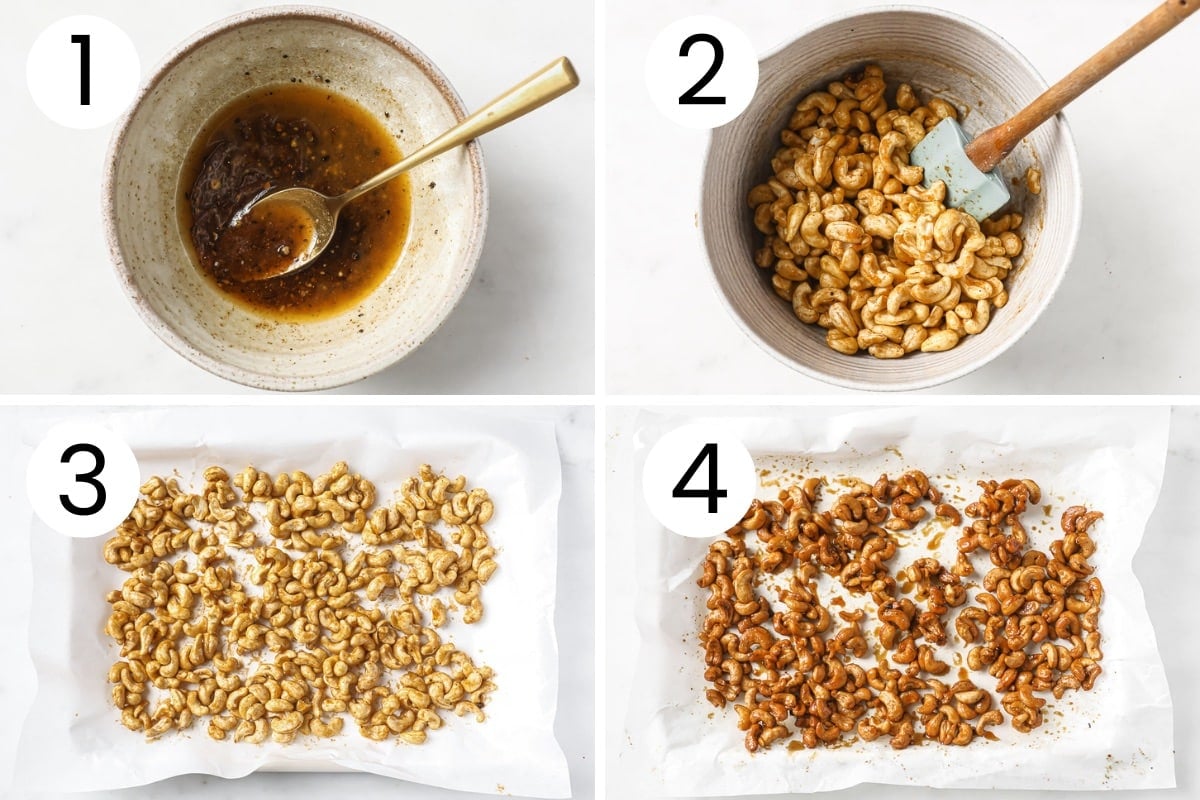 Make honey mixture: Melt butter in a small saucepan or microwave first. Then add to a medium bowl with your honey, smoked paprika, salt, black pepper, and cayenne. Whisk well to combine.
Coat cashews: Add raw cashews to the bowl and stir with spatula to coat.
Bake: Spread cashews in an even single layer onto your parchment lined baking sheet and bake for 15-18 minutes, tossing a few times after the 10 minute mark, or until nuts are browned and fragrant.
Rest and serve: Remove from the oven and give one more stir to coat the hot cashews. Allow the coating to solidify a bit for about 7-10 minutes. Serve warm and as nuts cool down you can break them apart with your hands.
Variation Ideas
Mix up your honey roasted cashews with these additional ways:
Cinnamon sugar: Omit the smoked paprika and cayenne and add cinnamon. You might like splash of vanilla extract too. Sprinkle with sugar immediately when you remove then from the oven.
Other spices: Add nutmeg, cloves, cardamom, ginger, cumin, or curry to your honey mixture. Play around with a combination you like best.
Fresh herbs: Freshly chopped herbs can really amp up the flavor. Add 2 teaspoons of chopped fresh rosemary, thyme or oregano to the honey mixture, toss to coat and then roast.
Cayenne: Try chili powder instead.
Expert Tips
Cover nuts fully: For the best honey glaze distribution be sure to coat them fully before roasting, toss once while baking, and then stir again immediately after taking them out.
Spatula: Use a spatula vs. wooden spoon as honey sticks to the wood!
To break apart: After they come out of the oven and are cool enough to handle break apart with your hands. Use disposable gloves if concerned about food safety.
Don't skimp on the salt: The full amount is needed for that sweet and salty combination.
Smoked paprika: Adds a smoky taste, but can be omitted if that is not your thing.
How to Package for Gifting
Make a large batch and package them for a great gift idea. Divide between mason jars or in a cute bag, then cover or seal and finish with a festive ribbon or gift tag.
They will last for up to 1 week this way. You can add a note to the gift label to freeze after that.
Make Ahead, Store and Thaw
Make ahead: You can make ahead honeyed cashews for up to 3 months. Store in a freezer safe bag or airtight container, then just remove and defrost as needed at room temperature.
At room temperature: Store roasted nuts in a glass airtight container in a cool dry place for up to 7 days.
FAQs
Can I make this recipe on the stovetop?
While I have not tested this, it should work. Bring spices, honey, and butter to a boil over a medium heat. Add cashews, reduce heat to low and cook while stirring for 3-5 minutes until honey thickens. Spread onto parchment lined paper and allow to cool.
How do I get cashews not to stick together?
Spread in an even layer as best as possible. You can try sprinkling roasted cashew nuts with granulated sugar as well.
Can I make honey roasted cashews in the microwave?
Unfortunately not. The honey mixture will boil over and your cashews won't roast.
Can I reduce the amount of honey?
This recipe only calls for 3 tablespoons which is pretty low. You can try to reduce to 2 tablespoons but I wouldn't go lower than that.
More Easy Snack Recipes to Try
Honey Roasted Cashews
Honey Roasted Cashews are the perfect combination of sweet and salty! They are easy to make for a snack or serve them at your next party.
Instructions
Preheat oven to 350 degrees F and line large baking sheet with parchment paper. In a medium bowl, add liquid honey, melted butter, smoked paprika, salt, black pepper, cayenne pepper and whisk.

Add cashews and stir with spatula to coat.

Transfer cashews onto previously prepared baking sheet and spread in a single layer. Bake for 15-18 minutes, tossing a few times after 10 minute mark, or until nuts are browned and fragrant.

Remove from the oven, give a few more stirs to coat the cashews and let rest for the coating to solidify a bit. Seve warm and break apart with hands as nuts cool off.
Notes
Store: Keep in a cool dry place in a glass airtight container for up to 7 days.
Freeze: Freeze in a freezer safe container for up to 3 months. Thaw at room temperature.
Nutrition
Calories:
218
kcal
|
Carbohydrates:
16
g
|
Protein:
6
g
|
Fat:
16
g
|
Saturated Fat:
3
g
|
Trans Fat:
0.1
g
|
Cholesterol:
4
mg
|
Sodium:
161
mg
|
Fiber:
1
g
|
Sugar:
8
g