A few weeks ago, right after I got back from Mexico City, we went on a family weekend getaway to San Juan Island, WA. The San Juan Islands are an archipelago in Washington state known for rural Pacific Northwest landscapes and wildlife.
The best part about visiting the islands in October is that all tourists are gone, and we had an entire San Juan Island to ourselves. However, orcas are gone and tourist activities are shut down too, so if you want to have a full experience, come during summer months. But for a quiet and picturesque getaway, any month is great on San Juans.
How to Get Here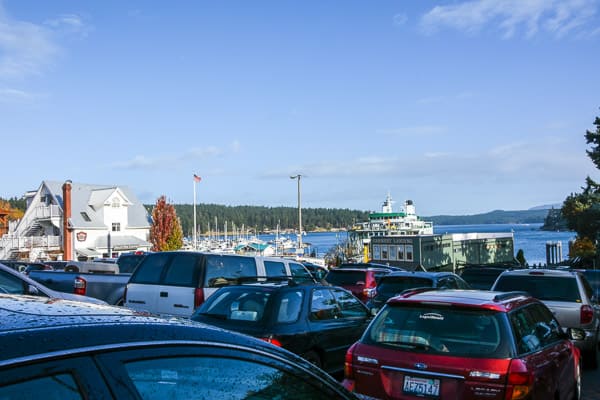 To get to the islands, you need to board one of the ferries from Anacortes, WA. I highly recommend to make a reservation on the weekend even in low season months. We didn't because I decided to take it easy like Alex, and we got in but were hanging by a thread each time. A little bit uncomfortable.
Good thing about the ferry is that there are plenty things to do while waiting – like stroll the beach with a cup of coffee in hand.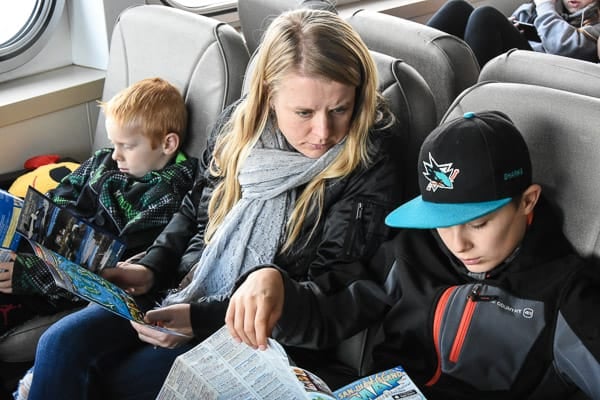 The ride itself is about an hour – hour and a half. We enjoyed stunning views and planned our activities (Alex style again).
Where to Stay
We stayed at Earthbox Inn & Spa, a remodelled 1960s motor inn with spacious rooms, comfortable beds, indoor pool and hot tub, and super friendly and helpful staff. Hotel is located about 4 blocks from the ferry, and if you arrive on foot, there is a free shuttle to pick you up.
The outdoor patio looks like a dream in summer. And there is also a cafe.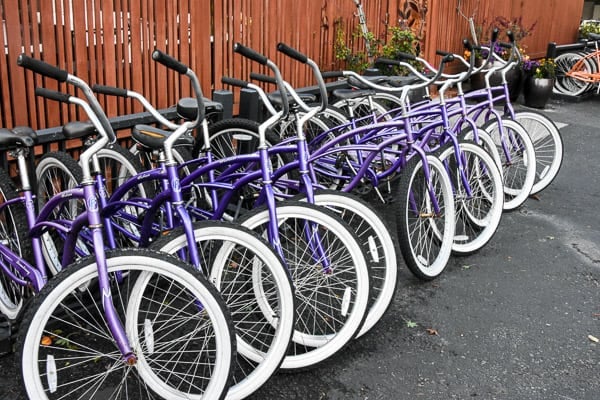 If weather allowed, I would have gladly jumped on one of these beach cruisers. We rented them while in LA, and I loved every minute of cruising.
What to Do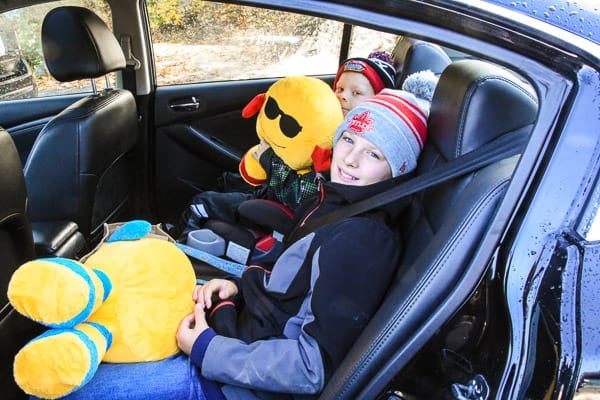 We didn't get lucky with the weather, like at all. We arrived on Friday and it was semi-sunny, on Saturday we experienced first of the season storm, and on Sunday, when we left, it was the most gorgeous October day. Yup, that's life.
However, as long-term PNW residents and parents, we put on our hockey toques, zipped up rain coats, loaded car with food, and went on a self-guided tour in our warm and dry car. No rain or snow can scare a true Canadian. So, off we went.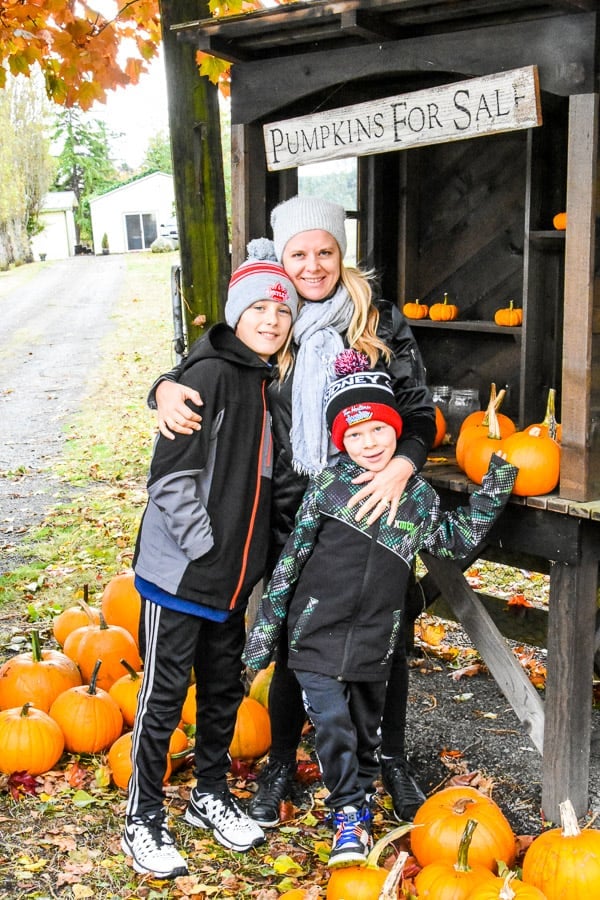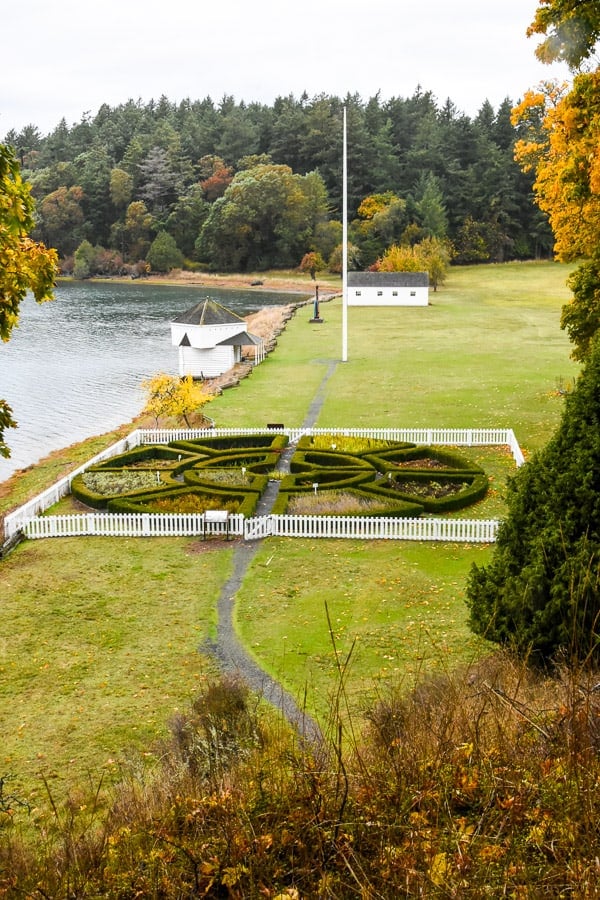 Visiting English and American camps.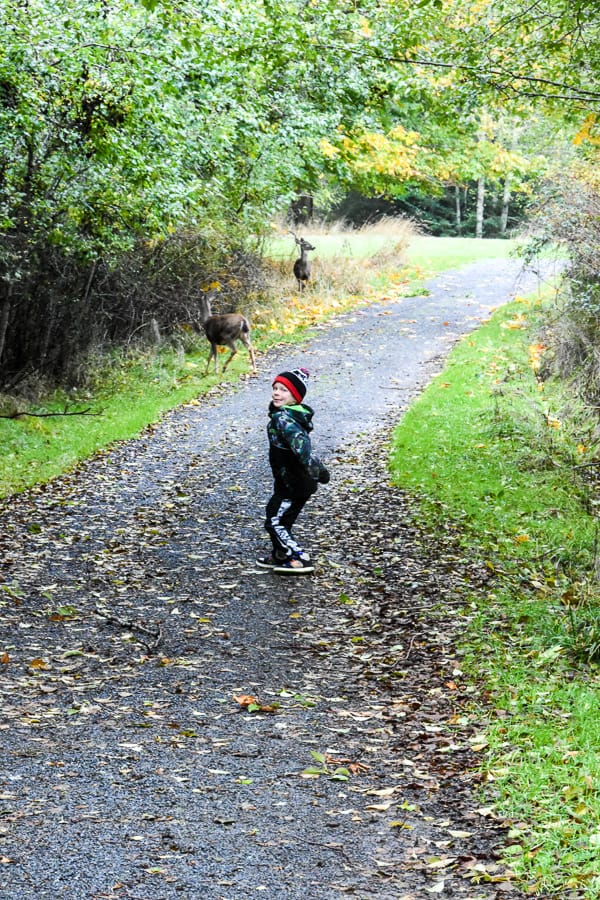 Chasing deers – they are everywhere on the island.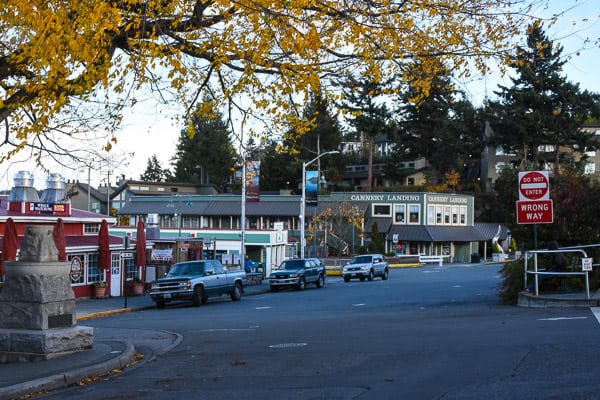 Strolling charming streets and visiting gift shops.
Playing in the Sculpture Park.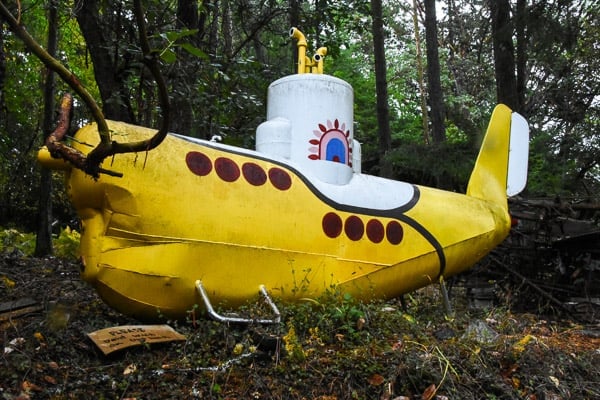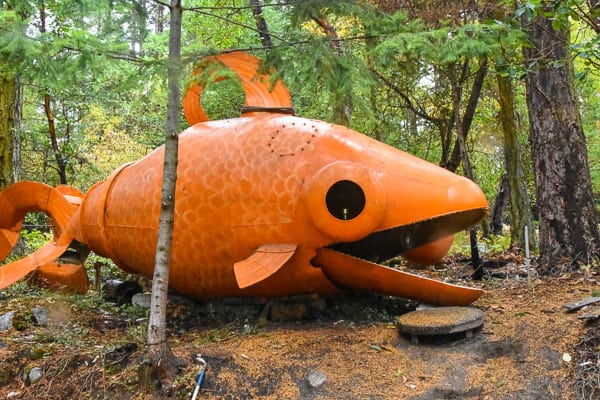 And stopping by some "very different" metal houses heated with wood, stocked with books and occupied by cats.
Where to Eat
On Friday night, we had a celebratory dinner at Downriggers. Located right on the water, family friendly, with healthy options menu and decent prices restaurant. Highly recommend for a modern West coast dining experience!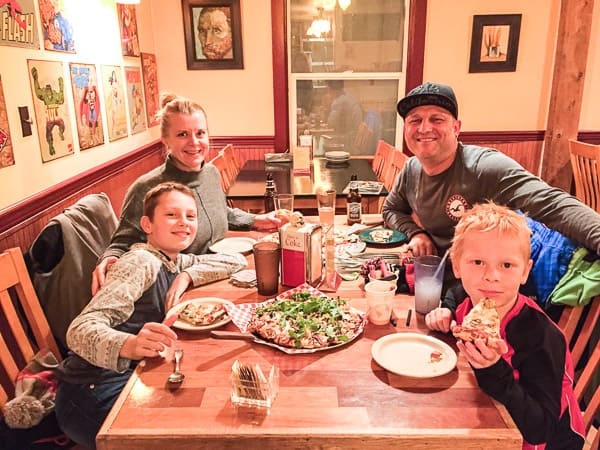 Saturday night we went out to Van Go's pizza. Pizza was delicious (!!!), servings large, prices reasonable and the atmosphere… Frank Sinatra playing, rain pounding on the roof, while we are playing cards and drinking beer/iced tea. It felt like good old days before I was born. I love those simple device-free days!
Once, we stopped for a coffee and snack at a coffee shop name I can't remember, it's right by the ferry.
The other times we ate food from the grocery store walking distance from our hotel. I believe there are only 2 stores and in both prices are not cheap – everything is more expensive on the island, keep that in mind.
We didn't bring any devices for the kids, so we truly had a quality time. Our oldest one lost his device privilege, and youngest one plays once in a while, but devices do not leave our house. Same with us and our phones.
Life is short, and I would like to live in the moment, creating memories for when my mind and body will be tired, I close my eyes and I know it was a life well lived!
Our accommodations were generously provided by the Earthbox Inn & Spa.