Our Turkey Breast Rub Recipe combines a perfect blend of savory spices and brown sugar to take your turkey breast from good to simply the best!
If you need a good recipe for turkey breast, we have quite a few. Make bacon wrapped turkey breast, boneless turkey breast roast or try your hand at Instant Pot turkey breast.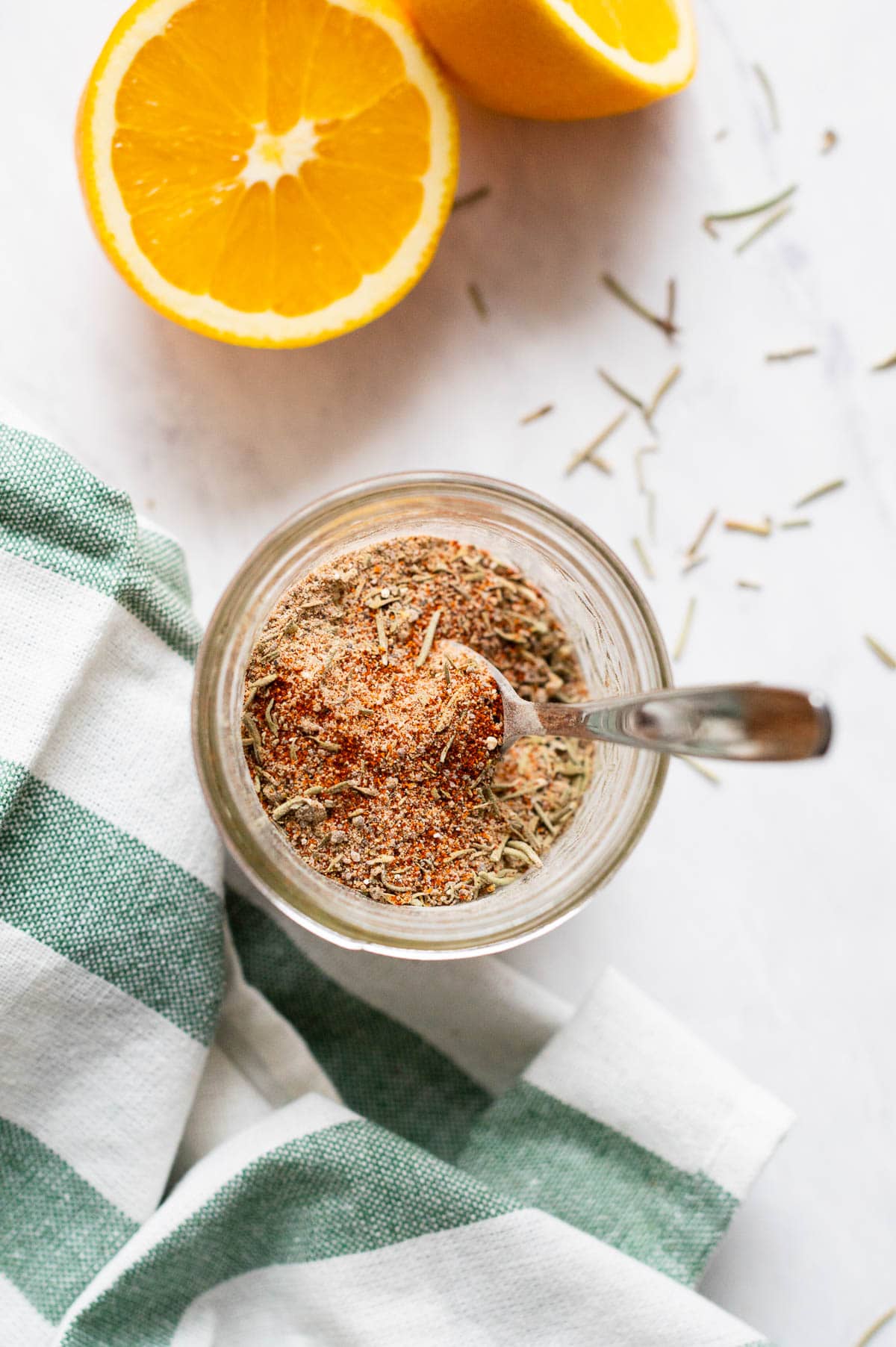 A great turkey breast rub recipe is what makes the turkey breast shine on Thanksgiving table. That and an optimal oven temperature to keep turkey meat moist. No one loves dry turkey!
Over the years, I have cooked turkey breast so many times, that a turkey breast seasoning recipe is a must by now.
However, I will be very honest with you, the best turkey is a lot about the oven temperature. I rub my bone-in turkey breast and air fryer turkey breast with a fresh garlic wet rub and it still comes out delicious!
This turkey breast seasoning is handy to prep in advance of a busy Thanksgiving day and store in a cool dry place. Your kitchen will smell heavenly as you roast your turkey!
I recently used this rub to make slow cooker turkey breast and it was delicious!
Ingredients You Will Need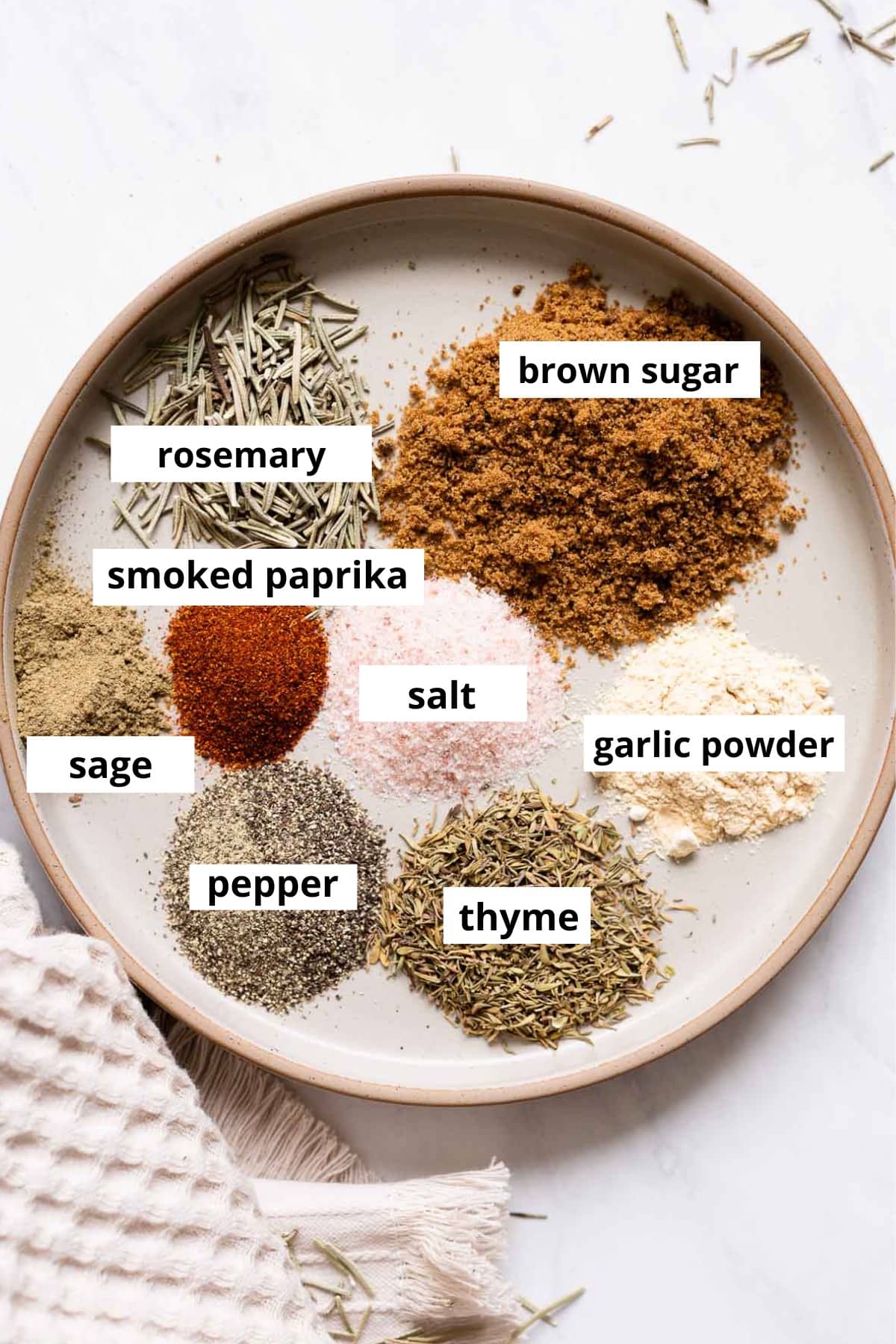 We are using classic dried herbs and spices that you probably have in your kitchen cupboards right now. You can easily substitute them with what you have on hand and I am including all options below.
The amount of this rub is enough for a turkey breast of about 3 lbs. You can easily double or triple the recipe to use on a bigger turkey breast or even to season a whole bird.
Brown sugar: I love a hint of molasses in a brown sugar turkey breast rub but you can also use coconut sugar to make refined-sugar free turkey breast rub. Coconut sugar has similar color and flavor profile to the brown sugar. For a sugar-free version, skip all together. I would not recommend to use white sugar or cane sugar, it "does nothing" for us here.
Garlic powder: Some folks think it has no place with turkey meat but I truly do love to add a little bit for that savory taste. You can also use onion powder.
Dried rosemary: If you are making this turkey breast dry rub and have leftover fresh herbs from other recipes, you can use fresh rosemary to make a perfect blend of spices for Thanksgiving turkey. Just be sure to double the amount and chop it finely.
Dried thyme: Substitute with same amount of dried sage or double amount of fresh thyme.
Dried sage: If you are not a fan or don't have any, feel free to omit.
Smoked paprika: Feel free to skip, use regular paprika or chili powder. Any paprika adds nice color making turkey breast skin look golden brown. I recommend you add even a pinch for beautiful presentation. If you are using this as a smoked turkey rub, I definitely recommend you add smoked paprika.
Salt and pepper: I always use himalayan pink salt when seasoning the turkey breast for roasting. It is quite more coarse than a table salt, making it easier to spread. Also kosher salt works well. And freshly ground black pepper because it has more flavor than previously ground pepper.
Recipe Tip
If you are serving some spice lovers, feel free to add 1/4 teaspoon cayenne pepper or red pepper flakes. Also dry mustard would be delicious!
How to Make Turkey Breast Seasoning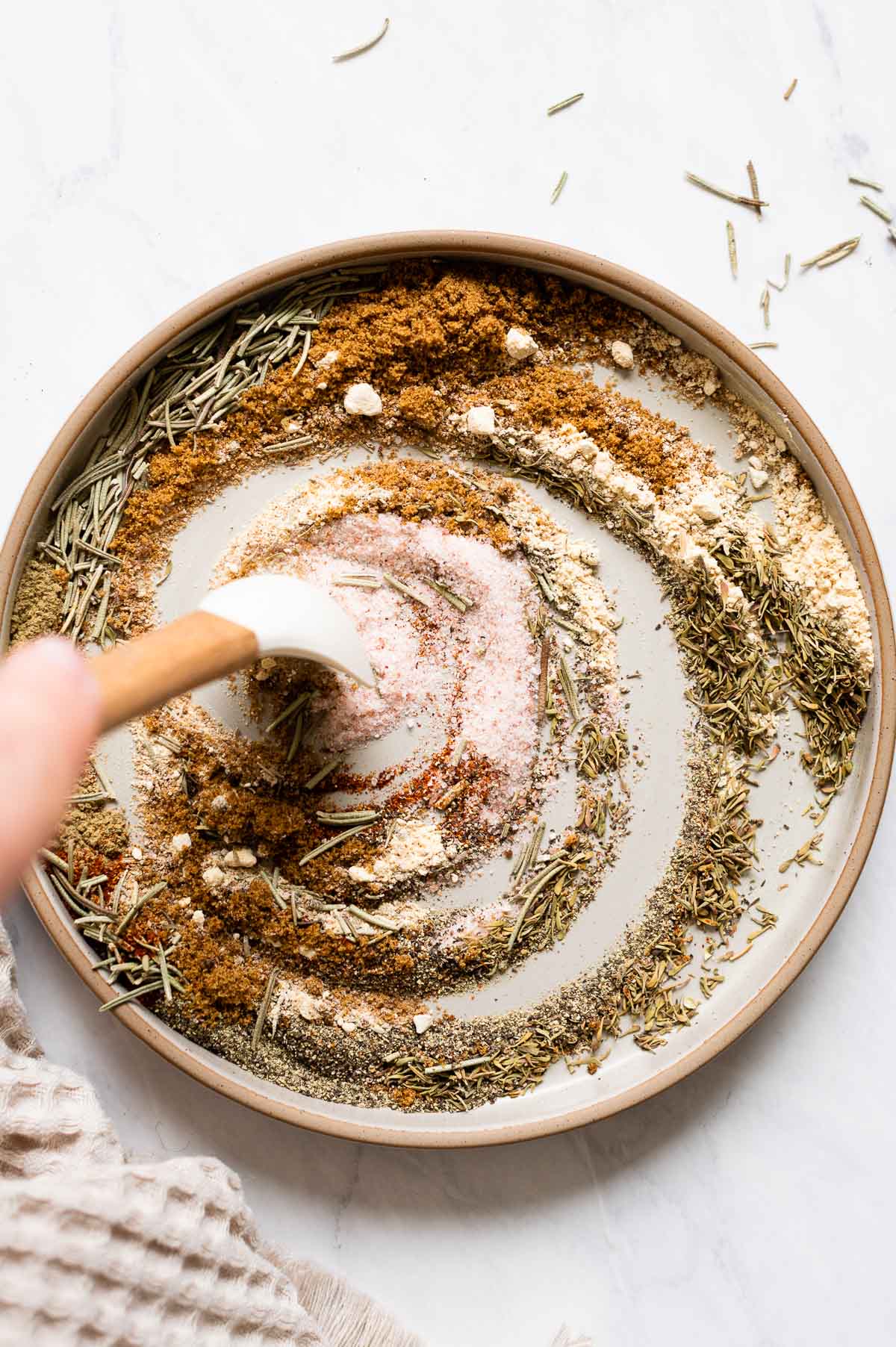 This recipe for turkey breast dry rub couldn't be easier to make.
Just throw together brown sugar, garlic powder, dried rosemary, dried thyme, dried sage, smoked paprika, salt and pepper. Stir well with a spoon of fork, breaking any lumps along the way and voila.
Yes, I know you can buy a good rub but homemade spice rub is kinda fun to make and so convenient. No need to run to the grocery store and it's cost-effective, especially with climbing food prices.
It is also great for gifts!
Turn It into a Wet Rub
This is not a recipe to wet brine a turkey breast but rather a wet rub recipe. I do it all the time with my turkey roll roast and it comes out delicious! If you are roasting your turkey breast in the oven, you can turn this dry rub into a wet rub. Please note this step is optional.
All you have to do is mix one serving of this dry rub recipe with 2-3 tablespoons of melted butter in a small bowl. Then rub all around the outside of the turkey breast.
I find the addition of butter makes skin even more crispy while giving it a nice golden brown color.
How to Season a Turkey Breast Before Roasting
If your turkey breast comes in a mesh and you would like to roast it with a crispy skin on top, cut it off with kitchen shears.
Then pat dry with paper towel very well. No need to rinse it but you can, if you wish.
Brush turkey breast or rub it very well with olive oil or melted butter. I do personally prefer the taste of butter but know it does solidify as soon as it hits cold turkey meat. Make sure to get into all corners.
Then liberally rub entire turkey breast with the turkey breast rub. For smaller turkey breast or if you grab large enough plate to fit a larger one, you can even roll it in the seasoning. Rub with your hands all around, making sure to get under the skin wherever you can.
The goal is to coat the breast liberally. The more seasoning, the more flavorful turkey!
When roasting a turkey breast, place it breast side up and I do not recommend to baste it. As a matter of fact, there won't be enough, if any, pan juices. When you open the oven door multiple times, you lose the heat and increase roasting time.
Usually bone-in meat has more flavor but I find it's not the case with a turkey breast. Therefore, I prefer to roast a boneless turkey breast or even turkey tenderloins, whenever I can find some at my local grocery store.
And I just have to mention because we all have those in our house, for dark meat lovers you can use this rub on baked turkey legs.
After roasting, you can deglaze the roasting pan with some chicken stock or turkey stock and make gravy. In my turkey gravy recipe, I also talk about how to make a turkey gravy without any pan drippings.
Don't forget cranberry sauce on a side as well! You probably already have an arsenal of favorite side dishes but if you need more ideas, be sure to check out my post on 15 best sides dishes that go with turkey breast.
Storage Recommendations
I find easiest way to store homemade turkey rub is in a glass Mason jar with a screw on lid. Any airtight container like tupperware, spice jar or a Weck jar works.
Since this turkey breast dry rub is so versatile, I recommend you make a big batch and use in various recipes with chicken, fish, pork and even veggies. It has so many more delicious uses besides for a turkey dinner!
FAQs
Why to dry brine?
This turkey breast rub is similar to cooking technique known as dry brining. We apply dry rub to make salt change the protein structure and pull out moisture from it, resulting in tender meat. You do not have to let turkey breast sit in the fridge for a few hours but you can. The goal is just to season it well!
How do I make turkey skin crispy?
To make the turkey skin extra crispy, place turkey breast on a large plate, rub with seasoning, and refrigerate uncovered for 3-6 hours. This will dry out the skin and it will crisp up more in the oven while baking. You can tent it loosely with aluminum foil.

Let it come to room temperature for about 30 minutes to ensure more even baking.
How to season under turkey skin?
Gently separate skin of turkey breast around the neck part and edges, apply rub using your hands, and fold the skin back in its place.
Should I rub butter or oil on my turkey breast?
Oil is preferred choice of most home cooks because you can spread it evenly and it doesn't solidify. However, I do love to rub my turkey breast with melted butter because flavor! Know it will solidify as soon as warm butter hits cold turkey, and those small brown patches you see on top of skin are patches of butter and spices, but I don't care.
How much turkey breast to plan per person?
The rule of thumb is 1/2 pounds. It depends who you are serving too. I recently posted a detailed post on how much turkey breast per person to serve.
More Homemade Seasoning Blends
Turkey Breast Rub Recipe
Our Turkey Breast Rub Recipe combines a perfect blend of savory spices and brown sugar to take your turkey breast from good to simply the best!
Instructions
In a glass jar, add all ingredients and stir well.

Close the jar with a tight fitting lid and store in a pantry for up to 3 months.
Notes
Servings: This recipe yields about 3 tablespoons of seasoning, enough to coat a 3 lbs turkey breast. You can double or triple the recipe.
Store: Keep leftovers in an airtight container in a dark cool place for up to 3 months. You can aslo freeze it to last longer.
Extra seasoning: Make extra seasoning as gifts or use on butternut squash and spaghetti squash.
To season the turkey breast: Pat dry with paper towels and rub with olive oil or melted butter. Rub with a turkey rub all around making sure to cover the skin, getting under the skin and all the crevices. You can let seasoned breast to sit in the fridge uncovered for 3-12 hours to dry out the skin, which makes it more crispy when baking.
Nutrition
Serving:
3
lbs turkey breast
|
Calories:
22
kcal
|
Carbohydrates:
6
g
|
Protein:
0.3
g
|
Fat:
0.1
g
|
Saturated Fat:
0.03
g
|
Sodium:
777
mg
|
Fiber:
1
g
|
Sugar:
4
g