Once you make this Italian Seasoning Substitute with 7 simple ingredients, you will never buy one. It's a staple in everyone's kitchen because it brings any dish to life!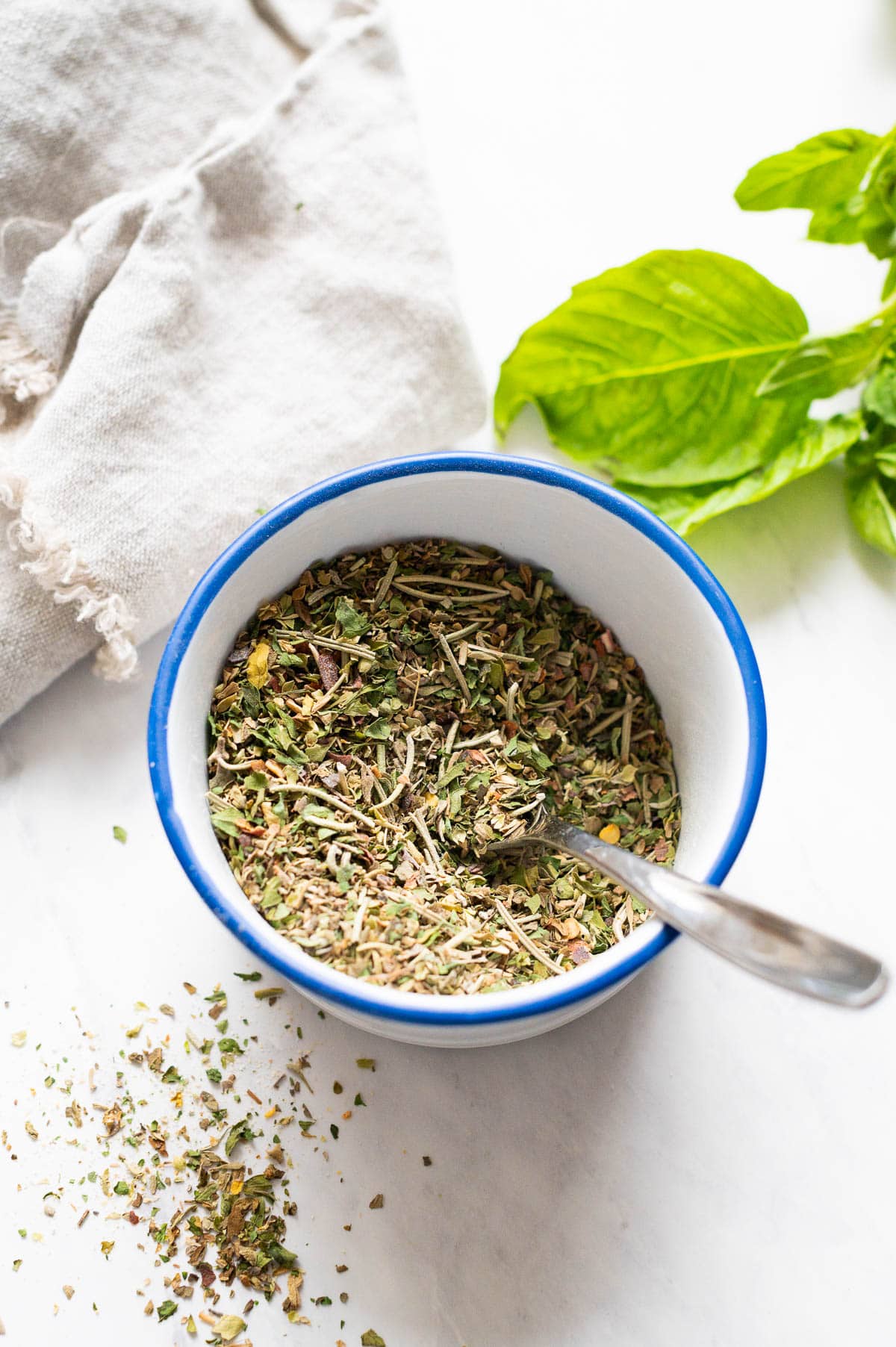 Sharing my super easy recipe for Italian seasoning substitute with you today! I never buy one because it is pricey, contains preservatives and I usually have all individual spices in my spice drawer.
Why not make your own homemade Italian seasoning mix?! Making your own homemade spice blends makes sense. You save money and know what's in it.
It is one of the best seasoning blends out there I reach for over and over again. Having it on hand makes cooking fast and convenient as you don't have to measure out individual spices. It also takes out the guesswork how much of each herb to use because Italian spice mix is already perfectly balanced.
It flavors beautifully various dishes like chicken, salads, pasta sauces, and soups. You will love having it in your spice cabinet!
What Is in Italian Seasoning?
According to Wikipedia, Italian seasoning is not even Italian but rather American creation. Pre-mixed dried herbs are not common in Italy.
There are as many variations of Italian seasoning blend as homecooks and brands. It starts with a simple blend of herbs and often you will see an addition of red pepper flakes, garlic powder, onion powder and even salt.
Let's go over the ingredients you will need, can substitute or omit.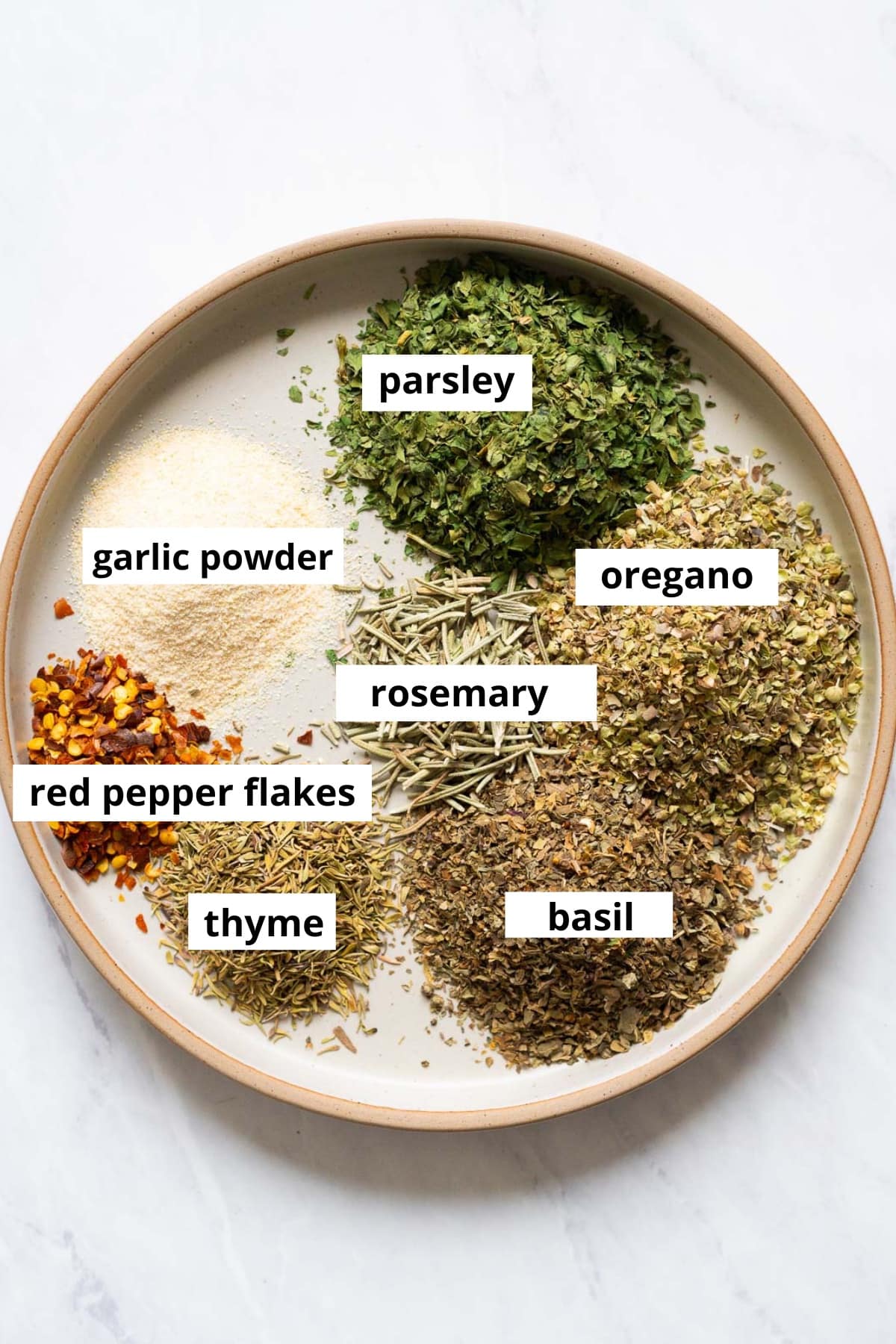 To make this easy Italian seasoning recipe you will need 7 simple ingredients that you probably have in your spice cupboard right now. Of course, you can customize homemade version to your taste buds and ingredients on hand. It is very forgiving!
Recipe Tip
Dried marjoram. Feel free to add up to 2 teaspoons. I had a hard time finding it in any grocery store in my area.
How to Make Homemade Italian Seasoning
Here is a quick overview how to make Italian seasoning at home. It comes together in minutes but lasts for a long time.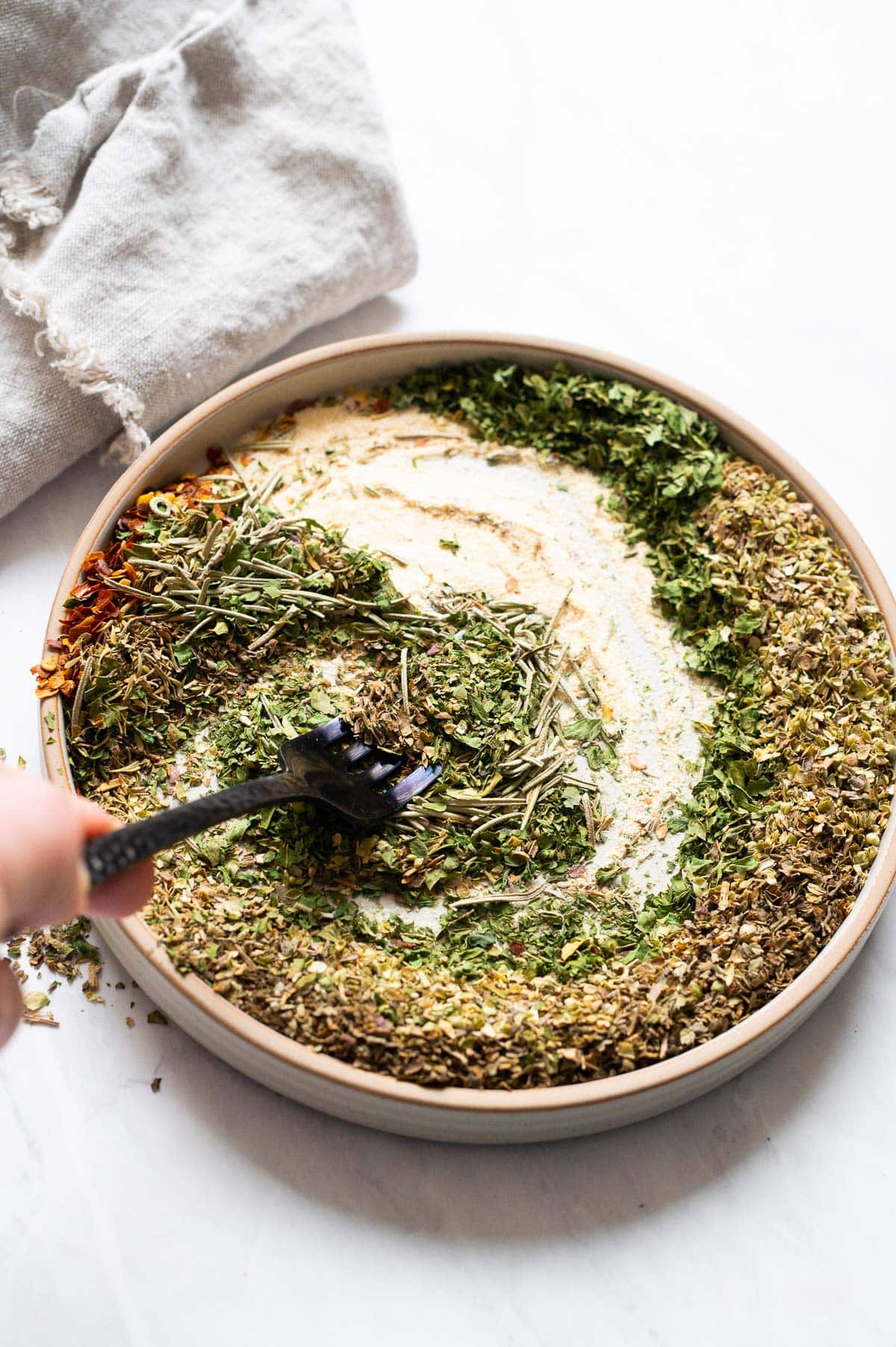 Grab a small bowl or large rimmed plate and add dried parsley, oregano, basil, thyme, rosemary, garlic powder and red pepper flakes. Stir gently with a fork, spoon or a whisk until well mixed.
Alternatively, you could also add all Italian seasoning ingredients to a jar or container with tight fitting lid and shake until thoroughly mixed.
That's it! Now you are ready to cook amazing food with it.
Tips for Best Results
How to Store
You can store your DIY Italian seasoning substitute indefinitely, so make a big batch and enjoy!
The beauty of dried herbs are that as long as you keep them in a tightly sealed jar, away from direct light and heat, it can last up to 2-3 years according to USDA. They do not get moldy or rotten unlike fresh herbs. You know your own Italian herb blend is no longer good when it is no longer aromatic.
To ensure long storage time, be sure to store it away from direct sunlight and heat, in a cool dark place, in an airtight container. Do not keep your spice rack close to the stove which is a major source of heat. It also does not need to be refrigerated.
Uses
Italian seasoning is a versatile blend and one of those spices that goes with anything. When I need to add a little oomph to any savory dish, I always seem to reach for it.
FAQs
Can you substitute Italian seasoning for oregano?
Yes, you can because it has the right balance of herbs.
What else can I add?
You can also add sage, marjoram, salt and pepper to make it a complete all-in-one your go-to seasoning.
Can I cut recipe in half or double it?
Sure, make as much as you want.
More Seasoning Recipes
Homemade Italian Seasoning
This Italian Seasoning Substitute with 7 simple ingredients is a staple in everyone's kitchen because it brings any dish to life!
Instructions
In a small bowl, add parsley, oregano, basil, rosemary, thyme, garlic powder and red pepper flakes.

Stir very well with a fork or small whisk.

Or add all ingredients to glass jar with a lid you plan on storing seasoning in and shake well.
Notes
Store: Store in a cool dry place like pantry or drawer for up to 2 years.
Nutrition
Serving:
1
teaspoon
|
Calories:
4
kcal
|
Carbohydrates:
1
g
|
Protein:
0.2
g
|
Fat:
0.1
g
|
Saturated Fat:
0.02
g
|
Sodium:
2
mg
|
Fiber:
0.5
g
|
Sugar:
0.05
g