Pot Roast Seasoning Recipe is ready in 5 minutes and adds the perfect amount of flavor to your dish. Use this delicious dry rub to make any roast savory and irresistible.
I created this pot roast seasoning recipe to use with my slow cooker eye of round roast. But you can also use it on lamb roast and Instant Pot pot roast.
A wonderful blend of smoky, salty, and sweet, this roast beef seasoning tastes so much better than any store-bought packet and delicious on almost anything.
Whether you're using the oven, Crock Pot, or Instant Pot, season your protein of choice with this amazing dry rub and your entire family will love what you cooked!
Ingredients You Will Need
This pot roast seasoning recipe is easy, affordable, gluten free, and highly customizable. I kept it simple with everyday spices so you can make it today!
See recipe card below for measurements. You can double or triple the ingredients to make a large portion so it's always there when you need it.
Brown sugar: Packed light brown sugar or dark brown sugar, whatever you have on hand.
Salt: I use himalayan pink salt for its health benefits and coarse texture. I went easy on it but you can also add less or omit it completely.
Garlic powder and onion powder: For cleaner looking spice, I recommend to use granulated garlic and granulated onion powder. If you are a garlic lover, you can add a bit more. Dehydrated garlic and dehydrated onion will also work.
Smoked paprika: Adds that extra smoky flavor and is a must for this pot roast seasoning recipe. You can use regular paprika too. In either case, it makes any protein of beautiful golden color even if you haven't roasted it.
Other spices: Ground black pepper and red pepper flakes add a pinch of heat.
Dried herbs: Dried parsley, dried oregano, and dried thyme create the earthy flavor and add specks of green making your dish look fresh. Go easy on dried herbs, you don't want them to overpower the other spices with their distinct flavors.
How to Make Pot Roast Seasoning
Here's how to make this easy pot roast seasoning from scratch. All you have to do is combine and stir.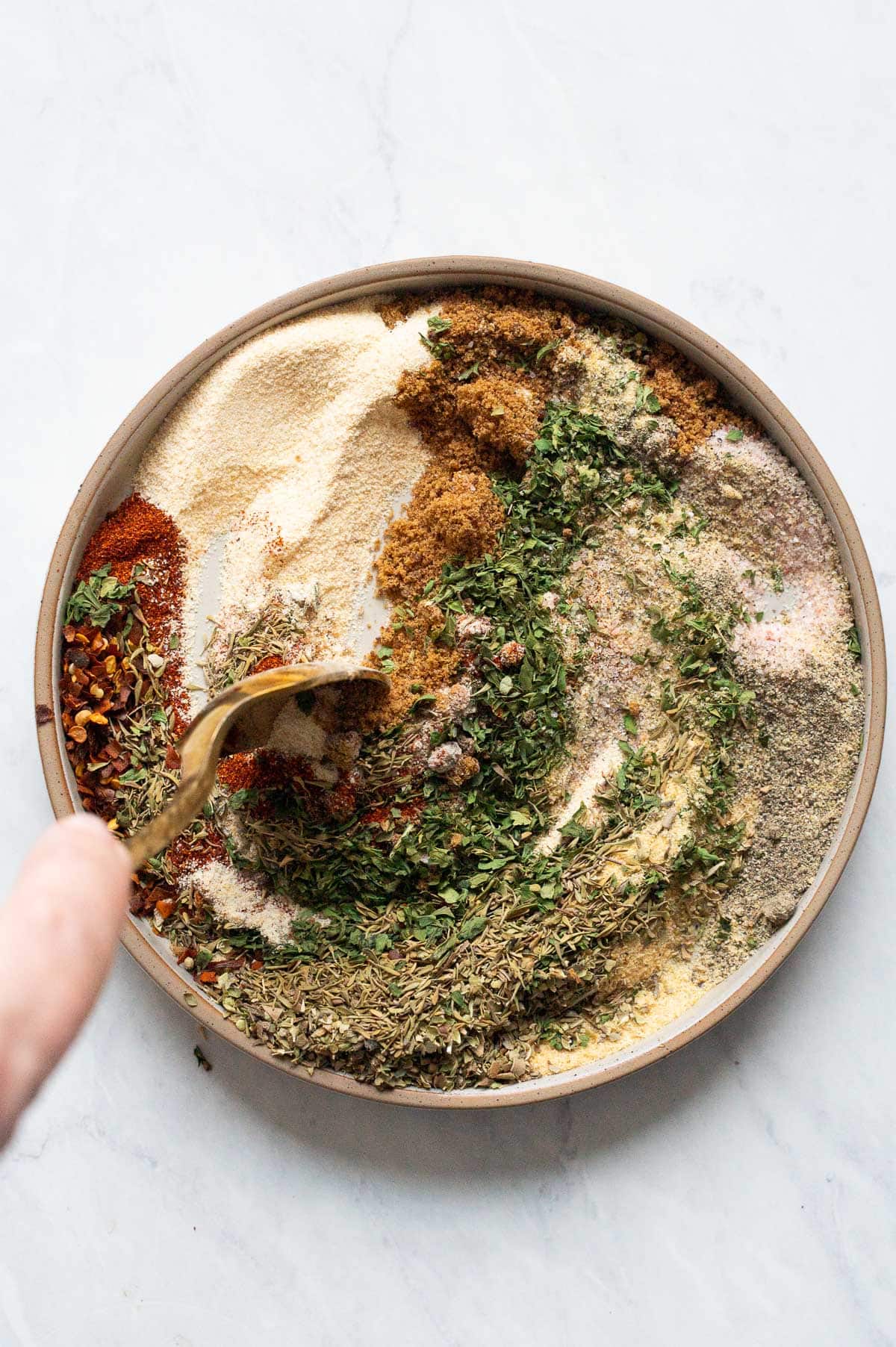 In a small bowl, add brown sugar, salt, pepper, parsley, garlic powder, onion powder, oregano, thyme, smoked paprika and red pepper flakes. Stir until your DIY homemade seasoning blend is even in color and consistency. That's it!
You can also add all ingredients to a jar with a tight fitting lid and shake until combined. I also like to give the jar a good shake before each use.
Variations
This seasoning for pot roast is very forgiving! From a perfect pot roast to a delicious gravy, each ingredient enhances the natural flavor. There are no hard rules to this recipe, adjust it to your taste buds.
Add more heat: To add more spice simply add cayenne pepper or increase the red pepper flakes.
Reduce sodium: Omit salt for a salt-free blend. Use less salt for a low sodium option.
Add umami: Make it more savory. Crumble a high-quality, organic bouillon cube like beef, chicken or vegetable and add to your homemade spice blend.
Add other spices you like: Ground cumin, ground coriander, marjoram, rosemary, mustard powder, dried basil, dried tarragon, or bay leaves.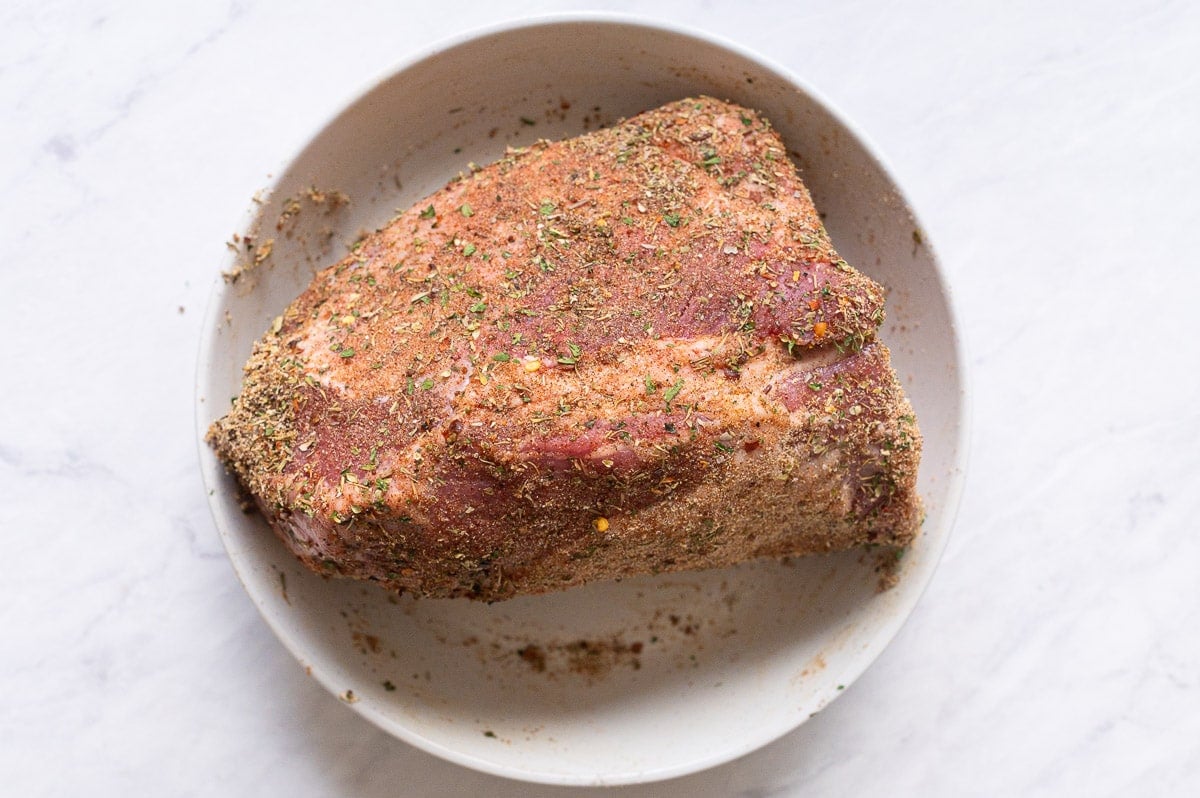 Tips for Best Results
Here are some simple tips that make this DIY blend tastier than any packaged blend.
Fine texture: Create a more fine texture by pulsing your pot roast seasoning mix in a food processor or blender.
Transfer to a shaker: Transfer to an empty salt shaker for easier use and a cuter look.
To prevent clumping: Just add up to 1/2 teaspoon of cornstarch to avoid clumping.
Avoid moisture: Measure out desired amount and season with your hands. Do not season steaming food by shaking the shaker above it. You can also add some uncooked rice grains to absorb moisture.
How to Store
Store in a dry, cool place like your pantry or spice cabinet. A good container would be a glass mason jar with a metal lid, any plastic or glass airtight container or spice jar.
You can store pot roast seasoning indefinitely, so make a big batch using fresh individual spices well before their expiration date.
As per USDA, ground spices will last 2-3 years. So by making a full recipe, you will be all set for many months of cooking dishes with tons of flavor.
If it clumps, give your seasoning mix a good stir with a fork. It is quite common if you live at the sea level.
How to Use It
The hearty flavor of this spice blend is exceptional with any chuck roast or pot roast recipe. Some of our favorites are:
This spice mixture also adds amazing flavor to your pork chops, pork roast, turkey roast, lamb chops, or seared steaks.
FAQs
How much pot roast seasoning do I need per one pound of roast?
I recommend using 1 tablespoon of seasoning per 1 pound of meat.
What can I substitute for pot roast seasoning?
You can use any seasoning depending on what flavor you prefer. Use Italian seasoning to add a herby flavor or Cajun seasoning for more creole flavor for your meal. You can also use your favorite store-bought seasoning.
Should you season pot roast before cooking?
Yes. Also pre-season any veggies if you are cooking with the same seasoning.
Should you season meat before or after browning?
Season before browning so the natural oils in herbs and spices get a chance to release and become more flavorful.
More Seasonings Recipes to Try
Pot Roast Seasoning Recipe
Pot Roast Seasoning Recipe is ready in 5 minutes. Use this delicious dry rub to make any roast savory and irresistible.
Instructions
In a small bowl, add brown sugar, salt, pepper, parsley, garlic powder, onion powder, oregano, thyme, smoked paprika and red pepper flakes.

Stir very well with a fork or small whisk.

Or add all ingredients to glass jar with a lid you plan on storing seasoning in and shake well.
Notes
Store: Store in a cool dry place like pantry or drawer for up to 2 years.
You can use less salt for low sodium pot roast seasoning or no salt at all.
Nutrition
Serving:
1
tablespoon
|
Calories:
23
kcal
|
Carbohydrates:
5
g
|
Protein:
1
g
|
Fat:
0.1
g
|
Saturated Fat:
0.04
g
|
Sodium:
703
mg
|
Fiber:
1
g
|
Sugar:
3
g