All Purpose Seasoning is ready in 5 minutes and will transform any of your savory dishes into delicious meals. Use this homemade all-purpose spice blend to flavor anything!
My other go-to homemade spice is this roast seasoning.
Have you ever run out of ideas for dinner? That's when you grab a jar of all purpose seasoning, season your protein of choice, and whole family loves what you cooked!
What can you add it to? What can you not add it to. Season poultry, meat, fish, seafood and even veggies with it. Add to soups, burgers, eggs, potatoes and rice.
It is one of my secret weapons in the kitchen and definitely a go-to spice blend. I promise you will be reaching for it a lot, and good thing is it's easy, affordable and highly customizable!
Ingredients You Will Need
To make the best all purpose seasoning at home, you need just 9 simple ingredients. I kept the recipe simple with everyday spices, so you can make it as soon as you are done reading this post.
Salt: I use himalayan pink salt for its health benefits and coarse texture. I went easy on it but you can also add less or omit it completely.
Smoked paprika: It adds extra smoky flavor to the seasoning. You can use regular paprika too. In either case, it makes any protein of beautiful golden color even if you haven't roasted it.
Garlic powder and onion powder: For cleaner looking all purpose spice, I recommend to use granulated garlic and granulated onion powder. If you are a garlic lover, add more. Also dehydrated garlic and dehydrated onion will work.
Other spices: Ground black pepper, red pepper flakes.
Dried herbs: Dried parsley has mild flavor and adds specks of green making any dish look festive and fresh. I also added dried oregano but dried basil also would be great. Go easy on dried herbs so they do not overpower other spices with their distinct flavors.
How to Make All Purpose Seasoning
Here is a quick overview how to make all-purpose seasoning blend from scratch in 5 minutes. All you have to do is combine and stir.
In a small bowl, add salt, pepper, parsley, garlic powder, onion powder, oregano, smoked paprika and red pepper flakes. Stir very well until your DIY homemade seasoning blend is of even color and consistency.
Alternatively, you can also add all ingredients in a jar with a tight fitting lid and shake thoroughly.
That's it!
Variations
All purpose seasoning recipe can be adjusted to your personal taste buds. There are no hard rules when it comes to it!
Spicy: To add more heat to all-purpose spice mix, simply add a little bit of cayenne pepper or red pepper flakes.
Salt-free: To make no salt added all-purpose spice blend, omit salt. Or use less for low sodium all purpose seasoning blend.
Sweet: Add up to 1 tablespoon of brown sugar depending on how sweet you like your savory dishes.
More umami: Crumble a high-quality organic bouillon cube like chicken, beef or vegetable and add to your homemade spice blend.
Tips for Best Results
Fine texture: For more fine texture pulse your homemade seasoning mix in a food processor or blender.
Cute look: Transfer to an empty salt shaker for easier use. You can also add some uncooked rice grains to absorb moisture.
Avoid moisture: Do not season hot and steaming food by shaking the shaker with seasoning above it. Instead, measure out desired amount and season with your hands.
Prevent clumping: You can also add up to 1/2 teaspoon of cornstarch to avoid clumping.
Adjust as you cook: Add a bit of other herb that goes well with the protein you are cooking. For example, if making lamb, use this house seasoning and a sprinkle of rosemary.
How to Store
You can store all purpose seasoning indefinitely, so make a big batch.
As per USDA, ground spices will last 2-3 years. So by making a full recipe of this everyday seasoning, you will be all set for many months of cooking dishes with tons of flavor.
Just make sure you are using fresh individual spices well before their expiration date to make this recipe in a first place.
Store it in a cool dry place, tightly closed and away from moisture and light. Good container would be a glass mason jar with a metal lid, any plastic or glass airtight container or a spice jar.
If it clumps, give your all-purpose seasoning mix a good stir with a fork. It is quite common if you live at the sea level.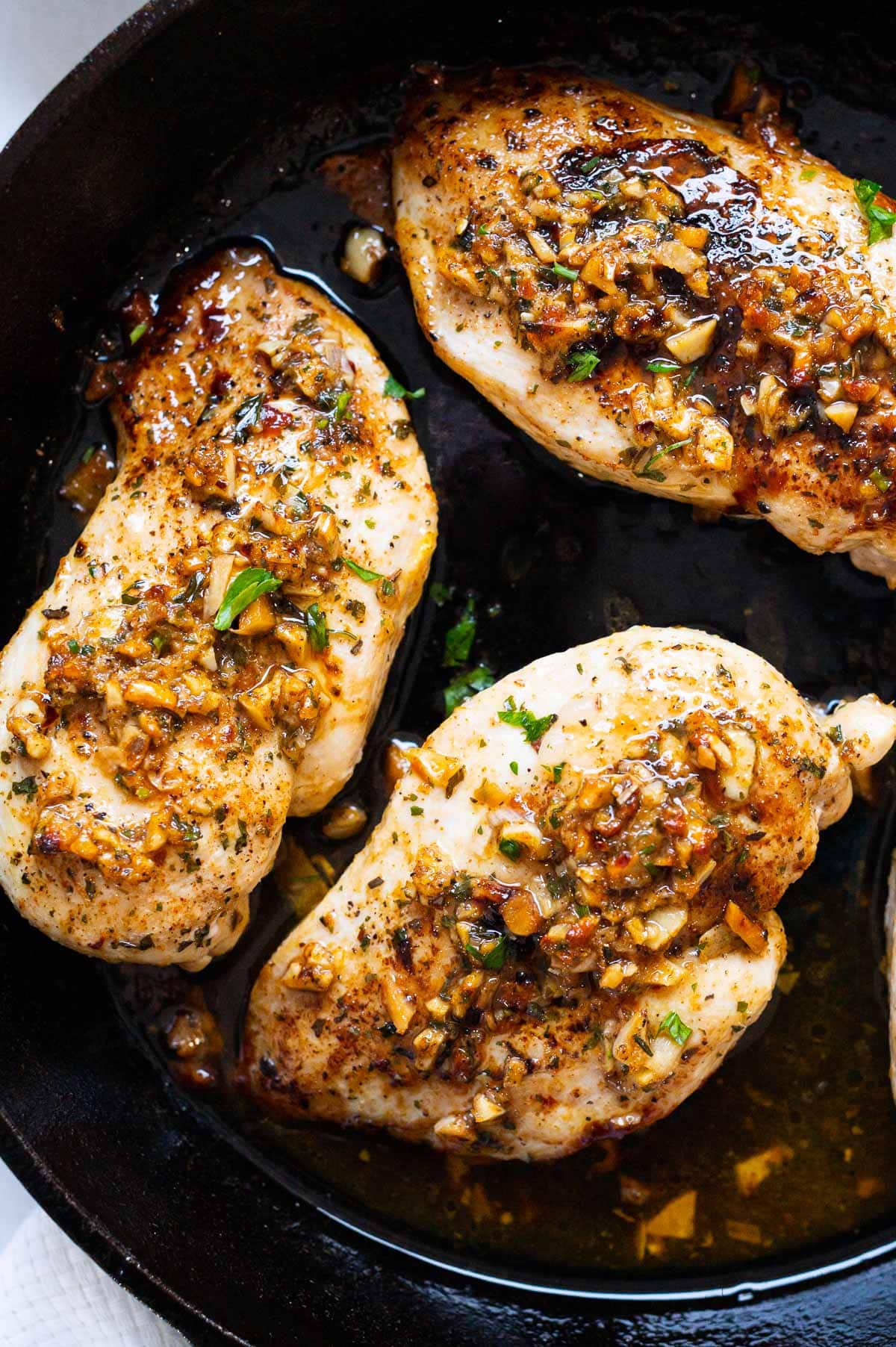 How to Use It
You can use it as a dry rub to marinate meat in, sprinkle on salads, vegetables or flavor dips. I recommend to use 1 tablespoon of seasoning per 2 pounds of meat.
This spice mixture is absolutely perfect for chicken breasts, chicken thighs, wings, lamb chops, pork chops, steaks and any cut of beef.
It is perfect for any cooking method like boiling, grilling or roasting whether it's meat or vegetables.
FAQs
What is all-purpose seasoning?
It is a perfect blend of spices and herbs containing mostly paprika, dried garlic, onion granules and a few simple dried herbs.
What can I substitute for all purpose seasoning?
Technically you can use any seasoning depending on the flavor you prefer. Use Italian seasoning to add herby flavor, taco seasoning to add Mexican flair and cajun seasoning for more creole flavor for your meal.
What is it used for?
You can use it in many dishes with meat, poultry, seafood and vegetables.
Is seasoning salt the same as all-purpose?
It is very much the same as seasoning salt. Might be lower in sodium because it is homemade.
More Seasonings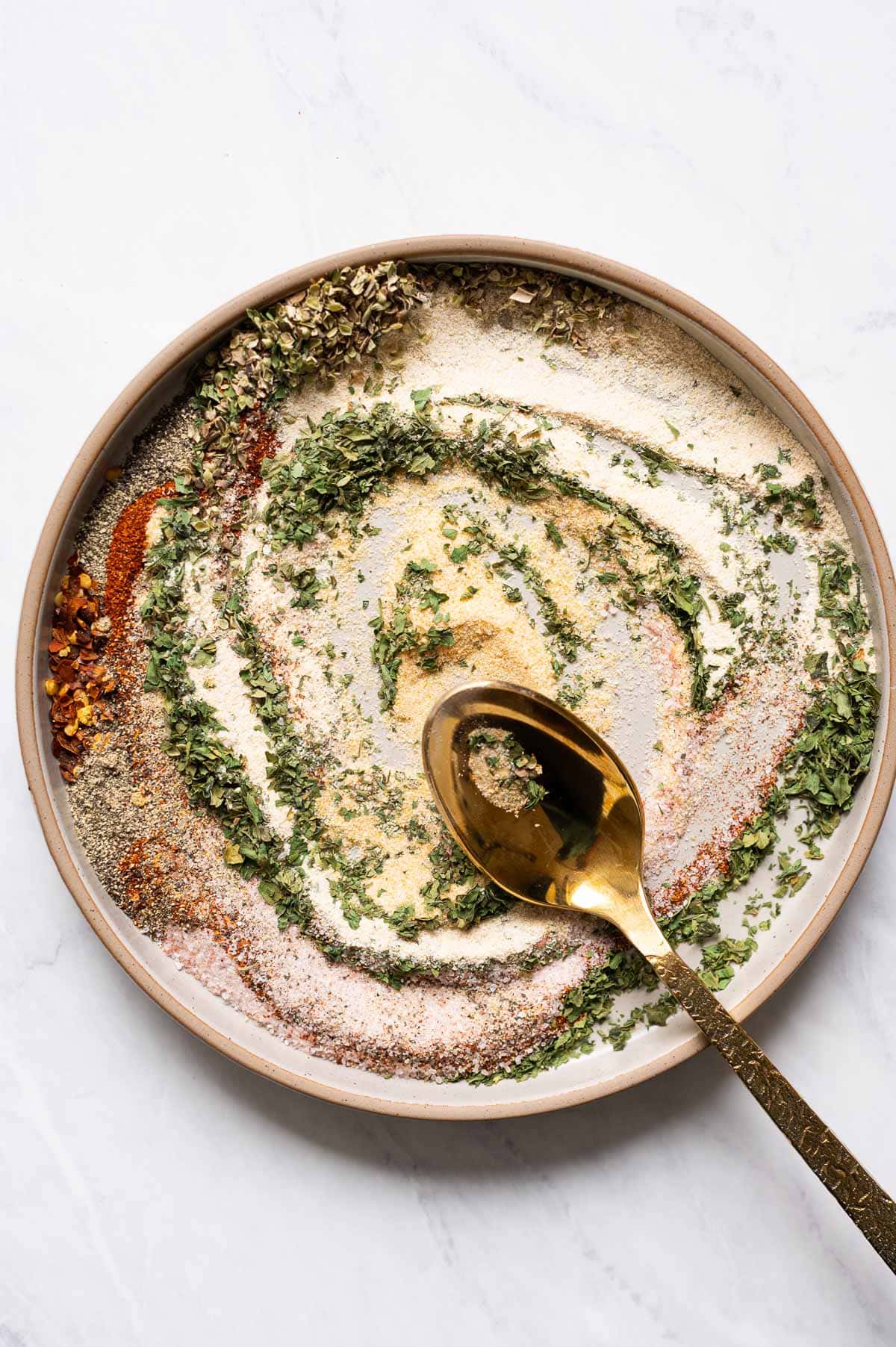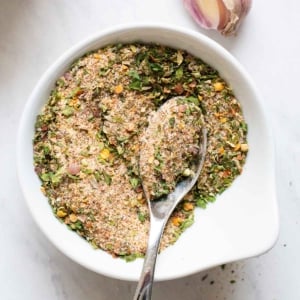 All Purpose Seasoning
All Purpose Seasoning is ready in 5 minutes and will transform any of your savory dishes into delicious meals. Use this homemade all-purpose spice blend to flavor anything!
Instructions
In a small bowl, add salt, pepper, parsley, garlic powder, onion powder, oregano, smoked paprika and red pepper flakes.

Stir very well with a fork or small whisk.

Or add all ingredients to glass jar with a lid you plan on storing seasoning in and shake well.
Notes
Store: Store in a cool dry place like pantry or drawer for up to 2 years.
You can use less salt for low sodium all purpose seasoning or no salt at all.
Nutrition
Serving:
1
teaspoon
|
Calories:
5
kcal
|
Carbohydrates:
1
g
|
Protein:
0.2
g
|
Fat:
0.1
g
|
Saturated Fat:
0.01
g
|
Sodium:
390
mg
|
Fiber:
0.3
g
|
Sugar:
0.1
g