How to make super crispy, tender Air Fryer Chicken Wings with no oil and ready in under 30 minutes! These air fried wings are juicy in the middle, with a fraction of the fat and calories, and are easily customizable with 5 flavor variations.
With an air fryer now at my disposal, I've jumped right into experimenting with air fryer chicken breast, air fryer chicken drumsticks, air fryer chicken tenders, and now these air fryer chicken wings.
Ready in under 30 minutes, super crispy, oil-free and with no marinating! Even better, the excess fat drips from the wings too, making for a leaner treat that tastes almost exactly like deep-fried wings!
The result is a perfect combination of juicy and 'fall-off-the-bone' tender meat with wonderfully crispy skin that is so difficult to replicate in the oven (and believe me, I've tried). It's finger-licking guaranteed!
Why Make Chicken Wings in Air Fryer?
NO added oil: Deep-fried results with a fraction of fat and calories!
30 minutes: Total time from kitchen to table with minimal clean up.
Skip the marinating: Open the package and place wings in air fryer! 
Choice of five wing seasonings: Bbq, buffalo, salt and pepper, lemon pepper and honey garlic – with even more suggestions below! 
Crispy exterior with tender, juicy interior: Consistent results every time!
A sure crowd-pleaser: Everyone loves wings!
Low-carb, keto, gluten-free, Paleo, and whole30: Based on what seasonings you use. 
Ingredients You Will Need
The main ingredient that you'll need for chicken wings in air fryer is, of course, chicken wings. I prefer using raw, bone-in wings that have been separated into the drums and wings already. If you have whole wings, you'll need to separate them yourself.
Keep reading below (after the recipe how-to) for more information on optional ingredients and the various flavor variations!
How to Make Air Fryer Chicken Wings
Preheat the air fryer: Preheat it to 380 degrees F for five minutes.
At this point, if your chicken wings are slightly wet at all, make sure to pat them thoroughly dry with paper towels.
Air fry the chicken wings: Add the wings to your air fryer basket in a single (but tight) layer, making sure not to overlap or stack the wings. Then close and cook for 25 minutes, shaking the basket once at the halfway point.
If needed, air fry the chicken in batches but don't be tempted to stack the chicken if you want crispy results.
If you want slightly more charred wings, you can increase the heat for the last 3-4 minutes (by 20-25 degrees F). And remember that you may need to adjust the time slightly based on if your wings are smaller/larger than average.
Prepare the seasonings: Choose your favorite wing seasoning from the list provided (salt and pepper, lemon pepper, buffalo and blue cheese, BBQ, or honey garlic) and use this time to prepare all the ingredients.
Coat the chicken: Once the air fried wings are cooked, transfer them to a large bowl and toss with the seasoning/sauce of your choice. Then serve immediately, while warm!
For the buffalo wings option, make sure to only add the hot sauce to the bowl. Meanwhile, the blue cheese dipping sauce will be served on the side.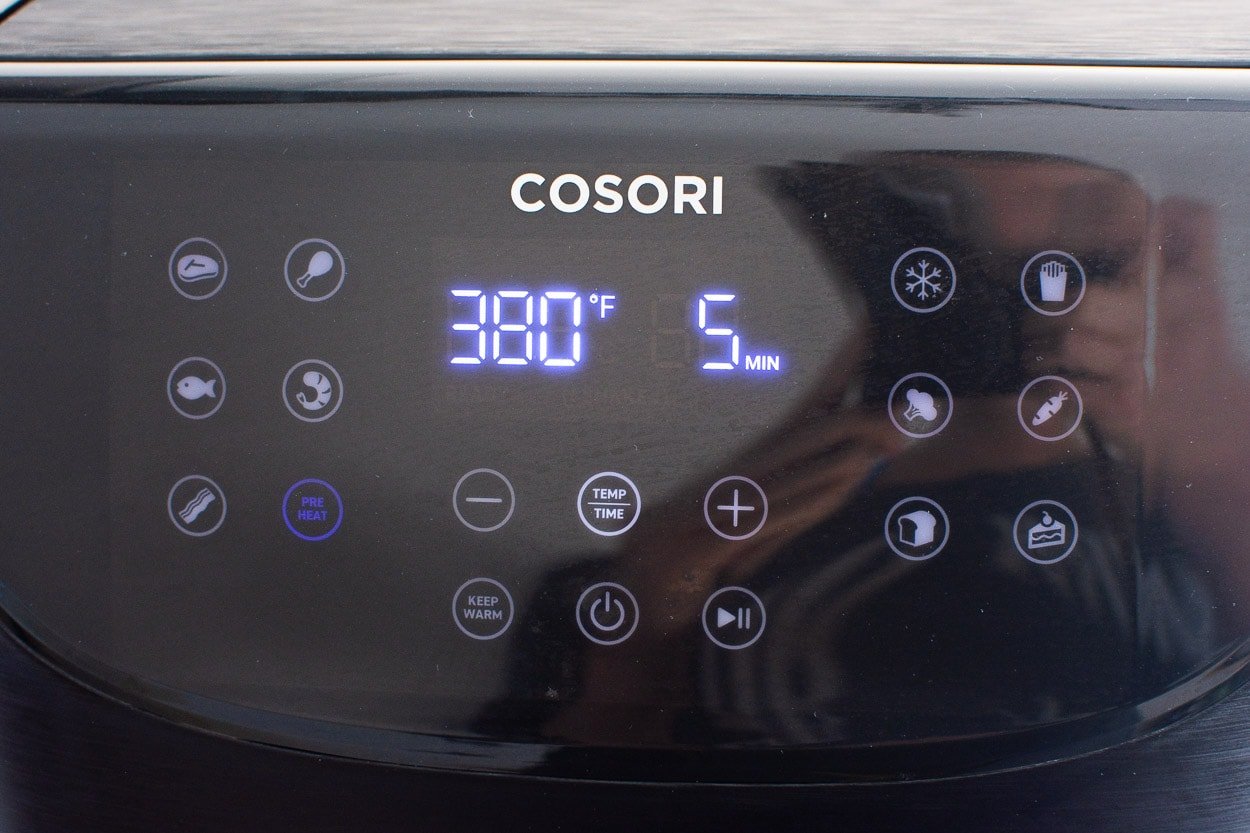 Flavor Variations
Here are my top five simple and healthy flavor variations for your crispy wings. All using simple kitchen and pantry staples you probably have handy!
1. Salt and Pepper Chicken Wings
If you want true simplicity, all you need for these air fryer chicken wings is a bit of salt and pepper!
chicken wings
salt
pepper
Optional: For a hint of spice, you could also add some red pepper flakes to the mixture. Another quick and simple option would be to add garlic or garlic powder.
2. Lemon Pepper Chicken Wings
While you can buy packaged seasoning called 'lemon pepper', I love mixing up fresh lemon zest with pepper for fresh and zingy results.
salt
pepper
lemon – make sure to use an unwaxed lemon (preferably organic) when using zest in any recipe.
Optional: Some garlic (fresh or powdered) would pair well with the lemon pepper seasoning.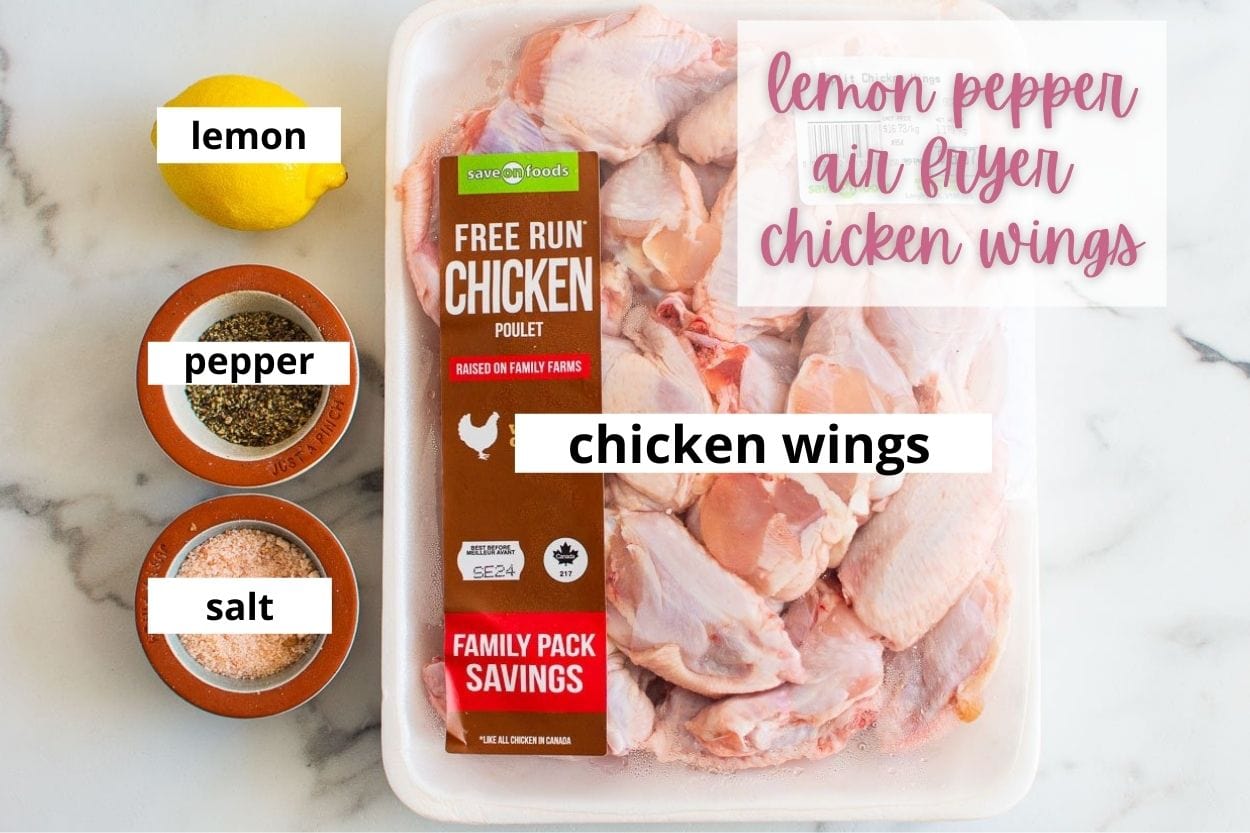 3. Honey Garlic Chicken Wings
The combination of honey and garlic makes for a wonderful sweet, tangy, savory chicken wing sauce.
chicken wings
honey
garlic
Optional: Add in a pinch of red pepper flakes for some heat or a splash of tamari (or soy sauce) for a sweet and salty combo.
4. Buffalo Chicken Wings
This list wouldn't be complete without making healthy buffalo wings. Pair these with a healthy creamy blue cheese dipping sauce and you're good to go!
chicken wings
red hot sauce – I like to use Frank's, but feel free to use what you have.
blue cheese
plain yogurt
salt
Optional: If you want a slightly unhealthier version, you can add a little melted butter to the hot sauce (like traditional buffalo sauce) and a bit of garlic powder (optional).
5. BBQ Chicken Wings
BBQ wings are a true classic!
chicken wings
bbq sauce – I'll often use homemade healthy BBQ sauce. But if you don't have any, use your favorite store-bought option!
I like to use a BBQ sauce like Stubb's which contains lower sugar and a pretty 'clean' ingredient list.
Optional Add-ins and Recipe Variations
Paprika seasoning: Another simple favorite seasoning of mine combines garlic powder, onion powder (optional), paprika, salt, and pepper. For spice, add a little chili powder, too.
Other seasonings: You can swap out the seasonings I've suggested with your favorites. Italian seasoning with garlic would work, cajun spice, etc.!
Cornstarch: Tossing the wings in a bit of cornstarch just before air frying can help to yield even crispier results (though not necessary). Baking powder would also work, but I recommend only 1-2 tsp, so the flavor isn't impacted.
Herbs: Some finely chopped fresh herbs make for a simple and flavorful garnish to these air fried wings. Think parsley, scallions, chives, etc.
Tips for Best Results
Air fryer models vary: For that reason, I always recommend keeping an eye on the food whenever you cook a new recipe in it. That way, you'll know if it needs to be slightly adjusted for your model. For reference, I use 5.8 quart Cosori air fryer.
No need to rinse the chicken: I never do. However, if you prefer to, make sure to use paper towels to dry the chicken after. If it's wet, it won't crisp up.
Make sure to cook in a single layer: The air needs to circulate the chicken to make the skin crispy! Overlapping or stacking can lead to soggy wings!
Stand the wings up: Whether you're cooking a large batch or just want to avoid having to shake the chicken, you can actually stand the wings up along the edges of the basket for more even air circulation. And still lay some down in the center to cook a larger batch. It's a win-win!
For even crispier results: You can add just a quick spritz of oil. However, this isn't necessary.
If you have an oven with a built-in air fryer: Because of the larger space, the recipe will likely take longer. For that reason, I can't guarantee that this method will work.
FAQs
Can I stack chicken wings in air fryer?
Technically you can. However, I don't recommend doing so if you want the crispiest results. Instead, spread in a single layer with space between.
How do you know when wings are fully cooked?
You can use a meat thermometer and stick it in the thickest part of the wing, avoiding touching bone (which can throw off the results). If the chicken is 165F/74C – it's done!

If you don't have a thermometer, slice a wing open. The meat shouldn't be pink, and any juices should run clear.
Are chicken wings in the air fryer as good as deep fried ones?
This all comes down to personal taste. However, in my opinion, these air fryer chicken wings are just as good as deep-fried ones.

With air fryer, you can achieve amazingly crispy results. And the teeny tiny bit of crispness that may be lacking is more than made up for with the fact that this version contains all the flavor with a fraction of the calories!
Can I cook boneless wings in the air fryer?
You sure can. Just note that boneless chicken will taste less time to cook through. For air fried boneless chicken wings, I recommend around 10 minutes at 400F/205C (flipping once halfway).
How do I reheat wings in the air fryer?
I recommend reheating the air fried chicken wings in the air fryer at 400F/205C for 4-6 minutes until warm and crisped up again.
Can I cook frozen chicken wings in air fryer?
You sure can, with just a couple of tweaks. First, I prefer to allow them to thaw for at least an hour to be able to separate them. Then cook for around 30 minutes at 380F/195C.
How does the air fryer get them crispy?
An air fryer is basically like a small convection oven that spins hot air around the ingredients to cook it quickly. Thanks to the smaller space, it's also like a 'concentrated' version of baking food. Meaning it takes less time and with crispier results.
Chicken Wing Serving Recommendations
You can enjoy these best ever air fryer chicken wings as an appetizer, dinner main or as part of a Game Day spread alongside:
Storing Leftovers
Storing: You can store the leftover air fryer chicken wings in an airtight container in the fridge for up to two days. Make sure to move them to the refrigerator within two hours for food safety reasons.
Freeze: Allow the cooked wings to cool to room temperature and then freeze the leftovers on a baking sheet (not touching) for several hours until solid. Then transfer them to a freezer-safe container and store them for up to three months.
Thaw them overnight in the refrigerator before eating or reheating.
These are seriously the best air fryer chicken wings and they are so easy to make!
More Air Fryer Recipes to Try
You might also enjoy browsing through my entire collection of air fryer recipes.
Air Fryer Chicken Wings
How to make super crispy, tender Air Fryer Chicken Wings with no oil and ready in under 30 minutes!
Ingredients
Instructions
Preheat air fryer to 380 degrees F for 5 minutes.

Add raw chicken wings to air fryer basket (tight in a single layer but not stacked on top of each other), close and cook at 380 degrees F for 25 minutes, shaking once at half time mark. If necessary, cook in batches.

While chicken wings are cooking, prep your favorite seasoning from above options: salt and pepper, lemon pepper, buffalo and blue cheese dip, BBQ or honey garlic.

Remove chicken wings into a large bowl, add seasonings of choice and toss to coat. All 5 flavors have ingredients added to a bowl with cooked plain chicken wings, except for Buffalo ones it's only the hot sauce that goes in a bowl, and then you make blue cheese dipping sauce separately in another small bowl.

Serve immediately while hot and crispy.
Notes
Store: Refrigerate leftovers in an airtight container for up to 2 days.
Reheat

: Pop chicken wings in the air fryer at 400 degrees F for several minutes (4-6) until warm and crispy.

What size is your air fryer? I am using large 5.8 quart Cosori air fryer. It fits about 1 – 1.5 lbs of wings.
Frozen chicken wings: Thaw them for about an hour first to be able to separate them. Cook for 30 minutes at 380 degrees F and a bit longer if necessary.
Cornstarch: Tossing the chicken wings in a bit of cornstarch just before air frying can help to yield even crispier results (though not necessary). 
Nutrition
Serving:
4
wings
|
Calories:
194
kcal
|
Carbohydrates:
9
g
|
Protein:
13
g
|
Fat:
12
g
|
Saturated Fat:
4
g
|
Trans Fat:
1
g
|
Cholesterol:
52
mg
|
Sodium:
811
mg
|
Fiber:
1
g
|
Sugar:
8
g