Tasty, pretty and healthy red smoothie with raw beets, juicy strawberries and a generous dose of healthy fats from coconut oil.
Beets: the antioxidant betalain gives them their signature color and is an excellent anti-inflammatory. When added to the diet, beet benefits include repairing cells and adding high levels of inflammation-fighting potassium and magnesium (Source).
Coconut Oil: Lipids (fats) and spices create strong anti-inflammatory compounds, especially coconut oil and the components of turmeric. In a study in India, the high levels of antioxidants present in virgin coconut oil reduced inflammation and healed arthritis more effectively than leading medications (Source).
Look, I'm not going to preach to you that this red smoothie will erase all your Holiday food sins because that is not true. I personally do not believe in detoxes or diets because neither work. What works is eating whole foods consistently, moving, sleeping. Warm lemon water (=> how to make lemon water) and full of probiotics kombucha (=> making kombucha from scratch 30 times cheaper => flavoring kombucha) are very-very good for you but are components of healthy lifestyle. There is no single miracle health "pill", anti inflammatory tea with turmeric is not IT.
This time of year internet and publications are screaming with diets and detoxes, and you have to stand in line to use equipment at the gym. Go to the gym in March and you will have no wait line. I feel sorry for us especially this time of the year because of how much noise we get bombarded with RE: nutrition. Everywhere and by everyone – fitness professionals, online self-made "gurus", big food corporations. No wonder America has the highest rate of obesity. Majority of people are just so confused what to eat and have no relationship with real food whatsoever. SAD.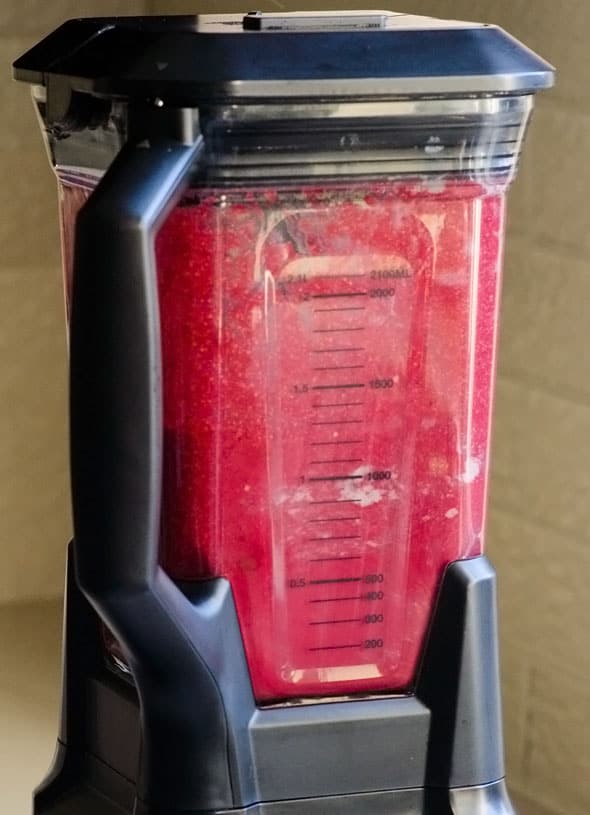 So, my point is this. You don't have to be a scientist, a nutritionist or a doctor to understand that consuming food in its most natural state the way it has been grown for years is the best for us. I personally do not believe in minimalistic diets because they are a temporary fix with possible health implications later. That is my opinion and if you follow a diet that is fine – your choice. But this is my opinion because I tried diets and they don't work!
As this year just started and one of your goals is to be healthy, I encourage you to try a variety of whole foods, learn where they come from and think outside the box aka who is paid to promote what. Do not blindly follow your gym or fitness DVD instructor's nutrition advice because he or she might be not any kind of nutrition expert at all. Been there, done that.
So, this red smoothie…I know I have to do better in a smoothie department. Smoothies are so easy and yet I often worry if my kids will like it. My kids LOVED this smoothie because it was sweet and pretty in colour. How else would they eat raw beets that detoxify their livers?! Or would they consume a tablespoon of coconut oil just like that?! I doubt that. Strawberries and dates definitely make this smoothie palatable because beets are known to have an earthy taste.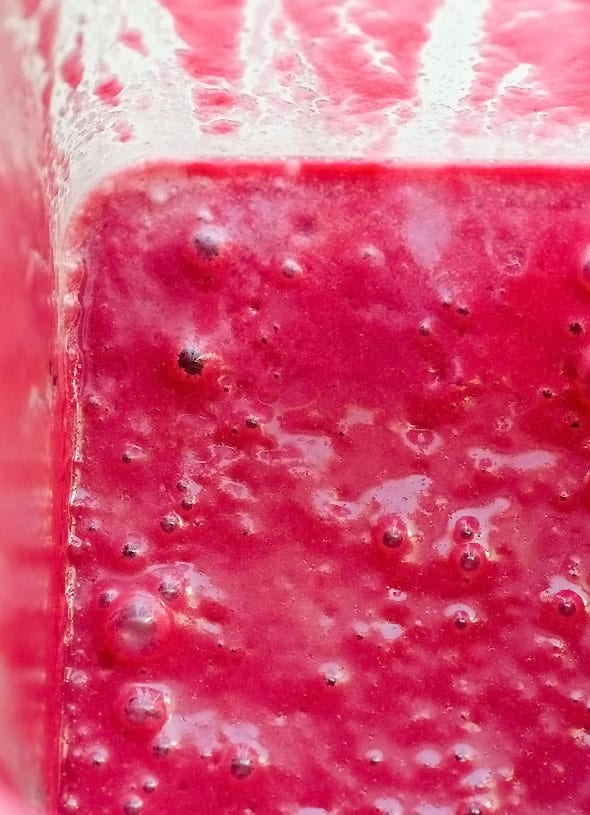 Also, you do need quite a powerful blender and run it for 4-5 minutes to blend coconut oil with other ingredients, especially if using frozen strawberries like me. Read about the blender I recommend – the best for your $$$. I have been using Ninja Ultima for 2 years now and it is not worse than Blendtec but half the price. If you can afford Blendtec – it is great blender (probably a bit tiny better than Ultima in terms of warranty, easiness to clean and less bulky). There is also a refurbished Blendtec blender for sale which comes with 7 year warranty and I have heard is great!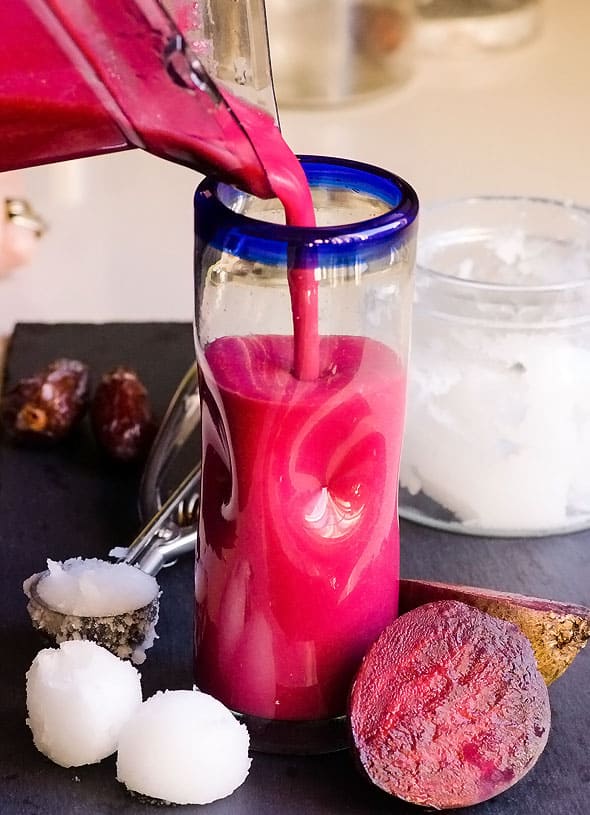 Have you ever tried kombucha smoothie?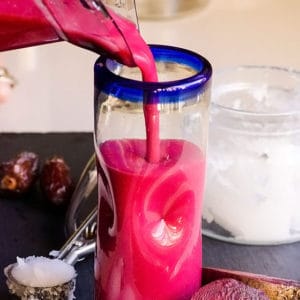 Anti-Inflammatory Red Smoothie
Anti-Inflammatory Red Smoothie Recipe made with raw beets, strawberries, dates, apples and superfood coconut oil. Even kids would drink this powerhouse red smoothie.
Ingredients
1

medium beet

peeled & cubed

2

cups

strawberries

fresh or frozen

1/4

cup

coconut oil

extra virgin

3

Medjool dates

pitted

1

cup

apple slices

optional

1/2

cups

any milk

I used unsweetened almond milk
Instructions
Add all ingredients to

a high speed blender

and process until very smooth, about 4-5 minutes. Serve immediately.
Nutrition
Serving:
1
cup
|
Calories:
220
kcal
|
Carbohydrates:
25
g
|
Protein:
1
g
|
Fat:
14
g
|
Saturated Fat:
12
g
|
Sodium:
58
mg
|
Fiber:
4
g
|
Sugar:
20
g