Combine homemade or store-bought kombucha tea with puréed frozen fruit, almond milk, and maple syrup for an easy, delicious, and refreshing Kombucha Smoothie! A 5 minute blender recipe for the perfect summer treat!
Turn your kombucha into a thick, fruity, kombucha smoothie for a refreshing thirst quencher all summer long! It's like a cross between a root beer float and a slushie without the ice cream, pop, or added sugars!
This healthy sweet treat is a fizzy drink made with frozen fruit puréed with almond milk and kombucha tea then sweetened with a bit of maple syrup!
Whether you've made your own and learned how to make kombucha fizzy or you've picked it up from the store, making this kombucha smoothie is a delicious and nutritious way to get those probiotics and antioxidants in as well as an extra serving of fruit. Even veggies if you like!
Ingredients You'll Need
The flavor possibilities are endless in this kombucha smoothie recipe. Depending on the fruits you use, you can have a different flavor every time you make it!
Frozen fruit: Choose the sweetest fruit like bananas, mangos, pineapples, and cherries. If you would like to use berries, or fruit that's not quite as sweet, just add more maple syrup or honey! The fruit has to be frozen in order to float and to create a thick consistency. You can freeze fresh chopped fruit yourself if you want to use local fruit in season or bananas, but more often than not I turn to frozen fruit. Today I picked mango.
Unsweetened almond milk: lends a smooth creamy consistency without making it too thick. Leaving it unflavored also helps to ensure it doesn't affect the flavor of this tasty beverage.
Maple syrup or honey: Or any other sweetener of choice.
Fizzy kombucha: If you're on the fence about making kombucha from scratch, you can use store-bought. It's definitely a time saver, however not exactly a money saver. So, if you ever get the chance to make your own, do it. If someone offers you a piece of their SCOBY, even better!
How to Make a Kombucha Smoothie
Purée the fruit in a blender with additional almond milk and maple syrup.
Feel free to add turmeric or cinnamon for a boost of antioxidants and anti-inflammatory compounds as well as color. Not too much, a little goes a long way.
The mixture inside the blender should be of a soft serve consistency, so it floats. In case it's not, add more almond milk or frozen fruit, depending on what state of purée you end up with.
First, fill each of the 2 glasses halfway through with fizzy kombucha. Use any flavor you want as long as it's fizzy! The red one you see is the cherry and chia seeds recipe I shared in my flavoring kombucha post. Together, the mango and cherry were delightful.
Then, carefully scoop the frozen fruit mixture on top until the glass is full. Garnish with a cherry on top and serve right away!
How to Customize This Kombucha Smoothie
Berries: Blueberries, raspberries, strawberries, or blackberries.
Bananas: Along with frozen fruit, you can throw in a banana to help make it thicker and a bit creamier.
Superfoods: Ramp up the nutritional benefits by adding hemp seeds, flax seeds, chia seeds, fresh ginger, or garnish with cacao nibs along with your cherry on top.
Citrus: An extra squirt of lemon juice can brighten up the taste!
FAQs
What is kombucha?
It's a fermented tea that at its most basic point may remind you of apple cider vinegar with a bit of club soda. This is why flavoring is a great idea! The effervescence, otherwise known as the bubbles up your nose, is the result of the fermentation process that comes with mixing tea with a symbiotic colony of bacteria and yeast, SCOBY for short, for days or weeks.
Is kombucha healthy?
As with any fermented food, kombucha provides a ton of probiotics. It also delivers antioxidants and B12 vitamins.
More Healthy Drink Recipes to Try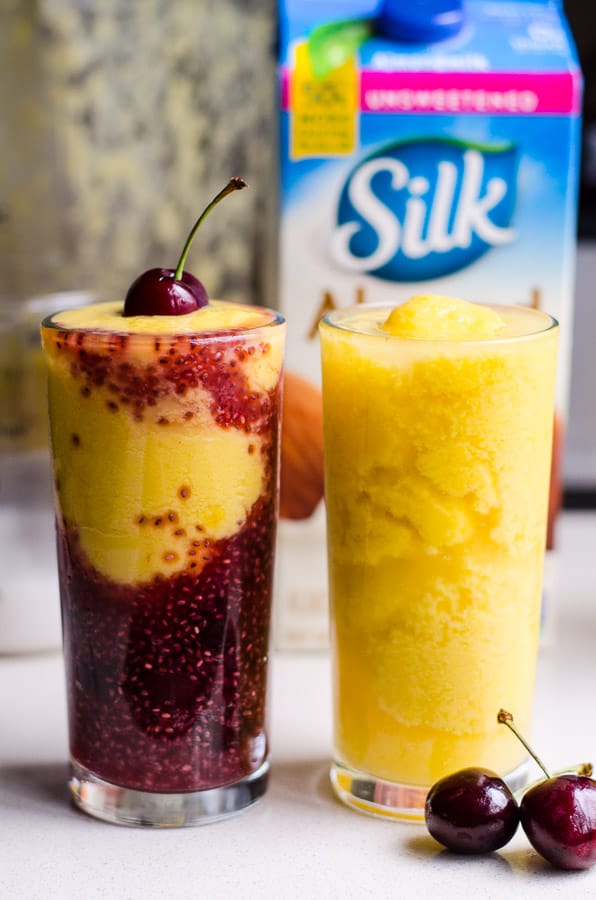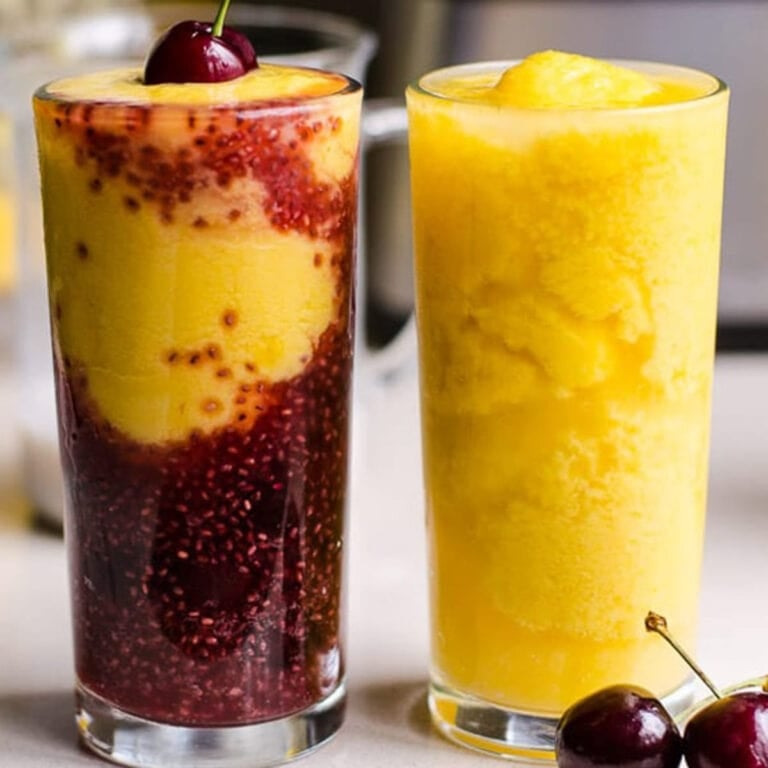 Kombucha Smoothie
Kombucha Smoothie is a 5 minute blender recipe for the perfect summer treat. Easy, delicious and refreshing!
Instructions
In a blender, add frozen fruit, almond milk and maple syrup. Blend until smooth.

Fill 2 tall glasses with kombucha half way through, then carefully scoop frozen fruit mixture on top and garnish with cherry. Enjoy immediately on a hot summer day.
Notes
Store: This is meant to be consumed immediately.
Fruit: Choose the sweetest fruit like bananas, mango, pineapple and cherries.
Berries: If you would like to use berries, just add more maple syrup or honey.
Nutrition
Calories:
128
kcal
|
Carbohydrates:
28
g
|
Protein:
1
g
|
Fat:
2
g
|
Saturated Fat:
1
g
|
Sodium:
164
mg
|
Fiber:
5
g
|
Sugar:
22
g