Got "a kombucha problem" and don't like how much it costs? I don't blame you. Store-bought kombucha costs as much as wine. Shocked? I was too. This reason alone should be enough to get over any aversion towards the jelly fish like looking slimy kombucha "mushroom" and learn making kombucha from scratch at home. Especially with summer around the corner, there is nothing better than a glass of iced kombucha.
Not convinced enough? Here is simple math. Do you usually pay $4 per a 16 oz bottle of store bought kombucha? And I'm not even mentioning recycling fee and deposit, which, let's be honest, you will never get back. And even Costco won't help. Are you ready to face the truth? OK.
14 cups of Kombucha = $28 Store-bought vs. $0.80 Homemade
= 30 times cheaper
= Insanity
Good news – nothing we can't fix.
I have been making my own kombucha since last summer and finally feel competent enough to share the process. It is super-super simple once you understand how kombucha tea brewing process works and remove intimidating tools and ingredients, and over cautious steps that most recipes call for. At first, I remember it felt like delivering a baby – I wanted to sterilize my hands and pull on surgical gloves. No need to do so, you will relax about it once we go over the process.
I started with the Kitchn's kombucha recipe (which I found to be the easiest to follow) and adapted to my busy life with the most simple and cheapest ingredients. And I want to show you how easy it is because I'm 99% sure you might be intimidated to make your own kombucha at home (I was but the cost factor was way above my fears!!!), and you shouldn't. Let's jump to nothing fancy kombucha making process at home, no exquisite ingredients or tools, no sterile hands or equipment, I promise.
By the way, current summer kombucha situation – 2 glass dispensers. It is a major production here.
Kombucha Health Benefits
Why bother? Why all this work, right?! Actually, making kombucha from scratch at home isn't labour intensive at all but health benefits are HUGE, people. One word – PROBIOTICS. Kombucha is a fermented product containing the "good" bacteria that strengthens your immune system and aids digestion. Simply put – keeps your gut flora healthy. And note, kombucha is 100% plant-based unlike similar probiotic containing dairy products. And consuming less and less cancer causing animal protein just can't be a bad thing ever.
If you are looking for another way to boost your immune system, detoxify and improve gut health, check out how to make lemon water post.
Kombucha Making Process in a Nutshell
OK, before we begin, I want you to understand what happens during kombucha making process. Think of it this way: you are going to adopt a tini-tiny baby, feed it with sugar and grow into a SCOBY (symbiotic culture of bacteria and yeast). The "baby" feeds and grows only on sugar, and once it has eaten enough and has grown into a slimy looking "jellyfish", you can place SCOBY into a batch of sweet tea where it will eat more sugar and produce more "babies". Essentially, it is a never ending producing process. You need just one "baby" though. Got it? I will cover all questions at the bottom of the post.
And last but not least, please realize that at first it takes about 3 weeks until you can drink a glass of your homemade kombucha. So start today if you would like to enjoy kombucha beginning end of June and all summer long, it's not too late! Once you grow a SCOBY, brewing kombucha will become much faster – 7 days on average and you can make it every week and even in multiple batches. With warmer temperatures outside, making kombucha from scratch is the best time to grow a SCOBY. Just go for it.
Kombucha Recipe Ingredients
Storebought Kombucha: You need to buy a bottle of plain (not flavoured) GT's original kombucha. Why GT's? Because after "something happened in kombucha resale industry back in 2010" most store-bought kombuchas are too "clear" and "sterile". You need to pick a bottle with brown and/or clear strands, and possibly even a mini baby "jelly fish" at the bottom of the bottle. Will look just like mine or similar. Just go through the bottles and think of looking for a baby to grow. Those brownish strands will become your SCOBY aka "baby".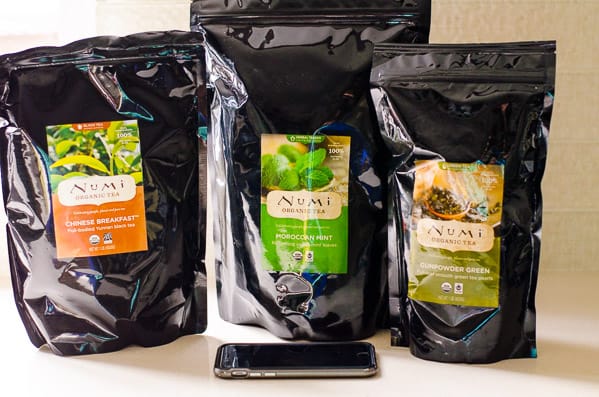 Tea: Cost and taste wise I recommend to buy loose leaf tea. It is much cheaper than tea bags plus I am not a fan of "the paper" taste. Of course, organic is better and highly recommended. And I swear Amazon is the best place to buy quality tea without pesticides. I started with a mall, then switched to a tiny bit cheaper my small town tea shop and now I buy tea only on Amazon. Yes, I'm an affiliate but I'm also a customer big time. You just won't find a better deal anywhere else. Yes, bags are big, but between making kombucha and lime iced tea all summer long, and drinking tea every day of the year, it's a perfect amount.
I have tried plain black, Earl Grey, green tea and everyone's absolute favourite is Jasmine Green Tea – I swear, you won't have any regrets!!! 
To grow a SCOBY, you need to use black tea only! To brew further batches of kombucha, any caffeinated tea works.
Sugar: I bought a 10 lb bag of organic cane sugar at Costco for $8. Nothing beats this price and if you are going to make kombucha on a regular basis, you gotta buy a huge bag. Now, do not freak out about sugar – remember, we are just feeding "the baby" with it and at the end there will be barely any sugar left in your homemade kombucha, if any.
Coconut sugar, honey, maple syrup, agave etc. more natural sugars DO NOT work or work (maybe) very rarely. It took me a long time to get over the fact and understand the fact that sugar is eaten by "the baby", so kombucha itself does not contain sugar unless you add more after fermentation. However, even if you add more and let kombucha sit for a few days, the sugar gets eaten again.
Water: I use tap water. I know many other sources recommend filtered water but boiled tap water has worked no problem for me so far.
Kombucha Recipe Supplies
You do not need any specialty tools for making kombucha at home, however the 2 listed below I HIGHLY recommend.
Glass Beverage Dispenser: You brew kombucha in a glass beverage dispenser. It is just so damn convenient to pour fresh batch of sweet tea over existing SCOBY and some previously made kombucha, after you drained the rest for bottling with a so convenient tap. No pouring, spills or endless jars to clean. Trust me, worth every penny. My kombucha recipe makes just under 1 gallon, so a gallon beverage dispenser would be enough. You could buy a 2 gallon one as well, no problem.
Bottles: We are used to a store-bought fizzy kombucha, that's why you need to buy tight seal cap bottles that ensure fermentation occurs and fizz develops. I bought mine at Ikea or you can buy smaller ones on Amazon. I also "inherited" a few fancy sparkling water bottles from friends.
I highly recommend to save GT's kombucha bottle for taking homemade kombucha on the go – in a car, to the beach or kids' sports (I can't tell you how many times a travel mug of hot tea or a bottle of kombucha has brightened my car ride and hours of waiting at the rink). Kombucha just simply tastes better from a glass, and will look so natural in a store-bought bottle. I find the sticker sturdy enough and after numerous hand washes GT's bottle still looks like new. I paid $.30 for this bottle, might as well keep it.
Kombucha Recipe in 5 Easy Steps
Step 1 – Grow Your Own SCOBY
Despite what numerous articles on Internet have suggested, I could not find a SCOBY on Craigslist (truth is I didn't want to get one from a kitchen sanitary conditions I know nothing about), buy one from a health food store (it is against health standards to sell live SCOBY), get from a friend (seriously, do you have kombucha making friends?!) or bring one to life from a dehydrated (I bought Cultures for Health starter kit and nothing happened for over 2 months for me).
I was surprised very few recipes, except the Kitchn's, suggested growing your own SCOBY from store-bought kombucha, citing it probably won't work. It works like a charm and there is absolutely nothing to be scared of. All you have to do is:
Brew some sweetened tea. Pour sweetened tea in a glass jar along with 1 cup of store-bought kombucha including those brownish strands from the bottom of the bottle, and wait. It takes 2-3 weeks to grow a SCOBY.
Day 1: Looks like this with bubbles from store-bought kombucha.
Day 3: No visible change.
Day 8: Brown strands aka "the baby" start eating the sugars in tea, white strands pulling to the top and forming thin whitish film, more likely with bubbles.
Day 15: White film thickens into "a jellyfish" at the top of the jar. That's your SCOBY. Easy peasy. That's it.
It was kinda super fun to check on "the baby" growing every few days.
Step 2 – Make Sweet Tea
Because kombucha making process takes time, I needed to make a lot in case we like it. And I had a big suspicion we would. I took a 4 quarts pot, measured 14 cups of water, boiled it, then added 2 tbsp loose leaf tea and 1 cup of sugar. Stirred with a wooden spoon and let cool off completely. No small kettles, extra bowls etc. That's it.
Step 3 – Set Kombucha
Officially it is called a first fermentation process but I like to keep things simple. Honestly, a bunch of terms make kombucha making at home even more intimidating, so screw them. Take that giant glass dispenser with a tap, pour sweetened tea in it (I just poured straight from the pot and used a small mesh strainer at the end to filter out any tea leaves), cover with paper towel secured by a rubber band, and place on a counter in the kitchen to ferment for 7-10 days.
A note on temperature. It has to be about 70F or 20-21C for bacteria to grow and kombucha ferment. At least, that is what my house's average temperature in fall-winter months is with warmer spurts when we are cooking. In these conditions it takes my jug about a week to ferment. I have read in many other sources, temperature has to be 75 – 85F but honestly it doesn't. Warmer temperature means faster fermentation which will happen in summer months, so just bottle your kombucha sooner. Bottom line is – place your kombucha on a counter in a low traffic corner and you should be fine.
Note: DO NOT place kombucha in a corner pantry that is by the external wall of the house. I have this pantry (newer homes) and it is cooler and not warm enough for bacteria to grow.
Step 4 – Bottle Kombucha
After a week (5 days in a hot climate or summer months), start tasting kombucha. What it should taste like? Like a store-bought kombucha with less fizz though (I will explain). Barely sweet and not too sour – should be just neutrally right. Again, think of "a hungry baby" – it should have eaten the right amount of sugar to grow, leave him in there too long and kombucha turns sour because "the baby" eaten too much sugar. Your kombucha is ready when you like its taste. That's it – homemade kombucha at $0.30 per bottle is ready, wohoo! You can bottle and drink it. Leave it on a counter (my preference) or refrigerate (Alex's favourite with less fizz). Tight seal bottles are necessary, repeating one more time.
Second Fermentation (optional)
Would you like your kombucha more fizzy? Then you need to do a second fermentation aka how to make kombucha fizzy. Note, that freshly poured kombucha from a dispenser with a SCOBY is fizzy. It looses carbonation once bottled, especially in a fridge.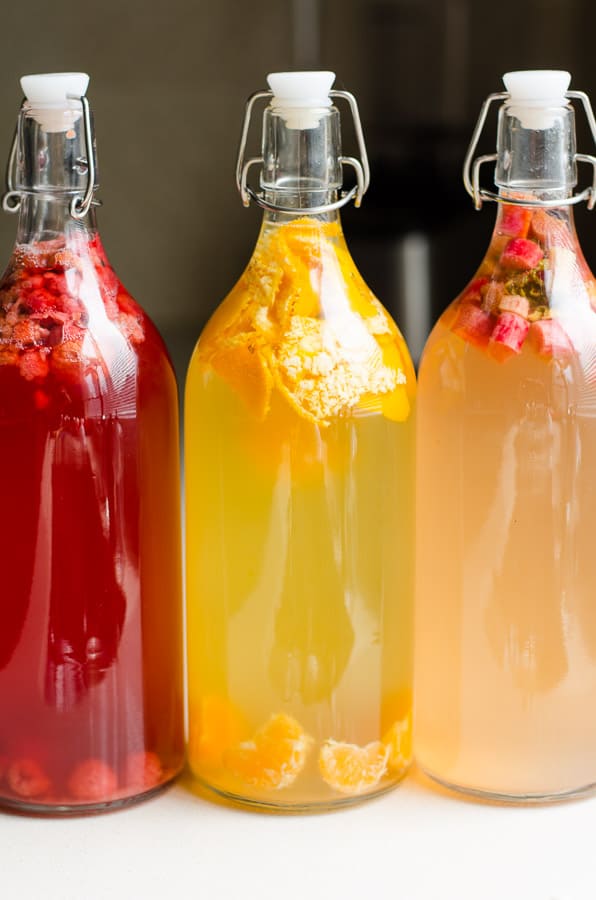 Flavoring Kombucha (optional)
Would you like your kids to drink and love kombucha? Would you like to make your own "healthy pop"? Then come on in and learn everything about flavoring kombucha – overnight with fresh or frozen fruit. Couldn't be easier, right?!

Step 5 – Begin Process All Over Again
No need to grow a baby SCOBY, you already have one. Start with Step 2 by brewing new tea and pouring over a SCOBY and a few cups of previously made kombucha. That's it.
Print
Kombucha Recipe
Foolproof step by step kombucha recipe with 4 simple ingredients. Making kombucha at home is 30 times cheaper than buying at the store.
Ingredients
To Grow a SCOBY:
To Brew a First Batch of Kombucha:
14 cups water
1 cup organic cane sugar (not honey or coconut sugar)
SCOBY
2 cups previously brewed kombucha (from a jar with SCOBY)
Instructions
How to Grow a SCOBY: In a small pot, bring 2 cups of water to boil. Turn off heat and add 1 tsp tea and 3 tbsp sugar, stir and let cool completely.
In a quart glass jar, add previously made tea discarding the leaves (use a mesh strainer) and 1 cup of store-bought kombucha along with any brownish strands from the bottle. Cover with paper towel secured with a rubber band and set in a warm place with temperature above 21C or 70F. It takes 2-4 weeks to grow a SCOBY. You can look but try not to disturb the jar as SCOBY is forming on top. See my post for pictures what SCOBY should look like and troubleshooting.
SCOBY is ready when it is at least 1/4″ thick and white in colour – a jellyfish like mushroom you can take out of the jar and hold in your hands. Now you can brew some kombucha.
How to Brew First Batch of Kombucha: In a large pot (4 quarts), bring 14 cups of water to boil. Turn off heat and add 2 tbsp tea and 1 cup sugar, stir and let cool completely.
In a glass beverage dispenser, pour previously made sweetened tea (I just poured straight from the pot and used a strainer at the end to filter out any tea leaves), 2 cups of previously made kombucha (from a jar with SCOBY) and SCOBY itself. Cover with paper towel secured with a rubber band and place on a counter in the kitchen to ferment for 7-10 days. It is OK if SCOBY isn't floating at the top (it will later). Again, temperature should be above 21C or 70F.
After 7 days (less in warmer temperatures) start tasting kombucha. If it isn't sweet, has a tangy taste, fizzes as you pour and SCOBY is floating at the top, then your kombucha is ready.
Pour using a funnel into airtight cap bottles and enjoy.
Store: Keep at a room temperature for up to a few weeks. Longer in a fridge if it lasts that long in your house (however, kombucha is less fizzy refrigerated).
★ Did you make this recipe? Please give it a star rating in the comments.
FAQ About Making Kombucha from Scratch
Q: I live in Germany and have not see GT's kombucha in stores. Can I use a different brand?
A: Yes, as long as you see brown and/or clear strands and possibly even a mini baby "jelly fish" at the bottom of the bottle. Many kombuchas will be clear without anything at the bottom, like a bottle of water. Don't pick that one, won't work.
Q: Where to buy GT's kombucha?
A: Look in a refrigerator of your produce or health food store department. US: Safeway, Fred Meyer, Kroger. Canada: Save on Foods, health food stores, the Real Canadian Superstore.
Q: Can I use plastic or metal container for making kombucha?
A: Short answer is NO, gotta be glass.
Q: What is best tea for making kombucha?
A: Absolutely best tea for brewing kombucha is black tea. Especially when making kombucha fro scratch and trying to grow a SCOBY, you have to use black tea. After that you can make kombucha with any caffeinated tea: white, black or green tea, flavoured or not.
Q: Can I use decaf tea for brewing kombucha?
A: No.
Q: What do I do with SCOBY babies? They keep reproducing.
A: You have 2 options. Option #1: Create a SCOBY hotel (Google it) by pouring some of kombucha in a jar and storing "babies" in it. To give to friends, to start a new kombucha etc. Not sure why else you would do that. Always peel the bottom older SCOBY to save and leave the top newer SCOBY to keep brewing kombucha. Option #2: Compost it. I mean, what else to do with it?! It sucks, it's a waste but at least it gets composted.
Q: Can you cut the SCOBY?
A: Yes, SCOBY is easy to cut with a pair of clean kitchen scissors. In fact, you always should keep only one SCOBY in your kombucha brewing batch because too many and your kombucha will be sour. Think of it as a bigger hungry "baby" that will eat sugar faster. However, you should also keep in mind that for best carbonation results the shape of a SCOBY should be the shape of the jar creating a tight seal.
Q: Can you eat a SCOBY?
A: Yes, technically. I have seen "candy" recipes and have heard some folks feeding SCOBY to their dog.
Q: What should be the shape and size of my SCOBY?
A: SCOBY will take the shape of the mouth of the jar and then grow in thickness, and produce "babies" on top. My SCOBY is wide, therefore it is not too thick, about 1/4 of an inch and that is enough. Mason jar SCOBY is thicker because it is much narrower. Once the top "baby" is as thick as the old SCOBY, use the newer one.
Q: Should I wash SCOBY and the jug?
A: No and yes. I don't rinse SCOBY but if you want to – go for it. Every few batches I wash jug with biodegradable dish soap (check out the non-toxic cleaners I use). I have read that you should wash jar with vinegar but because I don't use conventional harsh dish soap, I am not too scared of the chemicals making my SCOBY "sick".
Q: Once I poured freshly brewed tea, my SCOBY sunk to the bottom or is hanging side ways. Is that OK?
A: Yes, it will float to the top after a few days of fermentation.
Q: What is that thin white film on top of my SCOBY?
A: That is a new SCOBY growing.
Q: I have been trying to grow a SCOBY for a week now and there are no visible changes. What should I do?
A: Hard to say but more likely it is a temperature issue. Ideal SCOBY growing temperature should be at least 21C or 70F. DO NOT place kombucha in a corner pantry that is by the external wall of the house. I have this pantry (newer homes) and it is cooler and not warm enough for bacteria to grow.
Q: Is there caffeine in kombucha?
A: Yes, a bit. It contains approximately 1/3 the amount of caffeine as the tea it is made with.
Q: Does kombucha contain alcohol?
A: Definitely won't make you drunk. Maybe a tiny bit amount?! So little, I could care less to Google. It is safe enough for kids.
Q: How many calories in kombucha?
A: About 30 calories per 1 cup of plain kombucha.
Q: Should I brew kombucha in a dark place?
A: I keep mine on a counter, not in direct sunlight. However, Vancouver gets rain 60% of the year so it is quite dark here. Not sure I will move it to a different place once summer arrives. I would say you should be pretty safe if you keep kombucha out of direct sunlight.
Q: Do you throw out the tea leaves/bags used to make kombucha sweet tea?
A: Yes.
Q: Can I let sweetened tea cool overnight?
A: Yes. I just left mine covered with lid on the stove.
Q: How can I increase carbonation without second fermentation?
A: To maintain a bit of a fizz, store kombucha at room temperature (not refrigerated) in an airtight bottle. Carbonation won't be as strong but still some is better than none. It is a matter of personal taste. I do not care that much for carbonation, the taste of tangy fermented tea is enough for me.
Q: How long does kombucha last?
A: A few weeks for sure, refrigerated or not. Frankly, it never lasts in our household longer. It's that good!
Q: What to do if I see mold in my batch of kombucha?
A: Throw it out and start over again.
Q: Can I take a break from brewing kombucha?
A: Yes. When we went on vacation to Mexico for a month, I placed the jug with SCOBY and about few cups of kombucha in the fridge for 4 weeks. This way the fermentation process slows down. If I want to take a break for a shorter period of time while at home, let's say 7-10 days, I just let the jar sit on a counter in the same way.