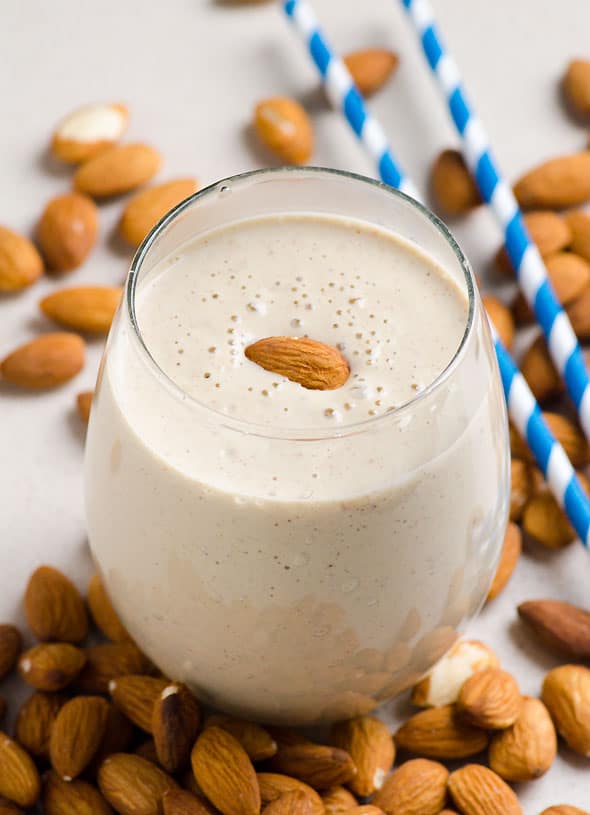 I find breakfast the most boring meal of the day. And I think it is not only me because health world has embraced chia seed pudding and egg muffins with a big fat "welcome".
If you are not health conscious you can grab a size of your head muffin at a bakery in your office building, order an egg sausage sandwich at the nearest drive thru or eat a bowl of sugary cereal. 3-4 bucks and you are done. Sigh, that is easy but is not an option if you treat your body like a temple. That is just not for people like us, we need healthy breakfast ideas!
That is why I won't let go off a protein powder from my pantry. Seriously, clean, organic and plant-based protein powder makes my life so much easier. When I got offered to review Purely Inspired organic protein powder I was super excited because I think I have tried almost all plant-based powders on the market by now. I do love to review protein powders because it can be bit tricky to find a good tasting one.
If you have allergies, Purely Inspired is also gluten, dairy and soy free.
I did really like Purely Inspired, both chocolate and french vanilla flavours. It tasted very good with barely any aftertaste and great solubility in water. And the best part – a 1.5 lbs jug like above sells at Wal Mart for $19.97. Like that is a killer price!
I have previously shared that when it comes to protein powder I prefer plant-based and it has to be organic to avoid pesticides, particularly glyphosate (RoundUp). I simply do not think our bodies need more animal products in a form of whey protein. I am trying to reduce our meat consumption and it is not always easy when feeding a family of four. So I do not need more fight in my life.
I know some might argue a protein powder is not a whole food. OK, it is processed but is it worse than eating a conventionally raised steak or chicken from a factory farm? To me the answer would be "no". Also when I work out I am more hungry and my muscles need to recover. I did try mixing Purely Inspired with just water after my workout yesterday and it worked like a charm.
And also if you have kids…those flowers of our lives…Seriously, if you have children I do not need to explain how showering by yourself for 10 minutes equates to a 2 hour spa treatment. So, if I can have a 3 minute healthy breakfast smoothie instead of junk or slaving at a stove for 20 minutes, man, I will take it. So, don't judge if you have no kids. Get yourself a few and let's chat. I bet you will be sipping wine behind the computer screen.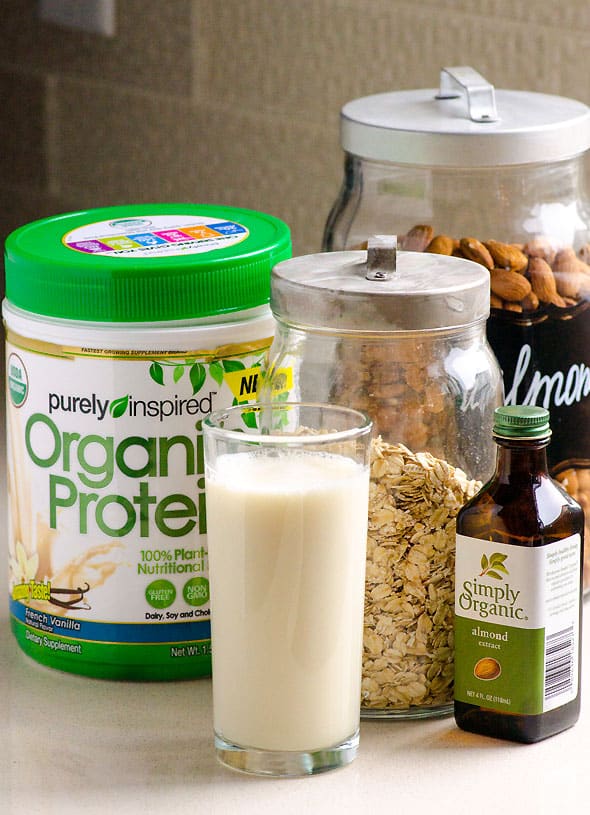 So, making almond breakfast smoothie with protein powder makes only big sense. I thought of typical healthy breakfast ingredients and made sure to incorporate all food groups into one glass – complex carbs, plant-based protein and healthy fats.
For the longest time I had no idea what to do with gifted to me almond extract. I do not bake biscotti (do you even use almond extract in biscotti?!) because last time I did 9 years ago Alex broke his crown. I still clearly remember this day. I was trying to be a good wife during my first maternity leave and handed my tired husband a biscotti as soon as he walked in the house. $1,500 later…no biscotti for us.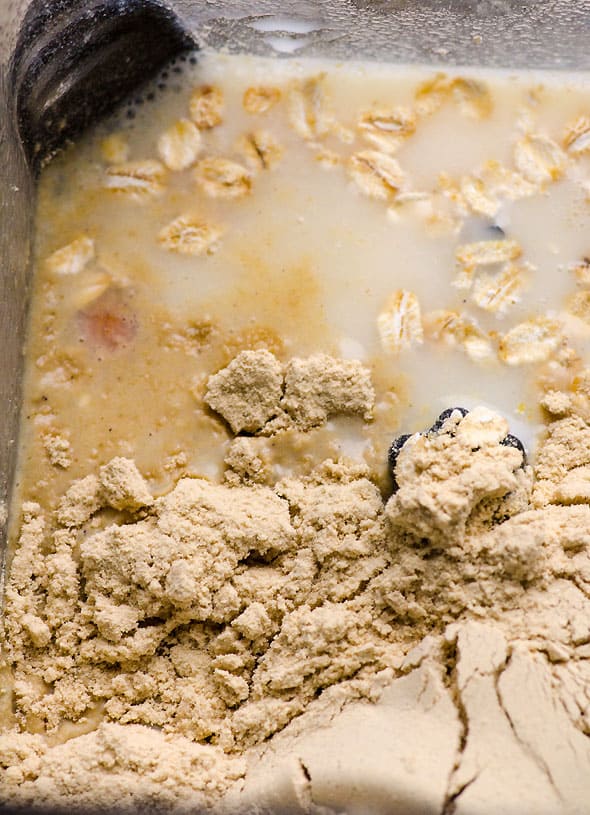 This almond breakfast smoothie turned out delicious, creamy and very filling. I made it quite a few times for breakfast already. In fact, I have been making many smoothies for breakfast lately because I can't think of an oatmeal for now. I was thinking you could even place all almond breakfast smoothie ingredients in a blender jug and leave on a counter the night before. In the morning, just add almond milk, blend, pour in to-go cup and drink while driving. I rarely sit down for breakfast…you know why. However, I try to sit down and have my tea or coffee while boys are eating. Don't you just love watching your kids?! I mean watching while doing nothing?!
Protein powder is also great for baking. It allows you to have a baked good with way less calories and sugar.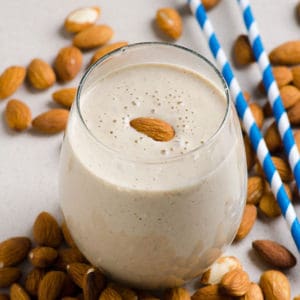 Almond Breakfast Smoothie
Almond Breakfast Smoothie is a complete healthy breakfast on the go. Make in 3 minutes, sip on while driving.
Instructions
In

a high speed blender

, combine all ingredients and process for 3-4 minutes or until smooth. Serve immediately or refrigerate for up to 1 day.
Nutrition
Calories:
340
kcal
|
Carbohydrates:
23
g
|
Protein:
13
g
|
Fat:
23
g
|
Saturated Fat:
2
g
|
Cholesterol:
3
mg
|
Sodium:
411
mg
|
Fiber:
7
g
|
Sugar:
2
g
Disclosure: This is a sponsored post. I recommend only products I love, tried myself and fit Clean Eating lifestyle.