Hi-hi. Doesn't this kombucha look like Shirley Temple?! Just so much better for you!
After making kombucha from scratch, I was quite a happy camper without much desire to make kombucha fizzy. However (there is always "a however" or "but"), once I dropped a few pieces of fresh ginger in a bottle and let kombucha ferment overnight – there was no way back. Next day, I was drinking ginger ale without sugar full of probiotics. And what happened next was even more mind blowing – my kids LOVED fruit flavoured kombucha. That was a life changing day because they wouldn't go near plain one.
Before we talk about flavoring kombucha and how to make fizzy kombucha, I would like to stress the simplicity of entire "kombucha business" one more time – it is extremely simple process and you do not need to sterilize anyone with anything, as long as you are a reasonably clean human being. You know what I mean, right?!
By the way, current summer kombucha situation – 2 glass dispensers. It is a major production here.
How to Make Kombucha Fizzy
Isn't "she" a beauty?! You can create all these bubbles all by yourself.
Brew: Make your own kombucha.
Bottle: Pour it into tight seal cap bottles (you can buy them at Ikea or on Amazon), leaving only an index finger length room at the top (see photo below).
Flavour: Add approximately 1/3 – 1/2 cup pureed fresh or frozen fruit/berries of choice. To puree fruit, add it to a blender with some kombucha from the bottle, puree and pour back into the bottle.
Ferment: Close bottles tightly and let sit overnight or if you do it in the morning watch the magic to unfold throughout the day. Second fermentation (build up of CO2) begins as soon as you add fruit – bacteria in kombucha will start "eating" natural sugars in fruit (berries) and your kombucha will start getting some colour. It looks so beautiful, like the most vibrant artificial coloured drink yet it's completely natural and healthy. Mother nature is amazing!
Let Gas Out: "Burp" the bottles 12 hours later and after that once a day, if it's too hot – twice a day. This is very important step as CO2 builds up and if you don't burp the bottles for a few days, they might explode. Again, this is very rare and is yet to happen to me. It almost did when I added too much mango to one particular bottle and it was over 86 F in the kitchen at night, so during those hot summer days basically. To "burp" kombucha, simply place bottle in the sink, cover with a dish cloth and start opening the cap slowly and letting CO2 out. It is OK if it leaks, you can just rinse it off. Just do it slowly and you will be fine.
Store and Enjoy: Store kombucha on a counter if you plan on consuming it within 1-2 days after it's ready. After that, refrigerate and consume within maximum 2 days. It is important to understand the following: fermentation process keeps going after kombucha is ready (tasty). Its speed depends on type of fruit used (low vs. high sugar content) and temperature (outside, time of the year, fridge or counter). Eventually, more and more alcohol develops and kombucha tastes accordingly, more sour and boozy. I'm looking into making moonshine kombucha now, don't worry, but for now please keep an eye on the taste and time, and store accordingly. I have to say that for us on hot summer days I do not need to place kombucha in the fridge, cooler days – we drink it slower. Another option is to flavour as you need – drain plain kombucha into bottles, refrigerate, then flavor the night before the day you want to drink it – checking weather forecast helps.
Now let's get to flavoring kombucha combinations and ideas.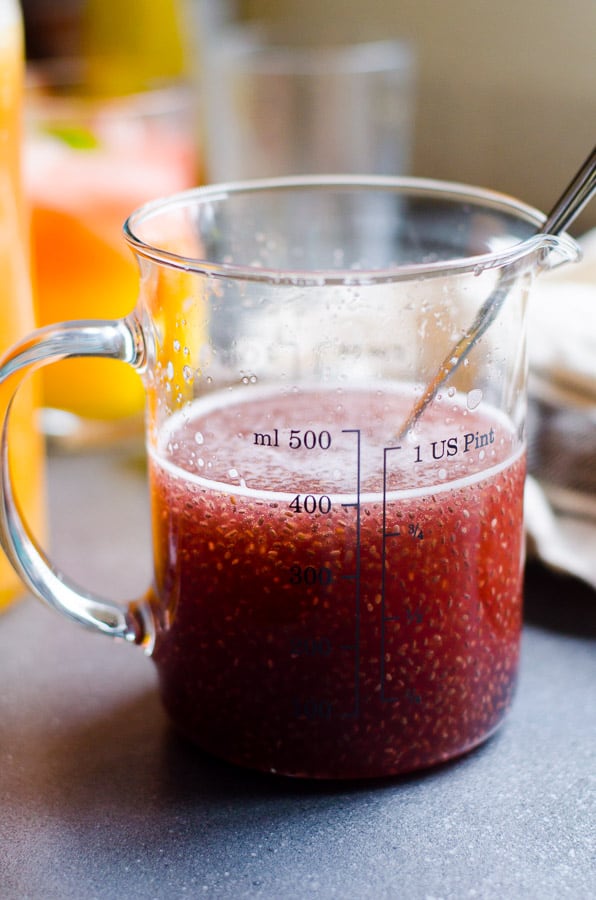 Flavoring Kombucha
When it comes to kombucha flavors, it is a matter of personal preference, your geographical location and endless-endless combinations. Here are some that I have tried and we loved. Just to clarify – you add fruit (flavor) right after bottling to make kombucha fizzy – that is what makes kombucha fizzy.
Ginger Kombucha: Peel and slice a few inches of fresh ginger and add to a bottle. Believe it or not, you do not need to add fruit to make ginger kombucha fizzy – ginger is enough. I usually buy organic fresh ginger, peel, cut into chunks and freeze in a sandwich bag. This way pricey ginger not from China doesn't go bad and I always have it on hand. 
Mango Kombucha: Puree 1/2 cup fresh or frozen mango (see which one I buy on my Costco shopping list) along with some kombucha in a blender and pour back into the bottle.
Pineapple Kombucha (Kids' Favourite): Puree 1/2 cup fresh or frozen pineapple along with some kombucha in a blender and pour back into the bottle.
Raspberry Kombucha (Kids' Favourite): Drop 1/3 cup of frozen or fresh raspberries into the bottle. To serve, add a few slices of lime and you are in heaven.
Orange (Mandarin) Kombucha: Add small pieces of peel and a few chopped segments (all of mandarin) to the bottle.
Rhubarb Kombucha: Dice 1/3 cup fresh or frozen rhubarb and add to the bottle.
Cherry Chia Kombucha: This one is the bomb dot com. In a jug, combine 4 cups kombucha tea, 1/3 cup fresh or frozen cherries and 3 tbsp chia seeds. Stir with a long wooden spoon every 15 minutes a few times. Cover and let sit on a counter for 5-6 hours. I haven't tried making it in a bottle for the fear of never being able to wash it properly and kombucha still turned out fizzy. Just stir before serving.
Lime Kombucha: Squeeze a few generous size lime slices into a glass with black tea kombucha and ice. This simple combo will blow your mind on a hot summer day, forget iced tea!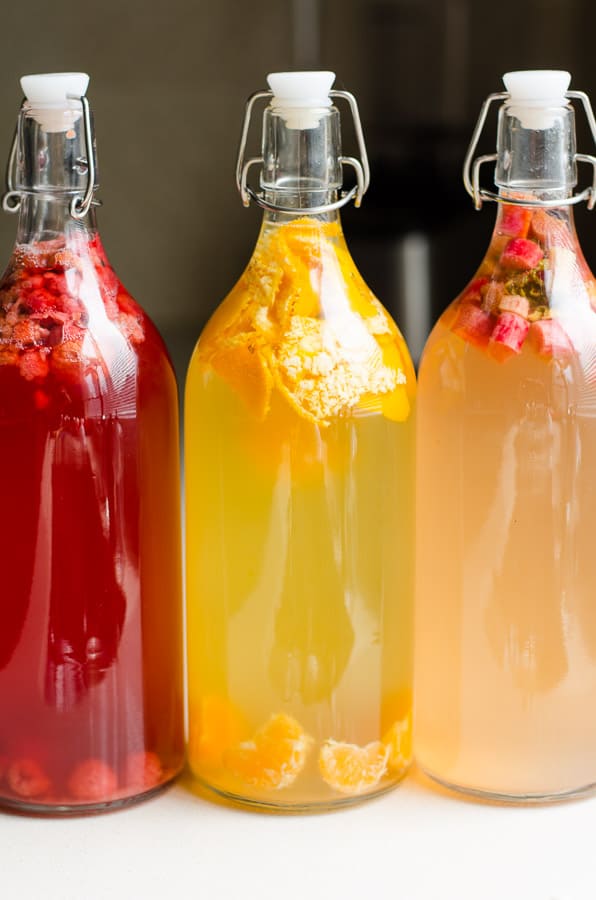 Tips on Flavoring and Making Kombucha Fizzy
Length of fermentation will depend on the temperature in your kitchen (usually time of the year). Burp bottles and taste kombucha every day. On hot days, fermentation takes 1 day, in cooler weather – 2 days. As soon as you like the taste, place kombucha in the fridge, otherwise fruit will keep fermenting kombucha further and make it sour.
Adjust taste with more fruit or plain kombucha, play it by ear and don't be scared to experiment. If you are a home cook, you can flavour kombucha.
To wash the bottles, fill them up with warm water right away and wash as following when ready – add a bit of baking soda, a bit of hot water and shake-shake-shake. That's it.
I have tried making kombucha fizzy with juice and raisins, and very minimal fizz has developed.
You can serve kombucha with ice and garnishes of your choice.
You can add vodka!:)
But still the most mind blowing part to me is that my kids now drink fizzy kombucha and call it healthy pop (it does taste like one). I am yet to meet a child who drinks plain kombucha, so flavoring kombucha is the only way to make your kid drink load of probiotics.
Why are probiotics so good for us?
In short, probiotics are good bacteria essential to our gut's health. And I'm sure you have heard it many times – health starts in our gut. Overall to be healthy, we need to keep immune system strong and probiotics are a huge part of it. I think it is pretty easy to understand.
Be healthy! What's next? Kombucha smoothie?!