This Garlic Olive Oil Bread Dip is a restaurant style balsamic vinegar dip made with just 4 simple pantry staples. It's an irresistible appetizer when served with a loaf of crusty sourdough bread or use over fresh greens as part of your healthy salad dressings rotation!
We love to serve this dip before a main meal. Or along tomato feta dip and part of charcuterie board when hosting.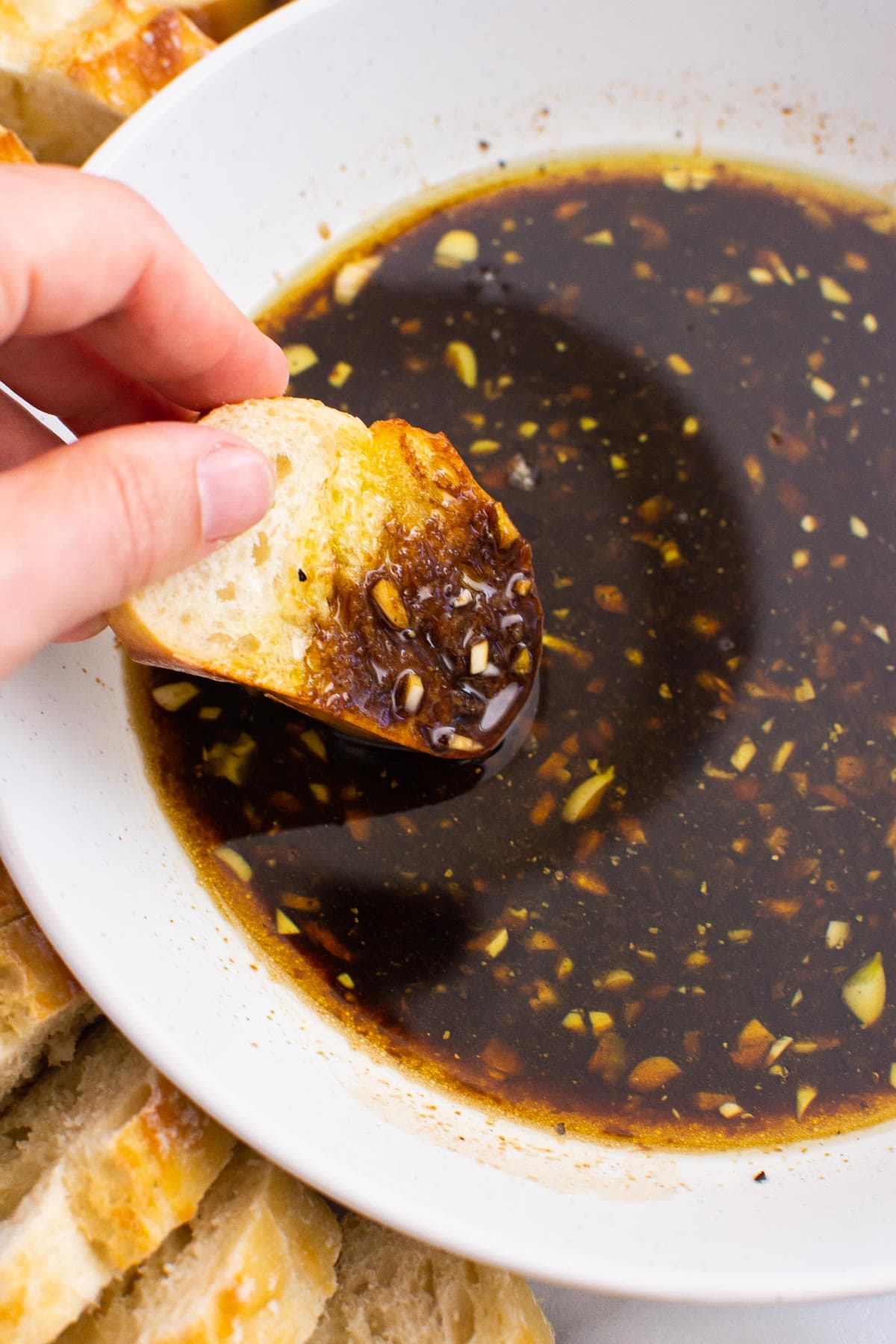 Olive Oil and Balsamic Vinegar Bread Dip
This simple olive oil dip is just about the easiest dip you'll ever make and it's all about the ingredients. It's a simple blend of balsamic vinegar, olive oil, salt, and garlic but it's how they come together that matters! Olive oil and balsamic vinegar bread dip is essential at any good dinner party, especially when served as an appetizer before any main meal. When hosting a gathering, I lay out baskets of different types of sliced bread and little individual bowls of balsamic vinegar dipping sauce for everyone to enjoy.
In fact, it's really essential at the table no matter the occasion, as long as there is a basket of crusty French or Italian bread, and a glass of organic red wine, I'm a happy camper! The bread soaks up the flavour of the balsamic vinegar while the oil keeps it from getting too soggy. The garlicky flavor with a hint of salt takes it over the top. If you're like me, you might find it a little too irresistible, and end up making a meal out of it! Oops…but not sorry in the least! Then, when I'm not using it as a dip, I'm drizzling it as balsamic dressing over salads.
It's exactly as you would find at any Italian restaurant here in North America. In fact, it's better! It's a simple oil and vinegar bread dip appetizer that everyone goes crazy for, my kids included. I think we got this to-die-for dip recipe from the same friends we got the Thai salmon from. A bazillion years ago when we used to live in Calgary. This olive oil and balsamic vinegar dip is pure healthy fat made with ingredients you likely always have on hand. I can guarantee you everyone will love this olive oil dip because seriously who doesn't love fresh crusty bread and garlic?!
Why This Recipe for Olive Oil Bread Dip Works?
It's simple. I mean, ridiculously simple. It can be thrown together in a pinch when unexpected company arrives or when you need to tide over your hungry family while they wait for dinner.
Addicting and delicious. Like, seriously, good luck stopping at just one slice of bread!
Looks fancy but you and I both know, it's not (it's just bread with oil and vinegar!). In fact, it'll make you feel like a superstar in the kitchen.
Pairs well with just about any main dish from slow cooker rump roast in the winter to chicken breast on the grill during summer.
Ingredients for Olive Oil Dip
This recipe is so simple using clean ingredients.
In addition to being super delicious, this balsamic olive oil dip is a powerhouse of nutrients. You just have to choose the best of the best ingredients to make it.
Olive Oil: I buy organic extra virgin olive oil in a dark bottle at Costco. We eat it raw in salads and dips like this one. The rumour is that all health benefits of olive oil are destroyed when heated and more than that it becomes carcinogenic. It also depends on the cooking temperature and the type of olive oil.
Balsamic Vinegar: Contains antioxidants that can prevent cancer and heart disease. Because balsamic vinegar is made of grapes that have very thin skin, the pesticides sprayed on them make it into the vinegar as well. I choose organic and because a little goes a long way it is cost effective.
Garlic: Garlic is a natural antibiotic and antiseptic. I can talk about garlic all day long. You can't even imagine how good it is to eat raw garlic. It kills all "unfriendly" bacteria inside you, especially if you let it sit crushed for 10 minutes to let enzymes develop to make the garlic really powerful. Don't forget to let the flavours sit and "marry each other" as per the recipe directions. It makes a difference!
We stock up on local organic garlic in Summer/Fall at the farmer's market because 90% of garlic in grocery stores not organic and comes from overseas going through an arduous transportation process. When you do find it in the grocery store, it's expensive. The amount of garlic we eat is astonishing. My neighbour knows because I always borrow it from her when I'm out LOL.
Salt: I can't tell you how many times I have heard "My doctor told me to cut back on salt". More often than not to reduce salt means cutting out processed foods. When you cut out all of that sodium from your diet and clean up your tastebuds, you won't need any extra salt at the table. In fact, sea salt is good for you because it contains many minerals and trace elements. What you should ditch is factory-processed cheap table salt that is heated to 1000 degrees and has added chemicals.
Sea salts I use are Himalayan pink salt, Celtic salt and Real salt depending on where I'm shopping. Yes, it costs more but like with anything you get what you pay for.
So, here you have it, budget friendly olive oil dip that you can refrigerate up to a month and use as a salad dressing. Also try my chimichurri sauce recipe 3 ways using olive oil as well.
How to Make Balsamic Vinegar Dipping Sauce
So simple just follow these 3 easy steps and you'll be digging in before you know it.
Combine olive oil and balsamic vinegar in a small bowl (for individual servings) or a larger plate with edges (for sharing).
Add minced garlic and salt and stir to mix together. If time permits, allow it to sit for about 10 minutes so the flavours meld.
Serve with sliced baguette or cubed sourdough. Drizzle a little on your salad for good measure and save the rest!
Tips for Best Results
Use high-quality ingredients. They are not all created equal, so read the labels. Buy organic wherever possible.
Allow the flavors to marry before serving.
Make this dip ahead and keep stored in the fridge.
Aim for fresh garlic, not the pre-chopped stuff from the jar.
Use it as a salad dressing as is, or add in extra seasonings you'd like.
To serve this dip warm, heat up your olive oil slightly.
Pro Tip: You can store this dip longer if you leave the garlic out and add it just before serving. If you do this, you won't need to refrigerate it either!
Add-ins and Variations
Ramp up the flavour with a few extra ingredients.
Cheese: A sprinkling of freshly grated parmesan cheese to top it off.
Dried herbs: Toss in some dried herbs like oregano, basil, dried parsley, dried rosemary, or your other favourites.
Pepper: Red pepper flakes for some heat!
FAQs
How to season olive oil for dipping bread?

My personal preference is to keep it as simple as possible. A little salt, garlic and I'm happy. You can add in any other seasonings that you desire. Individual dried herbs are nice, or you could do a blend of Italian-style seasoning. As long as you're not using any storebought stuff that comes with a lot of added junk (preservatives, sodium, additives), you have my seal of approval 😉
What kind of olive oil is best to use?

Cold pressed extra virgin olive oil is what you want to look for when determining the best olive oil for dipping bread. Organic if possible. Even better, from Italy! Don't break the bank, though. This recipe works no matter what, but in terms of health benefits you always want to get what you pay for.
Is olive oil dip healthy?

Olive oil is healthy, when used in moderation which means this dip is also healthy when eaten in moderation. It's full of antioxidents and good fat, which we appreciate. If we eat too much of the dip, we begin eating too much of the bread, and well…you know where this is going.
Best bread to use for olive oil dip?

Oh, the bread! Ok, so you've taken the time to get your amazing ingredients together, you've got a tasty dip going, the last thing you want to do is ruin this experience with soggy, lame bread. Crusty, sturdy, artisan loafs are always a good choice to hold all of that goodness. Italian or French baguettes, gluten-free or sourdough bread, rye bread, all work beautifully.
I've seen this balsamic vinegar dipping sauce served in many Italian restaurants, is it really Italian?

It's not! In fact, if you serve it to an Italian, they may ask you where's the salad? It's an Italian style dip served at many restaurants in North America, and because it uses a blend of popular Italian ingredients its become associated with Italy.
Serving Recommendations
Making Olive Oil & Balsamic Vinegar Bread Dip in Advance
Make Ahead: To make this dip way in advance, blend the olive oil and balsamic vinegar together and store in a jar until you're ready to use, add the garlic and salt. You can keep the oil and vinegar blend at room temperature. If you're making the assembled dip in advance, it keeps up for 2 weeks in the fridge and gets better every day.
Store: Keep in an airtight jar with a lid and store in the fridge for up to 2 weeks.
More Healthy Dip Recipes
You may also want to browse the best salad dressings!
Garlic Olive Oil Bread Dip
This Garlic Olive Oil Bread Dip will be one of the tastiest and easiest dips to ever cross your palate. A restaurant-style dip made with just 4 simple pantry staples. This balsamic vinegar dipping sauce comes together effortlessly and yet is utterly addicting. It's an irresistible appetizer when served with a loaf of crusty sourdough bread or drizzled on a fresh salad!
Instructions
In a small bowl or large plate with edges, combine olive oil and balsamic vinegar.

Add garlic and salt; stir with a fork. If you have time, let sit for 10 minutes for flavors to "marry each other" or serve right away.

Serve with sliced baguette or cubed sourdough. You can also use olive oil bread dip as a salad dressing.
Notes
Store: Refrigerate in airtight container up to 2 weeks. Let come to room temp before serving.
Olive oil: Extra virgin olive oil is the least processed variety and has bold and robust flavor compared to light or just olive oil. It is perfect for consuming raw.
Amount of garlic: Depends how much you love garlic. Ukrainian in me, loves it a lot!
Salt: I like to use himalayan pink salt or coarse sea salt as it's quality finishing salt that tastes amazing, unlike table salt.
Fresh additions: Up to 3 tbsp of finely chopped onion or fresh parsley.
Dried herbs additions: I like to keep bread dip simple but you can add about 1 tbsp of dried minced rosemary, oregano or basil.
Parmesan cheese: About 3 tbsp of freshly grated would be great!
Nutrition
Serving:
1
tbsp
|
Calories:
86
kcal
|
Carbohydrates:
1
g
|
Protein:
1
g
|
Fat:
9
g
|
Saturated Fat:
1
g
|
Sodium:
98
mg
|
Fiber:
1
g
|
Sugar:
1
g