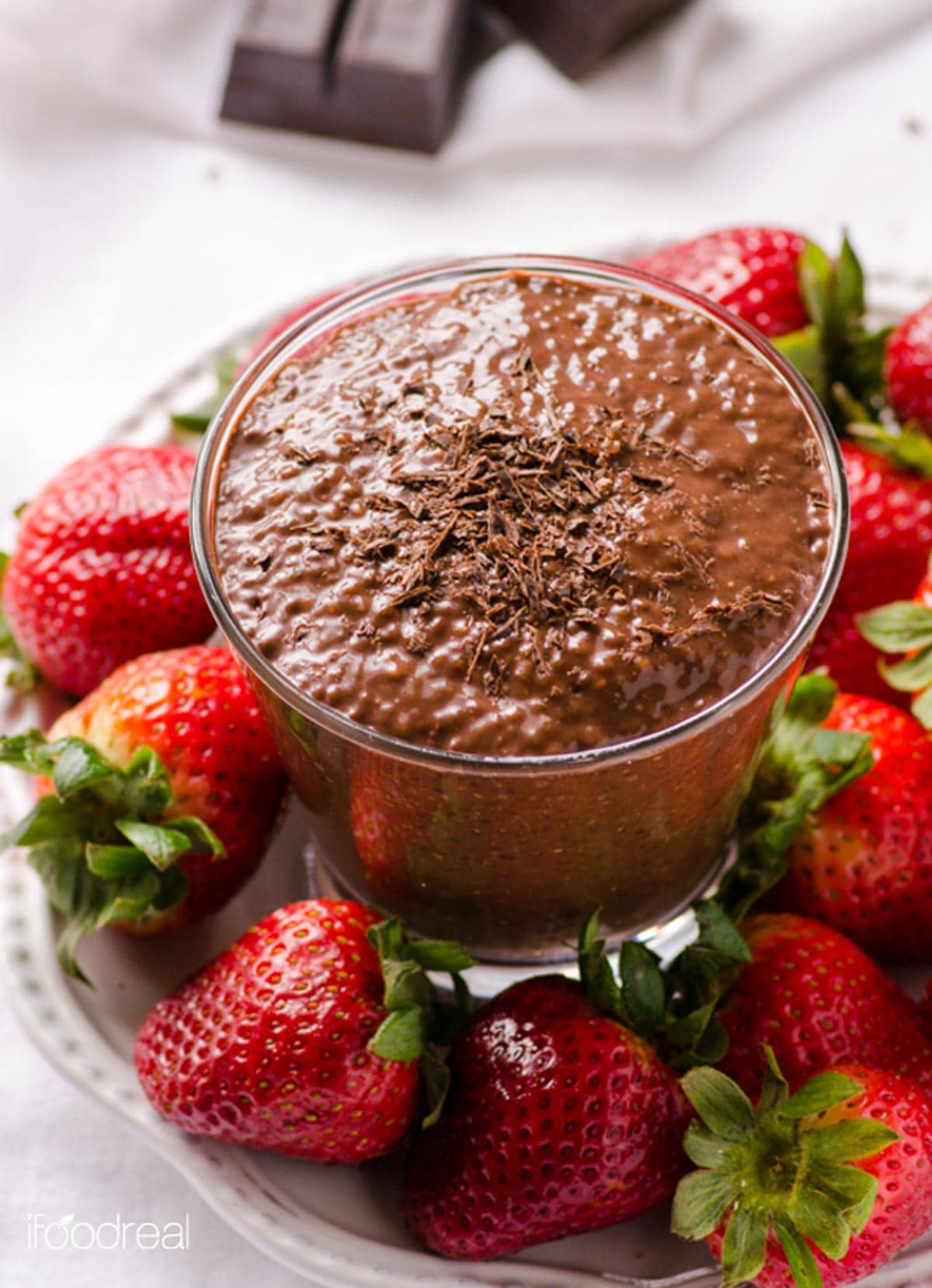 Chocolate Chia Seed Pudding
Chocolate chia pudding recipe with almond milk that tastes like dessert but has nutrition of a breakfast. Prepare for up to 5 days and just refrigerate.
Dessert for breakfast anyone?
I mean delicious chocolate mousse with healthy fats, complex carbs, fiber and protein. This chocolate chia pudding is creamy, rich and full of chocolate flavor. I would say more on a dark chocolate side.
This chocolate chia pudding is 2 thumbs up. Will pass for a chocolate dessert to anyone with closed eyes. I'm saying that not because it's my healthy recipe. But because it's delicious!
Ingredients:
Chia seeds
Milk
Maple syrup
Cacao powder
Vanilla extract
How Does It Taste?
Chia pudding tastes like something in between tapioca pudding, mousse and Greek yogurt. It melts in your mouth, and is creamy and rich. I swear it is an equivalent to eating a chocolate bar but so much healthier. This whole jar is only 275 calories. And it's a perfect breakfast on-the-go.
How to Make Chocolate Chia Pudding
It is so easy to make. It is embarrassing.
1. Combine All Ingredients
To any small jar, add milk, maple syrup and vanilla extract.
Add chia seeds and cacao powder.
Whisk with a small whisk or a fork really well or until cacao powder is dissolved. Some tiny cacao powder lumps are OK.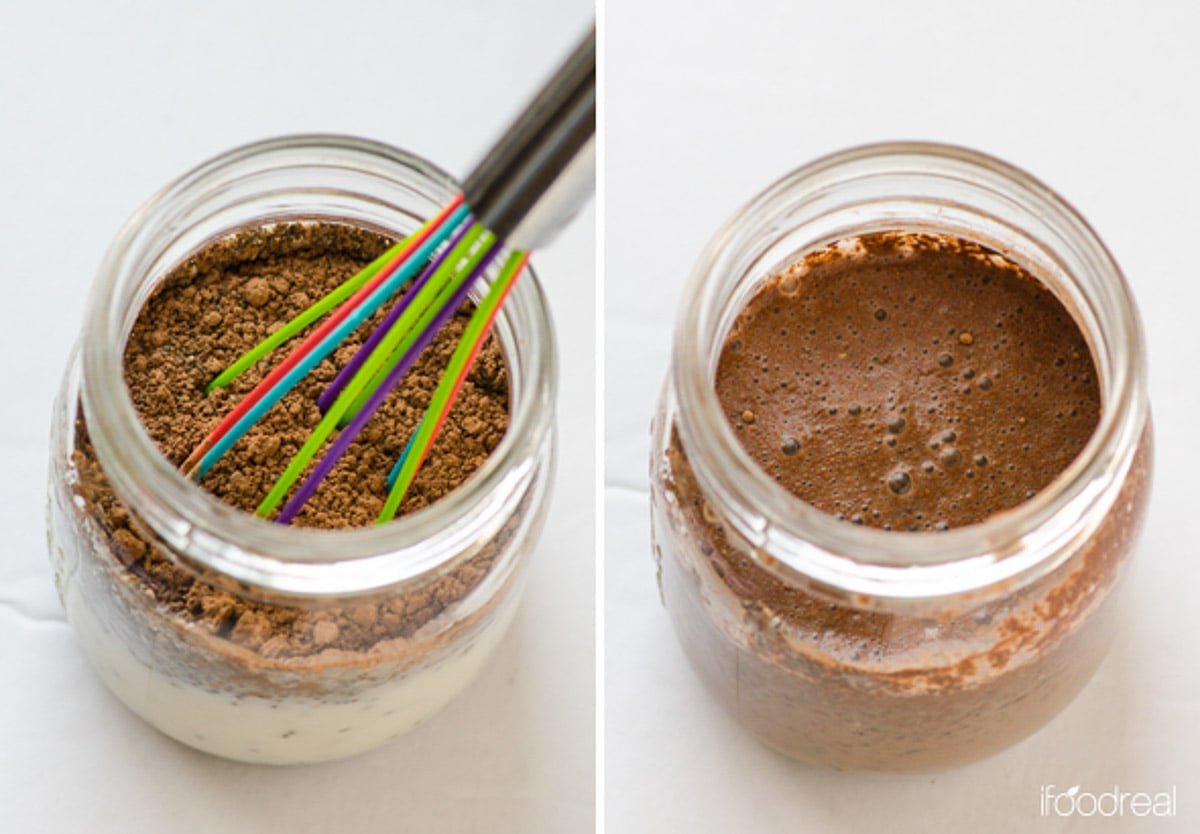 2. Stir Again
Let chocolate chia seed pudding sit for 10 minutes.
Stir again.
Close jars with the lids.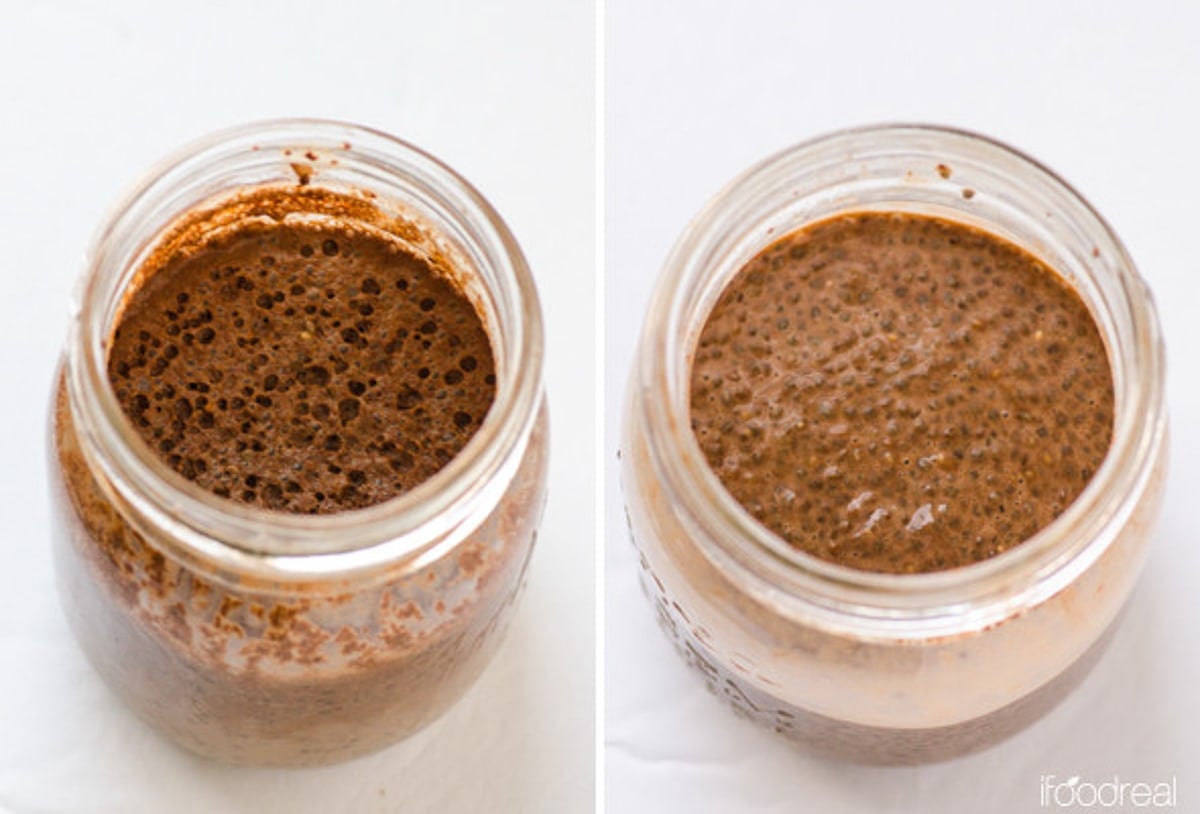 3. Refrigerate Overnight
Refrigerate for at least 6 hours or overnight.
4. Serve and Store
When ready to eat, give your chocolate chia pudding another good stir. Sometimes you might have lumps due to gulps of air in-between the chia seeds and that's OK.
You can refrigerate cacao chia pudding for up to 5 days.
Substitutions
Chia seeds: Please use whole chia seeds sold in ANY supermarket. I do not recommend to use ground chia seeds. The taste will have very prominent Omega fishy taste. And texture is not pleasant.
Milk: Any plant-based milk works. Runny milk from a carton. Canned coconut milk doesn't work. I like almond milk. You can use any other milk like rice, coconut, hemp or soy milk. I have not tried cacao chia seed pudding with dairy milk. So can't tell you if it works.
Maple syrup: As for a sweetener, I prefer maple syrup or if you need to keep chia pudding vegan. I prefer it to honey because it mixes better with cold milk. You can use honey if it is of a runny consistency and your milk is room temperature. Otherwise my experience shows honey doesn't dilute well. It results in bitter chocolate chia pudding with lumps of sweetness.
Cacao powder: You can use cocoa powder. It is what most people know and have on hand. The only difference between cacao powder and cocoa is that last one is more processed. Cacao powder has more antioxidants and is better for you.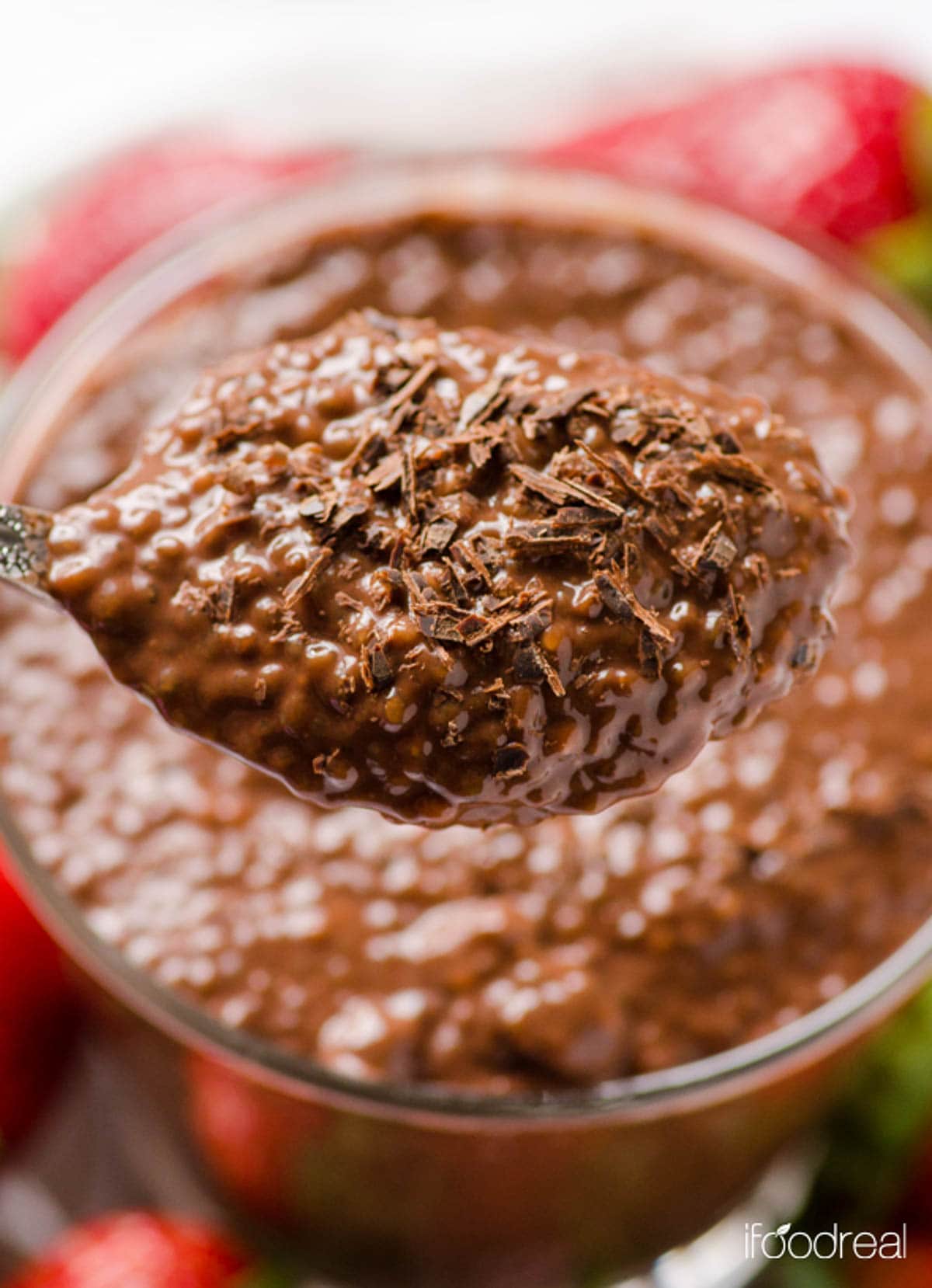 Troubleshooting and FAQs
Why my chocolate chia pudding has lumps?
After years of making chia pudding I updated this recipe. I came to a conclusion to avoid lumps it is better to stir chia pudding 2 times before refrigerating overnight. 1st time when mixing, 2nd time 10 minutes later. And it is important to add ingredients in the order listed in the recipe – liquids first.
If you have lumps, probably you stirred it once and refrigerated. Or you didn't stirred the chia seeds from the very bottom of the jar. Once wet and dry ingredients are places on top of chia seeds, pockets of air can get trapped in between. They block access to groups of chia seeds that you possibly can miss during stirring. Just lift the jar and check the bottom.
Or small amount of lumps are still normal even after 2nd stir. Just stir again with a fork in the morning.
My chocolate chia pudding is too thick.
I like my chocolate chia pudding to fall off the spoon. And that is what this recipe makes. If your chocolate chia seed pudding is too thick, add a splash of milk and stir. Feel free to adjust the consistency to your taste by playing around with the amount of milk. Next time use less or more milk to soak chia seeds in.
Can I stir everything in a mixing bowl?
Yes. Especially if you want to make each serving bigger than my small cute mason jars.
The process is the same. Stir all ingredients in a mixing bowl twice. Then distribute between jars. Refrigerate.
Can I mix everything in a blender?
Yes. Gently pulse one time until combined. Let sit for 10 minutes. Pulse again. Just don't process too long because chia seeds will start grinding.
I personally do not like washing blender. I'm a clean freak. I need every nook and cranny of a blender jar clean. And it's a pain. We all know that. But you can do if you take life less seriously than me.
What can I add to chocolate chia pudding?
Chocolate chips
Cacao nibs
Raspberries
Blueberries

Coconut flakes
More Chia Pudding Recipes to Try:
Print
Chocolate Chia Pudding
10 minute Chocolate Chia Seed Pudding that tastes like dessert with nutrition of a breakfast. Refrigerate for up to 5 days for easy "grab and go" snack.
Author:
Prep Time:

3 minutes

Cook Time:

6 hours

Total Time:

6 hours 3 minutes

Yield:

1

serving

1

x
Category:

Breakfast

Method:

No Cook

Cuisine:

North American
Scale
Ingredients
3/4 cup

any milk, unsweetened*

2 tsp

maple syrup or honey

1 tsp

pure vanilla extract

3

–

4

tbsp chia seeds**

1 tbsp

cacao powder
Instructions
To a Mason jar or any container with a tight lid (I prefer glass), add milk, maple syrup and vanilla. Then add chia and cacao powder. It's important to add ingredients in the order listed in the recipe – liquids first.
Whisk well or stir vigorously with a fork until cacao powder is well combined with the rest of ingredients.
Let sit for 10 minutes and stir again.
Refrigerate for at least 6 hours or overnight.
When ready to eat, stir well again. Some lumps are OK, just stir well. The thickness and sweetness can be adjusted to your taste.
Store: Refrigerate for up to 5 days.
Notes
*If using coconut milk, make sure it's from the carton and not a thick coconut milk from a can.
**For a thick consistency pudding use 4 tbsp chia seeds, for soup like consistency (pictured) use only 3 tbsp (my favorite).
★ Did you make this recipe? Please give it a star rating in the comments.