Banana Chia Pudding that is creamy and delicious! Easy to make with 5 simple ingredients, it's a perfect healthy snack, breakfast or dessert.
This chocolate banana chia pudding and chia pudding with coconut milk are other family favorites.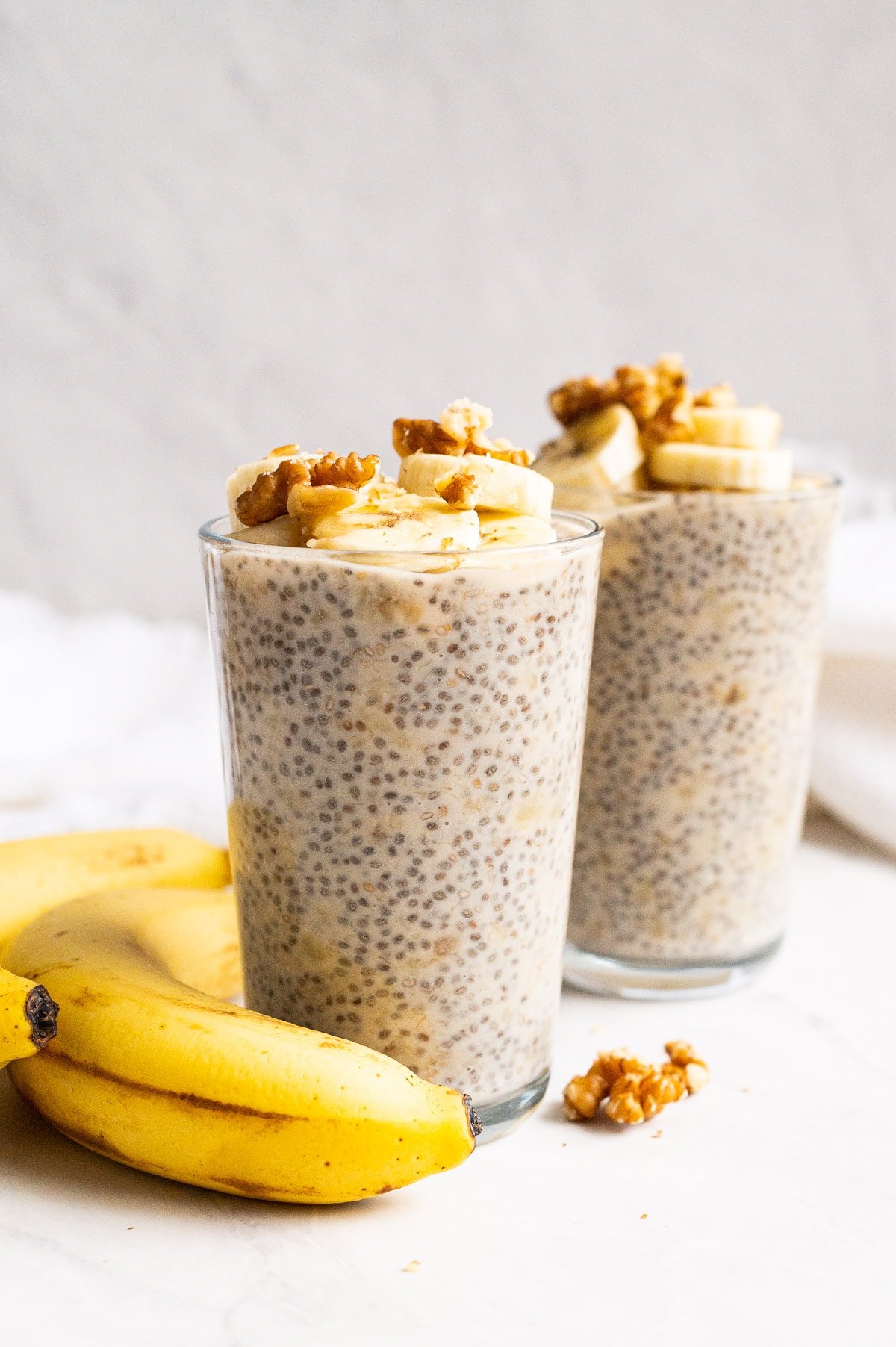 Here I am with another chia pudding recipe – banana chia pudding. I do not have time to cook breakfast, so meal prep is super important for me to maintain a healthy lifestyle.
Few years back I posted this super popular vanilla chia pudding followed by chocolate chia pudding but you just can't have too many chia pudding recipes in your repertoire.
Why You Will Love This Recipe
According to Healthline, health benefits of chia seeds include antioxidants, fiber, Omega-3 fatty acids, healthy fats, protein and fiber.
Chia seeds are a source of complete plant-based protein and nine essentials amino acids.
It's easy to make with just a handful ingredients.
Homemade pudding is affordable.
It contains 8 grams of protein per serving.
It tastes like banana bread or banana cream pie if you add Greek yogurt.
Banana chia pudding is naturally vegan, gluten-free and dairy-free.
Ingredients You Will Need
To make this chia pudding, you only need 5 simple ingredients. Even less if you have very ripe bananas.
Fresh bananas: I used very yellow bananas, you can also use over ripen bananas. The riper are your bananas, the sweeter pudding will be. I find that final result turns out light brown in color no matter what, which I do not mind.
Chia seeds: Use whole chia seeds and not ground. Black chia seeds or white chia seeds work. The only difference is the color. Do not use flaxseed or hemp seeds.
Milk: I use unsweetened almond milk. You can use any plant-based milk like oat milk, soy milk, cashew milk, rice milk etc. It contains less calories and fat than dairy milk. However, you can also use dairy milk.
Maple syrup: I find that just a little bit of sweetener enhances the banana flavor in this creamy pudding. It also adds sweetness unless you use over ripen bananas. You can omit it.
Vanilla extract: Pure vanilla extract enhances the banana flavor even further.
How to Make Banana Chia Pudding
Making banana chia pudding recipe is as simple as combining mashed banana with other ingredients and letting it sit in the fridge overnight.
Mash bananas: Simply mash bananas with a fork in a large bowl.
Add chia seeds: Then add chia seeds, sweetener of choice and vanilla extract. Stir well to mix. This step makes mixing banana chia pudding easier than if combining all ingredients at once.
Add milk and stir: Now add milk, stir your chia seed mixture and let it sit for 10 minutes. After, you will notice that it will thicken and become more gelatinous. Now stir one more time.
Refrigerate: Cover bowl with a plastic wrap or transfer to a sealed container and refrigerate for at least 6 hours. I prefer to let any chia pudding sit overnight as that's when I find it has the best consistency.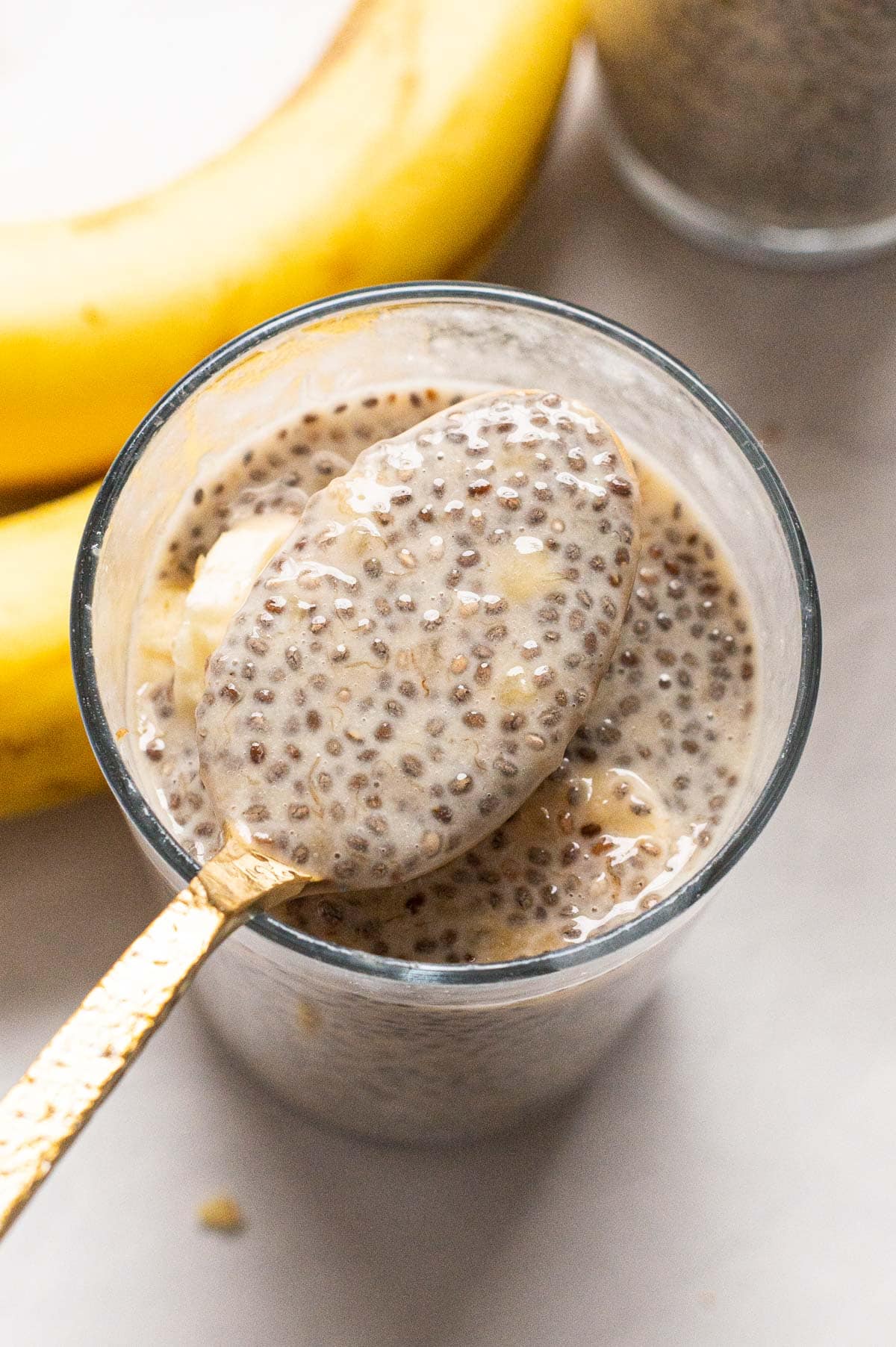 Tips for Best Results
Make sure you are using chia seeds: Chia seeds are quite different from other little seeds like flax seeds or hemp hearts. Be sure to use whole black chia seeds or white chia seeds.
Add different flavors: Stir in 2 tablespoons of your favorite nut butter or cocoa powder with mashed bananas.
Adjust the texture: If your banana chia pudding comes out too thick, add more milk. If it's too runny, use less milk next time.
Don't skip stirring a few times: Do not stir chia pudding just once and stick it in the fridge. Make sure to stir one more time after allowing chia obtain more gel-like consistency. It helps to avoid lumps in the morning.
Don't eat after 2 hours: Regardless what other chia pudding recipes may suggest, after less than 6 hours of soaking chia pudding isn't ready. Especially, when you add other fruit, it takes even longer to gelatinize.
Serving with Favorite Toppings
With toppings, chia pudding tastes even better, has extra texture and becomes more filling healthy breakfast or snack. Here are a few of our favorite toppings for the best banana chia pudding ever:
Nut butter – A drizzle of peanut butter, almond butter, Nutella or pistachio cream on top.
Fresh fruit – Banana slices, chopped strawberries or figs.
Berries – Fresh or frozen blueberries, raspberries or strawberries go well with this banana chia seed pudding recipe.
Nuts – Chopped walnuts or pistachios.
Coconut flakes – They can be toasted, sweetened or unsweetened.
Chocolate chips – Dark chocolate chips or cacao nibs with less added sugar.
How to Store
Chia pudding lasts in the fridge for up to 5 days if stored in an airtight container. That's why it's ideal for meal prep and grab-and-go breakfasts during busy week.
When ready to eat, enjoy it cold or you can also warm it up in a microwave for a few seconds.
I do not recommend to freeze chia pudding as its texture becomes gritty upon thawing.
FAQs
What is the texture and how does it taste?
The texture of chia pudding is like of a brown rice pudding. It is thick, creamy and gel-like. It also tastes like a pudding and banana dessert at same time. On their own chia seeds are quite neutral and will absorb any flavor you soak them in.
Can I use any milk?
Yes. Any non-dairy milk or dairy milk will work. If you would like to use coconut milk from a can, make sure to add about 1/2 cup of other milk and know that nutritional values will change.
Do chia seeds go bad?
Chia seeds have a very long shelf life of about 5 years if you keep them in a cool, dark and dry place.
Do you eat chia pudding cold or warm?
Traditionally chia pudding is enjoyed cold. But you can warm it up in a microwave or in a small pot on the stove.
More Chia Seed Recipes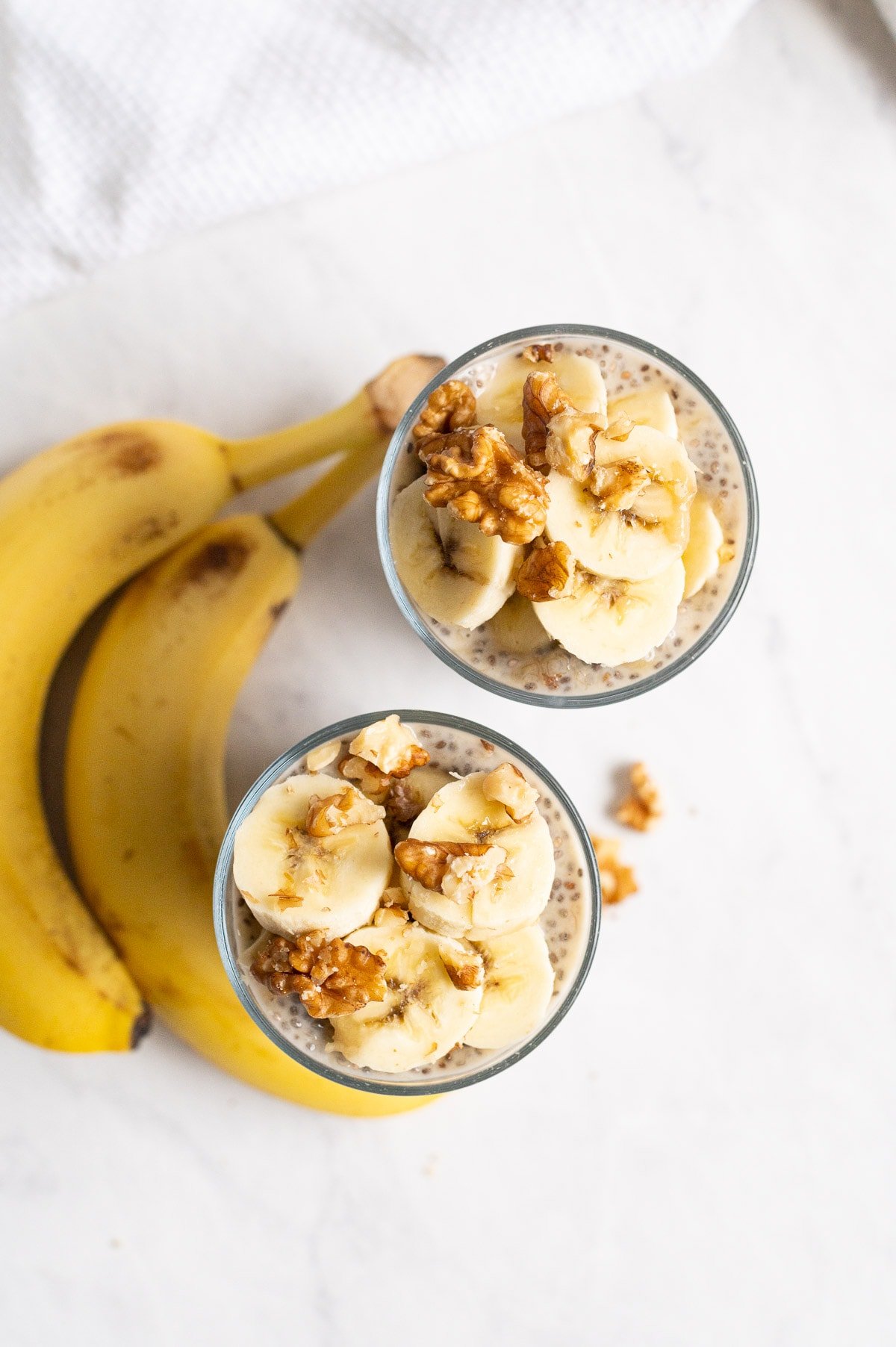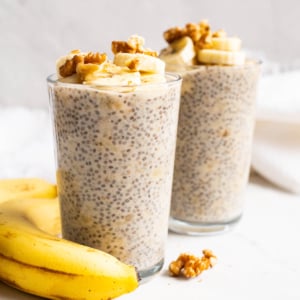 Banana Chia Pudding
Banana Chia Pudding that is creamy and delicious! Easy to make with 5 simple ingredients, it's a perfect healthy snack, breakfast or dessert.
Instructions
In a large bowl, mash bananas with a fork.

Add maple syrup, vanilla extract and chia seeds, stir well.

Add milk, stir and let sit for 10 minutes. Then stir one more time.

Cover and refrigerate overnight or for at least 6 hours.

When ready to eat, give a stir and add your favorite toppings, if you wish. Enjoy cold.
Notes
Store: Refrigerate for up to 5 days. 
Whole chia seeds: You want to use whole and not ground chia seeds to avoid bitter taste and unpleasant texture.
Milk: Best and popular choice is plant-based milk from a carton. You can also use dairy milk.
Too thick or runny: Add a little bit of milk and stir. Or use less milk next time.
Nutrition
Serving:
1
per serving
|
Calories:
251
kcal
|
Carbohydrates:
39
g
|
Protein:
8
g
|
Fat:
9
g
|
Saturated Fat:
3
g
|
Trans Fat:
0.02
g
|
Cholesterol:
15
mg
|
Sodium:
51
mg
|
Fiber:
8
g
|
Sugar:
22
g