These cottage cheese protein pancakes taste like regular pancakes, just not as thick fluffy. Which is perfectly OK because the pancakes are fluffy enough, light and you would never taste the protein powder. And you know the protein pancake recipe is good, when it's made with pea protein powder and is delicious.
Have you ever tasted pea protein powder? No?! Well, let me tell you, that stuff is nasty. It tastes and smells just like plain split peas. But ironically it's super good for you.:)
And I love green split pea soup but not plain split peas. I remember as a kid having mashed split peas with liver patties at the daycare. And it was a communist country federal daycare, not your next door neighbour's licensed daycare with Miss Jenny saying "I'm so sorry I hurt your feelings, Benny". Just to clarify, you were not allowed to leave the table until the plate was empty. Yeah, I still have nightmares about mashed split peas.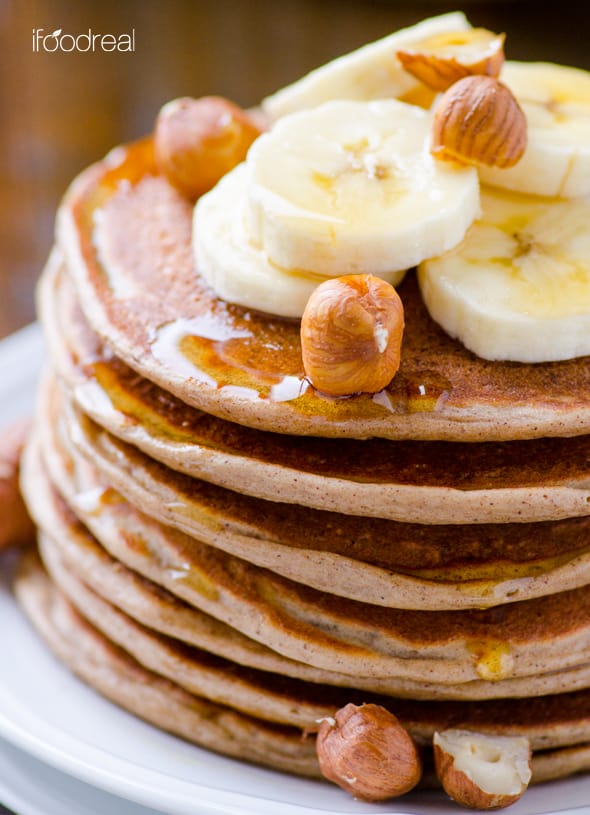 Anyways, these cottage cheese protein pancakes are delicious, meaty and moist. They are not dry at all. I do not share bad recipes, I promise. In fact, I have to give a full credit for this recipe to an amazing girl Missy who is a Beachbody coach. She is a founder of Rock It MOM Fitness and if you need a booty kick, she is your girl!
These protein pancakes contain only 1 g of sugar, 9 g of carbs and 11 g of protein. And they hit the spot and satisfy the sweet tooth craving. You know that feeling when you crave something sweet and loaded with carbs?! These are perfect for breakfast, lunch, dinner, healthy snacks or dessert. You may also like no bake protein cookies for dessert!
The ingredients. I did my best and I live by 80/20 rule. I used free run egg whites as to find organic ones are work. I usually go for full fat dairy but this time I grabbed low fat. I honestly don't know why because at same time I grabbed homo milk and full fat feta cheese. Oh, wait, I had 2 kids in tow.:)
I'm obviously running out of "organic" vanilla that mom brought me from Mexico. Certified on the vanilla bean field by Pedro more likely.:) Just kidding.
I obviously forgot to include stevia and quick oats in the main ingredients photo above. You could use rolled oats as well or liquid stevia. Also if your protein powder is sweetened, use less stevia.
Despite the yucky taste of pea protein powder, I quite like it. Mostly, because I got another lb to use and it's paid for. Seriously, I like it because it's non-GMO and plant based.
Blend all ingredients in a blender. Adding liquids first helps. Just until smooth.
Spray large skillet with cooking spray and cook just like regular pancakes. You always want to preheat the skillet for best results when making pancakes. When you see bubbles on top, it's time to flip the pancakes. Do not try to lift the pancakes and peek underneath. It breaks the seal and is not a proper pancake cooking technique.:)
Then the pancakes are done. That's it. They are so easy and tasty.
The most fun part is to dress them up. Seriously go for whatever you feel like. When it comes to protein pancakes I like to add some cottage cheese on top. When I'm not on a quest to see the abs, this is exactly the way I would eat my pancakes – with some organic maple syrup, sliced bananas and nuts. And coffeeeeeeeee. I'm addicted to coffee. It's getting worse. But it's not the worst addiction to have, right?!
These low carb cottage cheese protein pancakes are refrigerator and freezer friendly, which makes them perfect for meal preps, just like protein waffles. Refrigerate for up to 5 days or freeze for up to 3 months in an airtight container. You could also prepare a batter a day in advance, refrigerate and make the pancakes the next day.
These pancakes were approved by Alex. Before he would give me dirty looks when I was making egg whites+banana+protein powder pancakes and wouldn't eat them. But now I have to share. Sigh. Okaaaaaaay, here is 1 pancake for you, Alex. Enjoy!
More Healthy Pancake Recipes to Try:
Cottage Cheese Protein Pancakes
Cottage Cheese Protein Pancakes Recipe with egg whites, banana, oats and plant based protein powder, fluffy with no flour.
Ingredients
1

cup

egg whites

1

cup

cottage cheese

1

yellow banana

if over ripen use less stevia, medium

1

cup

quick oats

2

scoops

66 g plant based protein powder (I used pea), unsweetened (if using sweetened reduce amount of stevia)

2

tsp

pure vanilla extract

2

tsp

cinnamon

1

tsp

stevia

powdered

Cooking spray I use Misto
Instructions
Add all ingredients, listed in the order above, to

a blender

and process until smooth.

Preheat large skillet on medium heat and spray with

cooking spray

. Pour some pancake batter on a skillet, I fit 4 pancakes on a 12″ skillet, and cook for 4-5minutes or until you see bubbles on top. Do not lift to check for doneness otherwise you break the seal. Flip and cook another 2-3 minutes. Repeat with remaining batter. Serve hot with some fruit, nuts, Greek yogurt or cottage cheese.
Notes
Store: Refrigerate covered for up to 5 days.
Freeze: For up to 3 months in an airtight container.
Nutrition
Serving:
1
pancake
|
Calories:
101
kcal
|
Carbohydrates:
10
g
|
Protein:
11
g
|
Fat:
2
g
|
Saturated Fat:
1
g
|
Cholesterol:
14
mg
|
Sodium:
126
mg
|
Fiber:
1
g
|
Sugar:
3
g