These Healthy Cinnamon Rolls are fluffy wholesome buns with healthy frosting and 4 times less sugar than Cinnabon.
Love cinnamon treats? You'll probably also love these gluten free snickerdoodles, healthy gingersnaps and almond flour cinnamon bread!

Healthy cinnamon rolls for Christmas morning, Thanksgiving or Easter brunch anyone? If I had to tell you about the hardest recipe I had to work on this year, a healthy cinnamon roll recipe would top the list.
10 times since March. 10 times I made cinnamon rolls. And each time different recipe.
But persistence pays off. I can finally share these relatively easy cinnamon buns with you! And may I call them the best in the world healthy Cinnabon buns? They are healthier than traditional cinnamon rolls. Are fluffy, moderately sweet and even with a frosting. Your kids will be happy! Mine are.
And luckily, in the meantime, while I was failing to get them 'just right' I was still able to surprise my kids with other healthy bakes like this healthy cobbler, healthy key lime pie bars and no-bake peanut butter bars.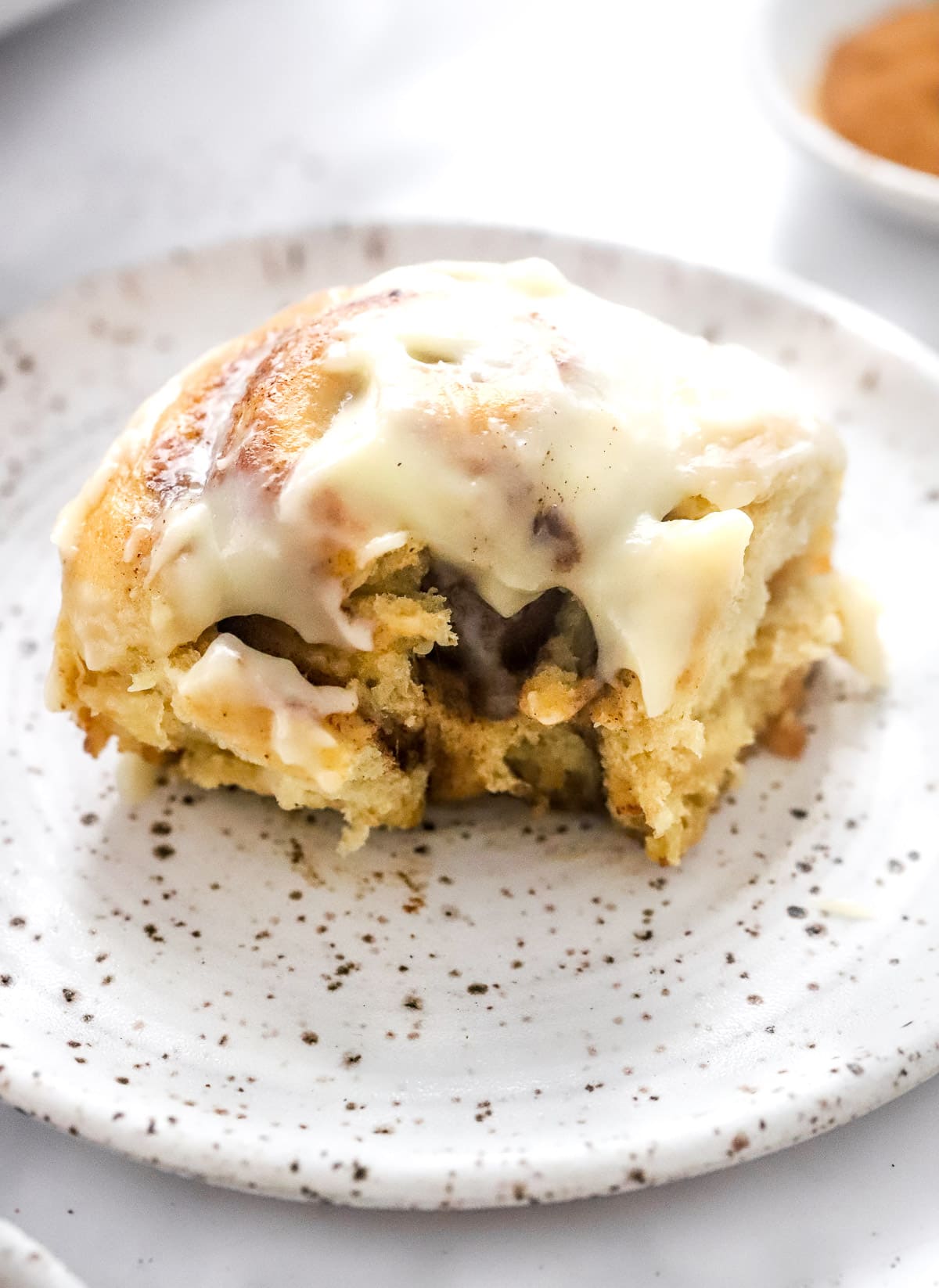 Ingredients You Will Need
All purpose + spelt flour or whole wheat flour
Milk
Eggs
Butter
Quick rising yeast
Cane sugar
Cinnamon
Yogurt
Maple syrup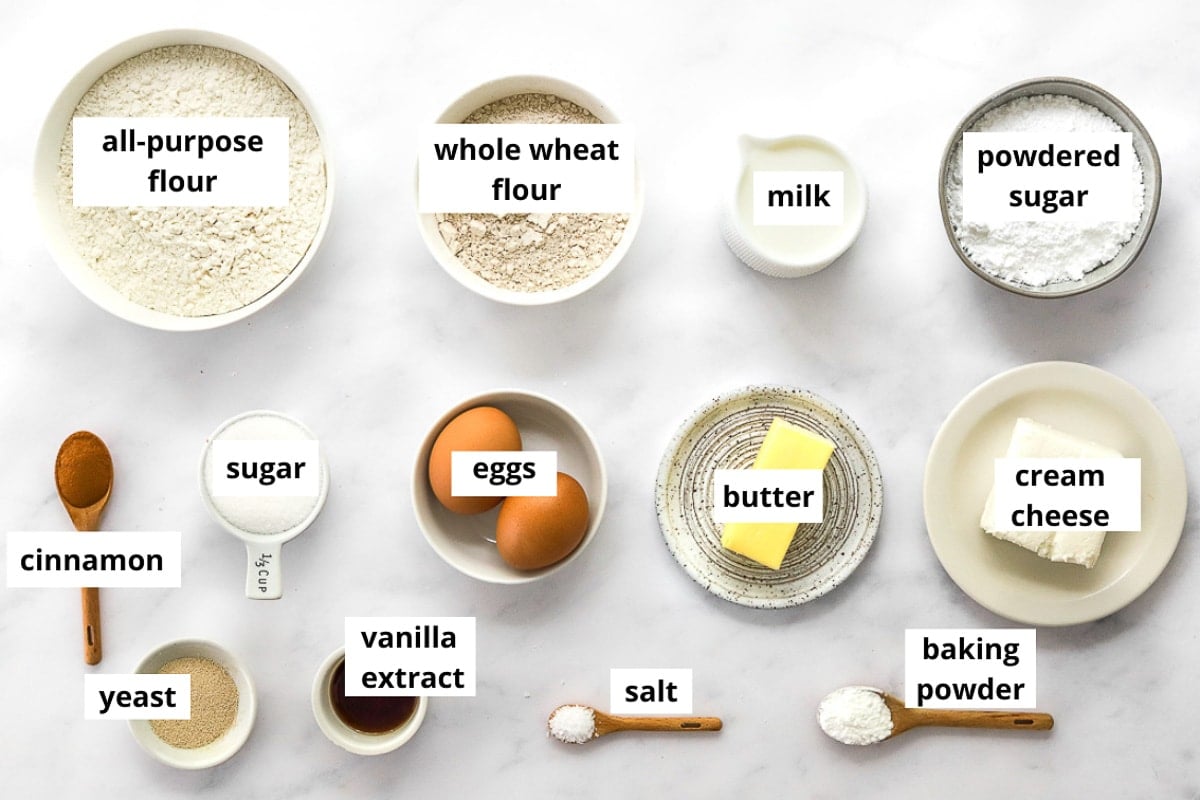 How Are These Healthy?
I can tell you that I tried very hard to make healthy whole wheat cinnamon rolls. But I didn't love the end result. I found a compromise in using half all purpose flour and half spelt or whole wheat flour. Same goes with gingerbread men cookies.
I also tried very hard to use only honey or maple syrup as a sweetener. That didn't go well either because the filling would completely leak out of the rolls.
At the end, I found a compromise for more wholesome with less sugar but yet fluffy and sweet cinnamon rolls. 4 times less sugar than their counterparts!!! Crazy!
Even better, I replaced the cream cheese frosting with a healthy yogurt-based option. This is something I love to do – like with my healthy chocolate cake and almond flour carrot cake.
I also think the key to "health" is to use good quality ingredients like organic flour, sugar and eggs.
I hope this helps with questions about substitutions. Let's go over them anyways.
Healthy Cinnamon Rolls Substitutions
Flour: You can replace both flours with white whole wheat flour. Substitute spelt flour with whole wheat flour. And you have to use all-purpose flour. You can't use only whole wheat or spelt flour because all my tests didn't produce good results that way.
Milk: Any dairy milk works. I used 3.25%. Dairy free milk like almond milk works too. Rolls will be a bit less flavorful but you are probably used to that if you are asking.
Butter: Vegan butter or melted coconut oil is good.
Cane sugar and maple syrup: Substitute with coconut sugar. You can substitute sugar with liquid sweetener like honey or maple syrup ONLY in the dough. DO NOT make liquidy cinnamon filling. It will run out and you will be upset. I tried many times. You need sugar. Brown sugar is OK too.
Yogurt: Greek or plain yogurt with fat content 2% and higher works best (just like with Greek yogurt cheesecake). Do not use 0% yogurt. You can use traditional cream cheese frosting if you want.
Icing: Use healthy buttercream frosting or even healthy chocolate icing for a decadent option!

How to Make Healthy Homemade Cinnamon Rolls
Don't be intimidated if you don't bake often. You can do it if you want homemade cinnamon rolls. It's not hard. Just follow the recipe. Yeast dough doesn't like a freefall.
I have a funny story. My mom can't follow a recipe. She doesn't bake. When I was a kid, she tried once. And gave up. We woke up in the morning to a kitchen floor covered in yeast dough. She threw it in the garbage the night before. Just follow the recipe and you will be fine.:)
Plus, I have tons of practically effortless recipes here too, in case you need something super simple for next time. Like this coconut oil chocolate fudge.
1. Activate Yeast for the Dough
Warm up milk and butter on the stove until 109 degrees F or warm to the touch. If the milk is hot or above 120 degrees F let it cool down.
Add yeast, sugar, salt and whisk well. Let stand until foamy, about 10 minutes. Mixture should be foamy. If not, discard and start again.
2. Make the Dough
In a large bowl, add foamy milk and eggs. Whisk.
Add flour and stir with spatula until can't any further.
Knead for about 5 minutes. You should end up with a ball of dough.
Alternatively you can use a stand mixer. I just don't have one.
3. Let Dough Rise 1st Time
Place the dough ball in the same bowl and cover with plastic wrap, lid or towel.
Place in a warm place like near a heat register, inside an oven with a bowl of boiled water or by the stove if you are cooking.
Let dough sit undisturbed for 1 hour or until doubled in size.
In the mean time you could even whip up a super quick snack like these no-bake black bean brownies or healthy chocolate coconut balls!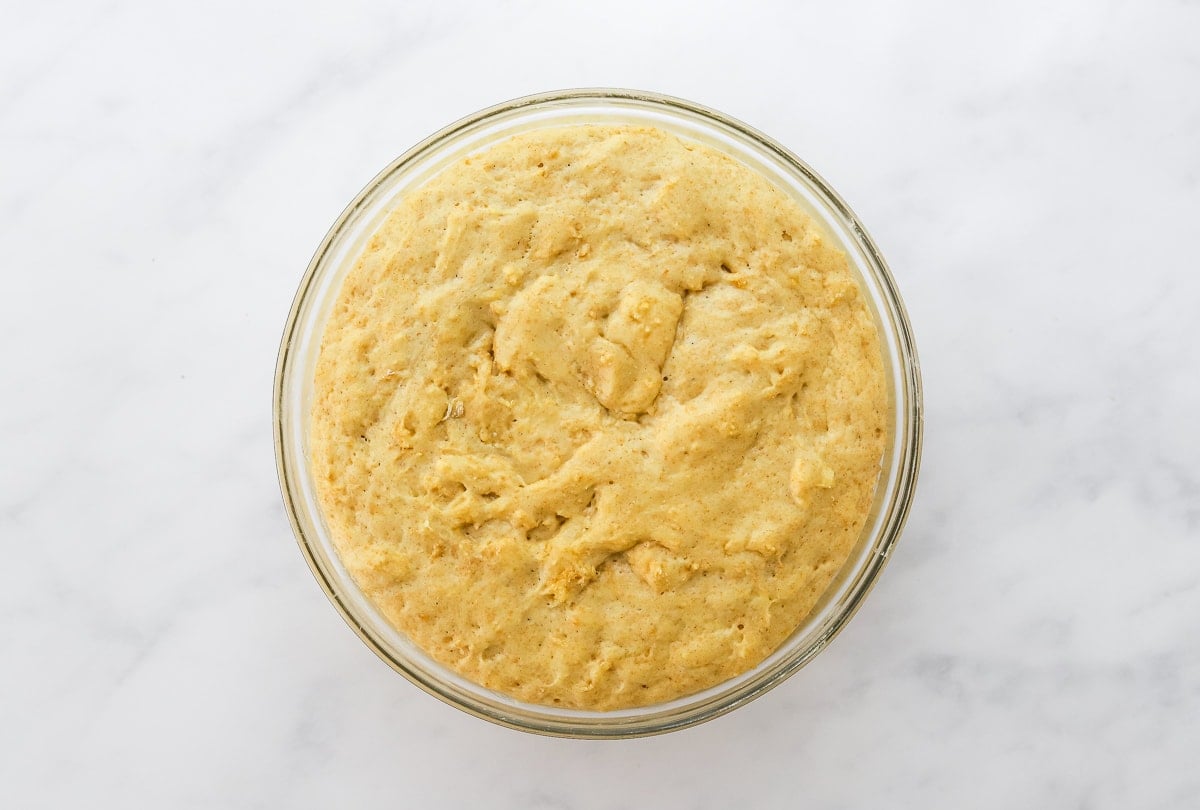 4. Make Cinnamon Sugar Filling
First melt the butter. Then in a small bowl, add sugar and cinnamon; stir.
5. Roll Out the Dough
Flour the surface and a rolling pin with a bit of all purpose flour.
Place risen dough on it.
Using your hands, form a rectangle. Makes rolling out the dough later easier.
Roll out into 12″ x 24″ rectangle. I literally use tape measurer.
6. Add the Filling
Brush the butter leaving 1/4″ border all around and sprinkle the filling all over buttered part.
7. Form Cinnamon Rolls
Starting at one long end, roll the dough as tightly as possible.
Pinch the dough on all ends. Long and short.
Use a tape measure and divide into 12 same size pieces. I recommend to measure to the center first and mark with a sharp knife. Then the center of the "new" log etc.
Using very sharp knife or floss, cut the dough into 12 same size pieces.
8. Let Rise 2nd Time
Spray 9 x 13 baking dish with cooking spray.
Place cut cinnamon rolls in 4 rows, 3 per row.
Cover with towel or plastic wrap.
Let cinnamon rolls rise in same warm place for 30-60 minutes. Depends how warm is your room. Good indicator of proper rising is when rolls doubled in size and are touching each other.
9. Bake
In a small bowl, whisk remaining 1 egg with a splash of water to make an egg wash.
Brush cinnamon rolls generously on top and sides.
Bake in preheated 350 degrees F oven uncovered for 20 minutes.
Healthy cinnamon rolls are ready when:
They look like cinnamon rolls. Haha.
A bit crusty outside. Don't over dry them.
Puffed up more. Like almost doubled.
Not very brown on top. Mine never do.
10. Make Yogurt Frosting
Remove rolls from the oven and while they are cooling down a bit, make the healthy icing. It's optional but so good.
In a medium bowl, add 1 cup thick Greek or plain yogurt, 1/4 cup maple syrup or honey and 1/2 tsp vanilla extract.
Whisk until smooth.
Refrigerate if necessary. I recommend to add it not more than an hour before serving.
That's it. You can also make your favorite traditional cream cheese frosting. No problem.
11. Serve and Be Proud of Yourself!
Drizzle the icing all over the rolls and then spread with a butter knife. I recommend to add it not more than an hour before serving.

FAQs and Troubleshooting
Can I use regular yeast?
No. This recipe is meant to be used with quick rise yeast. The difference is that it makes dough rise faster.
Milk mixture didn't foam. Why?
If you added the yeast to warm milk and no visible changes happened after 20 minutes, here are the possible reasons why:
Your yeast is old. Check the label for expiry date. Use fresh yeast. I always buy fresh just not to risk it.
Milk was too hot. Temperature over 120 degrees F will kill yeast and nothing will happen.
Milk was too cold. Not warm enough to activate the yeast.
In either case you have to restart. Good thing you are not that far ahead in the process.
More Classic Desserts Made Healthy
Healthy Cinnamon Rolls
These Healthy Cinnamon Rolls have gooey filling, fluffy dough and sweet vanilla cream cheese glaze. Classic taste with less sugar & calories!
Ingredients
For the Dough
1

cup

milk

3.25% or 2%

1/4

cup

butter

melted

1/3

cup

cane sugar or coconut sugar

1

tablespoon

quick rising yeast

1 packet

2

large eggs

room temperature

2 1/3

cups

all-purpose flour

1

cup

whole wheat flour or spelt flour

1

teaspoon

baking powder

3/4

teaspoon

salt
For the Cinnamon Filling
For Cream Cheese Frosting
Instructions
Warm up milk to 110 degrees F by placing in a microwave for 40 seconds or on the stove. It should be warm to the touch. Add melted butter and sugar, then whisk. Sprinkle yeast, gently stir and let stand until foamy, about 10 minutes.

Add eggs and whisk until mixed. Add 2 cups all-purpose flour and 1 cup whole wheat flour. Stir with wooden spoon, cover with linen towel and let stand in warm place for 1 hour or until doubled in size. This may take more or less time depending on the humidity and temperature in your home.

Preheat oven to 350 degrees F and butter large 9 x 13 baking dish, set aside. Sprinkle remaining 1/3 cup flour, baking powder and salt. Stir with spatula until can't stir any further, then knead on a floured surface for about 3-4 minutes.

Roll out dough into a 16 x 12 inch rectangle with shorter side closer to you. Spread softened butter over dough, leaving a 1/4 inch margin at the far 12 inch side of the dough.

In a small bowl, combine sugar and cinnamon, mix. Sprinkle all over buttered part. Starting at 12 inch side, roll the dough as tightly as possible, pinch the seam and place the seam side down.

Using a sharp knife or dental floss (my favorite), cut off 1/2 inch without the filling on each end. Then cut into even about 1 inch pieces and place into previously prepared dish.

Bake for 20-25 minutes or until just lightly golden brown. You do not want to bake cinnamon rolls longer so they stay soft. Remove from the oven and let cool a bit.

To make the frosting, in a medium bowl, add cream cheese, butter, powder sugar and vanilla. Beat with an electric hand mixer until smooth and fluffy. Spread over warm cinnamon rolls and enjoy!
Notes
Flours: You can use ALL white whole wheat flour. Substitute spelt flour with whole wheat flour. You can't use all whole wheat or spelt flour because all my tests didn't produce tasty results.
Non-dairy milk: It works but rolls will be less rich.
Butter: Vegan butter or coconut oil works.
Eggs: To quickly warm up eggs, place in a bowl with hot water for 5 minutes. You can substitute eggs with 4 tablespoon extra butter or coconut oil.
Sugar: You can substitute sugar with liquid sweetener only in the dough. Do not make liquidy cinnamon filling, it will run out.
Healthier frosting:

In a medium bowl, whisk 1 cup Greek yogurt, 1/4 cup maple syrup and 1/2 teaspoon vanilla. Add it not more than an hour before serving.
Nutrition
Serving:
1
roll
|
Calories:
349
kcal
|
Carbohydrates:
48
g
|
Protein:
6
g
|
Fat:
16
g
|
Saturated Fat:
9
g
|
Trans Fat:
0.4
g
|
Cholesterol:
67
mg
|
Sodium:
339
mg
|
Fiber:
3
g
|
Sugar:
18
g