Healthy Cream Cheese Frosting with Greek yogurt and maple syrup is creamy and fluffy. Low sugar and holds up well on carrot cake, cinnamon rolls and cupcakes.
Need more healthy and decadent icing recipes? Healthy chocolate frosting, Greek yogurt frosting, or healthy buttercream frosting are the perfect finishing touch!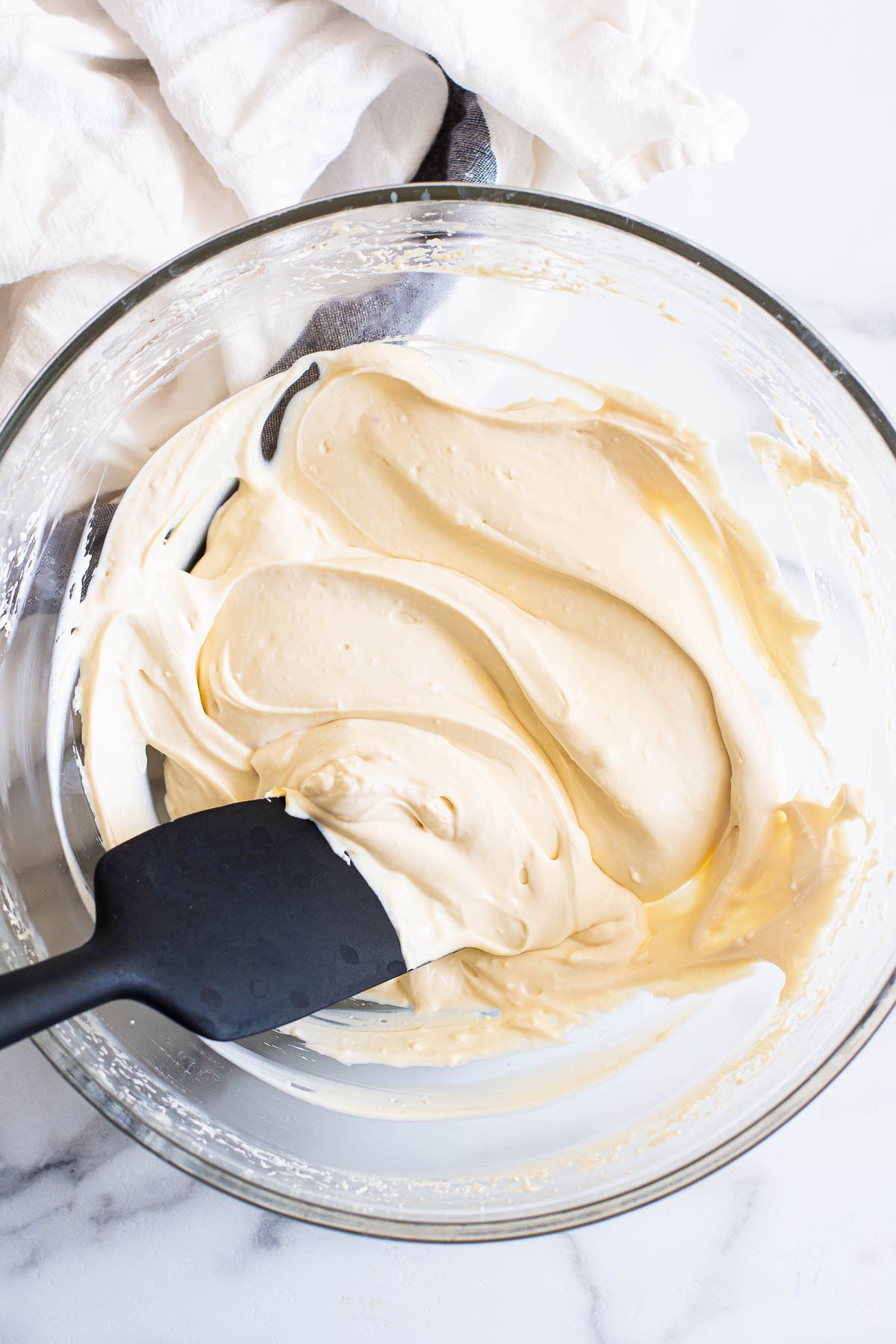 This frosting is so good I could eat it by the spoonful and then lick the bowl after!
The secret is to make frosting without butter or powdered sugar, and replace them both with thick Greek yogurt and maple syrup.
It's delicious and in my opinion even better than the classic cream cheese frosting recipe! There is still that sweet and tangy balance with a hint of vanilla and even maple.
It's light and creamy and easily spreadable on cakes and cupcakes without being runny. If you chill it overnight, you could also pipe it.
I use it on top of my healthy carrot cake bars. And very slight variations on almond flour carrot cake and healthy carrot cake.
Ingredients You Will Need
This is the kind of simple recipe where all it takes is a few easy swaps to make something we all love so much better for us. You need just 4 ingredients!
Cream cheese: From a block and not the container, that has been softened to room temperature. Block cream cheese contains less water. You can also use low fat cream cheese but it won't taste as luscious.
Greek yogurt: I use at least 2% for a thick creamy consistency.
Maple syrup: I like the maple flavor, but you can use any other sweetener you prefer.
Pure vanilla extract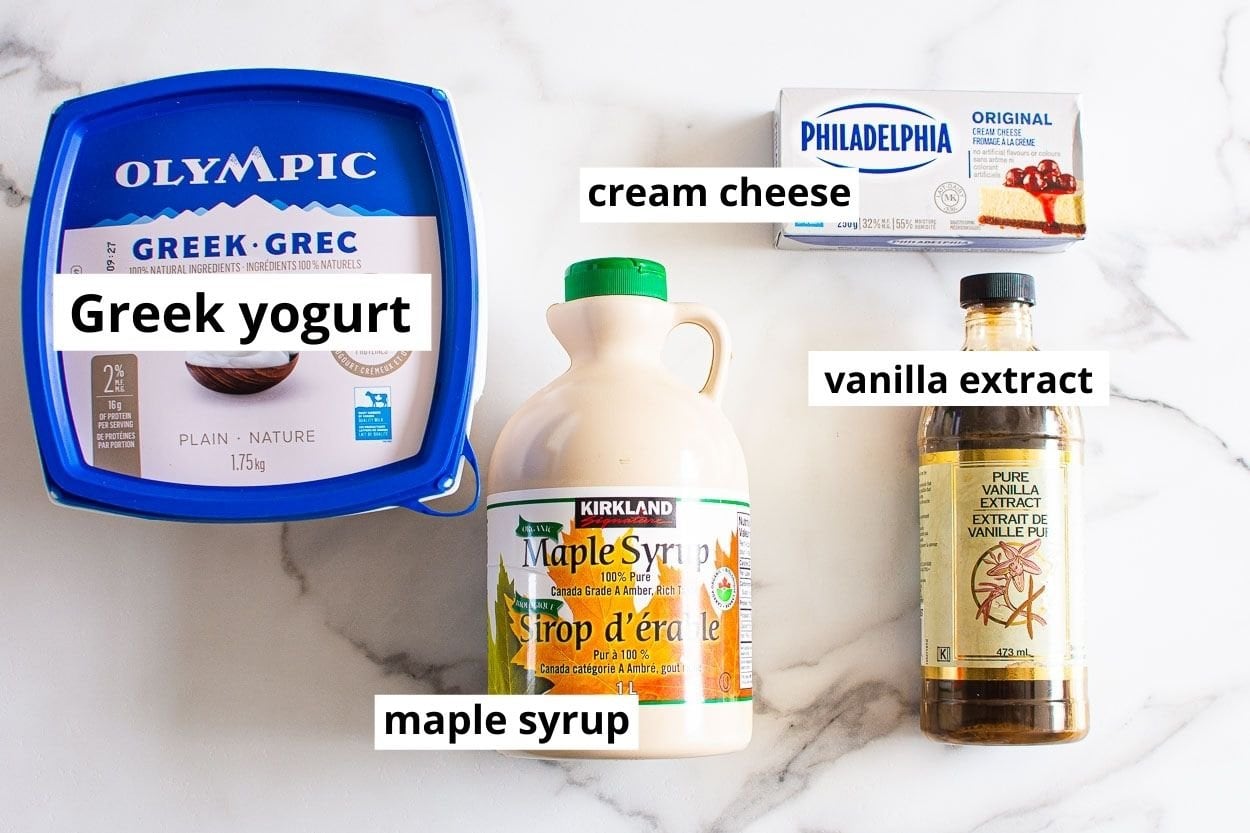 How To Make Healthy Cream Cheese Frosting
It couldn't be easier to make a 5 minute frosting recipe that tastes just like cheesecake! Here's how.
To begin, add all your ingredients into a large mixing bowl or the bowl of a stand mixer using the paddle attachment.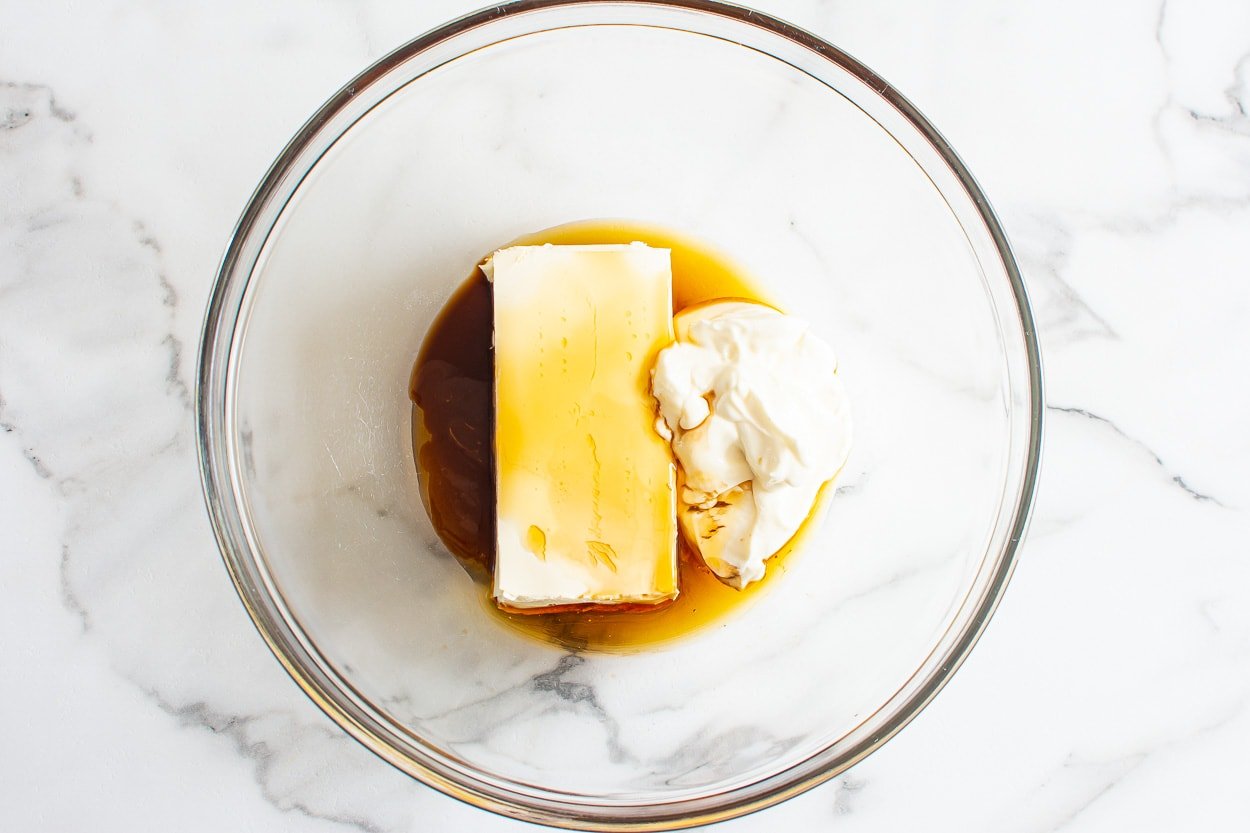 Whip everything together at high speed for about 5 minutes until smooth and creamy, scraping down the sides as you go. There should be no lumps left.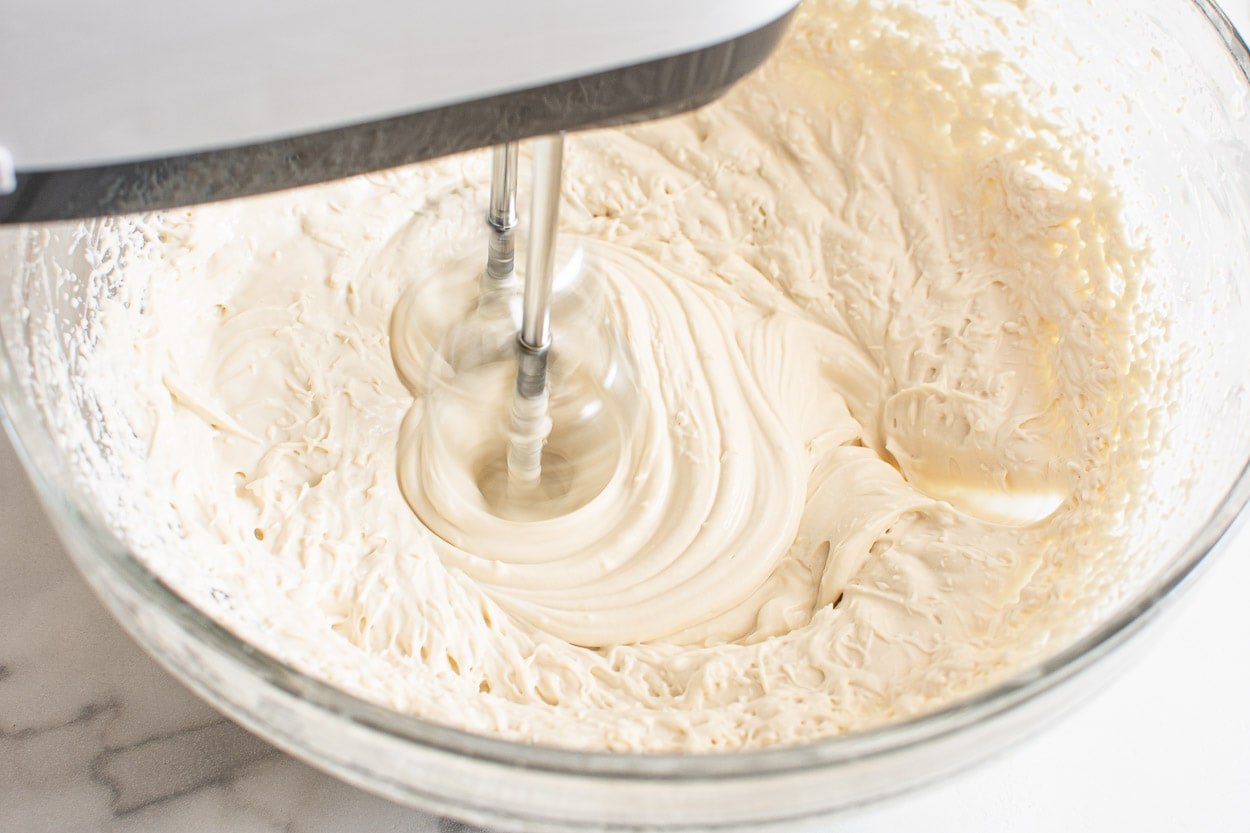 Make sure to use softened cream cheese. If you use cold one, your frosting will be lumpy.
Tips for Frosting
How to quickly soften cream cheese: Cutting it into cubes and keeping out for about an hour helps. You can also microwave your block for a few seconds until softened.
Sweetener tips: My favorite of all time is maple syrup because it has mild taste. You can use honey but it will have more prominent taste. Powdered erythritol works great too if you like its taste. I do!
Pipe it: Healthy cream cheese frosting is thick but for piping I recommend to refrigerate it for at least an hour or even overnight is better. This is because the structure of dairy has been disturbed and warmed up during whipping.
Turn into a glaze by thinning it out: Use a bit more maple syrup or a bit of dairy or non-dairy milk. Then drizzle on top of carrot cake baked oatmeal.
Why Is My Frosting Runny?
This is most likely caused by using the cream cheese that comes in a plastic container, rather than the block. It usually contains more water, making it spreadable and therefore making the icing runny.
If you didn't follow the recipe and used regular yogurt, it will also be a thinner frosting.
Refrigerate it overnight and it should thicken more.
FAQs
Can I use regular plain yogurt?
No. Regular yogurt contains much more whey than Greek yogurt resulting in runny frosting.

However, if you let it drain in a colander lined with a linen towel or coffee filter for 8 hours, the whey will drain. You will end up with Greek yogurt.
How can I make frosting more thick?
Refrigerate. The longer you keep it in the fridge, the more moisture will evaporate and the thicker the frosting will become. I am talking about 1-3 days.

Also you can keep it uncovered to speed up the process. Just stir before slathering.
Is it thick enough for a middle layer of the cake?
Freshly whipped frosting is best for slathering on the outside of the cake. If you would like to spread it on the middle layer, I highly recommend to refrigerate it at least overnight. Please see question above.

Otherwise, the weight of the top cake layer presses too much making it run out. I like to use my healthy buttercream frosting for that.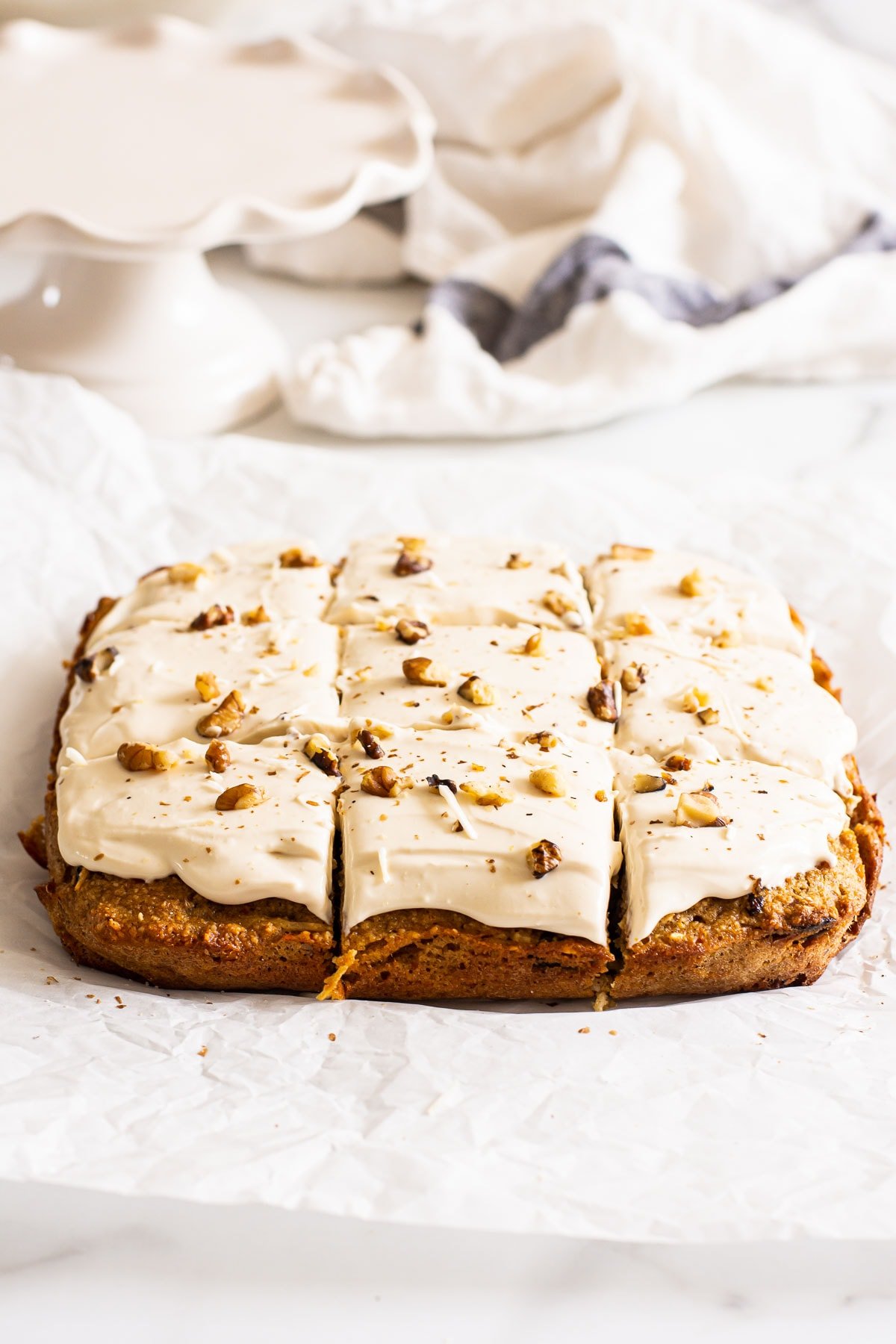 How to Use Frosting
This recipe makes enough frosting for a 8-9″ cake or 12 cupcakes. However, it's best for frosting the cake on top and the sides.
If you would like to use it in the middle layer, please see FAQs section above.
Here are a few ways to use it:
How to Store Frosting
This healthy frosting doesn't have any preservatives so keep it in the fridge and not at room temperature. It'll keep for up to 1 week in an airtight container.
You can re-whip it before using but I do not find it necessary.
Can You Freeze Leftovers?
You can freeze frosting for up to 3 months. Thaw in the fridge overnight, and whip again before using.
More Popular Healthy Desserts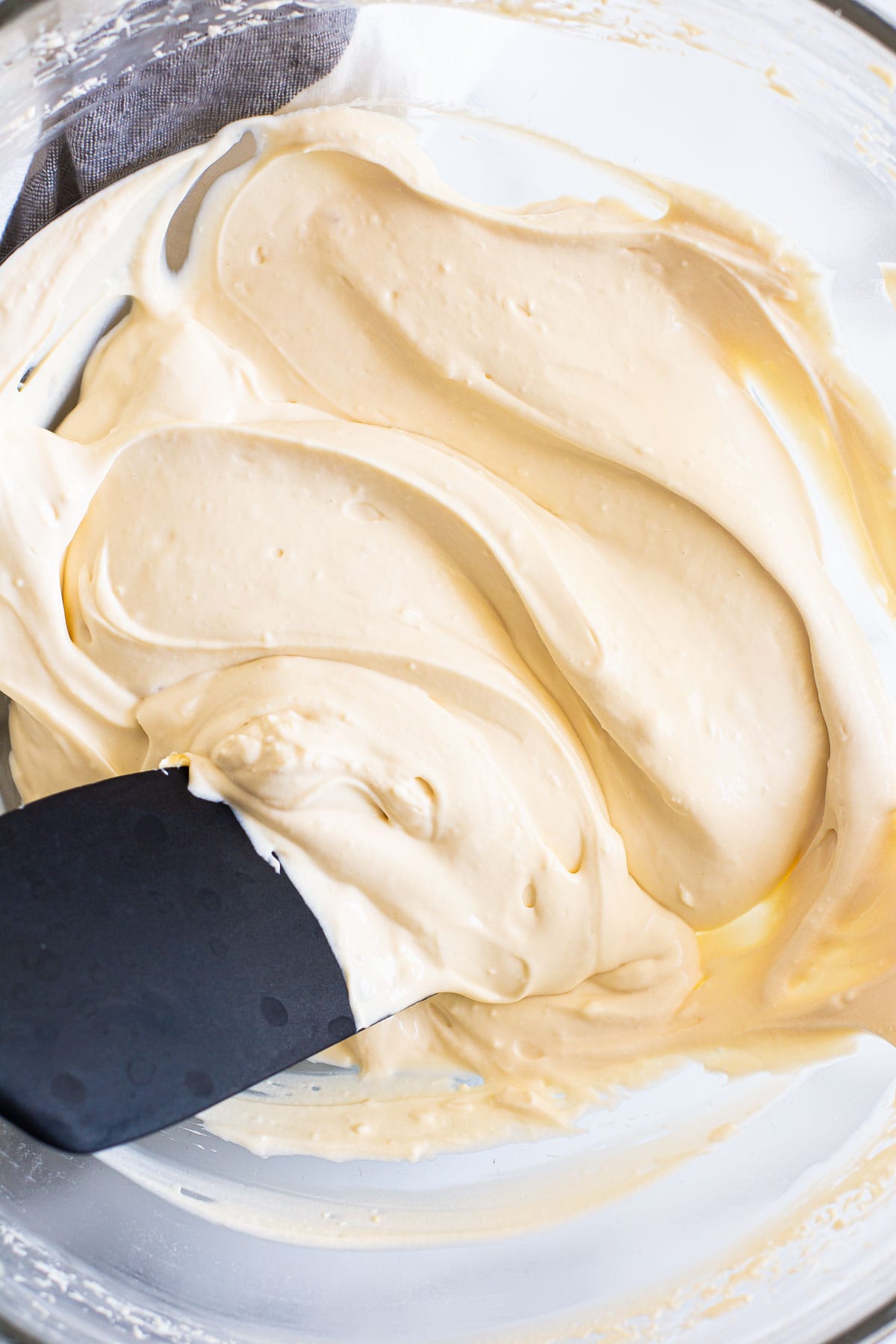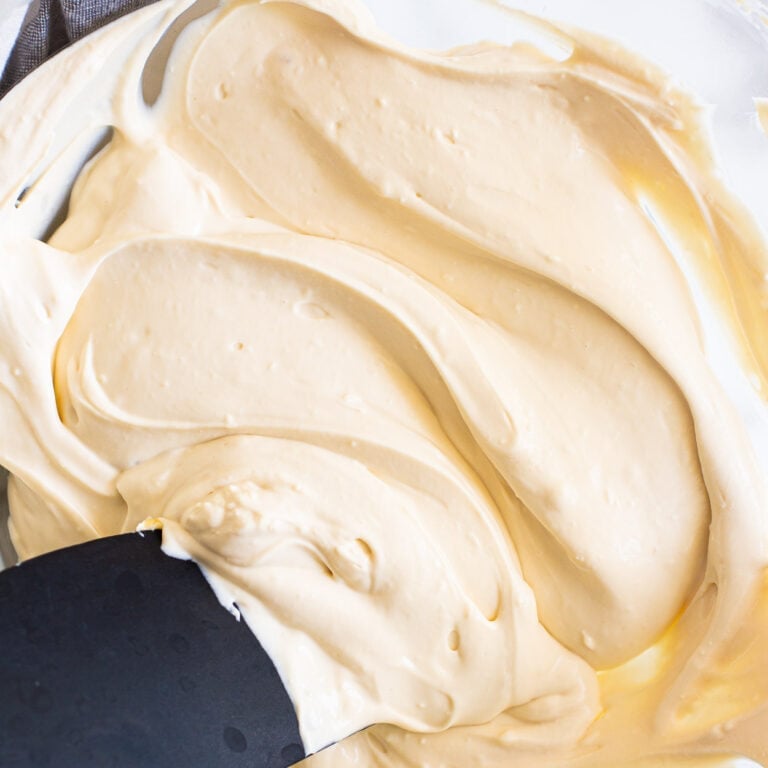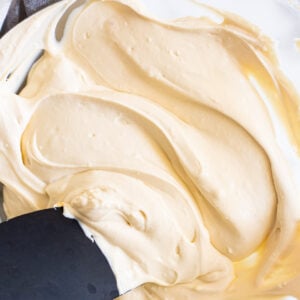 Healthy Cream Cheese Frosting with Greek Yogurt
Healthy Cream Cheese Frosting with Greek yogurt and maple syrup is creamy and fluffy. Low sugar and holds up well on carrot cake, cinnamon rolls and cupcakes.
Instructions
In a large mixing bowl, add cream cheese, yogurt, maple syrup and vanilla extract.

Using an electric mixer on high speed, whip all ingredients until smooth, creamy and no lumps left, making sure to pause and scrape down the sides. Should take about 5 minutes.

Use frosting on a recipe of choice. This amount is anough to frost a 8-9 inch cake or 12 cupcakes.
Notes
Store: Refrigerate for up to a 1 week. Rewhip before using.
Freeze: Freeze frosting in an airtight container or up to 3 months. Thaw in the fridge overnight.
Cream cheese: It is important to bring it to a room T, otherwise frosting will be lumpy. You can use low fat cream cheese but it will taste less creamy. Vegan cream cheese will work, different taste though.
Sweetener: Any other sweetener of choice is OK.
Nutrition
Serving:
2
Tblsp
|
Calories:
22
kcal
|
Carbohydrates:
5
g
|
Protein:
1
g
|
Fat:
1
g
|
Saturated Fat:
1
g
|
Cholesterol:
1
mg
|
Sodium:
2
mg
|
Sugar:
4
g