Homemade classic Minestrone Soup is hearty, aromatic and loaded with mouthwatering chunks of veggies, beans, pasta, and herbs. Simmered in a flavourful tomato broth, this healthy soup is a must-try!
Other Italian classics we love around here are vegetarian pasta e fagioli, pressure cooker zuppa toscana (lightened up) and baked chicken Parmesan.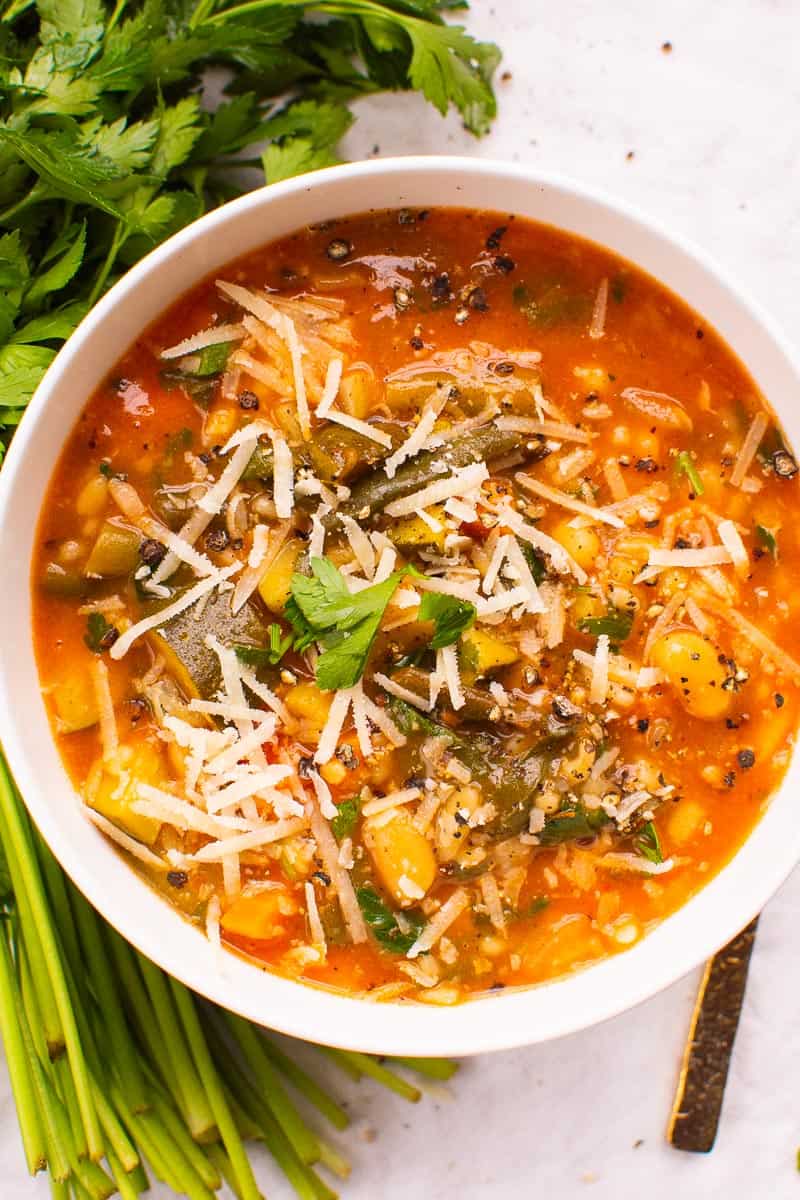 Minestrone Soup Recipe
Traditional minestrone soup is meant to use up leftover veggies, so it's very forgiving, which makes it super budget-friendly and customizable. Using seasonal veggies means you can make a variation of this soup all year round! And if you have electric pressure cooker, check out my Instant Pot minestrone.
This Italian inspired soup has texture and flavour in every bite and definitely not your average vegetable soup recipe! Although my vegetable soup is anything but average.
Yes, it's loaded with fresh herbs and seasonings, balanced out by the citrus of the tomato broth and the finishing flavour of the Parmesan cheese. But the addition of beans and pasta are what gives it the extra body you need to transform this soup into a satisfying minestrone.
You may also want to browse these healthy pasta dishes including soups, casseroles and skillets!
Ingredients for Minestrone
Veggies: Carrots, celery, and anything you have on hand. Green beans, zucchini and potatoes work well. You want to chop them into uniform sizes. Dark leafy greens such as spinach, kale or swiss chard. Canned diced tomatoes (for the sake of this list, it's a vegetable!).
Beans: Rinsed and drained can of white cannellini or kidney beans (I love to make Instant Pot red kidney beans). Or learn how to cook dried beans from scratch. Beans give the soup a source of fibre and protein.
Onion and garlic: A power couple used as a base in so many recipes. Gives the soup a great foundation to build on.
Olive oil: Extra virgin for most flavour.
Seasonings: Dried or fresh rosemary. Finely chopped parsley. Salt. Pepper. Red pepper flakes. Bay leaves.
Stock: Low sodium vegetable stock. Chicken stock is great if you're not concerned about having a vegetarian soup.
Pasta: Uncooked ditalini, orzo, or shells. These are all small pasta. It gives the soup body but doesn't overpower all the other wonderful textures.
How to Make Minestrone Soup
Prep: Preheat a large dutch oven or heavy bottom pot on the stove. Drizzle in some oil and stir to coat. Add the onion and garlic, carrots, celery, and rosemary and saute while stirring occasionally. As you can tell by the tantalizing aroma, this is the base that the rest of the soup will be built on.
Combine: Stir in the remaining veggies, salt, pepper, red pepper flakes, bay leaves, diced tomatoes, beans, and stock. One pot soups are so convenient, aren't they?!
Boil: Bring the soup to a boil and add the pasta. You want to stir occasionally just to make sure the pasta isn't clumping together.
Simmer: Cover your pot, reduce the heat and simmer on low. The smell of homemade Minestrone soup is now permeating throughout your home. Don't worry, you're almost done!
Add greens: Once it's done simmering, turn off the heat and add in your leafy greens. They will naturally wilt in the heat. Do a little taste test (blow first!) and see if you'd like to adjust any seasoning. Keep in mind you're about to add in some beautiful, sharp, salty Parmesan cheese.
Serve: Add soup to individual bowls and don't skimp on the cheese. Load it up with as much as you'd like with a side of crusty bread and you're in for a taste explosion! Serve with Italian chopped salad for a soup and salad combo.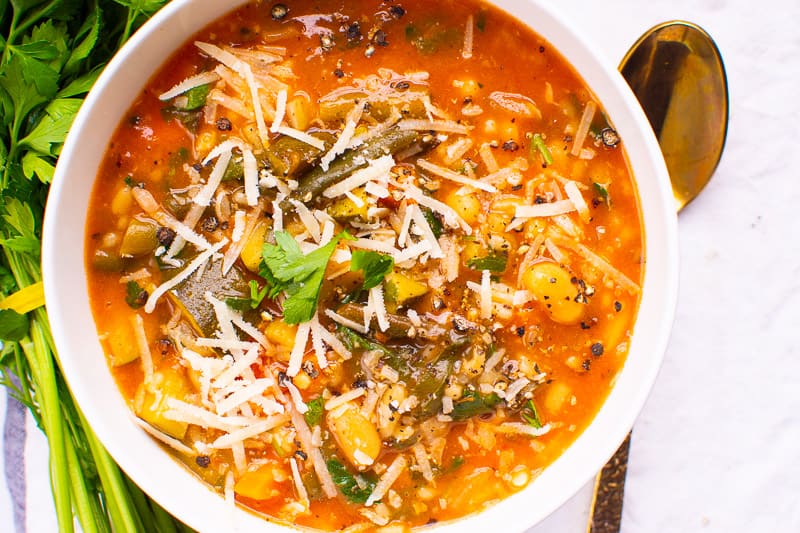 Tips and Variations
Bacon or pancetta: Add some fried pieces of bacon or pancetta along with the onion mixture at the beginning. This will no longer make it vegetarian (obviously) but it will add a lovely smoky, salty pork flavour.
Rice: Swap out the pasta with rice! It will give it the same creaminess from its natural starch.
Fresh Parmesan: Grating your own from a wedge of Parmesan is key! Buying pre-grated does not have the same flavour, and will not melt as easily into the soup. For such an absolutely delicious soup you want to finish it off in the best way possible!
Fresh basil: Chopped basil or even a dollop of basil pesto would add a pop of fresh herb. So good!
Meatballs: Add some little ground turkey meatballs or crumble up some ground sausage for a meaty bite.
Storing, Freezing, and Reheating
Store: Pack it up and have it for lunch the next day! Store it in an airtight container and you've got leftovers for up to 5 days.
Freeze: If you're going to freeze minestrone soup, freeze it without the added pasta if you can help it. Throw in some cooked pasta later on when you're ready to eat it because pasta doesn't freeze well. Soup will keep in the freezer for up to 3 months.
Reheat: Thaw frozen soup in the fridge overnight. Reheat the desired amount on the stove, simmering on low.
More Hearty Soup Recipes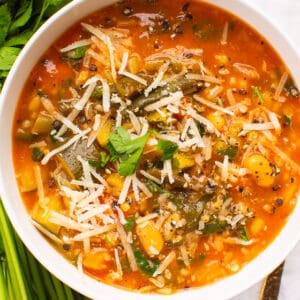 Minestrone Soup
Homemade classic Minestrone Soup is hearty, aromatic and loaded with mouthwatering chunks of veggies, beans, pasta, and herbs. Simmered in a flavourful tomato broth, this healthy soup is a must-try!
Instructions
Preheat large dutch oven or heavy bottom pot on medium heat and swirl oil to coat. Add onion, garlic, carrots, celery and rosemary; saute for 5 minutes, stirring occasionally.

Add other veggies, salt, pepper, red pepper flakes, bay leaves, diced tomatoes, beans and stock; stir. Bring to a boil, add pasta and stir again a few times to ensure pasta is not lumping.

Cover, reduce heat to low and cook for 15 minutes.

Turn off heat. Add spinach or kale, parsley and adjust any seasonings to taste, if you wish. Just remember there is Parmesan cheese coming.

Serve hot with lots of Parmesan cheese in individual bowls and crusty bread.
Notes
Store: Refrigerate in an airtight container for up to 5 days. Reheat by simmering on low in a small pot amount you need.
Freeze: Pasta doesn't freeze well, so if you plan on freezing, leave it out or cook separately and add to individual bowls. Freeze in an airtight container for up to 3 months. Thaw in the fridge overnight.
Bacon or pancetta: You can fry a few slices of cubed bacon or pancetta in the beginning.
Rice: Instead of pasta, feel free to use rice.
Fresh Parmesan cheese is key! Not from a shaker. I recommend to buy a hunk, grate what you need and freeze the rest until next grating.
Fresh basil: Basil would be lovely touch at the end. So, a dollop of pesto.
Nutrition
Serving:
2
cups
|
Calories:
211
kcal
|
Carbohydrates:
34
g
|
Protein:
8
g
|
Fat:
6
g
|
Saturated Fat:
1
g
|
Sodium:
395
mg
|
Fiber:
8
g
|
Sugar:
7
g