Pasta has a reputation for being bad for you, but there are plenty of Healthy Pasta Recipes that make great meals. Quick and easy pasta dishes include Italian, vegetarian, Instant Pot, ground turkey, chicken, and everything in between!
Light pasta recipes are good by themselves, but become even greater with a healthy salad to accompany them like lemon kale salad, spinach salad, or lettuce salad recipe.
Pasta is a comfort food for many. Traditional pasta dishes often include an overload of fat, cheese, and other ingredients that don't fit into a healthy diet. These healthy pasta recipes, though, are tasty, light, and easy to prepare!
From cheesy to savory, creamy to light, you are sure to find some new favorite pasta dishes for dinner in this list. Casseroles, soups, one pot meals, and even the Instant Pot all make healthy pasta noodles versatile and extremely delicious. Serve any of these with healthy Caesar salad and Bon appetit!
Why Healthy Pasta Recipes are Better For You?
Lighter: These light pasta dishes skip heavy creams, are made without loads of added fat, and rely on better for you fresh food ingredients, yet they still retain all the comfort food pasta taste you love! 
Ingredient control: By skipping takeout and making your favorite pasta dishes for dinner at home, you control what ingredients you put into the meal, skip heavy oils, use less cheese, and add more veggies!
Wholesome: Healthy pasta dishes are balanced with fiber, fat and protein that will keep you satiated. 
Veggie filled: As a friend once said, 'adding the veggies makes this legal'; while that is pretty funny it is true! Veggies keep these light pasta recipes while adding nutrition, taste, color, and texture! 
Easy to make: Quick and easy pasta recipes with few ingredients means less mess, less stress. 
Versatile: Swap the pasta shape, veggies used, or even the protein in these healthy pasta dishes. See each individual recipe post to see recommended options and cooking times for gluten free noodles etc. 
FAQs
What are healthy pasta dishes for dinner?
These ;). Really though, these pasta dishes for dinner are tried and true by not only my family but by many readers, too! They are lighter yet still retain all that comfort food heartiness that has you craving pasta for dinner in the first place.
Which pasta is the healthiest?
Whole wheat pasta is my go to for healthy pasta noodles due to the higher fiber content. Fiber supports digestive health and has so many other benefits! If you are gluten sensitive, though, a healthy pasta may include many of the newer varieties including chickpea, lentil, or even cauliflower pasta!
What can I add to pasta to make it healthier?
Vegetables are always a good idea as well as lean protein. When it comes to healthy pasta recipes, think about creating dishes that are balanced with fiber, fat, and protein to keep you satiated and full!
Is pasta a protein or carbohydrate?
Pasta while primarily a carbohydrate also contains fiber and protein. How much fiber or protein really comes down to what type/brand you purchase! Lucky for us, these days store are filled with multiple options. While I love to purchase whole grain pasta, you may like to try protein pastas that are made with lentils or chickpeas.
Healthy Chicken Pasta Recipes
Restaurant quality without the high calorie and fat count! Healthy Chicken Alfredo with healthy pasta noodles, milk vs. cream, and peas for eye popping color and nutrients. Serve with healthy cucumber salad for an easy dinner!
A light pasta recipe, Healthy Tuscan Chicken Pasta, is a one pot dinner delight! Full of healthier, lighter ingredients with tender chicken, al dente pasta, and a creamy sauce, you will be transported to Tuscany. The glass of white wine is optional, but recommended. 😉
Mediterranean inspired Chicken and Whole Wheat Spaghetti Recipe is a delight for the tastebuds with salty olives, juicy tomatoes, and tender chicken. Combined with fiber-filled whole grain healthy pasta noodles, this one pot dinner will become a favorite.
Comfort food alert! Does anything say warm and cozy like a casserole? Healthy Chicken Broccoli Casserole features all the favorite staples of milk and cheese, but uses just enough to include it in this list of healthy pasta recipes!
When life is busy and you just don't have time for healthy pasta noodles, Slow Cooker Whole Chicken and Pasta comes to the rescue! Cook whole chicken in slow cooker first, then remove it and cook pasta in the juices until done. Easy peasy and dinner is done in one crockpot!
Slow cooked chicken and sauce with spaghetti noodles added during the last 30 minutes of cooking, make this Crockpot Chicken Spaghetti easy, hands off, and full of flavor. Perfect for those busy nights when activities fill the calendar to the brim!
An impressive yet easy pasta recipe that even the kids can help make! Chicken Lasagna Roll Ups are filled with a delicious chicken and artichoke white sauce filling, then topped with tomato sauce and cheese. The perfect individual portion sized meal, plus freeze leftovers for another dinner!
Ramen seems to be the rage right now and these soba noodles can help curb that ramen craving in a healthy way! Peanut Chicken Soba Noodles with tender chicken, crisp stir fried veggies, and a delicious light peanut butter sauce is a delicious way to enjoy healthy pasta noodles!
Ground Turkey Pasta Recipes
You can never have too many simple pasta dishes for dinner in your menu plans! With 120+ 5 star reviews, this Ground Turkey and Broccoli Pasta has won over many families with it's whole food ingredients of ground turkey, broccoli, tomatoes, and Parmesan. Find out what else to do with ground turkey by browsing this list of 45 ground turkey recipes.
Doubling as one of healthy freezer meals, this Ground Turkey Pasta Bake can be baked 'fresh' from frozen! Healthy pasta noodles with lean ground turkey, a delicious sauce, kale, and cheese is a comfort food light pasta recipe.
Perfect for using leftover Thanksgiving turkey or ground turkey, One Pot Turkey Tetrazzini Recipe, is loaded with veggies and a skinny sauce keeps this a light pasta recipe.
Loaded with Tex Mex taste and healthy fiber filled ingredients, Healthy Taco Pasta, is ready in only 30 minutes. Use homemade taco seasoning to avoid any extra additives from pre-packaged store brands.
Instant Pot Pasta Recipes
With milk instead of cream, this Instant Pot Chicken Alfredo is lightened up and ready in only 25 minutes! A light pasta recipe that the whole family will love.
Tender chicken parmesan made easier as a one pot meal in the Instant Pot! Instant Pot Chicken Pasta with Parmesan will be a new family favorite plus it's a mom win with only 30 minutes in pressure cooker! Try these other healthy Instant Pot recipes for more dinner wins!
Healthy pasta noodles doesn't get any better than Instant Pot Spaghetti as it never disappoints. Serve with crusty bread and a cucumber and tomato salad for smiles all around the table.
Healthy pasta recipes including Instant Pot Lasagna! With no heavy ricotta, this lasagna is lighter yet retains all that authentic taste. Even the sneaky greens will be gobbled up with no complaints. Now that is something to love about this this light pasta recipe.
Thick, hearty, and versatile Instant Pot Goulash can be made with ground turkey or beef! Simple spices deliver maximum taste in this easier version of American chop suey.
Perfect for feeding a crowd, Instant Pot Mac and Cheese is a quick and easy pasta recipe with few ingredients! This version uses real cheese and milk and skips any processed 'junk' for a light pasta recipe.
Another versatile pasta dishes for dinner win! Instant Pot Meatballs can not only be served as a one pot pasta meal, but also as an appetizer, or even as a meatball sub. Make a huge batch and have some ready in the freezer for whenever that craving for pasta and meatballs strikes.
Full of savory taste from onion, ground meat, and sliced mushrooms Instant Pot Ground Beef Stroganoff is made lighter with a yogurt creamy sauce vs. sour cream! A 30 minute dinner, serve with a healthy green smoothie to round out the meal.
A great way to boost that immune system when a cold sets in! Instant Pot Chicken Noodle Soup is my Grandma's Ukrainian recipe but made way easier in the pressure cooker.
Italian restaurant copycat soup full of vegetables, beans, and a savory tomato broth! Instant Pot Minestrone is light, nutritious, and versatile. It makes a great 'clean out the fridge' healthy pasta dinner soup.
Vegetarian Pasta Recipes
When you need an easy pasta recipe with few ingredients, this Healthy Mac and Cheese is it! Bonus, it's ready in only 15 minutes and contains half the fat and calories of traditional mac 'n' cheese. Light pasta recipe lovers, rejoice!
A family favorite, Easy Spaghetti Recipe, rescues dinnertime with simple ingredients and fast preparation. It's on the table ready to eat in only 10 minutes. More time to plan out a healthy dessert!
Bursting with flavor, Healthy Pasta with Pesto and Broccoli, is a meatless meal with sun dried tomatoes, Parmesan cheese and broccoli. Light, healthy, and perfect anytime you crave a pasta dish for dinner.
A one pot pasta wonder, Broccoli and Penne Pasta Recipe, uses a combination of pantry staples and fresh ingredients for a saucy pasta meal that comes together in only 30 minutes. This is a versatile recipe and a great way to use up those veggies hidden at the back of the fridge.
Zucchini is a favorite year round, but this Pasta with Zucchini and Tomatoes is particularly good in the summer with garden fresh vegetables and basil. If you love zucchini like I do, be sure to browse our other favorite healthy zucchini recipes!
Saucy, cheesy, and delicious, One Pot Chili Mac Recipe, is a great change of pace from taco night but yet has all that Mexican taste you love! Bonus, this recipe can even be made vegan. Serve with a side guacamole and chips for a full meal.
Healthy Mushroom Stroganoff satisfies all those comfort food cravings, yet still fits into your meatless meals dinner rotation! Meaty mushrooms, creamy lightened up yogurt sauce, and savory taste plus carnivore approved. Serve over cauliflower rice instead of healthy pasta noodles to keep this low in carbs.
Riced cauliflower is baked with mac and cheese for a healthier spin on this traditional comfort food! It's a delicious way for your family to enjoy a beloved pasta dish with some added veg!
Veggie Mac and Cheese Muffins Recipe
For those days when the kids beg for mac and cheese, but you would rather them eat their veggies! Veggie Mac and Cheese Muffins recipe combines the two into a muffin sized healthy pasta dish, that is perfect for lunchboxes, too. Include, a healthy chocolate muffin and you will be the talk of the classroom.
Healthy Pasta Salad Recipes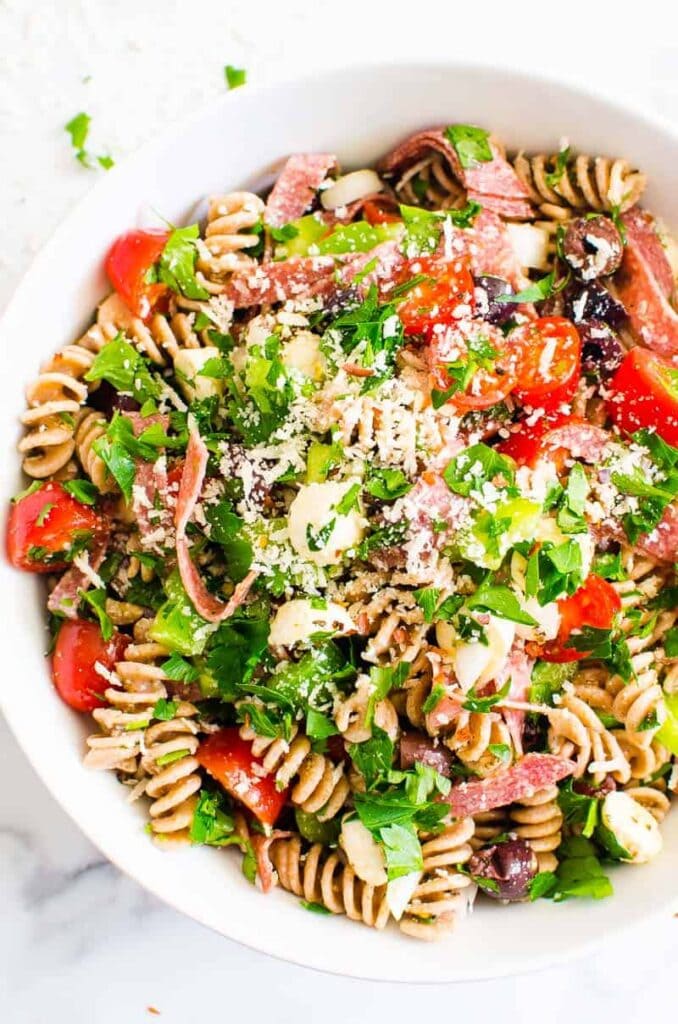 One bowl, whole grain pasta, and veggies will make this Healthy Pasta Salad the star of the summer cookout! As a bonus, this can double as a warm light pasta recipe for dinner. Serve with this grilled chicken recipe for a one dish light pasta dinner.
Salami, cheese, fresh herbs, and tomatoes tossed with a light homemade Italian dressing, make this Italian Pasta Salad stand out! You may also love, Italian chopped salad for a change of pace.
Love tomatoes? You are going to enjoy this Tomato Pasta Salad, then! Full of eye popping colors of red veggies and fresh green herbs, you could even serve this at the holidays.
A summer crowd pleaser! Healthy Tuna Pasta Salad is ready in 20 minutes for an easy side or light lunch.
Summertime isn't the same without a creamy pasta salad! This lightened up Healthy Macaroni Salad goes well with any grilled proteins and will be a hit at your next potluck.
Pasta Soup Recipes
An Italian favorite, Pasta e Fagioli, is a hearty light pasta recipe with a flavorful broth, nutritious vegetables, and whole grain pasta! Make for dinner tonight, then use for healthy lunch ideas the rest of the week.
Another Italian favorite, Minestrone Soup, is a great way to use up leftover vegetables before they go bad! A very forgiving healthy pasta noodles soup, you can make this soup year round with whatever vegetables are in season.
Chicken soup is good for the soul, it's true! This Healthy Chicken Noodle Soup tastes like it has simmered all day, but in reality it's ready within the hour with tender vegetables, fall apart chicken, and a herby broth.
For those days when you don't have time to simmer a soup on the stove, Slow Cooker Chicken Noodle Soup, gives you that same taste but hands off! Plus, after a long day, when you walk in the door, it just really gives you all the comfy home vibes. Serve with a simple spinach salad and dinner is done.
A great way to put that leftover Thanksgiving turkey to work! Turkey Noodle Soup can be made 3 ways and it really depends how fast your dinner needs to be on the table. Make it with leftover turkey meat, gravy, and drippings for a quick version, make bone broth on the stovetop then soup after, or utilize your Instant Pot for bone broth, then soup after!
Never buy the processed stuff again when you make this easy tomato soup with fun pasta shapes for the kids! Alphagetti is perfect for the lunchbox and ready in only 15 minutes. Send healthy muffins, too, and feel great that your kids are fueled for the school day with nutrient dense food!
Love chicken noodle soup, but wish it was filled with more veggies? This Chicken Noodle Vegetable Soup is for you! I use cabbage, carrots, celery, and potatoes, but it is versatile to what you have on hand including frozen vegetables. This healthy pasta soup is also great to use up leftover Instant Pot chicken.
Kids love this Turkey Meatball Soup! Easy ground turkey meatballs, small whole grain pasta, and vegetables simmered in a light broth, this pasta 'dish' can be for dinner, or even for healthy snacks.
Healthy Pasta Sauce Recipes
Tastes like it has simmered on the stovetop for 3 hours, but in reality it's ready in 40 minutes thanks to the magic of the pressure cooker! Instant Pot Bolognese is hearty, meaty, and ready to be served over your favorite healthy pasta noodles.
Made with both ground turkey and beef, this Homemade Meat Sauce, is perfect for your next pasta night. Simple pantry ingredients, dried spices, onion and garlic, cook down on the stove for 45 minutes turning into the most delicious sauce.
More Healthy Dinners To Try
45 Healthy Pasta Recipes: Healthy Pasta with Pesto
45 Healthy Pasta Recipes for dinner including this healthy pasta with pesto! A light pasta recipe with noodles, pesto, veggies and savory sun dried tomatoes, easy to make and ready in 30 minutes.
Instructions
Cook pasta as per package instructions.

While pasta is cooking, get all ingredients ready – chop veggies and grate cheese.

Reserve 1 cup of pasta water, draining the rest. Set aside.

Preheat large deep skillet or a dutch oven on medium heat, add olive oil and garlic. Sauté for 30 seconds, stirring frequently.

Add 1 tbsp pesto, tomatoes and stir. Cook for 1 – 2 minutes, stir and cook another 1 – 2 minutes.

Move to one side of the skillet and make sure the empty side of is positioned directly over heat. Add 1 tbsp pesto and broccoli, stir and cook for 4 minutes, stirring once.

Remove skillet from heat and add remaining 1/4 cup pesto, sun dried tomatoes, half Parmesan cheese, salt, black pepper, red pepper flakes, pasta and pasta water. Stir gently and let flavours marinate for a few minutes. Do not cover because broccoli will become a mushy mess.

Sprinkle with remaining half Parmesan cheese. Serve hot.
Notes
Store: Refrigerate in an airtight container for up to 3 – 5 days or freeze for up to 3 months.
Pasta: Gluten free, whole wheat, brown rice, quinoa, kamut pasta. Cooked to al dente.
Pesto: If using store-bought, try to find one with as fewer additives as possible. 
Parmesan cheese: Freshly grated is the way to go. 
Protein: For added protein, add in leftover oven baked chicken or meatballs.
Veggies: Add in some bell peppers, zucchini, and mushrooms, you can never have too many veggies! 
Frozen broccoli: If you are using frozen broccoli, you don't need to thaw first. Just toss it in and cook until thawed right in the skillet. 
A burst of citrus: Squeeze a little lemon juice in with your pesto sauce and enjoy a little extra bright flavour to this dish. A lovely balance to the earthy herbed pesto
Nutrition
Serving:
1.5
cups
|
Calories:
218
kcal
|
Carbohydrates:
26
g
|
Protein:
9
g
|
Fat:
9
g
|
Saturated Fat:
3
g
|
Cholesterol:
8
mg
|
Sodium:
459
mg
|
Fiber:
4
g
|
Sugar:
6
g