Hearty and thick, this Pasta e Fagioli Soup is my favorite! Bursting with flavors, this Italian classic comes together with pantry staples like beans and pasta, and produce drawer goodness.
Other soul-warming classics we love around here are Instant Pot zuppa toscana and Instant Pot minestrone soup. Yes, love Instant Pot!
Pasta and Beans
Pasta e fagioli! I consider myself a soup snob. Growing up in the Ukraine, my grandma made soup from scratch and with lots of love every-single-day.
Don't get me wrong, I love making Instant Pot healthy recipes especially soups. They are flavorful and you can't beat the dump-and-go factor. But it is my grandma who shared the love for the process – sweating the vegetables and bringing flavors of simple ingredients in a pot.
Pasta e fagioli means "pasta and beans". So literally, the only required ingredients are pasta and beans. The rest is what you have on hand and if you add lots of veggies it becomes hearty minestrone soup. I am going to let you in on a secret- soups were invented by poor people out of necessity:)
So, here is my take on this Italian classic. It is easy, flavorful and absolutely delicious!
What Pasta and Beans Can I Use?
Pasta: Traditional pasta choice is ditalini. Guess what? The only rule for healthy pasta recipes is using small shaped pasta. So, you can use sea shells (like me), macaroni, orzo or even spaghetti broken into short pieces. Whole wheat, white or any gluten free pasta (cook for shorter period) work.
Beans: Traditional pasta e fagioli is made with white beans like cannellini, navy or Great Northern. I like to add red kidney beans for a pop of colour.
What Is a Good Base for Flavorful Broth?
A flavorful broth is the base of healthy soup recipes.
Store bought stock: Using stock from a carton is easy and convenient, but not cheap. I recommend buying low sodium and organic, if you can. I like to keep organic low sodium chicken, veggie and beef bouillon cubes on hand. Dilute with boiled water and you have stock instantly. The results aren't bad either!
Homemade broth: I often make and freeze bone broth. If I am making chicken noodle soup in pressure cooker from a whole chicken, I would save half for later. You can refrigerate broth/stock for 1 week or freeze for 3 months.
Parmesan rind: When you buy a hunk of Parmesan cheese and grate it, freeze the hard part at the end. It is like a natural cheese wrap and adds a lot of flavor to any soup. Just add to the pot when making soup and discard before serving.
Olive oil and butter: If your shelves are bare, add more than usual olive oil for veggie sauteing and a few tablespoons of butter when soup is ready. Magical flavors!
Other Veggies and Dried Herbs to Add
Honestly, get creative – use what you have on hand. There are not set in stone pasta and beans soup rules but only your taste buds and imagination.
Onion and garlic: Saute in oil first without other veggies sweating them. Then add carrots and celery.
Carrots and celery: Dice carrots and celery finely – I love to include leafy part of celery into soup recipes.
Italian herbs: Instead of suggesting to use Italian seasoning, I say use a combination of traditional herbs like oregano, basil, thyme and rosemary.
Canned tomatoes: Tomato sauce can go on its own. If you have diced tomatoes, would be good to throw a can of tomato paste in there as well.
How to Make Pasta e Fagioli Soup
Pasta e fagioli is vegan/vegetarian soup. You can saute any ground meat or Italian sausage until small pieces and before adding veggies. It will also make soup deep red colour.
Saute onion and garlic first until translucent. If you add all veggies at once, onion and garlic will rather steam.
Add celery, carrots and herbs and saute a few more minutes. I learnt years ago, when you heat up dried herbs their natural oils come out and add more flavour to the dish than if you were just to dump them to the pot.
Add canned tomato products, broth and beans and cook for 15 minutes. Do not add pasta yet.
I like to add pasta now and cook everything in same pot – makes soup thicker and saves a step. You can cook pasta separately as well.
How to Store, Reheat and Freeze Pasta e Fagioli
Major tip: If you are planning to freeze soup, do not add pasta to the same pot.
Store: Refrigerate soup for up to 5 days. However, pasta soaks up liquid with each day. If you want to enjoy soup past day 2 or are sensitive to the texture of pasta, cook it separately and add to each bowl before reheating.
Freeze: As mentioned above, pasta doesn't freeze well. I recommend to cook pasta e fagioli soup without pasta, freeze and then add cooked pasta. Freeze in an airtight container for up to 3 months. Thaw on a counter during the day or in the fridge overnight and then reheat.
Reheat: Reheat desired amount of soup in small pot by simmering on low heat. Cover and stir a few times in between to test for desired warmth. You could reheat frozen soup by simmering it on low and covered – just takes longer.
More Favorite Recipes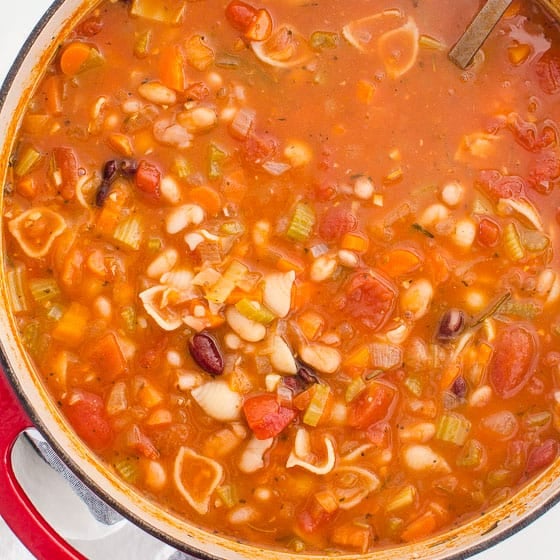 Vegetarian Pasta Fagioli
Hearty and thick this Vegetarian Pasta e Fagioli Soup is my favorite. Bursting with flavors, this Italian classic comes together with pantry staples like beans and pasta, and produce drawers goodness.
Ingredients
1

large onion

diced

5

garlic cloves

minced

3

large carrots

diced

4

large celery stalks

diced

2

tbsp

olive oil

extra virgin

1

tbsp

Italian seasoning

or a mix of dried oregano, basil, rosemary etc.

2

x 14 oz cans low sodium cannellini beans

rinsed & drained

14

oz

diced tomatoes or tomato sauce

low sodium

6

oz

can tomato paste

low sodium

6

cups

vegetable broth

dried herbs like a mix of oregano

1

tsp

salt
Ground black pepper

to taste

1

cup

ditalini pasta

dry

1/4

cup

Italian parsley

finely chopped

Parmesan cheese

grated, for garnish
Instructions
Preheat large pot or Dutch oven on medium heat and swirl oil. Add onion and garlic; saute for 3 minutes, stirring occasionally. Add carrots, celery, Italian seasoning and saute for another 5 minutes, stirring occasionally.

Add beans, tomato sauce, tomato paste, vegetable broth, bay leaves, salt and pepper. Bring to a boil, cover and cook on low for 15 minutes.

Add pasta, stir, cover and simmer for another 10 minutes.

And parsley and serve warm garnished with Parmesan cheese, if desired.
Notes
Store: Refrigerate

for up to 2 days. If you want soup to last longer, cook pasta separately and add before reheating.

Reheat

by simmering on low in small pot only amount you are planning to consume.

Freeze:

Cook, cool completely and freeze in an airtight container for up to 3 months. Thaw in the fridge overnight. You could reheat from frozen too, just will take longer.

Beans: Other white beans like cannellini, navy or Great Northern beans work.
Pasta: Use any small pasta like elbows, shells etc.
Ground meat: You can add ground beef or Italian sausage, or pancetta by cooking and breaking it into pieces first.
Other variations: You can also make soup with water and add Parmesan rind to it and/or more olive oil and butter at the end.
Nutrition
Serving:
1.5
cups
|
Calories:
168
kcal
|
Carbohydrates:
29
g
|
Protein:
5
g
|
Fat:
4
g
|
Saturated Fat:
1
g
|
Sodium:
365
mg
|
Fiber:
4
g
|
Sugar:
8
g