Easy Mexican Vegetable Soup Recipe is packed with fresh vegetables and rich, Mexican flavors. A delicious, hearty soup perfect for warming up on a chilly night!
We love vegetable soups! Be sure to try this delicious beef vegetable soup recipe and chicken vegetable soup recipe as well.
When I hear Mexican vegetable soup I think comfort in a bowl. This one pot soup recipe combines a vegetable broth and tomato base with a healthy dose of your daily vegetables.
Easily made in 40 minutes and makes a ton! It's a wholesome, filling dinner, perfect healthy lunch the next day, and freezes well for whenever you crave a comfy, cozy meal.
A simmering pot of traditional soup fills your home with a wonderful aroma. If you're like me and love soup, check out the best vegetable soup recipe or this Instant Pot vegetable soup which saves time without skimping on flavor.
Ingredients and Notes
Grab your large pot and let's make this Mexican vegetable soup recipe using fresh, simple ingredients.
Onion: Diced white onion or yellow onion will work.
Garlic: Minced garlic clove is added at the beginning to infuse the broth with flavor.
Peppers: Red bell pepper and green bell pepper give it a sweet, earthy taste. You can add jalapeño or poblano peppers at the end for more heat.
Fresh or frozen veggies: Corn, carrots, and green beans. If using frozen, no need to thaw.
Other fresh vegetables: Potatoes and zucchini or chayote. Zucchini absorbs all the spices and herbs from the broth, while chayote has a similar texture to potatoes when cooked and adds a subtle sweetness.
Green chilies: Whether you like it mild or hot, green chilies add heat and a smoky flavor.
Black beans: A great way to add protein and fiber.
Broth: Low sodium vegetable broth and tomato sauce create the base of a good vegetable soup. A can of low sodium diced tomatoes can also be used.
Seasonings: Dried oregano, ground cumin, salt, and ground black pepper.
Oil of choice: Olive oil, avocado oil or grapeseed oil to sauté onion and garlic.
Fresh herbs: I like to use fresh cilantro in Mexican recipes. Mexican oregano is another popular choice for its citrusy undertones.
Lime: Add a squeeze of lime juice 5 minutes before serving, or set lime wedges alongside and let your family and guests squeeze their own.
Other Vegetables to Add
Mexican vegetable soup is a forgiving, budget-friendly recipe you can easily customize with whatever fresh veggies you have on hand, or quickly grab at the grocery store.
Cabbage is light and sweet. A great way to slip another vegetable into your diet.
Peas are a kid friendly vegetable that adds a pop of sweetness and color to this flavorful soup.
I always have sweet potatoes in my pantry, they are a healthy choice that make any soup more hearty without weighing it down.
Celery is a great fit for this vegetarian soup. Be sure to add it in the last 5 minutes of cooking so they stay crisp and not mushy.
Recipe Tip
Keep in mind if you add other vegetables, you might have to add extra 1 cup of vegetable broth or more.
How to Make Mexican Vegetable Soup
The prep work may seem time-consuming, but once all the ingredients hit the large soup pot you can sit back, relax, and let this Mexican vegetable soup simmer.
Sauté the onion and garlic: Preheat a large Dutch oven or soup pot over medium heat with a swirl of olive oil. Once hot, add the onion, garlic, carrots, and bell peppers. Sauté for 4 minutes, stirring occasionally. Then, add the oregano, cumin, salt and pepper. Mix and sauté for 30 seconds stirring frequently.
Add longer cooking veggies and stock: Add potatoes, zucchini, corn, green chilies, and black beans to the pot along with tomato sauce and vegetable stock.
Cover and simmer: Stir and bring to a boil over medium-high heat, then reduce to simmer. Cover and cook for 25 minutes, or until potato is fork tender.
Add the finishing touches: Turn the burner off and mix in fresh cilantro, lime juice, and optional sliced jalapeno. Let the soup rest for 5 minutes, taste test and adjust any seasonings. Then serve hot topped with cheese, creamy avocado, or crispy tortilla strips.
Variations and Tips
Mexican vegetable soup is full of nourishing ingredients and very versatile! Here are a few ways you can add different flavors to this meatless recipe.
Make it spicy: Add sliced jalapenos at the end, cayenne pepper or hot sauce for a spicy kick that will help warm you up.
Use fresh tomatoes: You can add fresh tomatoes or use them in place of green chilies if you don't like any heat.
Use diced tomatoes: Instead of tomato sauce, use a can of diced tomatoes for a less red vegetable soup. You can also use fire-roasted tomatoes for more flavor.
Add protein: Add cubed raw chicken breast with veggies or leftover shredded chicken at the end. Combine with chicken broth or stock and you have a delicious Mexican chicken soup.
Add lentils: A very healthy, low-calorie addition. Dump in a cup of lentils to simmer with the broth.
Add noodles: Stir in some elbow macaroni towards the end of the cooking time for a chunkier soup, like my traditional minestrone soup.
Make it creamy: A splash of heavy cream, a dollop of sour cream or yogurt at the end.
What to Serve Mexican Vegetable Soup with?
This comforting soup is an excellent weeknight meal on its own but can also be paired with breads, salads, or Instant Pot brown rice.
Soup and almond flour cornbread are a delicious combination. We also love making mouthwatering Ukrainian garlic bread for dipping.
How to Store and Reheat
Store: Allow the soup to cool before transferring to an airtight container. Store leftovers in the fridge for up to 5 days.
Freeze: Cool and transfer leftover soup to freezer-safe, airtight containers or bags. Be sure to leave room for expansion and divide into individual portions for easy thawing. Freeze for up to 3 months.
Reheat: Reheat this delicious soup on the stove over low heat. If reheating from frozen it will take longer.
FAQs
Can I use other vegetables?
Absolutely. This recipe includes lots of vegetables and you can omit or swap out any vegetables you like.
Can I add frozen vegetables?
Yes. If you are using frozen vegetables there is no need to thaw.
What is chayote?
Chayote is a Mexican squash that tastes similar to a summer squash with notes of cucumber and a subtle sweetness.
Can I cook this soup in a slow cooker?
Yes! Omit the zucchini. In a large slow cooker, combine all ingredients, cover and cook on Low for 6-8 hours or on High for 3-4 hours. Add lime juice, cilantro, and optional jalapeno peppers and serve hot.
More Mexican Soup Recipes to Try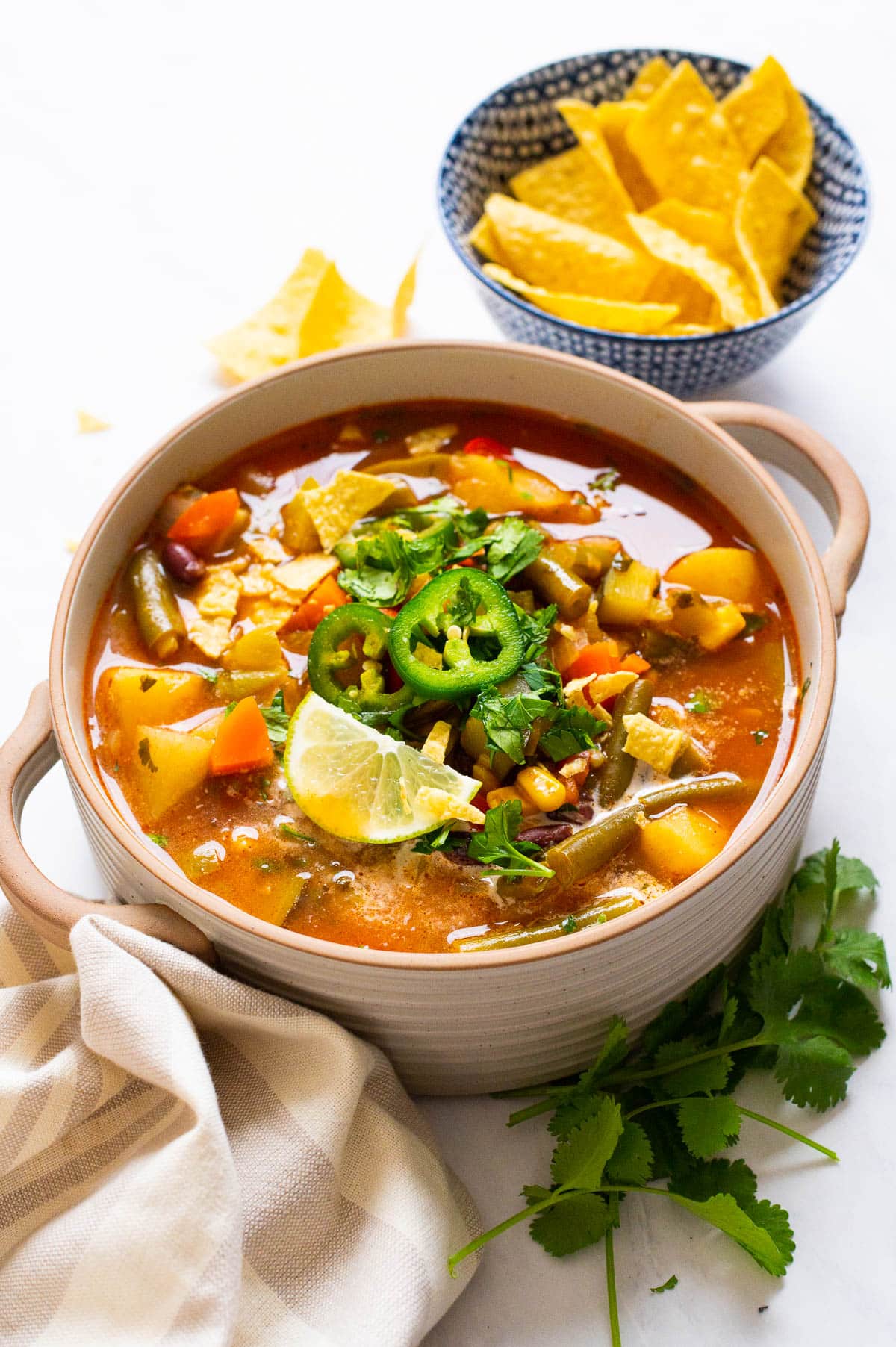 Mexican Vegetable Soup Recipe
Easy Mexican Vegetable Soup Recipe is packed with fresh vegetables and rich, Mexican flavors. A delicious, hearty soup perfect a chilly night!
Instructions
Preheat large dutch oven or large pot on medium heat and swirl oil to coat. Add onion, garlic, carrots, bell peppers and saute for 4 minutes, stirring occasionally. Add oregano, cumin, salt, pepper and cook for 30 more seconds, stirring frequently.

Add potatoes, zucchini, corn, green chilies, black beans, tomato sauce and vegetable stock. Stir, bring to a boil and cover. Reduce heat to low and simmer for 25 minutes or until potato is fork tender.

Turn off heat and add lime juice and cilantro. If you like things spicy, add sliced jalapeno now. Stir and let soup sit for 5 minutes. Taste and adjust any seasonings to taste.

Serve hot garnished with cheese, jalapenos, cilantro and tortilla chips, if you wish.
Notes
Store: Refrigerate for up to 5 days in an airtight container.
Freeze: Cool, transfer to an airtight container, leaving some room for expansion, and freeze for up to 3 months.
Reheat: On the stove on low heat, thawed or frozen it just takes longer.
Frozen and other vegetables: Use any your favorites. You might have to add more broth with some veggies.
Adjust sodium: Add less salt and do so in the end if not using low sodium broth and tomatoes.
Diced tomatoes: Use for less red vegetable soup instead of tomato sauce.
Nutrition
Serving:
2
cups
|
Calories:
238
kcal
|
Carbohydrates:
47
g
|
Protein:
9
g
|
Fat:
3
g
|
Saturated Fat:
0.5
g
|
Sodium:
407
mg
|
Fiber:
10
g
|
Sugar:
10
g