We Went Camping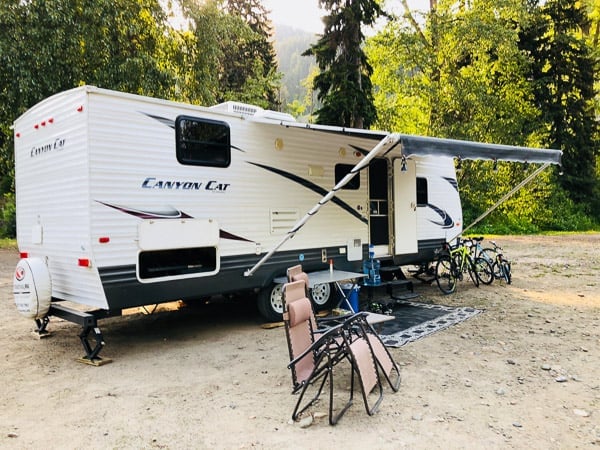 We rented a trailer and went camping for 1 week. Well, I went for 4 days but Alex went up with the boys earlier (thank goodness for luxurious American life with 2 cars). It was so nice to stay home by myself for 2 days – first time since I had kids, that's like 12 years! Since we both work from home and have no family around, we are always together – I for sure will have 0 guilt about not spending enough time with my kids haha. I would be able to say "I was there" 100%.
What did I do? For starters, I ate slowly, savoured every bite without rushing to eat while biting my cheeks in order to parent during dinner time. Then I didn't talk to anyone for 2 days. It was amazing not to answer any questions! I went for walks, did my puzzle, had a drink, read a book – I had a blast. And it was super awesome not to report every step I made. I feel like I'm constantly under the radar: "who are you texting?", "where are you going?", "what are you doing?", "what's for dinner?". Do you, moms, share my feelings?
So, camping was good. Kids had a blast for sure! I mean, boys. What 11 year old wouldn't love to chop wood and ride an ATV, and what 7 year old wouldn't enjoy rolling in dirt and paint rocks, "crystals" he has discovered during his daily geological expeditions?!
We are not camping snobs but I definitely like modern life convenience and mobility. That's why we rented a trailer which was awesome because the guy delivered and picked it up, it was completely stocked and cost $800. We had to do nothing. We like camping once a year but are not interested in owning a trailer and prefer more active and pampered "vacation".
I Want This Dog
Our camping group consisted of 10 families, so naturally there were a lot of kids and dogs. There was this one dog, a Pomeranian, that had a constant lineup to cuddle with. He is 7 years old, didn't bark even once and smells like a shampoo. I want this dog! Now that boys are older more than often I'm thinking about a little companion, a dog, since Alex is completely against baby #3 (and I don't blame him because the age). I used to be a cat person but I'm obsessed with this dog!!! Am I crazy? Do you know anything about this breed? Alex looked them up on Craigslist and they go for over $2,000. OMG, I can't do that.
His name is Kujo. Isn't he THE CUTEST?!
What I'm Reading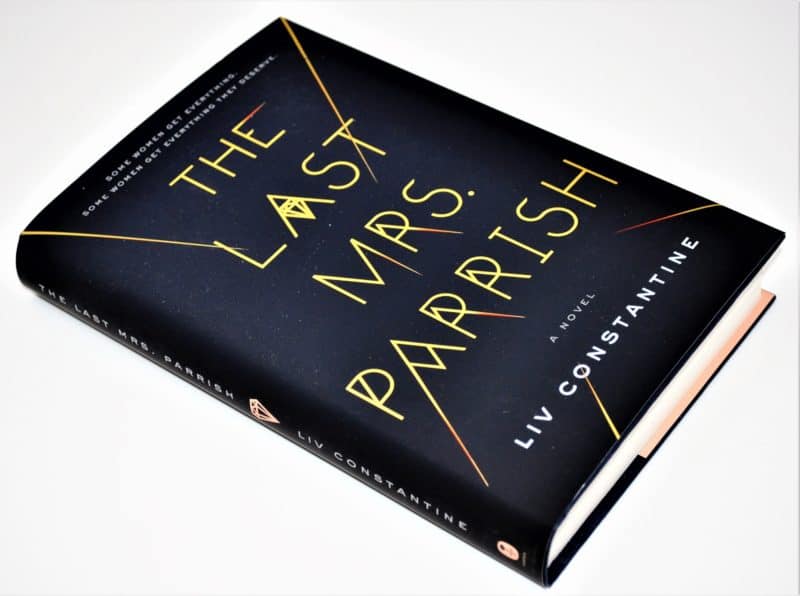 I finished "Truly, Madly, Guilty" by Leanne Moriarty. Meh. Honestly, not worth it. Her other books are way better. I found her characters a bit depressing, all events over extended and there was no "jaw drop" at the end.
However, "The Last Mrs. Parrish" was phenomenal! I "swallowed" it by the fire while camping in 2 days. It offered a taste of luxurious life of privileged American wives, another reality check that you never know what's behind the closed doors of ANY house (especially the most gorgeous one) and I definitely had to slap my hand from skipping to the last pages to find out "WHAT actually happened?!".
I'm Trying to Eat Low Carb
I'm not on a diet, as you know I'm against diets as they don't work. I'm eating same real food and healthy, just more vegetables and less carbs, even complex ones. Summer came and with it a reality of more jiggly mid section, I would say extra 5 lbs. But aren't those the nastiest to lose?! So, I'm doing my best to make cauliflower rice recipes, delicious balsamic marinade for grilled vegetables and drink more protein + water and nutrition rich smoothies like raspberry smoothie recipe.
I Cut Back on Wine A Lot, Again

I'm doing it again. In May coffee date I shared my preferred drink of choice – lime vodka with flavoured club soda. It is less calories, less sugar and much less headache in the morning than wine. Sometimes I would have wine with dinner but overall I am saying "good bye" to wine as a regular weekend drink. We are just not doing well together. I have to say I feel less tired without wine in my life.
I Started Working Out Again
I decided to go back to doing Turbofire HIIT workouts. I saw great results doing them and losing post-baby weight 7 years ago (OMG stop the clock!!!), they do not take a lot of time and burn 9 times more fat than regular exercise because your heart rate stays high for up to 24 hours post-workout.
As you can tell I don't love to workout but more than that I do not like getting a bit chubby. And also hands are quite shaky post-workout when mixing a protein drink. 🙂
It Has Been a Stressful Month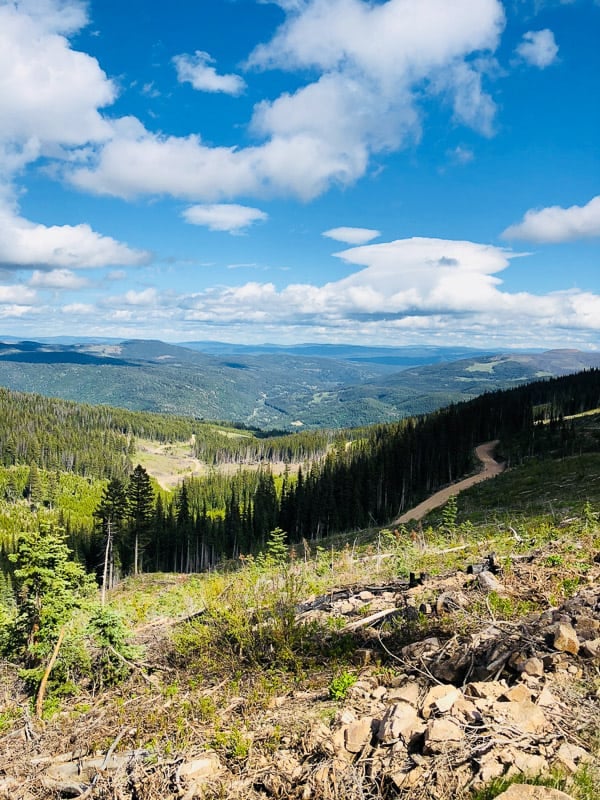 You know those big life decisions every family has to make once in a while?! The past few months we had to make a few. Due to their nature, I can't share them publicly just yet BUT big news are coming your way. I had a few sleepless nights and many-many endless conversations with Alex, and whatever we are doing is entirely of my comfort zone and I promised myself never to do it. And yet, here I am executing the mission full force, my friends.
Deep down I know it is worth it and once it's all over I will be happy for many-many years ahead. It's just super hard right now and I'm a rollacoaster of emotions. I'm a big girl and will get over it one day but I think I'm almost over the condition of "one day a time".:) I will share very-very soon!
I'm Going to 2 Conferences in September
Now that all tickets, flights and hotels are purchased and a significant sum of money has left my account, I'm ready to share that I will be attending 2 food blogger conferences in September. And I couldn't be more excited because if you think after I went on maternity leave 8 years ago, I never ever socialized with people in kidless environment. Scary, I know, but I promise I'm still normal. So I'm super excited to meet other like minded people, learn a lot, not to mention travel and explore all by myself like a big girl. Travelling and spending every single day with family is awesome but I desperately miss time by myself. Like waking up and worrying about only yourself for a few days sounds magical.
So, mid of September I'm attending Tastemaker conference in Salt Lake City, UT. Yay, how beautiful, right?! If you are going too, please say "hi" when you see me there.
And more towards the end, I-am-going to Blog Brulee in Burlington, VT. And guess what?! I'm a speaker. Pinch me now but not too hard. If you are one of RDs attending, say "hi" to me now or definitely come and give me a hug. Now as awesome as it is, getting to a ski resort outside of a small town on the East coast from West coast should be an adventure of its own. How fun though?!
That's it for June, my friends! If life gives you lemons, make lemon juice, remember?! We have lots of fun planned for July but I'll save it for July coffee date. Enjoy your summer!!!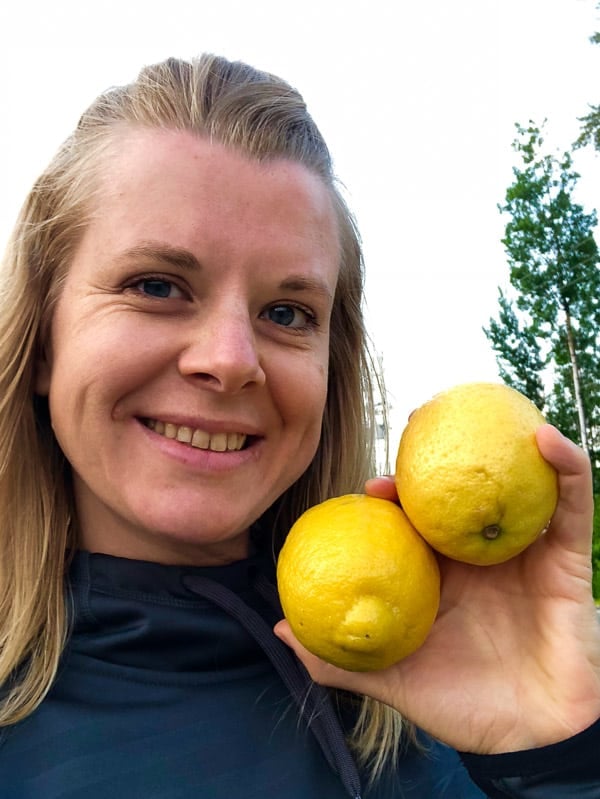 Next up is July coffee date.