The best homemade tangy Balsamic Marinade for Grilled Vegetables that's perfect for your next BBQ! Thick cut veggies are chargrilled then tossed in marinade for a summer side that pairs well with healthy grill recipes!
Serve this recipe alongside other grilling season faves like this grilled romaine lettuce or extra grilled zucchini!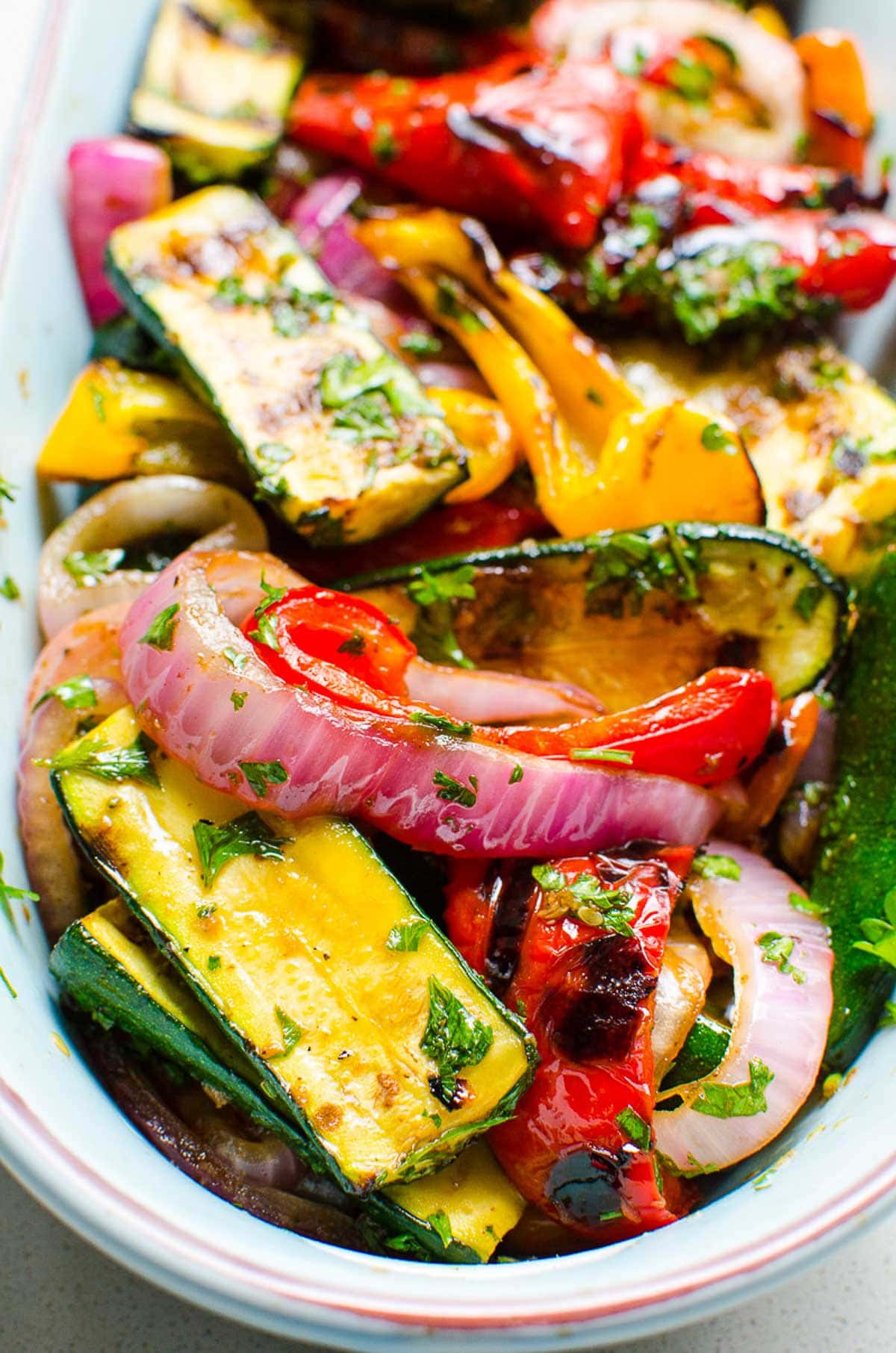 Balsamic marinade for grilled vegetables is one of my favorite ways to enjoy veggies in the summer. It's fresh, it's healthy, and when using a variety of different colors, it's beautiful!
It's a quick and simple side dish that takes very little effort at all, and is infused with so much flavor not only from the balsamic marinade but from the grill itself.
It's not only a hit at BBQs and potlucks but it's also a hit any day of the week. Serve these balsamic grilled vegetables alongside turkey burger recipe or ground chicken burgers and your kids will be begging for seconds!
This grilled vegetables marinade works with almost any crispy tender vegetable, and although it's the same marinade used for everything, grilling helps bring out the incredible individual flavor of each different veggie.
The Best Marinade for Grilled Vegetables
Preparing grilled veggies is an amazing way to show off what you've got growing in your garden, but it's also a nice excuse to visit your local farmer's market. This recipe works with the stovetop and oven, but in the summertime, there's nothing better than grilling your vegetables!
It's such an easy side with ultimate flavor from the zesty marinade plus it goes with most main protein dishes, from carne asada steak to grilled salmon.
It's also suitable for any guests you are serving as grilled vegetables are naturally low carb, dairy free, gluten free, and vegan!
It's versatile, customizable, and I guarantee it will steal the show at your next summertime cookout!
Ingredients You'll Need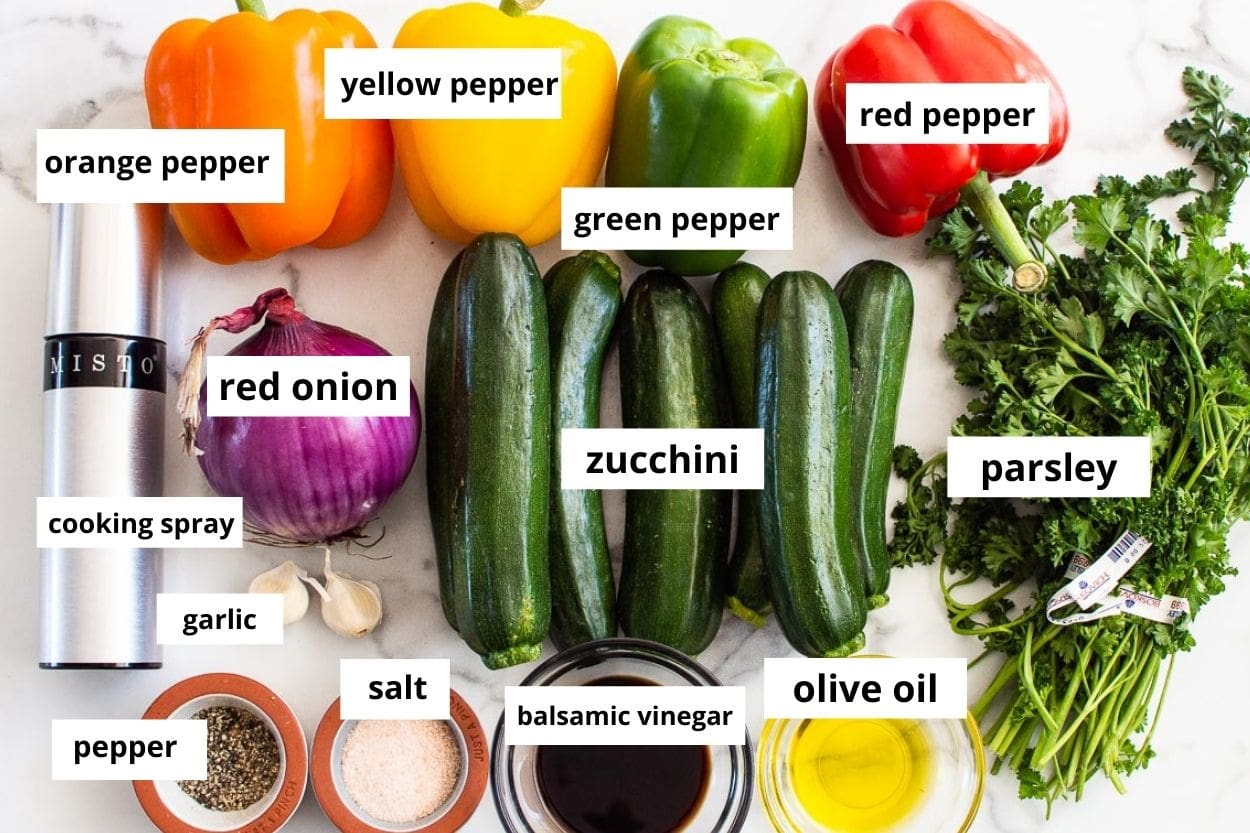 Take your everyday veggies and make them exciting again with this grilled vegetables marinade recipe, and when serving a crowd, double or triple the recipe!
Olive oil: Extra virgin olive oil adds depth to your balsamic marinade.
Balsamic vinegar: Rich and complex with a slightly sweet yet tangy flavor.
Fresh garlic cloves: The best aromatic in my humble opinion!
Salt and pepper: To season and taste.
Fresh herbs: Fresh parsley or basil, this really gives it that fresh summer taste.
Assorted vegetables: I used zucchini, bell peppers, and red onion. You can use any firm vegetable.
Cooking spray: I use Misto. This will help your vegetables from sticking to your grill grates.
Which Vegetables Are Best for Grilling?
Any firm spring or summer vegetable works. As long as it will hold firm on the grill but also won't get soggy as it sits in the grilled vegetables marinade.
Zucchini
Yellow squash
Red pepper (or yellow and orange)
Green bell pepper
Red onion
Mushrooms
Asparagus
Eggplant
How to Make Grilled Vegetable Marinade
Easy and versatile, some may even call it balsamic dressing!
To make the balsamic marinade whisk all dressing ingredients in a bowl. Then set it aside, we will season vegetables after grilling.
Growing up in the Ukraine we cooked simple food, so no long marinating time was needed then or now!
Best Way to Grill Vegetables
Cut them thick and then place them directly on your grill grates. Perfection!
Wash and cut vegetables. I like to cut bell pepper into wide strips and the onion into "steaks."
As for zucchini, you have to go by its size. Baby zucchini need a slice lengthwise and maybe a chop in half for shorter "sticks." Huge garden zucchini is best sliced in thick rounds.
Grill veggies of similar size and thickness at the same time, for even cooking.
Grill vegetables covered on low heat for 12 minutes turning once. Vegetables should be tender to the touch, with nice grill marks. Cook longer if you like softer vegetables.
If you have your vegetables into smaller pieces, consider using a grill basket that way you don't lose any to the BBQ black hole.
Toss with balsamic dressing and fresh herbs. Add vegetables to a large bowl or serving platter, drizzle with balsamic dressing and toss with fresh herbs.
You could even add a squeeze of fresh lemon juice, if desired.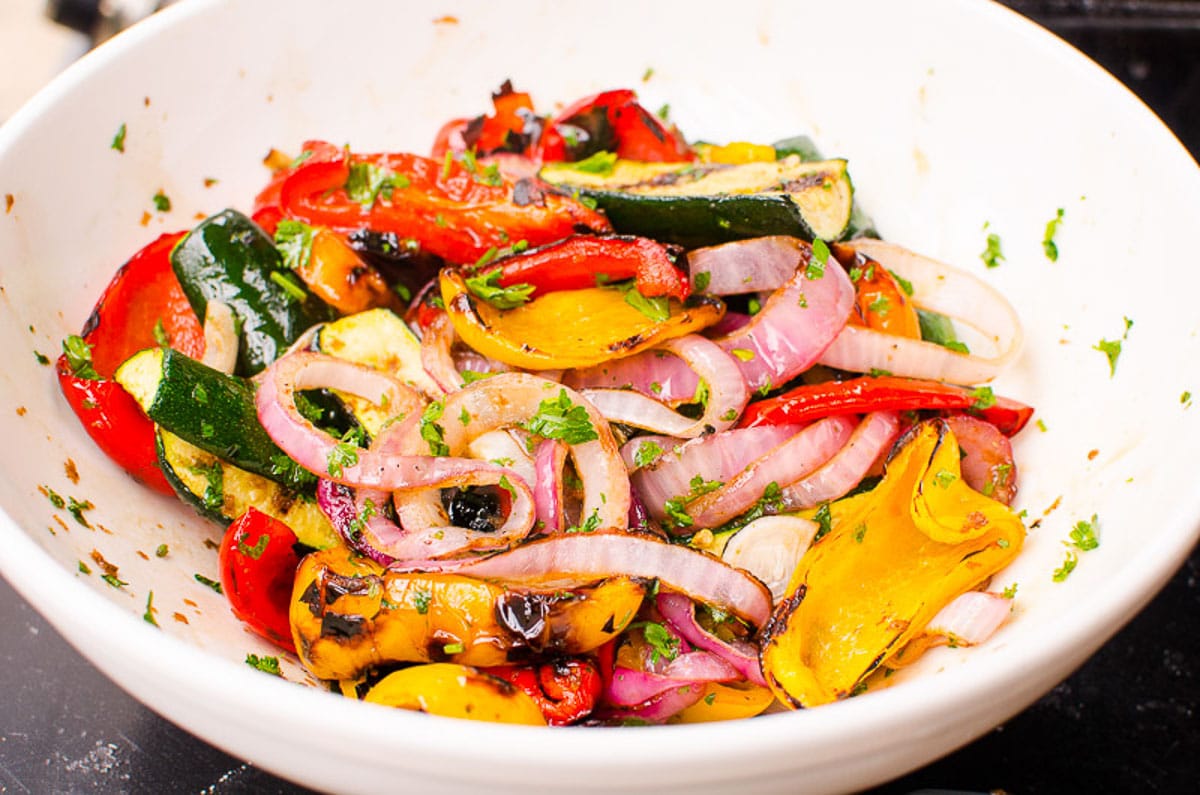 Serve warm or allow it to chill, it's up to you! The longer they sit, the better the flavor.
FAQs
Should I Marinate Vegetables Before or After Grilling?
For this recipe the balsamic marinade is best added after grilling them! So really instead of marinated grilled vegetables, we are grilling vegetables then adding marinade.
Hot vegetables absorb the flavor so much better than raw vegetables, trust me. Plus, it's a huge timesaver not to wait around for those veggies to be marinated.
Can I Make These In the Oven or On the Stove?
If you want to try oven roasting them instead, bake in the oven at 425 degrees F for 20 minutes and then toss them in the dressing.
You could try cooking vegetables on the stove in a deep skillet but it might take a few batches to get them done. You want to avoid overcrowding the skillet and risking mushy vegetable results.
Can I make this ahead of time?
Yes, cut up vegetables, place in a large bowl or container, cover tightly with plastic wrap, and refrigerate for up to 3 days. Because vegetables contain a lot of moisture, they will not dry out.

Make the balsamic marinade up to 7 days ahead. Just give it a good whisk before using.
What can I make with leftover grilled vegetables?
Grilled vegetables store well for 3 days in the fridge! We love them cold, but you can get creative.

You can always add leftover veggies at the very end to a soup. Nothing goes to waste in our household and shouldn't in yours too.

Repurpose leftovers in different ways. In a sandwich, on a lettuce salad, or use as a pizza topping on oatmeal pizza crust, inside quesadillas, you name it.
Can I freeze grilled veggies?
You can freeze grilled veggies based on two things. One, you freeze them without the dressing. And two, know they will be soggy once you thaw them.
How to Serve Grilled Vegetables
Grilled vegetables recipe is a classic and perfect for adding to your healthy dinner sides for summertime. Therefore it only makes sense to grill meat or fish to go with it:
More Healthy Grilling Recipes
Browse my all my favorite healthy grill recipes for delicious dining all summer long!
Best Balsamic Marinade for Grilled Vegetables
Ingredients
1

lb

zucchini

sliced lengthwise into shorter sticks

1

lb

bell peppers

sliced into wide strips

1

large red or white onion

cut into 1/2 inch thick rounds

1/3

cup

Italian parsley or basil

finely chopped

Cooking spray I use Misto
Instructions
In a small bowl, whisk together olive oil, balsamic vinegar, garlic, salt and pepper. Set aside. Preheat grill on low heat and spray with cooking spray.

Place vegetables in a single layer on the grill, close the lid and cook for 12 minutes, flipping once. Vegetables should be tender to the touch, with nice grill marks. Cook longer if you like softer vegetables.

Transfer vegetables to a large bowl, pour balsamic dressing on top, sprinkle with parsley or basil and gently mix.

Serve hot, warm or cold with grilled meat or seafood, and a side of quinoa or brown rice.
Notes
Make ahead: Refrigerate vegetables and dressing separately for up to 3 days. Place jar with marinade in a bowl with hot water for 5 minutes to melt the oil.
Store: Refrigerate for up to 3 days.
Grills vary. Cooking time will vary depending on the age and make/model of your grill. 
Other vegetables to use: Any firm vegetable that holds up well grilling will work. See post for a list.
Nutrition
Serving:
1
cup
|
Calories:
92
kcal
|
Carbohydrates:
10
g
|
Protein:
2
g
|
Fat:
5
g
|
Saturated Fat:
1
g
|
Sodium:
401
mg
|
Fiber:
3
g
|
Sugar:
7
g