I miss you, guys! I get so caught up in recipe development, I totally miss you. Let's have monthly coffee dates from now on! First one, May coffee date, or shall we call it vodka + club soda date?! It's been that kind of a month.
Drink of Choice
Past month I have moved away from wine for same reasons as last year and my current default drink is lime vodka + flavoured club soda. This year there is an abundance of different flavoured club sodas on grocery store shelves  and I'm enjoying every minute of it. It's 0 calories, only natural flavour (which I'm willing to close my eyes on), cheap and my kids love it as "a pop". We are all hooked!
The first picture of me drinking on a Wednesday night was in an effort to nurse the never ending pain. Last month I decided to get a dental implant and it has been the most excruciating pain for 2nd week now. It is worse than any post-labour recovery I have ever experienced. I'm talking like day 7 only Tylenol 3 cured pain. It's day 13 and I'm still taking Advil.
I don't think I would ever get a dental implant again, I would be OK to live without a tooth if it isn't aesthetically affecting my smile. So, I haven't been feeling great and I'm not used to it…
Royal Canadian Circus
We went to a circus show and it was magnificent! I grew up with once a year outing to circus and it has always been a highlight of the year. Circus is such a European thing. So, imagine how happy I was to take my boys, they have never been and were genuinely amazed with majority of acts. One act Adam said that he has seen better on Youtube. OK buddy, but this is live, I told him. Oh my, kids 2018 are so 2018.
But they still loved it so much! And it was dirt cheap on Groupon, $35 for 2 tickets for 2 hours show. I loved there was no animals (only horses) and quality performers from all around the world. If you are in Canada, check out Royal Canadian Circus for a show near you this summer.
Nature
Now that summer and spring are here I'm reconnecting with nature almost daily. Quite often I go for an evening walk on the dykes and sit on this very bench and observe. All by myself. With all of us working from home and kids away only during school hours, I longe for time alone. Just quietness and stillness. Boys are crazy humans, even grown ups, so I need to enjoy my pace. Even without girlfriends.
I sit and watch this pond with a great pleasure remembering a few summers spent in remote tiny village of Moldova at grandma's house. It's amazing what you see when you stop and look around, not on a screen. Beavers moving the logs, Canadian geese families out for dinner, bees flying right in front of my eyes. And sounds – small airplanes, birds, train…Life around us. Our world is amazing!
When was the last time you stopped and looked around?
Kids
Time flies, moms! What can I say. I'm sure you can relate. It's a bittersweet. I am noticing it now more than ever because my kids are at that perfect age when I want to hit a "pause" button.
It has been a pure joy mixed with a lot of tears and worries watching Kyle to grow into this competitive athlete this past spring hockey season. His body is between boy's and a teenager's, his confidence is up (we had issue with that) but he is not moody like a teenager and is still my boy who gives me kisses, hugs and snuggles.
I can't believe it's the newborn baby I was thinking about throwing out the window at 4 am 12 years ago. Yes, "hi" postpartum depression.
And Adam…what a character. He doesn't need any pro-hockey training for a confidence boost, for sure. He stopped calling me "mommy", he tells me when he grows up he will travel in the US and come visit me in Canada sometimes, and has our house drowning in origami airplanes and rainbow loom jewellery.
These days I'm seriously sad my kids are growing and think about it a lot. Alex said definite "no" to a 3rd baby.
Food
Past month I couldn't get rid of a constant feeling that "there is nothing to eat". I've been defeated. Everyone is always home and eats 3-4 full meals a day. Meal prep days don't seem to help me either because it takes 5-6 hours at a time and still no food 2 days later.
We have been buying a lot of bagels, buns and different bread and boys eat them with butter, cream cheese, jam or peanut butter. Both me and Alex can't keep up between feeding everyone and work. I have officially entered the stage of feeding 3 full-size men.
If it was me, I would eat Opa skewers and salad for dinner every night.
Reading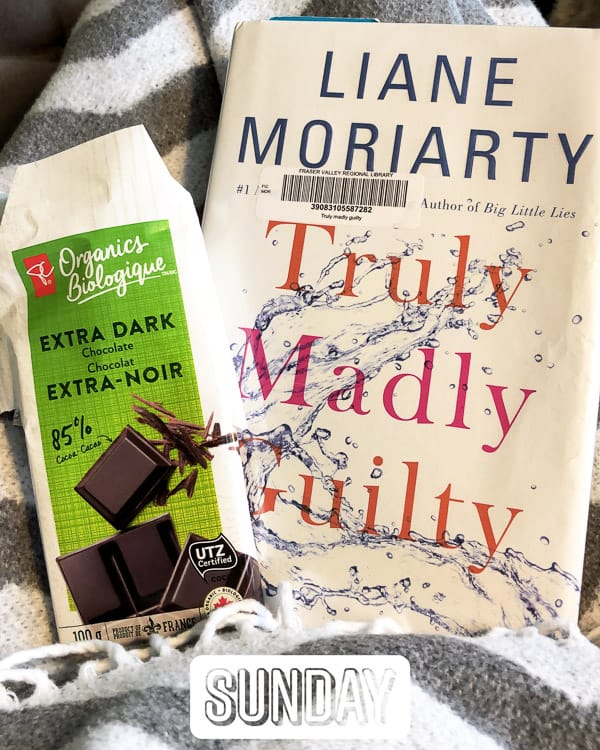 I have read a very good book I highly recommend The Lake House by Kate Morton. It takes you back to the beginning of last century when a baby mysteriously disappears from a nursery during a summer party. Events take place in England and as an European I appreciate a good story filled with tea times.
Truly Madly Guilty by Leanne Moriarty is going very slow for me. I originally fell in love with Leanne reading Big Little Lies but I can't say I love this book. It's OK. Something happened at the neighbour's BBQ party and it takes a very slow book to get there.
What are you reading?
I think that's it for May. I hope I feel better in June (although allergies are crazy this month) and plans that we have been working on so hard for so long will finally come together and I will be able to share them with you!
I always-always share behind the scenes in my Instagram stories.
Next up is June coffee date.