Homemade Blackberry Muffins with fresh blackberries, a surprise creamy filling, and crisp almond topping. These bakery-style muffins make the perfect breakfast or dessert.
Plan ahead this weekend and make raspberry muffins and strawberry muffins.
I've been waiting all summer to bake fresh blackberry muffins. It's finally blackberry season here in BC and we took full advantage, grabbed our buckets, enjoyed the sunshine, and went picking!
I also have a whole carton of blueberries so lemon blueberry muffins and healthy blueberry muffins are up next.
Why You'll Love This Recipe
Easy: This recipe for blackberry muffins includes simple ingredients, made in one bowl, and out of the oven in 30 minutes so you can bake them anytime and never worry about your berries going bad.
Delicious: These bakery-style muffins are super soft, flavorful, and nothing short of delicious. Your kitchen will smell amazing too! You'll be enjoying them as a healthy breakfast and healthy snack in the same day.
Versatile: Blackberry season is short, so I'll use fresh berries when I can but you can use frozen blackberries too. You can also add a zest of citrus or have fun with more add-ins, I've included many variations below.
Budget friendly: Homemade muffins are way cheaper than bakery or store-bought, especially if you pick your own berries.
Ingredients for Blackberry Muffins
To make this blackberry muffins recipe you'll need the usual baking essentials, plump juicy berries and swirls of cream cheese.
Milk: Use whichever milk you have in the fridge. Whole milk is my choice because it adds an extra level of richness.
Egg: Eggs help bind the ingredients together and give the muffins structure. You'll only need 1 large egg for this easy recipe.
Oil: Choose any mild oil such as avocado oil, grapeseed oil, or canola oil. It adds moisture but we don't want the taste.
Maple syrup or honey: All my healthy muffins recipes call for maple syrup or honey instead of white sugar. It's an easy, healthy replacement that adds flavor and moisture.
Flavor extracts: I often suggest almond extract as a good substitute for vanilla extract, but using a teaspoon vanilla extract and almond extract adds incredible depth of flavor to these.
Baking essentials: Baking powder, baking soda, and salt. These staple ingredients work as leveling agents and enhance the overall flavor.
Flour: I used all purpose flour, you can also use whole wheat flour but be sure to use one of these options or this recipe will not work.
Blackberries: Fresh blackberries are best when they're available. You can also use frozen blackberries, there is no need to thaw them first.
Cream cheese: The soft cream cheese surprise makes these muffins moist and fluffy while adding a creamy, tangy taste to every bite.
How to Make Blackberry Muffins
Blackberry muffins are easy to make in one bowl and freezer-friendly! Here's an outline with 4 simple steps, there is a full recipe card below.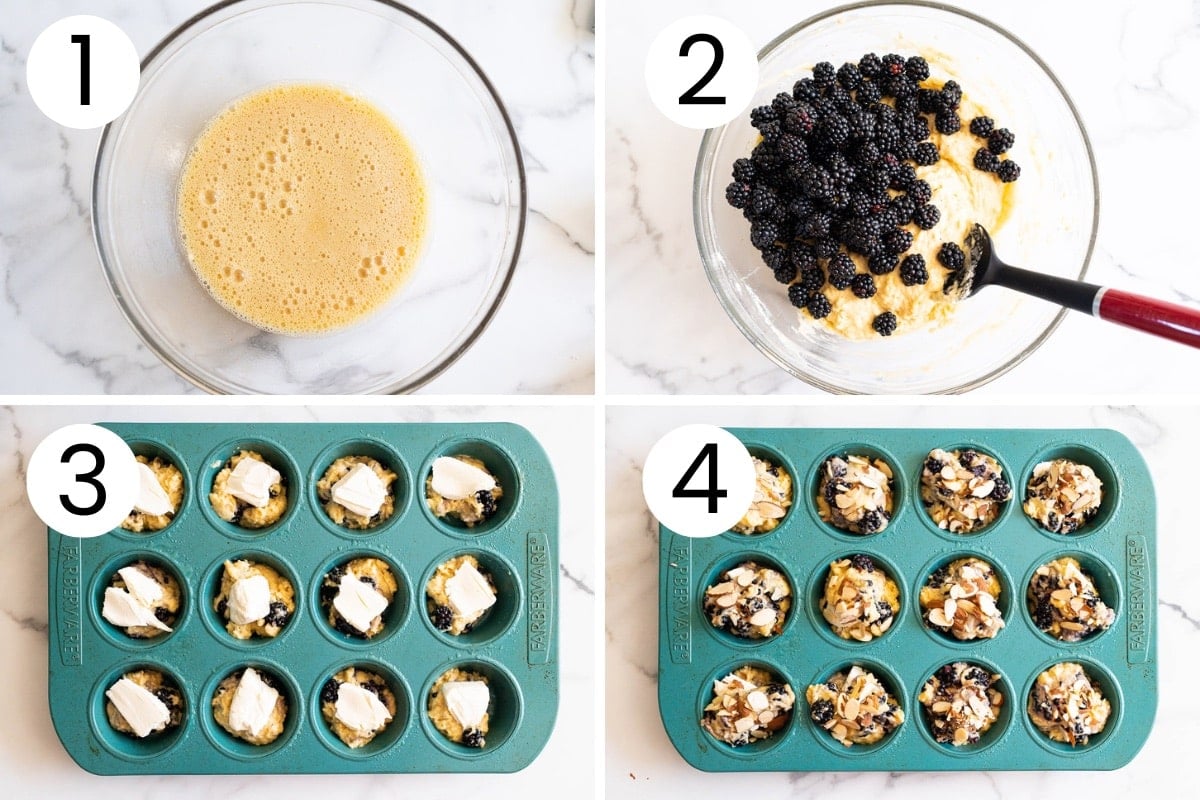 Start by preheating your oven to 375 F, spray a non-stick 12 muffin tin with cooking spray, or line with paper liners. Set aside.
Make the batter: In a large mixing bowl, add the milk, egg, oil, maple syrup, vanilla extract, almond extract, baking powder, baking soda and salt. Use a whisk to combine until you no longer see lumps.
Add flour and berries: Pour the flour into the large bowl and gently mix with a rubber spatula, just enough to combine, it's OK to have a few white flour patches. Then finish the batter by gently folding in the blackberries.
Full muffin pan and bake: Cover the bottom of each muffin cup with a spoonful of batter, then add 1 tablespoon of cream cheese on top. Next, use a regular ice cream scoop to evenly distribute the remaining batter, and sprinkle with slivered almonds. Bake until a toothpick inserted in the center comes out clean, roughly 20-22 minutes.
Cool and enjoy: Let berry muffins cool on a wire rack for 10 minutes and enjoy!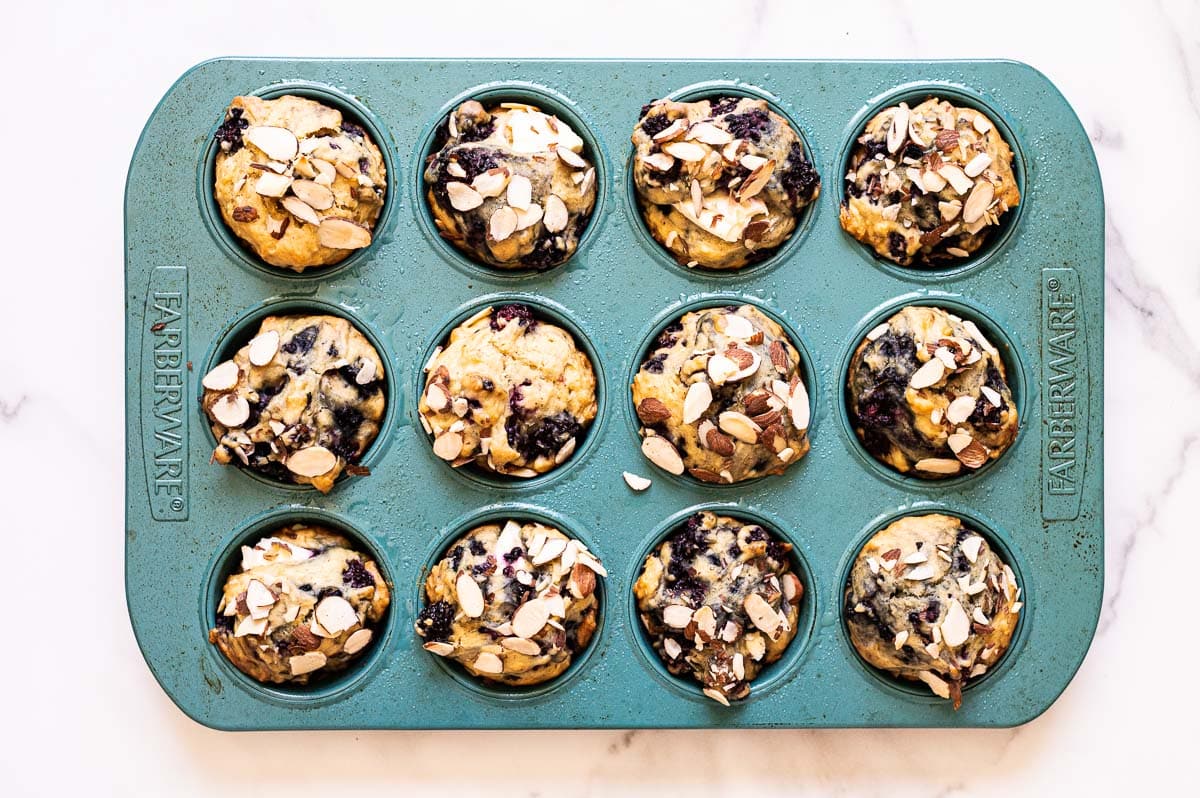 Tips for Best Results
Here's all my secrets for making the best blackberry muffin recipe.
Don't overmix the batter: To enjoy light and fluffy muffins make sure to mix the batter gently and just enough to combine the ingredients.
Baking time may vary: All ovens and pans vary. I find all my muffins are ready in 20-22 minutes but you may need less or more time. Use a toothpick to check doneness, and I recommend checking around the 18 minute mark.
Measure flour correctly: It's fast and easy to just scoop the flour right out of the bag but that can lead to dry muffins due to too much flour. For best results use the scoop and level method, use a spoon to fill measuring cup, then level off with the flat edge of a knife.
Use ice cream scoop: A trigger ice cream scoop or cookie scoop is the best, foolproof method to evenly distribute the batter and promote even baking with beautiful presentation.
Use sweet blackberries: Fully ripe blackberries are very sweet, if they aren't ripe they can be bitter. Look for ones that are deep black, plump, and tender. And if you're picking them, they should pull free easily with just a slight tug.
If using frozen blackberries: Don't thaw frozen berries before baking. If you thaw them, the moisture will change and you'll end up with soggy muffins.
If you don't have almond extract: You can skip it and use 1 teaspoon cinnamon instead.
Variations
Other berries: Try raspberries, blueberries, strawberries, or cranberries. You can use a mixture or simply replace the blackberries with your choice of fruit.
Add citrus flavor: For a burst of citrus add some lemon zest, lime zest, or orange zest to the batter. A tablespoon of lemon juice would also add zest.
Make without cream cheese: These muffins with blackberries would be just as delicious without the cream cheese filling, so if you don't have any you can omit. Or sub with plain Greek yogurt for a tangier muffin.
Instead of sliced almonds use: Pecans and walnuts are my favorites if I don't have almonds.
Other add-ins: Warm them up by adding ground spices to the batter such as cinnamon, nutmeg, or cardamom. Add nuts into the batter for crunch, or add a sprinkling of powdered sugar, coconut flakes, or oats on top.
Use streusel topping instead: For a nut free muffin add a crumbly streusel topping. Mix 1/4 cup all-purpose flour, 2 tablespoons granulated sugar, and 1 tablespoon unsalted butter at room temperature in a medium bowl, then sprinkle on top.
Make mini muffins: Mini muffins are great for the lunch box. Follow the same recipe, distribute batter evenly between mini muffin cups and bake. The total time for mini muffins is around 12-15 minutes, make sure to test with a toothpick.
Bake into a loaf: Recipes for healthy muffins and loaves are interchangeable with a tweak of cook time and oven temperature. Preheat your oven to 350 degrees F, and the total time it needs to bake will increase to 50 – 60 minutes.
How to Store
Store: Moist, fruity muffins are always best stored at room temperature and covered with a towel for the first 2 days. After that, transfer them to a container with a lid and keep them in the fridge for 3 days.
Freeze: Let the muffins cool completely and place them in an airtight container. You can keep them in the freezer for up to 3 months. To thaw, microwave or set on the counter for a few hours.
FAQs
Can I use frozen blackberries?
Yes, but don't thaw them first or you'll have mushy muffins. Your muffins will taste less sweet because growers freeze less ripe blackberries.
How do I know my muffins are ready?
The best way to test doneness is with a toothpick. Insert a toothpick into the center of the muffin, as soon as it comes out clean or with a few moist crumbs your muffins are ready.
Why are my blackberry muffins too dry?
Dry muffins are a result of too much dry ingredients, usually flour. Make sure to measure the flour correctly with the scoop and level method.
How to make muffins have a dome top?
For a defined dome top start baking at 425 degrees F for 5 minutes, the turn the temperature down and continue baking. You can also use baking powder instead of baking soda.
What is the secret to moist muffins?
You'll recreate perfectly moist muffins every time as long as you don't overmix, don't overbake, and remove the muffins from the oven as soon as the toothpick comes out clean. Remember muffins keep baking with residual heat.
More Muffin Recipes to Try
Blackberry Muffins
Homemade Blackberry Muffins with fresh blackberries, a surprise creamy filling, and crisp almond topping.
Instructions
Preheat oven to 375 degrees F and spray non-stick 12 muffin tin with cooking spray. Set aside.

In a large mixing bowl, add milk, egg, oil, maple syrup, vanilla extract, almond extract, baking powder, baking soda and salt. Whisk well until combined and no small lumps are visible.

Add flour and mix gently with spatula just enough to combine. Do not overmix and a few white flour patches are fine. Gently fold in blackberries.

Drop a spoonful of batter into each muffin opening just enough to cover the bottom and add 1 tablespoon of cream cheese on top. Distribute remaining batter evenly (I use regular ice cream scoop) and sprinkle with almonds. Bake for 20-22 minutes or until a toothpick inserted in the center comes out clean.

Remove blackberry muffins from the oven and let cool for 10 minutes. Enjoy!
Notes
Store:

On a plate on a kitchen counter covered with a towel for first 2 days. Then transfer them to a container with a lid and into the fridge for another 3 days.

Freeze:

Bake, cool and place in an airtight container. Freeze for up to 3 months. To thaw, just place one muffin on a counter for a few hours or microwave.
Nutrition
Serving:
1
muffin
|
Calories:
236
kcal
|
Carbohydrates:
29
g
|
Protein:
5
g
|
Fat:
11
g
|
Saturated Fat:
4
g
|
Trans Fat:
0.002
g
|
Cholesterol:
31
mg
|
Sodium:
268
mg
|
Fiber:
2
g
|
Sugar:
10
g