Learn How to Store Muffins the right way! Here's everything you need to know about keeping your homemade muffins fresh for days, weeks, or months.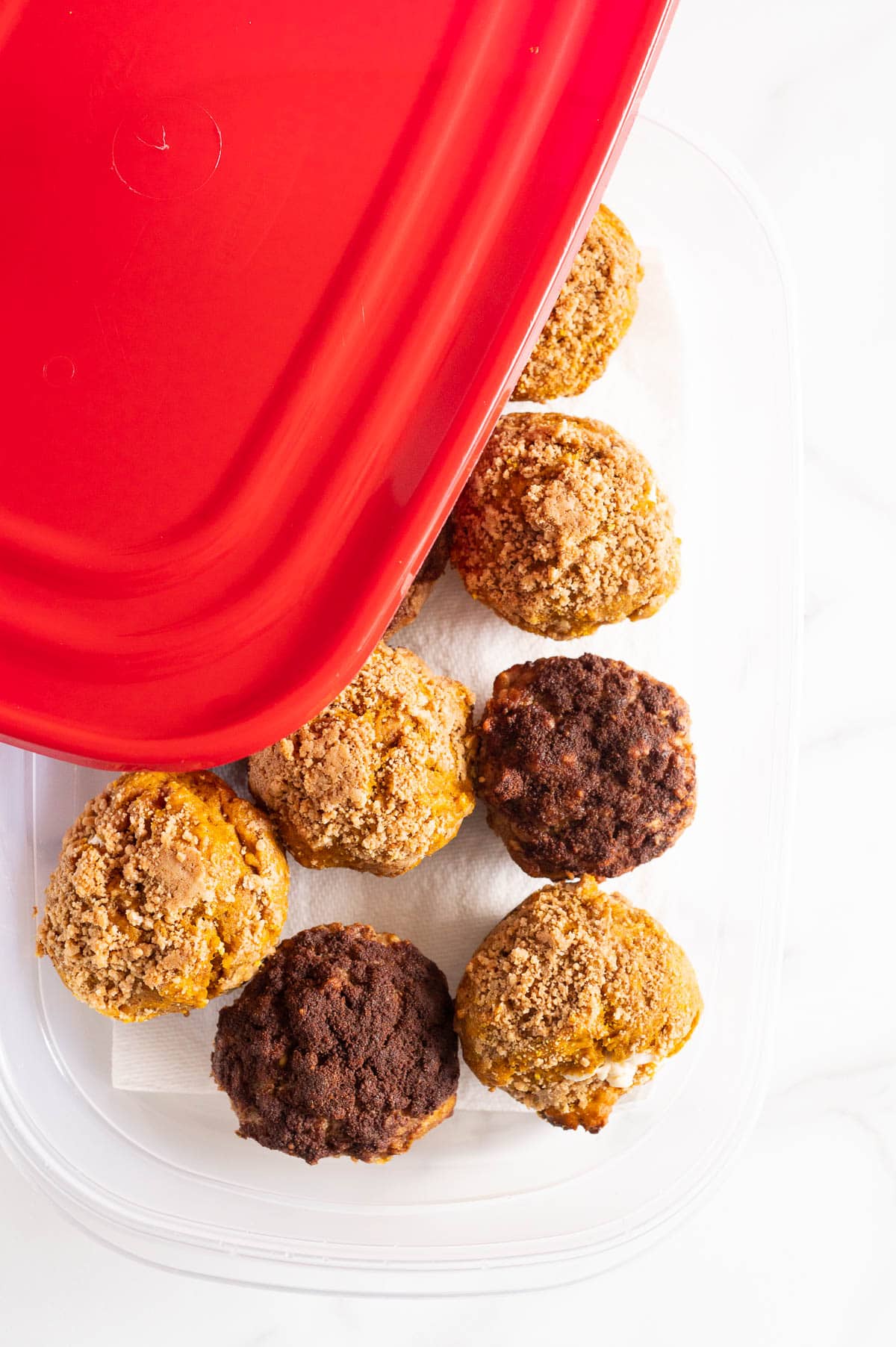 To save time and money I'll almost always make a double batch of healthy muffins, that way we can enjoy some fresh and store the rest for later because we all know they make the easiest breakfast or on-the-go snack!
But how long do muffins last? If stored correctly they'll stay moist and flavorful for up to 3 months.
How to Store Muffins First 24 Hours
If you know the entire batch of muffins will be gobbled up in the first 24 hours, then storing muffins is easy.
Bake and let them cool completely on a wire rack. Then all you'll need to do is cover them with a clean kitchen towel, that's it! They'll keep fresh at room temperature without drying out, even overnight.
How to Store Muffins for Up to 4 Days
Here's a quick overview of how to store muffins for up to 4 days. Want a hint? The secret is paper towel.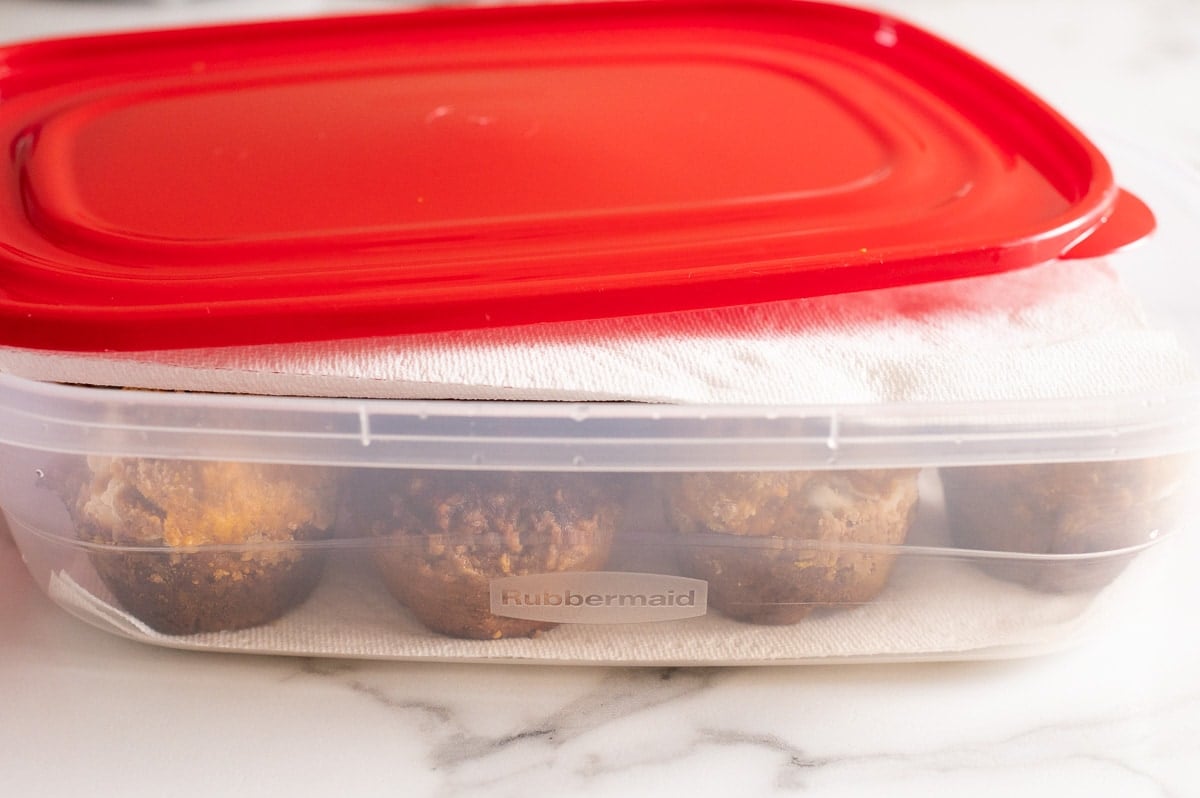 Why Do You Use Paper Towels?
The best way to store muffins is at room temperature, and paper towel is the key to peak freshness.
As muffins age, any moisture that forms will travel to the surface making them unpleasantly soggy. The paper towel acts like a sponge to soak up that moisture.
Another neat trick for removing moisture is using saltine crackers, just stick a few in the container.
Can I Store Muffins in the Fridge?
Most muffins no, because it alters their taste and texture. Regular whole grain muffins and banana muffins do well at room temperature.
However, some muffins are more wet than others like almond flour strawberry muffins and strawberry muffins.
Also many muffins made with almond flour, or any other nut flour, gluten free muffins have a lot of moisture. So do heavy on pumpkin puree muffins like healthy pumpkin muffins with cream cheese or any other heavy loaded fruit muffins like healthy apple muffins.
So I would say these types of muffins would benefit from refrigeration for 2 more days after initial 24 hour storage on a countertop. Then freeze after that.
Can I Freeze Muffins?
Yes! Here's how to store muffins in the freezer and lock in flavor for up to 3 months. Also be sure to check out our full post how to freeze muffins for more tips and tricks.
Storing in a Ziploc bag is the easiest method.
In a single layer, set your muffins inside and suck out as much air as possible to prevent freezer burn, I find using a straw helps. Seal the bag and set flat in the freezer.
You can also wrap each muffin in plastic wrap individually and then place in a bag.
How to Defrost Muffins
When you're ready to enjoy a healthy treat grab a frozen muffin and let it thaw at room temperature.
Alternatively, place unwrapped muffin on paper towel and microwave, 20-30 seconds is perfect.
Top 7 Tips for Storing Muffins
FAQs
How long do you have to leave muffins in the pan after baking?
Leave them in the pan for 5-10 minutes at the most, otherwise they will overbake.
How many days will muffins stay fresh?
Muffins will stay fresh for 3-4 days at room temperature, freeze after that to keep them fresh longer.
How do you refresh old muffins?
If muffins get a bit stale, sprinkle them with water, place in a brown bag, and bake in preheated oven set to 350 F for 30 seconds.
How do you store muffins so they don't get sticky?
Let them cool completely so there is no moisture and condensation built up in the container.
Reader Favorite Muffin Recipes to Try
Easy Muffins for Beginners
How to Store Muffins
Here's everything you need to know how to store muffins fresh for days, weeks, or months the right way!
Instructions
Bake muffins as per recipe and let them cool completely on a wire rack.

For the first 24 hours, just cover them with clean kitchen towel and store on a counter.

To store muffins for another 2-3 days, line large container with a lid with double folded paper towel. Place as many muffins on top as you can fit comfortably covering with another double folded paper towel sheet.

Place lid on top and store on a counter for 2-3 more days.

After transfer any leftover muffins into the freezer.
Notes
Reheat: Reheat muffins in a microwave in 15 seconds increments. Air fryer is also great for that!
Freeze: See our post on how to freeze muffins.
Nutrition
Serving:
1
muffin
|
Calories:
11
kcal
|
Carbohydrates:
2
g
|
Protein:
0.4
g
|
Fat:
0.1
g
|
Saturated Fat:
0.01
g
|
Sodium:
22
mg
|
Fiber:
0.1
g