These 21 Healthy Muffin Recipes are perfect for enjoying as a wholesome breakfast, snack, or dessert. This list includes healthy muffins for kids and adults packed with nourishing ingredients like unrefined sweeteners, healthier flour alternatives (including gluten-free options), reduced-fat/oil, and even hidden veggies! The result are homemade muffins that will satisfy your sweet tooth while nourishing your body!
Prefer quick breads? Then check out these recipes for healthy lemon zucchini bread, healthy pumpkin bread, almond flour cinnamon bread, or a gingerbread loaf!
What are Healthy Muffin Recipes?
At their worst, muffins are just another sugar-filled snack filled with empty calories… but that's what makes them taste great, right?! Wrong! Below is a list of healthy muffin recipes that are packed with flavor AND wholesome ingredients. So whether you're looking for healthy breakfast muffins, healthy muffins for kids, or even gluten-free and flour-free options, this list contains something for everyone!
Here at iFoodReal, my mission has always been to make healthier versions of family favorites- snacks and desserts included. So, along with a long list of dessert bars (and balls), cookies and brownies, and cakes and pies, are delicious homemade muffins! However, unlike regular muffins, you can enjoy one (or even two) of these with no guilt!
With recipes that are packed with fiber, whole grains, natural sweeteners, and healthy fats, these make for great healthy breakfast muffins that won't spike your blood sugars or have you craving more snacks before a healthy lunch or dinner! Best of all, most of (if not all) the homemade muffins below are meal-prep and freezer friendly. I recommend making a double batch, ready to enjoy chilled or reheated for breakfast, as a snack, or dessert.
Let me know in the comments which of these healthy muffin recipes is your favorite!
Top Tips for Baking Healthy Homemade Muffins
Don't overmix the batter: When making muffins with gluten, make sure not to over-mix the batter if you don't want dense and chewy results. Instead, the wet and dry ingredients should be mixed until 'just combined' (don't worry if there are some lumps, it's normal).
Use the spoon and level method: when measuring the ingredients, it's essential to measure properly, so you don't end up with dense muffins. The best way to do this when using cup measurements is to spoon the ingredient into the cup and then use the back of a knife to level the top.
Omit 'white' flour: None of the below healthy muffin recipes contain white flour because it's primarily 'empty calories.' Instead, whole wheat, spelt, gluten-free blends, or even almond flour make for much more satisfying, healthy homemade muffins.
Check the leavening agents: This tip goes for any baking with leavening agents. There's nothing worse than going to the effort of making a recipe and ending up with flat, dense bakes. To test baking powder, combine 1tsp with ¼ cup hot water and watch for immediate fizzing. To test baking soda, use vinegar instead of water.
Make healthy ingredient swaps: The easiest way to adapt any recipe towards healthy homemade muffins is with more beneficial ingredients swaps; swapping sugar for unrefined sweeteners, oil for applesauce, and other 'moist' ingredients, white flour for whole grains, etc. Of course, it can take a little experimentation to get the texture and results 'just right', but luckily, I've done that work for you with this list of healthy muffin recipes.
FAQs
What makes a muffin healthy?
Regular and commercial muffins often contain high levels of sugar, low levels of fiber, and lots of 'empty calories.' For healthy muffin recipes, I try to minimize these 'empty' calories by relying on more nutritious flours/grains, unrefined sweeteners, and other wholesome ingredients when possible. The result are muffins that taste good but also nourish your body – that, to me, is a 'healthy muffin.'
What are the characteristics of a good muffin?
The perfect muffin should be moist and tender with a slightly chewy texture and delicate crumb. They shouldn't be too stodgy or dense. As for any other 'element,' that's up to individual preference, whether you like a crispy top, lots of add-ins, etc.
What is the healthiest type of muffin?
This depends on your idea of healthy; low carb, high fiber, gluten-free, sugar-free – browse the options below for plenty of choices. In this list of healthy muffin recipes, you'll find recipes that reduce 'empty calories' and replace them with healthy, wholesome ingredients to nourish your body.
Are muffins a healthy snack?
When made with healthy ingredients, they certainly can be. However, they still contain sugar and fat, so they're best eaten in moderation.
Is it okay to have a muffin for breakfast?
When enjoying one of these healthy muffin recipes, it certainly is; packed with wholesome ingredients that keep you fuller for longer, these healthy homemade muffins are a great way to start your day. And if you are a parent, these recipes are healthy muffins for kids!
What makes muffins light and fluffy?
Muffins are usually made with a simple batter that use one or both baking powder and baking soda, leavening agents that help provide lift and texture to the muffins. More so, with a little healthy 'fat' (or oil), muffins are made lighter, too. One of the best tips for making light and fluffy muffins (with gluten) is being careful not to overmix the batter – which can overwork the gluten and yield dense, tough muffins.
Favorite Healthy Breakfast Muffins
Starting with a bang, these healthy zucchini muffins are wonderfully moist, refined sugar-free, loaded with zucchini for extra nutrients (but no taste!), and made with whole wheat or spelt flour. This means these homemade muffins replace the 'empty calories' from bleached flour and sugar in regular muffins for a healthy, wholesome snack or breakfast!
Bursting with fresh berries and sweet bananas, these healthy blueberry banana muffins are a treat! Made with yogurt, maple syrup and whole wheat flour you can enjoy these guilt free. You may also love this healthy lemon blueberry bread!
Who doesn't love carrot cake? Well, these carrot muffins are wonderfully delicious, yet with a healthy twist; using applesauce, oatmeal (or bran), whole wheat flour, and honey to replace the 'empty calories' with healthy, wholesome ingredients. Plus, unlike my whole wheat or gluten free carrot cake, these come perfectly portioned for a healthy treat!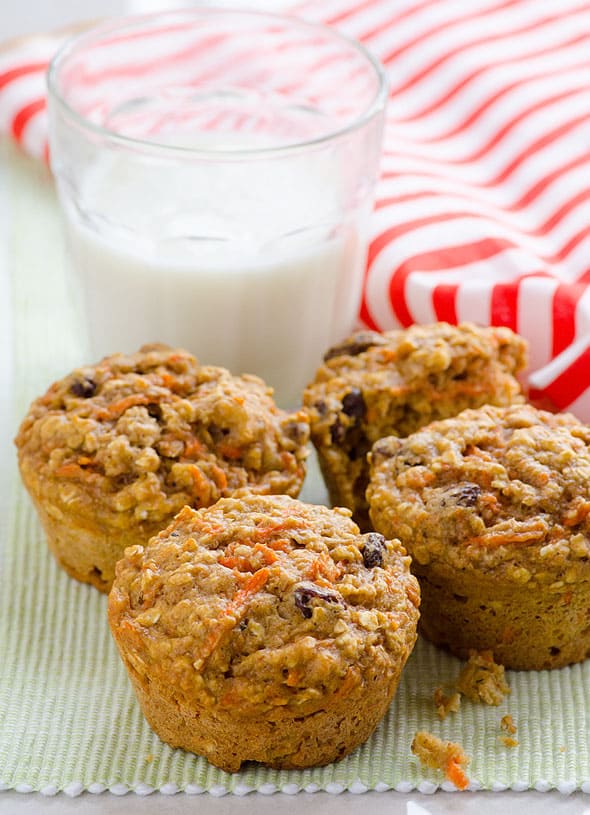 Healthy lemon blueberry muffins are full of light taste and juicy berries! Made with wholesome ingredients like whole wheat flour, natural sweeteners and yogurt, these muffins will disappear fast in your household! Got more berries? Make healthy blueberry pancakes!
If these homemade muffins don't look like regular muffins, that's because they're not! Instead, these oatmeal muffins are simply baked oatmeal (try baked oatmeal bars, next!) topped with the fruit or nuts of your choice. Best of all, these healthy muffins are naturally sweetened with banana or Instant Pot applesauce and are super versatile for different add-ins and toppings – your kids will love them!
These whole wheat (or spelt) cranberry orange muffins make for a delicious holiday-season healthy breakfast muffin. They're moist, fluffy, tender, and packed with tart cranberries and zingy orange peel, for a tasty sweet and tart treat. Best of all, this healthy muffin recipe subs some of the 'fat' for yogurt for a more nutritious, lower-fat treat!
If you like your muffins fully loaded, then these healthy morning glory muffins are the perfect healthy breakfast muffins for you. Combining dried fruits, nuts, and coconut flakes with oat or wheat bran, whole grain flour, maple syrup, and applesauce, these healthy breakfast muffins are made with wholesome ingredients, are low in sugar, and high in healthy fiber.
At 10g protein per muffin, these banana protein muffins make for a great way to start the day. With a combination of whey protein, almond flour, overripe bananas, and fresh strawberries that are bursting with flavor, these muffins are as tasty as they are nutritional (very!). Plus, you can even swap out the strawberries for other fruits based on what's in season for a treat you can enjoy year-round as a breakfast, post-workout, or mid-afternoon snack!
These healthy pumpkin muffins make for the perfect fall treat along with healthy apple bread. They combine pumpkin, whole wheat or spelt flour, maple syrup, and just enough cream cheese to feel decadent. The results are a healthier copycat Starbucks pumpkin cream cheese muffin but with half the sugar and fat and three times the fiber.
With a combination of whole wheat, yogurt, lemon, and zucchini – these lemon zucchini muffins are packed with vitamins and fiber while still wonderfully light, moist, and fluffy. Plus, you can't go wrong with the sweet and zesty lemon flavor. These homemade muffins will become your new favorite summer muffin serve with healthy frappuccino recipe for a real treat!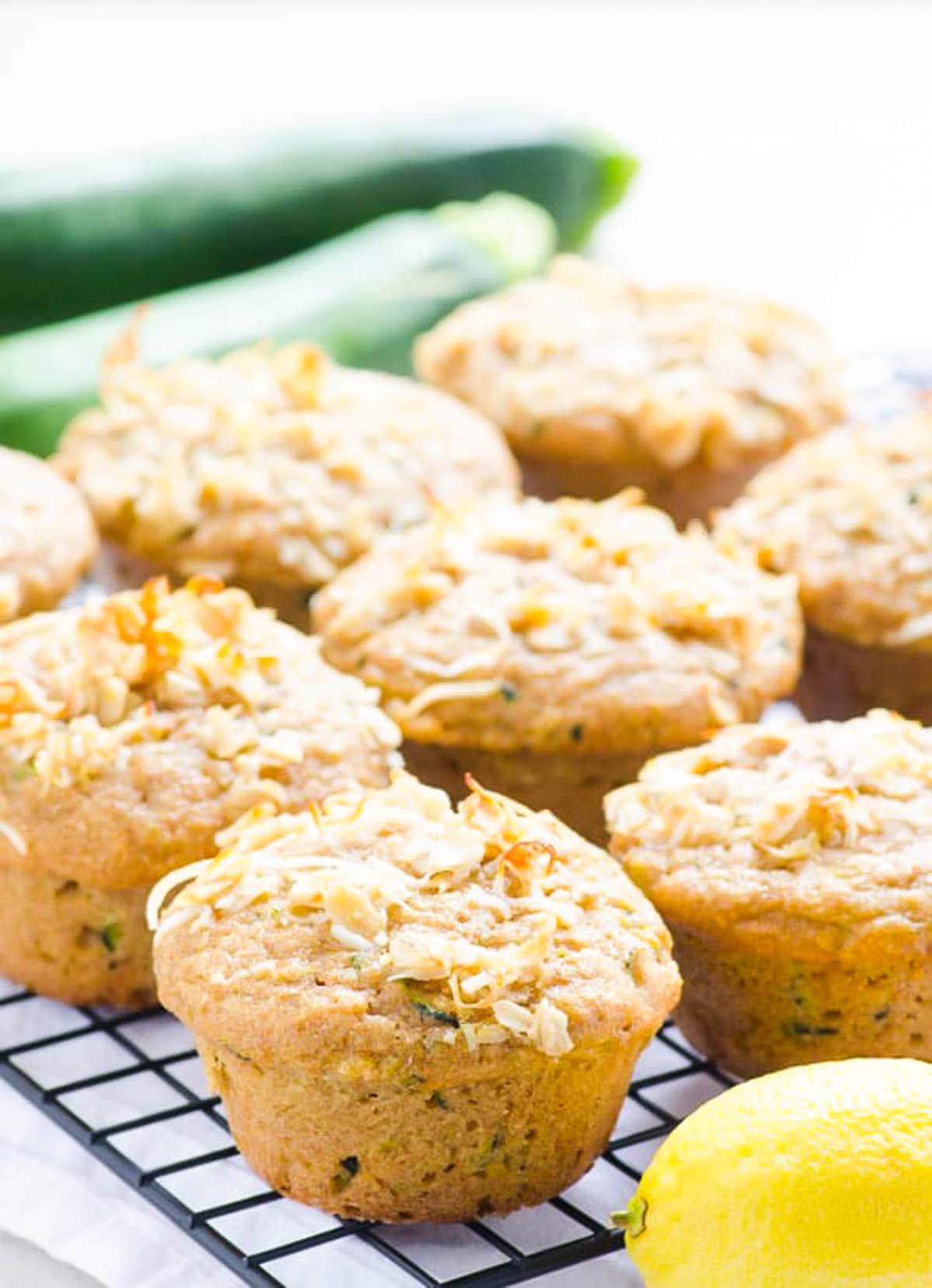 Wholesome muffins made with both whole wheat flour and almond flour! Almond muffins with berries feature loads of berry goodness and are topped with slivered almonds, perfect for enjoying with a cup of tea or coffee.
Healthy Muffins for Kids
Bursting with berries, these whole grain healthy strawberry muffins will be a new household favorite! Made with maple syrup, Greek yogurt, lower in sugar and low oil, makes these a muffin to feel good about.
While blueberry muffins are a classic, this version of healthy blueberry muffins takes a healthy twist using whole wheat flour (or spelt), maple syrup, applesauce, and -of course- plenty of fresh or frozen blueberries. Enjoy these homemade muffins, warm or cold, for a treat that is happily child-approved!
Yes, you read that right; you're seeing chocolate chips in a list of healthy muffins recipes. All in moderation, right? With a combination of whole wheat flour, yogurt, and maple syrup, these healthy muffins for kids are wholesome enough to be forgiving of some mini chocolate chips. I recommend preparing a double batch of healthy chocolate chip muffins as they'll disappear in minutes!
These healthy banana muffins are the ultimate healthy banana treat, with NO added sugar. Instead, these healthy muffins rely on sweet overripe bananas and applesauce combined with whole wheat or spelt flour for a quick and simple breakfast/snack (and just over 100 calories per muffin!).
Yes, you can eat chocolate as part of these healthy muffins for kids – and your child will thank you for it. These healthy chocolate muffins combine Greek yogurt, applesauce, whole wheat flour, honey, and cacao for wonderfully fudgy, sweet, and nutritious muffins. They're so good, you'll struggle to even allow them to cool down before they're all gone!
Banana and dark chocolate make up the primary flavors of this sweet and filling healthy whole wheat breakfast muffin. Banana zucchini muffins are also packed with extra nutrients, thanks to the hidden shredded zucchini within. You may also love this healthy zucchini banana bread!
Since an apple a day is meant to keep the Dr away, I'm sure your kids won't complain about eating them as part of fluffy, tender homemade muffins. These healthy apple muffins are sugar-free, using dates and applesauce to sweeten the muffins naturally, and are made using whole wheat flour for extra nutrients and filling fiber. Best of all, these healthy muffins for kids are made with a delicious combination of warming Fall spices for a treat that you won't believe is healthy (but is!).
Gluten Free Muffins
Healthy lemon poppy seed muffins are perfect anytime you need a light and flavorful muffin! Drizzle with a light lemon glaze for a brunch worthy item that is perfect for any weekend. You may also love this healthy lemon poppy seed bread!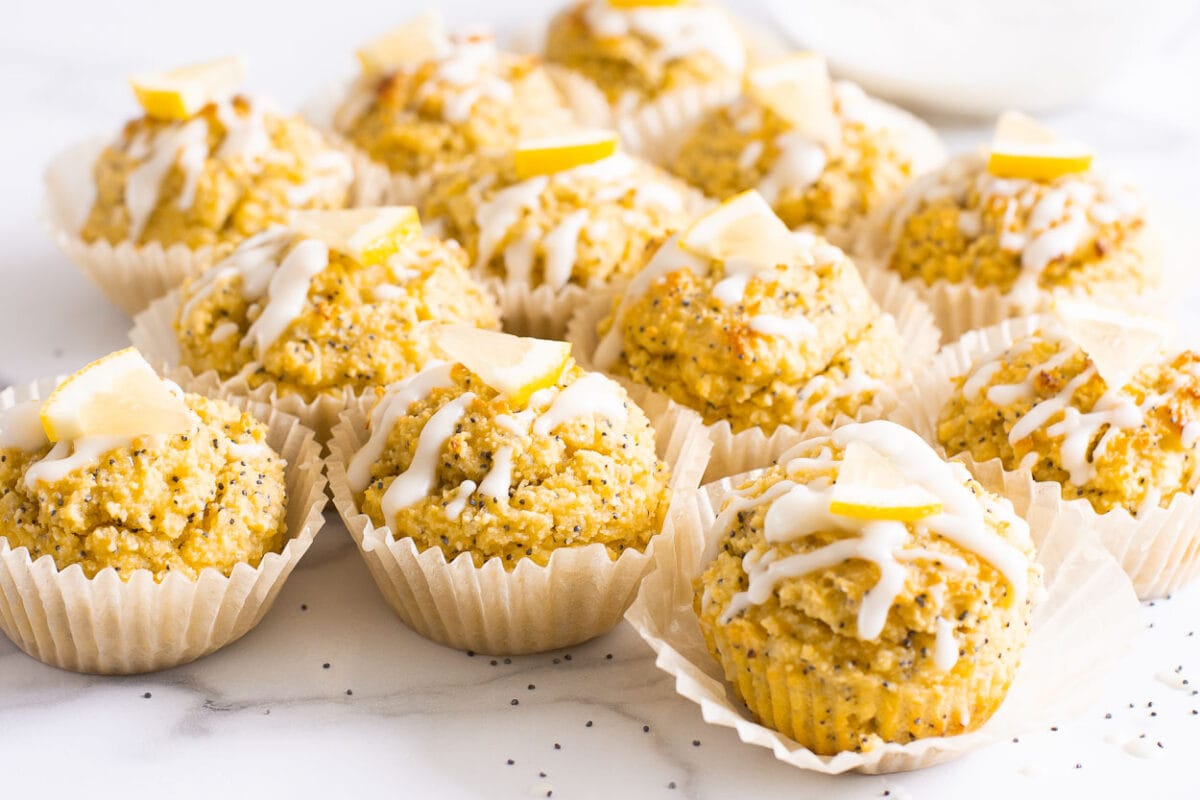 Almond flour zucchini muffins are the perfect treat for summer! Naturally sweetened and naturally gluten free, they are perfect for packing on the go for a beach day, picnic or even after dinner treat.
If you haven't baked with almond flour, then you're missing out. Almond flour bakes are packed with protein and nutrients to keep you fuller for longer, are naturally gluten-free, and wonderfully moist, thanks to the healthy fats within the nuts. Best of all, they're still fluffy, too – in fact, these almond flour blueberry muffins remain fluffy while being oil-free and refined sugar-free too!
My ultimate almond flour muffins combine almond flour with a hint of lemon for super tender and moist muffins that you'll hardly believe are gluten-free. Best of all, though, as tasty as they are, these almond flour muffins are also naturally refined sugar-free, oil-free, grain-free, paleo-friendly, and make for a wonderful breakfast or snack.
Not only are these almond flour banana muffins naturally gluten-free, but they're also low-carb, low sugar, grain-free, oil-free, and Paleo-friendly! But you'd hardly be able to tell – thanks to how fluffy, tender, and moist they are, with wonderfully sweet banana flavor.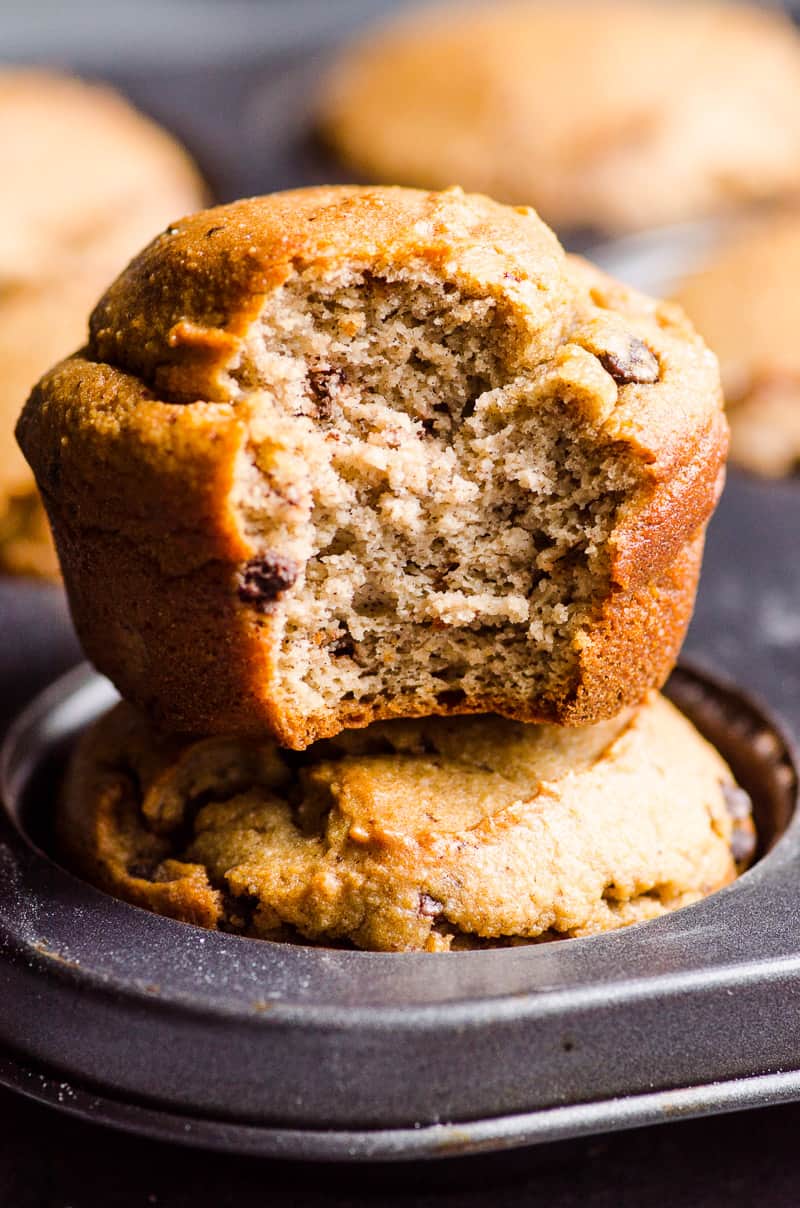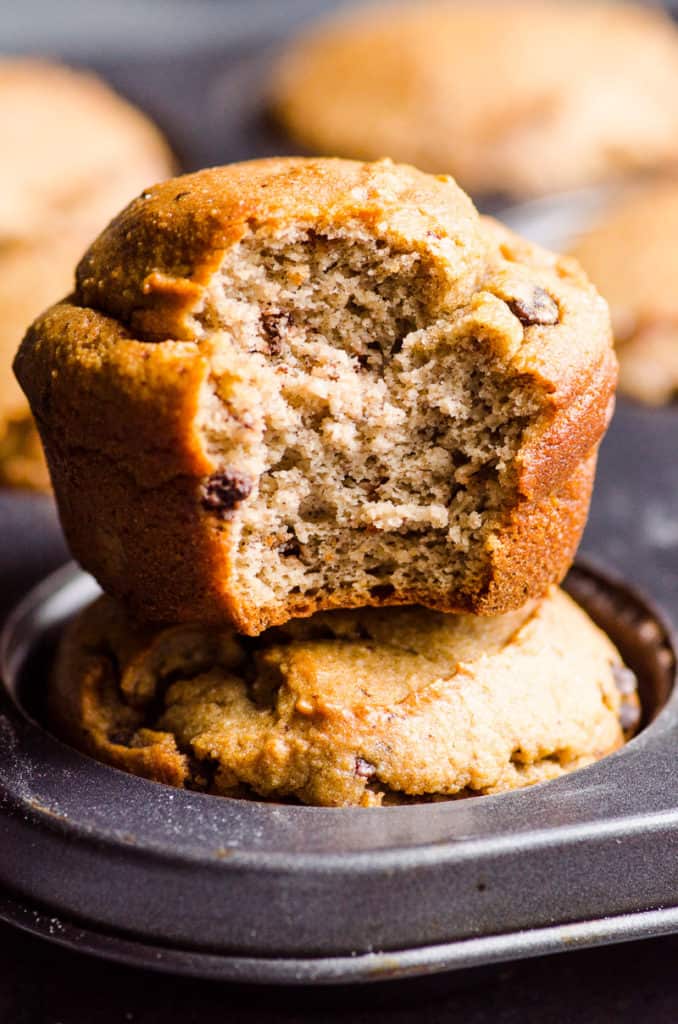 Healthy Breakfast Egg Muffins
Stepping away from traditional muffins are these simple 'frittata' egg muffins. For these Italian-inspired versions, I've combined the delicious flavors of leftover quinoa with sun-dried tomatoes, spinach, and feta cheese. The combination is flavor-packed but also high-protein, hearty, and healthy, too at under 100 cal per muffin. Best of all, these egg muffins are super freezer-friendly, too!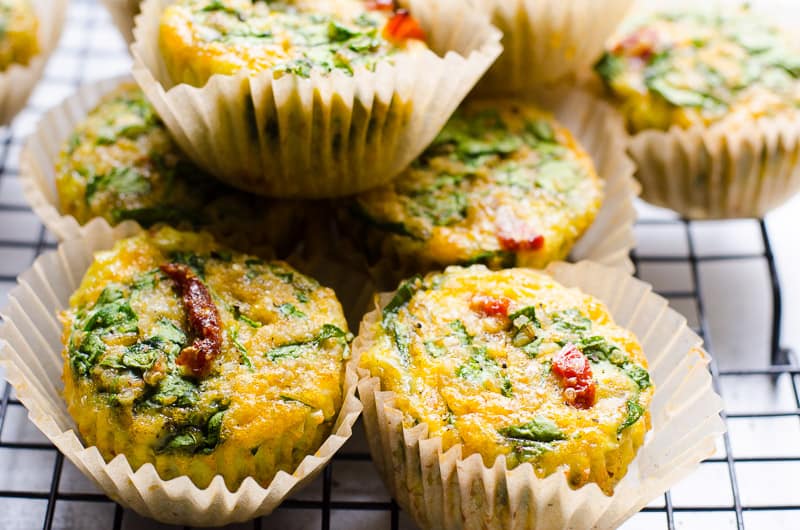 Like the above frittata muffins, these broccoli cheese egg muffins are easy to prepare, low-carb, high-protein, and packed with veggies. Best of all, they make for an excellent addition to Easter, Mothers' Day, and Christmas morning breakfast/brunch tables. Once again, they're also wonderfully versatile, combining the vegetables, cheese, and protein of your choice!
These Starbucks copycat 'sous vide egg bites' are healthy, single-serving, on-the-go low-carb/Keto healthy breakfast muffins or snacks. Enjoy them alone, with cheese or the veggies of your choice for a snack that practically melts in the mouth in under 20 minutes!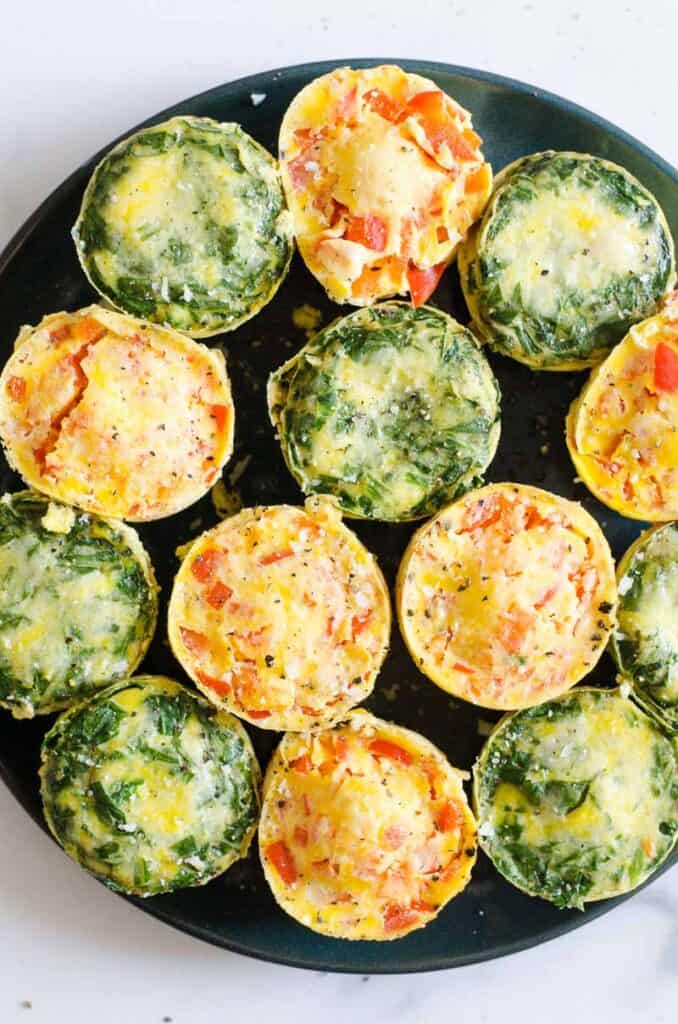 More Healthy Breakfast Items to Try
Alternately, browse through 45 healthy breakfast ideas!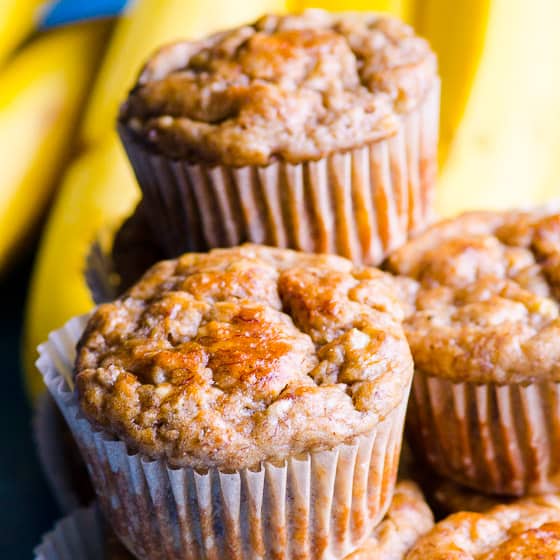 21 Best Healthy Muffin Recipes: Healthy Banana Muffins
Healthy Muffin Recipes including healthy banana muffins made with ripe bananas, applesauce, whole wheat or spelt flour, and no sugar. They are easy to make in one bowl and perfect for a grab and go breakfast or snack.
Instructions
Preheat oven to 375 degrees F and spray non-stick 12 muffin tin. Set aside.

In a large mixing bowl, gently whisk egg. Add bananas and mash. Add applesauce, maple syrup, oil, vanilla, baking powder and soda and salt; whisk to combine.

Add flour and gently stir until well incorporated. Do not over mix – that produces a tough muffin.

Fill each opening almost full with batter and bake for 22 minutes or until a toothpick inserted in the centre comes out clean.

Let muffins cool for about 5 minutes and then transfer to a cooling rack to cool off completely.
Notes
Store: Refrigerate in an airtight container for up to 1 week or freeze for up to 3 months.

Bananas. Choose very ripe bananas  – bruised bananas are even better! 
Flour. Do not use any other flour except what is listed. If you need gluten free – check out my almond flour banana muffins.
Liquid sweetener: You have to keep dry to wet ingredients ratio – use only liquid.
Sweetened or unsweetened applesauce. Can substitute with Greek yogurt 2% and higher fat content. 
Nutrition
Serving:
1
muffin
|
Calories:
107
kcal
|
Carbohydrates:
24
g
|
Protein:
3
g
|
Fat:
1
g
|
Saturated Fat:
1
g
|
Cholesterol:
14
mg
|
Sodium:
179
mg
|
Fiber:
2
g
|
Sugar:
10
g