Here's a look at How to Freeze Muffins so they stay fresh for 3 months. I'll also share some helpful tips on thawing and reheating, so they remain fluffy.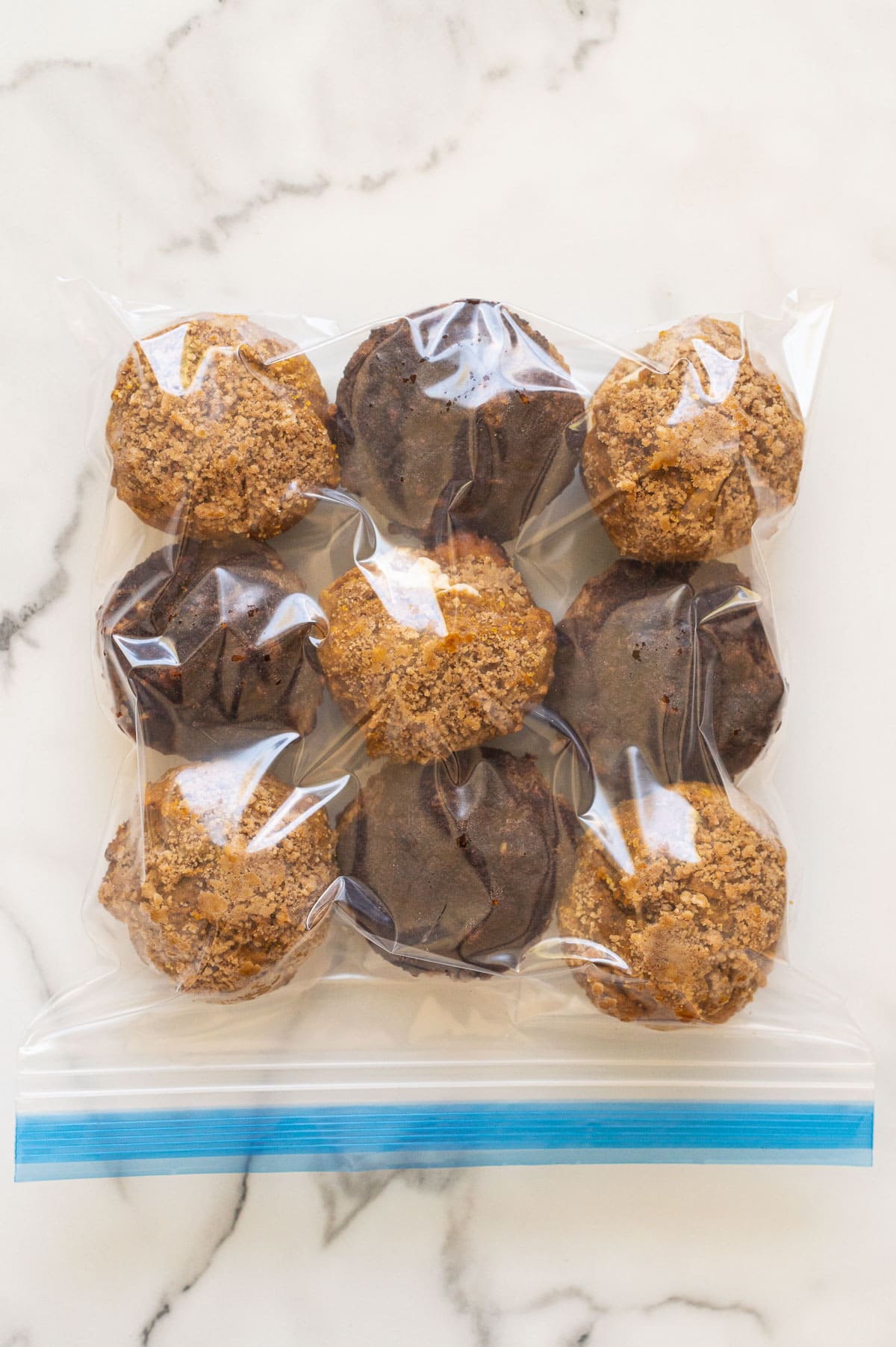 Make a big batch of healthy muffins last longer by knowing how to freeze muffins correctly. My method is super easy, so you can enjoy your favorite healthy breakfast or healthy snack for months to come!
No more eating soggy or dry leftover muffins, although I share lots of tips how to store muffins for days so they stay fresh.
And in this post is everything you need to know about freezing muffins!
How Long to Store Muffins Before Freezing?
If you're not planning on freezing your muffins right away, here's how to best store them for the first few days.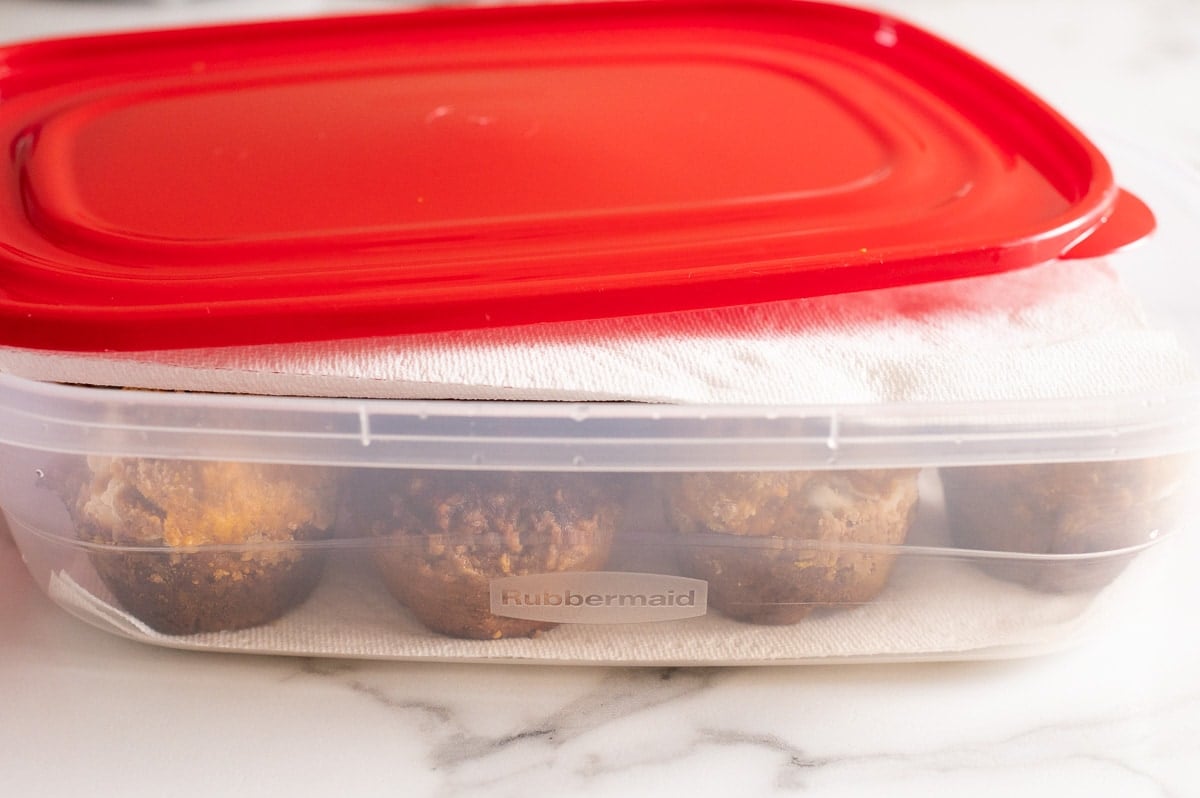 First 24 hours: After baking, let your muffins cool for 5-10 minutes in the muffin pan before moving to a cooling rack to cool completely. Store them at room temperature on the counter covered with a clean kitchen towel.
Up to 4 days: After the first 24 hours add a layer of paper towel to a large airtight container and place muffins inside in a single layer. Then add another layer of paper towel, seal with lid, and keep them on your counter for 4 days.
Supplies You Will Need
First and foremost, you'll need Ziploc bags. I love them because they expand well and I usually wash them with warm soapy water, dry and reuse.
I do not love silicone reusable bags because they are very narrow and don't expand, meaning you can't fit many muffins in them. I also find they break along the seams eventually.
You'll also need straws if you decide to suck air out of the bag, which I highly recommend!
How to Freeze Muffins
Here's a quick overview of how to freeze muffins, this method works with any healthy muffin recipe.
Bake and cool: Bake your batch of muffins as per recipe and let them cool, first in the muffin tin for 10 minutes, then on a wire rack.
Transfer to freezer bag: Without overlapping, place as many muffins as you can into a gallon size Ziploc bag. You can also wrap each muffin in plastic wrap individually and then in a bag.
Remove air: Seal the bag, leaving a small opening and suck out air as much as possible. A straw really helps for this step!
Freeze: Pop them in your freezer, making sure they are laying flat.
How Long Do Muffins Last in the Freezer?
You can store muffins in your freezer for 3 months. Technically could be for up to 6 months but I do not love the stale smell and taste they get after 3 months.
How to Thaw and Reheat Muffins
Remove frozen muffins from the freezer and let them thaw at room temperature for 2-3 hours. Or thaw in the fridge overnight and warm in the microwave.
If you're not thawing the whole bag remember to remove air and reseal the bag before placing them back in the freezer.
If you have a sudden muffin craving place an unwrapped muffin on a paper towel or microwave-safe plate and reheat in the microwave. I find 15-20 seconds is perfect but may need a bit longer depending on muffin size.
You can also wrap your muffin in foil, place on a baking sheet, and reheat in the oven for 10-15 minutes on 350 degrees F.
5 Tips for Best Results
Cool muffins completely: If the muffins are even a tiny bit warm when transferred to a container or bag the condensation will collect and you'll end up with soggy muffins.
Remove as much air as possible: Excess air in the bag allows ice crystals to form around the muffins which causes freezer burn and increased moisture when thawed. Get as much air out as possible, so your muffins don't turn soggy once thawed.
Don't freeze too long: Maximum recommended freezing time is 3 months. Any longer and the smell, texture, and flavor will be off.
You can thaw at room temperature: It is safe to thaw little quick breads at room temperature and should only take 2-3 hours.
Reheat after thawing: I find muffins taste freshly baked when I reheat them after thawing instead of from frozen.
How to Freeze Store-Bought Muffins
Can you freeze muffins from the bakery or store? Yes! They are most likely already cool, so you can go straight to transferring them in a bag, removing air with a straw, and placing them in the freezer.
Storing Other Breads and Muffins
This storing method is foolproof and works great with your favorite quick breads, gluten free muffins, mini muffins, protein bagels, or scones.
So get baking, have fun, and stock your freezer!
FAQs
Does freezing muffins dry them out?
Freezing muffins does not dry them out if you freeze them properly and not for more than 3 months.
Can you refreeze thawed muffins?
Yes, it's perfectly safe to freeze previously thawed muffins again. Only thing is their texture could change a bit and be less airy and more soggy.
How to freeze muffins without a freezer burn?
Let the muffins cool completely and remove as much air as possible to avoid condensation. The condensation forms ice crystals causing a freezer burn.
Can I freeze muffins in airtight container?
Sure, you can freeze muffins in plastic containers but you might get more ice crystals as there is more air circulating! I recommend to individually wrap each muffin in plastic wrap first. I like these large plastic containers, they fit 12 muffins and the height of the container is just perfect for muffins.
Reader Favorite Muffin Recipes to Try
Easy Muffins for Beginners
How to Freeze Muffins
Here's a look at How to Freeze Muffins so they stay fresh for 3 months. Plus tips on thawing and reheating, so they remain fluffy.
Instructions
Bake muffins as per recipe and let them cool completely on a wire rack.

Place muffins in a gallon size Ziploc bag, as many as you can fit comfortably.

Seal almost shut, leaving a small opening. Insert straw in it, suck out as much air as possible, remove straw and seal immediately.

Lay muffins flat in a freezer and freeze for up to 3 months. Muffins should be frozen solid after 4 hours.
Notes
Thaw: Defrost muffins in the fridge overnight or on a countertop for 1-2 hours. Reheat: Reheat muffins from frozen or thawed in a microwave in 30 seconds increments. Air fryer is also great for that!
Nutrition
Serving:
1
muffin
|
Calories:
11
kcal
|
Carbohydrates:
2
g
|
Protein:
0.4
g
|
Fat:
0.1
g
|
Saturated Fat:
0.01
g
|
Sodium:
22
mg
|
Fiber:
0.1
g