Healthy Strawberry Muffins with Greek yogurt and fresh strawberries are moist and fluffy. Strawberry muffins is the perfect way to show off a batch of ripe strawberries.
We also love these quick and easy healthy blueberry muffins, rhubarb muffins and blueberry lemon muffins!
I love finding ways to showcase my fresh strawberry haul and these healthy strawberry muffins do just that! They're moist and fluffy and have just the right amount of diced strawberries to ensure amazing flavor and natural sweetness.
They seriously rank right up there with the best healthy muffin recipes on the blog.
The beautiful juicy strawberry takes a backseat to nothing, so they are the star of the show. Supported by the incredibly loyal co-star the muffin batter.
Made with whole wheat flour, rolled oats, and Greek yogurt then infused with cinnamon spice. These muffins deliver on taste, texture, and nutrition.
You can make a batch of these in under 1 hour with 1 bowl, so it's easy to prep, easy to bake, and easy to clean up.
I'm just falling in love with using Greek yogurt in my baking recipes. It's an easy swap to make from the heavy butter or oil that is often used. Try reader favorite healthy carrot cake, next!
Enjoy them as a breakfast when almond flour banana muffins aren't on the menu. Keep them on the counter for the kids to grab as a snack throughout the day or freeze them for later.
With all your leftover strawberries be sure to make a strawberry smoothie or my strawberry yogurt recipe. Make them together for a perfect breakfast for all the strawberry lovers in your life!
Ingredients You Need
Here's what you'll need to make this incredibly easy healthy strawberry muffins recipe.
Large eggs: Needed for binding the ingredients together so that when baked they don't crumble and fall apart. Eggs also provide us with plenty of Omega 3s and protein.
Greek yogurt: Packed with protein, it's a lighter choice than butter to add moisture and great texture to the batter.
Maple syrup: A natural, non-refined sugar that adds great flavor. Honey does the same and is another option.
Avocado oil: You can also use coconut oil if preferred. They're both healthy fat that we all need to keep us satiated longer.
Pure vanilla extract: A delicious warming flavor that is essential in many baking recipes.
Cinnamon: A warm spice that pairs well with strawberries, maple syrup, oats, you name it!
Baking powder and baking soda: Leavening agents that work well together to make these muffins nice and fluffy.
Salt: Brings out the flavors of the other ingredients maximizing the taste in each bite.
Oats: Quick or rolled oats both work. You may notice a difference in texture, but either one works.
Flour: I have used both spelt and whole wheat and both turned out great. Neither are gluten free. Try almond flour strawberry muffins if you need gluten free muffins or strawberry muffins made with regular flour.
Strawberries: Fresh or frozen strawberries can be used which makes this a year round muffin for sure!
Cane sugar: Less processed than white granulated sugar. You can also use coconut sugar for the same effect. If you're not interested in sprinkling a bit of sugar on top of your muffins, omit this altogether.
Lemon zest: Optional, but a nice flavor addition. It pairs well with strawberries and works to brighten the flavors.
Cooking spray: I use Misto for a non-stick surface.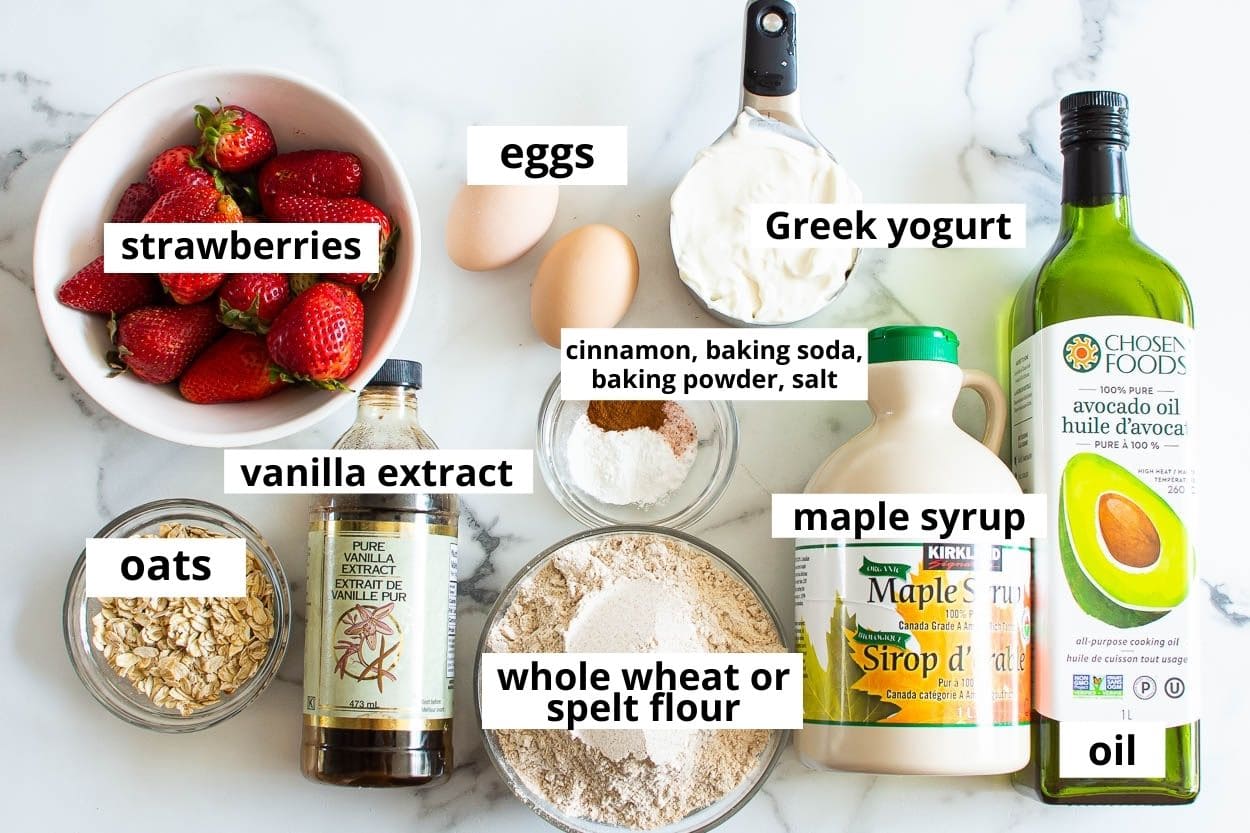 Ingredient Swaps
Oats: Old-fashioned rolled oats will lend a coarser texture as they are bigger and flakier. Quick oats are meant to absorb liquid faster, so the texture of the muffins will be a bit softer and the oats will be less noticeable. Use either one.
Yogurt sub: Instead of Greek yogurt, if you've got regular yogurt you can use it. Dairy free yogurt or applesauce can also be used as an alternative.
Egg free: Learn how to make a flax egg or chia seed egg and use it instead. It's an easy swap and great info to have for other recipes, too.
Sweetener: Any liquid sweetener replacement will work. Honey, agave, a liquid version of monk fruit extract, erythritol, or stevia.
Oil: If you're not opposed to butter, feel free to use it! Clarified butter, aka ghee, can stand in its place as well.
How to Make Healthy Strawberry Muffins
These simple step-by-step instructions for making healthy strawberry muffins with Greek yogurt are great for beginners and experienced bakers alike.
1. Remove 2 tablespoons of your diced strawberries and transfer them to a small bowl and set aside. Sprinkle the remaining strawberries with 1 tablespoon of flour and stir gently.
2. In a large mixing bowl, whisk together the eggs, yogurt, maple syrup, oil, vanilla, cinnamon, baking powder, baking soda, and salt. Be sure that the leavening agents have dissolved.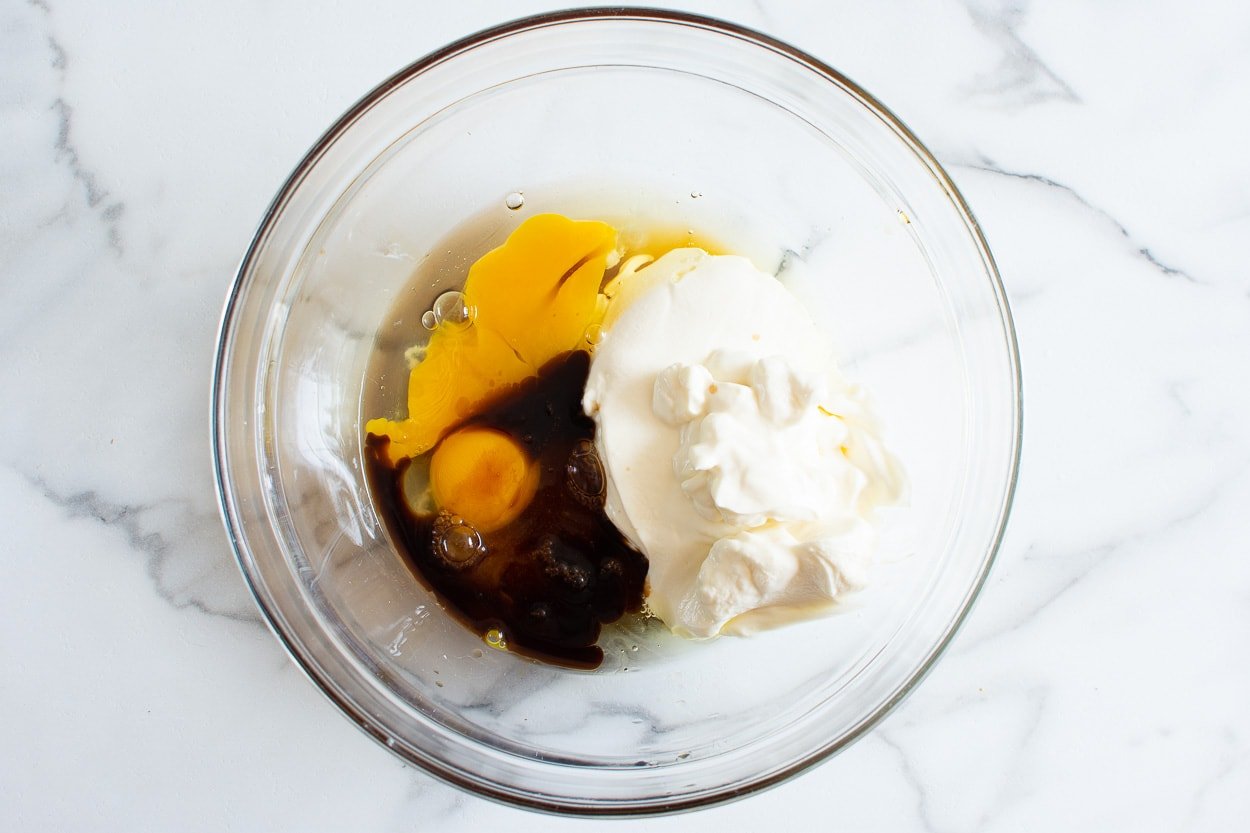 3. Fold in the oats and flour and give it a gentle mixing. Add in the flour coated strawberries you had set aside and give it a few extra stirs.
4. Use a large ice cream scoop to fill the prepared muffin liners that have been sprayed with cooking spray. Stick a few of the reserved diced strawberries on top and sprinkle with sugar if desired.
5. Bake in a 375-degree preheated oven for 22 minutes until a toothpick inserted in the middle comes out clean. Remove and allow the muffins to cool for 10 minutes in the tray before digging in!
FAQs
Can I make vegan strawberry muffins without eggs or dairy?
Absolutely! By all means use applesauce or dairy free yogurt, like coconut yogurt, as a Greek yogurt substitute. A flax egg or chia egg can be used as an egg replacement.
How long can I store these healthy strawberry muffins?
Store them on the counter or in a cool dry area for up to 4 days. Of course, you can freeze healthy strawberry muffins for much longer.
Can I make these without oats?
Omit the oats completely, if you don't want to use them. They're still great without them.
What Makes These Muffins Healthy?
Individual ingredients that offer nutritional benefits all on their own come together to form delicious strawberry muffins packed with even more nutrients!
Protein: Greek yogurt and eggs.
Omega 3: Eggs or either choice of egg substitute, whether it be chia or flax seeds.
Healthy fats: Avocado oil or coconut oil.
Vitamins & minerals: Strawberries, lemon zest, maple syrup, eggs, and Greek yogurt.
Fiber and antioxidants: Oats, cinnamon, and strawberries.
What Goes Well With These Muffins?
If you're serving a crowd a summer brunch spread, don't forget to add a healthy breakfast casserole to your menu. A fresh basket of healthy strawberry muffins is a welcome addition to any table or countertop.
Serve with Instant Pot yogurt, or a bowl of Instant Pot steel cut oats. Have one for a snack and wash it down with a green smoothie.
Enjoy it in the morning with your favorite spreads or use it as a healthy dessert and top it with a Greek yogurt frosting or healthy cream cheese frosting!
Healthy Strawberry Muffin Tips
Sprinkle flour on strawberries. Coating fruit with flour before adding them to muffins or quick bread batter helps to keep them suspended and evenly dispersed throughout. Otherwise, they tend to sink to the bottom.
Use ripe juicy strawberries for the best flavor and sweetness.
I do recommend using fresh strawberries, however, if using frozen, do not thaw them first. The water content will make them too soggy. 
Other fruit. I'm sure you've noticed by now that you can adapt this recipe to suit any of your favorite fruits instead! Blueberries, raspberries, apples, or whatever you can dream up!
Do not overmix the batter. As much as you want to ensure no clumps of baking powder or baking soda are left behind, you want to just mix until blended once the flour is added. This way your muffins stay nice light and fluffy.
How to Store
Keep healthy strawberry muffins in an airtight container to retain moisture. They'll be good on the counter or in a cool dry area for up to 4 days.
Transfer any leftovers to the freezer for up to 3 months. If you've got a freezer-friendly airtight container, keep it in that, otherwise, place them in a single layer into a Ziploc bag.
Thaw 1 or 2 muffins on the counter for a few hours. For that freshly baked warm muffin experience, pop one in the microwave to heat through and soften up.
Enjoy your healthy strawberry muffins and let me know what you think, I'd love to hear from you!
More Healthy Muffin Recipes to Try
Healthy Strawberry Muffins with Greek Yogurt
Healthy Strawberry Muffins with Greek yogurt and fresh strawberries are moist and fluffy. The perfect way to show off a batch of ripe strawberries.
Instructions
Preheat oven to 375 degrees F, line 12 muffin tin with parchment paper muffin liners and spray with cooking spray. Set aside.

Dice strawberries, reserve 2 tbsp aside and transfer the rest to a small bowl. Sprinkle with 1 tbsp flour, stir gently and set aside.

In a large mixing bowl, add eggs, yogurt, maple syrup, oil, vanilla, cinnamon, baking powder, baking soda, and salt. Whisk well, making sure baking powder and soda have dissolved.

Add oats and 1 3/4 cups flour; stir gently to mix. Add coated in flour strawberries and give a few gentle stirs.

Using large ice cream scoop, fill 12 openings with batter. Top with remaining 2 tbsp diced strawberries and sprinkle with sugar (optional). Bake for 22 minutes or until toothpick inserted in the middle comes out clean.

Remove from the oven and let muffins cool in the tin for 10 minutes. Enjoy!
Notes
Store: Store in an airtight container in a cool dry place for up to 3 – 4 days.
Freeze: Bake and cool muffins completely. Then arrange them in a single layer in resealable plastic bag or any container with a lid. Freeze for up to 3 months. Thaw on counter, warm up in oven or microwave.
Greek yogurt substitute: You can use regular yogurt, dairy-free yogurt or applesauce.
Egg free: Learn how to make a flax egg or chia seed egg.
Nutrition
Serving:
1
muffin
|
Calories:
202
kcal
|
Carbohydrates:
31
g
|
Protein:
6
g
|
Fat:
6
g
|
Saturated Fat:
1
g
|
Trans Fat:
1
g
|
Cholesterol:
32
mg
|
Sodium:
153
mg
|
Fiber:
3
g
|
Sugar:
15
g