Easy and moist Healthy Apple Bread loaded with fresh apples and warm cinnamon spice! Made with whole grains and no refined sugar it's naturally sweet and perfect for a fall breakfast or snack.
Went apple picking? Try these deliciously spiced healthy apple muffins, classic healthy apple crisp, or super easy healthy baked apples!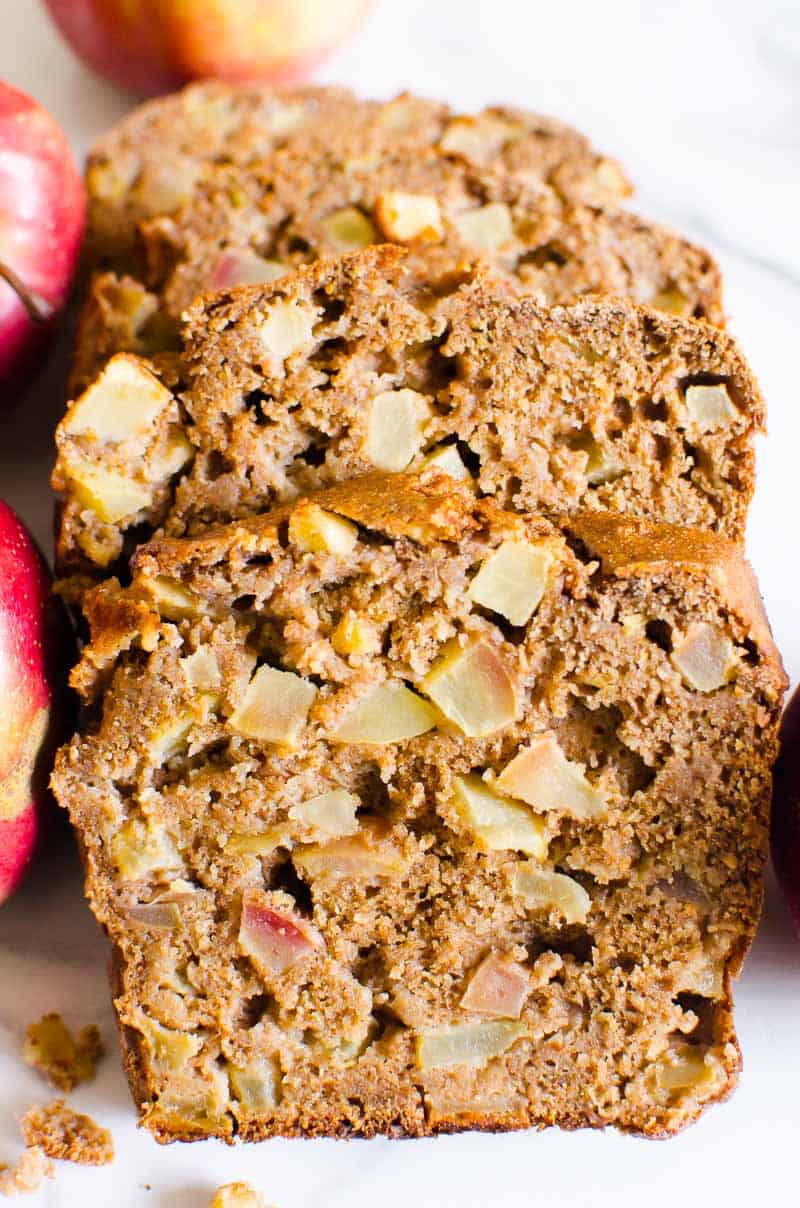 This healthy apple bread recipe is the best way to use up an abundance of apples. It is absolutely loaded to the brim with real apple chunks, warm spices, and wholesome ingredients.
Come autumn, there is nothing better than a slice of warm apple bread with butter and a cup of tea.
I am an advocate for eating fruit and berries raw. But for the last 11 years I happen to live in a house with an apple tree. And since we do not spray our trees, some apples have bugs and worms.
It's the perfect excuse to bake this bread and make lots and lots of Instant Pot applesauce, which I also can use in this recipe.
Whether you have an apple tree like me or just picked too many apples during a local orchard outing, making this cinnamon apple bread is a great way to use them!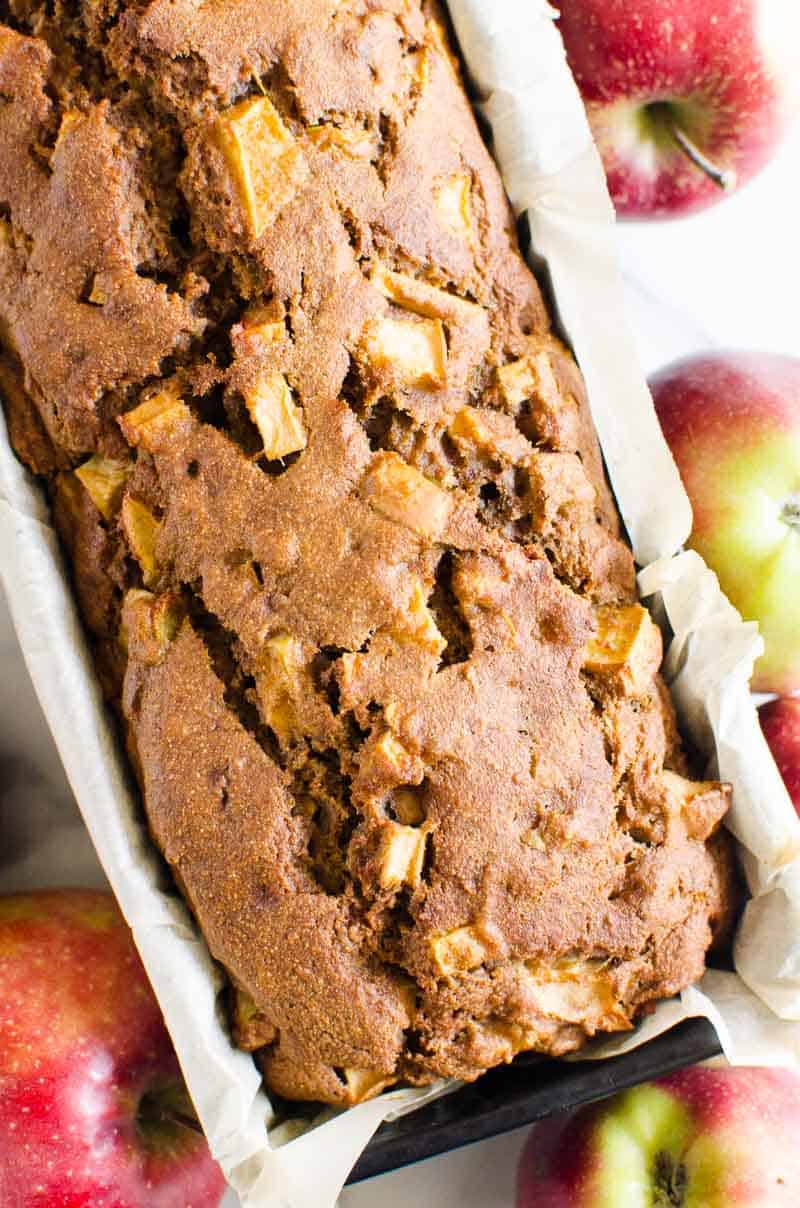 The Best Homemade Apple Bread
This healthy apple cinnamon bread is loaded with fresh apples and classic fall flavors!
Real apple pieces: Delicious apple taste in every taste.
Warm fall flavors: Cinnamon and nutmeg add a cozy vibe.
Whole grains: Made with whole wheat or spelt flour for whole grain goodness.
Healthy: Classic quick bread recipe replaces high amounts of oil with applesauce.
Easy to make: With fresh apples, baking staples from the pantry and mixed in one bowl.
Ingredients and Notes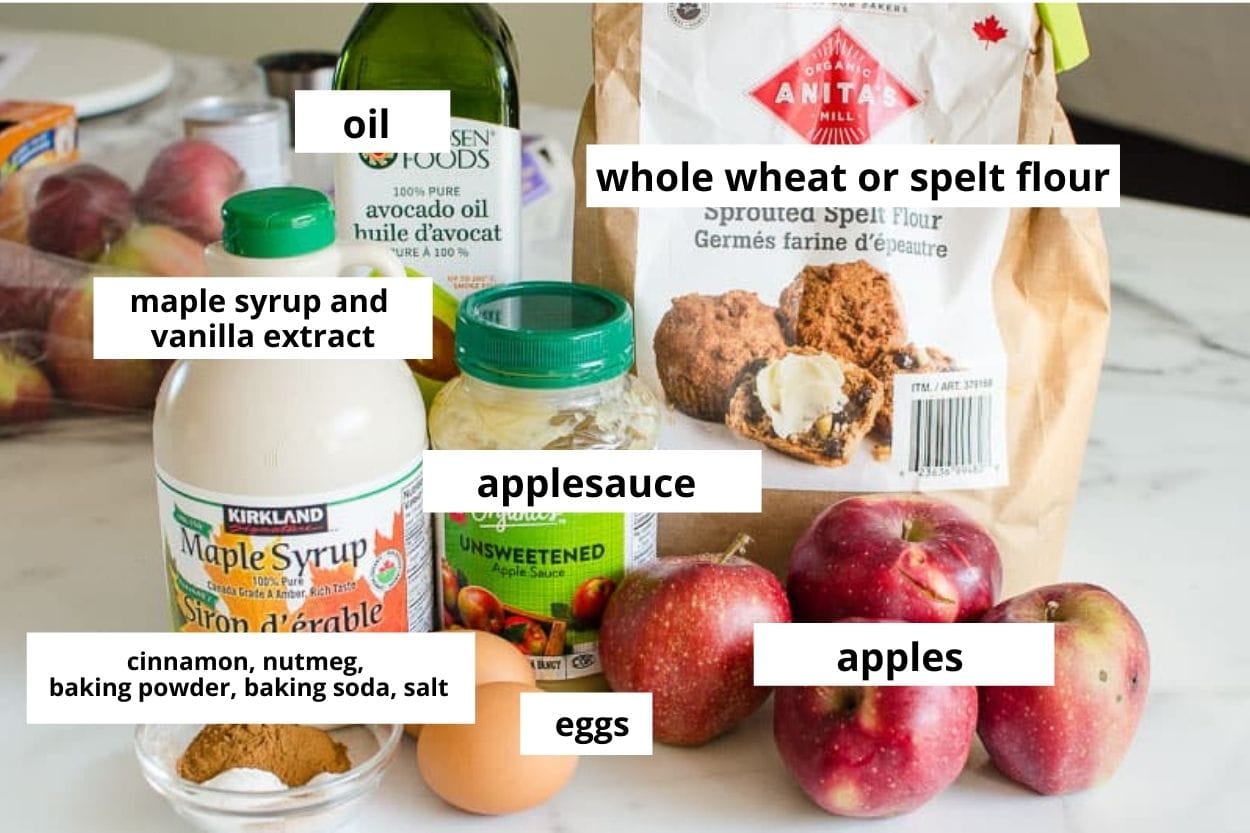 Packed to the max with fresh apples and warm cinnamon, this delicious apple bread recipe is a special treat that you're family will love.
Apples: Fresh is best but the variety is up to you. Even works with apples that have lost their 'crunch'.
Recipe Tip
Wondering what apples are best for bread? While any variety can be used, a few excellent apples for baking include tart Granny Smith, Cortland, Honeycrisp, or Braeburn.
Unsweetened applesauce: If sweetened applesauce is all you can find, that is fine. Just note that your bread will be more sweet.
Eggs: For binding the apple quick bread ingredients together.
Whole wheat flour or spelt flour: Whole grains keep you full longer and are best for this bread. Do not substitute with other flours. Baking is a science!
Maple syrup or honey: Any liquid sweetener you prefer can be used, but the recipe has been tested with these only these two.
Oil: Not much, though and can use your preferred one including avocado, melted coconut oil or olive oil.
Cinnamon and nutmeg: Warming spices are the essence of fall and make this bread heavenly. You could use store bought apple pie spice mix.
How to Make Healthy Apple Bread
This bread is so easy to make from scratch in one bowl and you don't even need to peel your apples!
You will also need a non stick 9×5 loaf pan either sprayed with cooking spray or lined with parchment paper.
Dice the apples: The most important tip is to take time and dice the apples. So every bite you take has lots of apples. Remember, no peeling.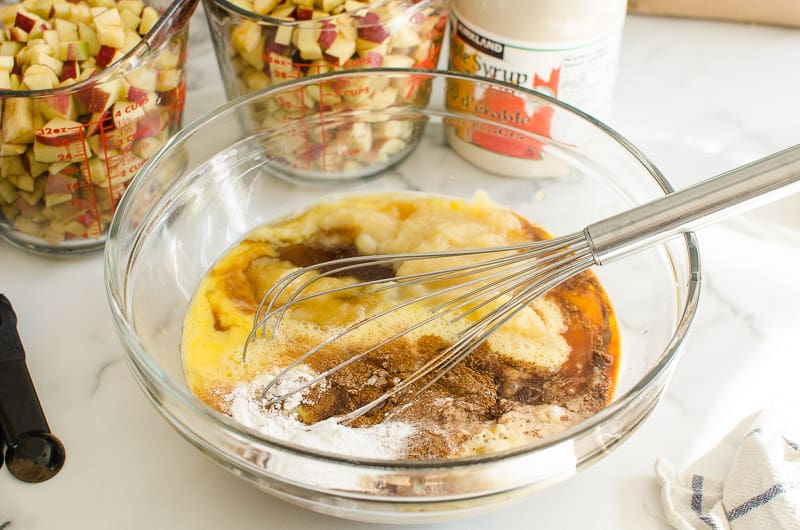 Whisk eggs, wet ingredients and spices: Whisk wet ingredients in large mixing bowl until no lumps are floating.
There is no need for 2 bowls if you make sure baking powder and soda are completely dissolved.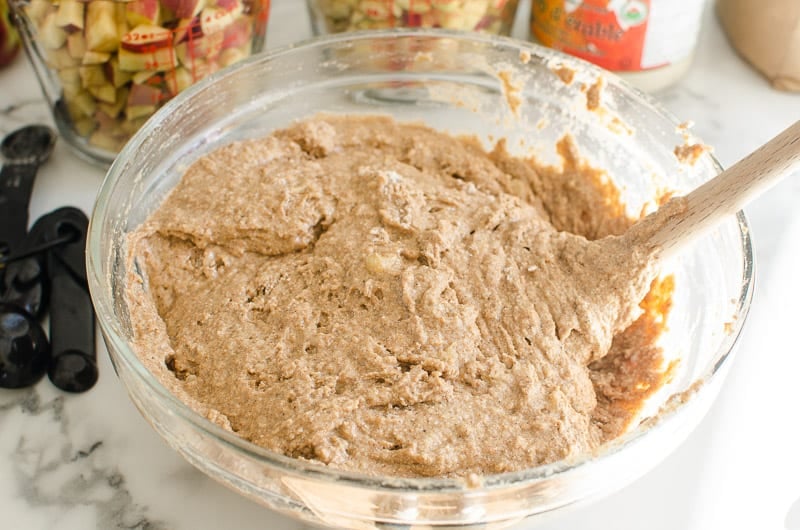 Add flour and stir gently: The top of measuring cup with your dry ingredient of flour should be flat. And when mixing the batter, give it 10 seconds to absorb before stirring again.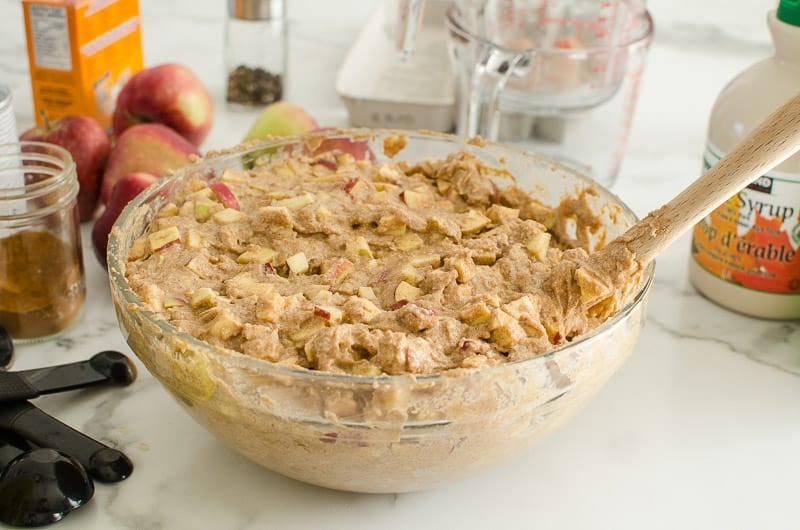 Add diced apples and stir just enough to mix in: I doubled the recipe so that is why my bowl was so full.
Bake for 60-70 minutes in preheated 350 degrees F oven. We have lots of juicy apples in here, so it takes a bit longer to bake the apple bread. When a toothpick inserted in the center comes out clean, your bread is done.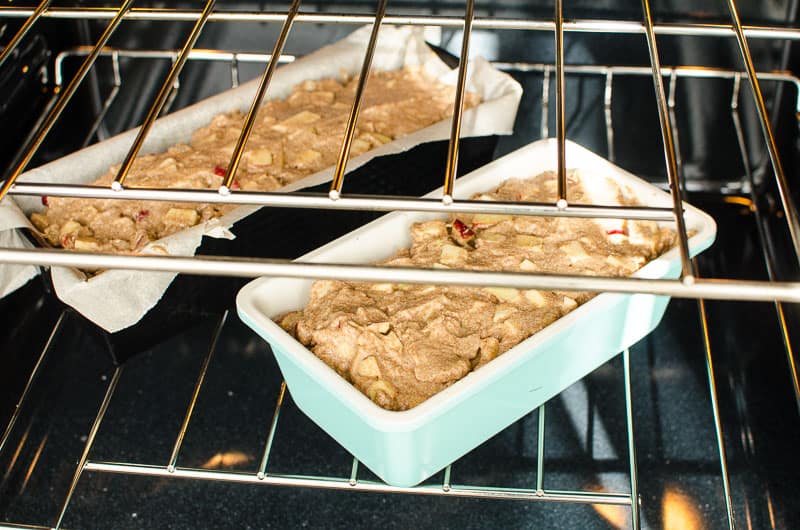 Cool and slice: Remove from the oven and cool for 10 minutes in the pan. Then transfer to a cooling rack to cool off almost completely. Cut into 10 slices with serrated bread knife and enjoy!
Variations
Applesauce: Can be substituted with an equal amount of finely grated raw carrots or zucchini. No need to squeeze anything.
Nuts and dried fruit: Add up to 1/4 cup toasted chopped walnut, pecans, or dried fruit like raisins or dried cranberries.
Dutch apple bread: Add a healthy cinnamon streusel topping like I do in apple cinnamon muffins and almond flour cinnamon bread by combining coconut sugar or light brown sugar with ground cinnamon. Drizzle with a glaze of powdered sugar and milk.
Amish apple bread: This bread is a healthy version of it already, just be sure to add the cinnamon sugar topping listed above.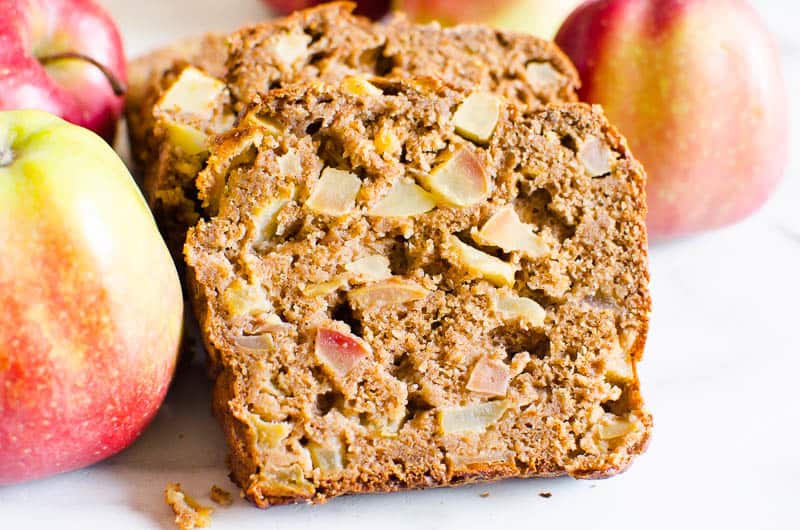 Tips for Best Results
Sweeter bread: If you like very sweet bread, increase to 3/4 cup maple syrup or preferred liquid sweetener.
Bread pan color: Apple bread bakes faster in dark loaf pan than in light or glass one.
Internal temperature of bread: When an instant read thermometer inserted in the center of the bread registers between 195-200 degrees F, it's done!
Bake as muffins at 350 degrees F for 22-25 minutes.
Batter will be thick when making this bread! Don't be alarmed by that and add extra ingredients to compensate, the recipe as written with ingredients will release water as it bakes.
Slicing: Bread will be much easier to slice if you let it cool to barely warm. It has a lot of apples.
How to Serve It
I love to eat this bread slightly warm right out of the oven! Either on its own or spread with softened butter, apple butter, or even nut butter like almond butter or peanut butter.
You could also enjoy it alongside plain or vanilla Greek yogurt. Sprinkle the yogurt with cinnamon for some more cozy fall flavor. For a dessert variation, serve with a scoop of vegan vanilla ice cream.
Storage Directions
Storing: For up to 2 days, I like to place cooled apple bread back into the loaf pan and keep covered with a towel on the counter at room temperature. Sliced bread dries out faster.
Day 3-5, if you have any leftover apple bread at this point, refrigerate it tightly wrapped in plastic or in a plastic bag.
Freezing: Freeze baked and cooled bread in a plastic bag for up to 3 months. It's better to freeze apple bread loaf whole and not sliced.
Reheating: Thaw on a counter for 3-4 hours or in the fridge overnight. Warm entire loaf in the oven at 350 degrees F for 10 minutes or in the microwave.
FAQs
Why is my apple bread so dense?
Over mixing can lead to additional gluten development which will result in an overly dense bread. Try to also grease your loaf pan completely.
Why did it fall in the middle?
The culprit is usually over mixing. The best tip for preventing that happening in this quick bread recipe is to stir gently. Wait 10 seconds then stir again.
Can I use any other flour?
Flour has to be whole grain wheat flour like whole wheat flour or spelt flour. Whole wheat pastry flour or white whole wheat flour may work. I have not tested this homemade apple bread with all purpose flour.

From my experience, I know that baking is precise. You can't use gluten free flours like almond flour, coconut flour, or oat flour.

More Healthy Quick Bread Recipes
Healthy Apple Bread
This Healthy Apple Bread is loaded with fresh apples, warm cinnamon, whole wheat flour and no refined sugar.
Instructions
Preheat oven to 350 degrees F and spray loaf pan with cooking spray. Set aside.

In a large mixing bowl, whisk the eggs for 10 seconds. Add applesauce, maple syrup, oil, vanilla extract, cinnamon, nutmeg, baking powder, baking soda, salt and whisk until well combined.

Add spelt or whole wheat flour and stir gently just enough to combine. Be careful not to over mix. Add apples and give a few more gentle stirs to combine.

Pour batter into prepared loaf pan and level gently with spatula. Bake for 60-70 minutes our until the toothpick inserted in the middle comes out clean.

Remove from the oven and let cool for 10 minutes. Then transfer to a cooling rack to cool off almost completely.

Cut into 10 slices with serrated bread knife and enjoy!
Notes
Store: Store covered in a cool dry place for up to 2 days. Refrigerate covered for 3 more days.
Freeze: In an airtight container for up to 3 months.
Flour: Has to be wheat and whole grain like whole wheat or spelt flour. You can't use all purpose flour or any gluten free flours like almond, coconut, or oat flour.
Sweetener: Any in a liquid form like agave, brown rice syrup, date syrup etc. is acceptable. If you like very sweet bread, increase amount to 3/4 cup.
Use any oil: Like avocado oil, coconut oil (melted) or olive oil. Because we use only 2 tbsps, which oil you use doesn't matter.
Pan: Apple bread bakes faster in dark loaf pan than in light or glass one.
Nutrition
Serving:
1
slice
|
Calories:
210
kcal
|
Carbohydrates:
41
g
|
Protein:
5
g
|
Fat:
4
g
|
Saturated Fat:
1
g
|
Cholesterol:
33
mg
|
Sodium:
354
mg
|
Fiber:
4
g
|
Sugar:
19
g