Sweet Apple Cinnamon Muffins are filled with fall flavors, grated apples, and dipped in a fragrant cinnamon topping. They're quick, healthy, and delicious!
If you love everything apple, you'll also enjoy these healthy apple muffins.
I personally need a bit more time before diving into all things pumpkin, but I am ready for my favorite fall apple cinnamon muffins recipe!
The flavors of fresh apples and warm cinnamon really shine in these healthy muffins. They remind me of an apple pie, only better, because you can enjoy it as a healthy breakfast or healthy snack.
Why You'll Love This Recipe
Fluffy: The same batter base like for my healthy apple bread and healthy morning glory muffins, which have proven to bake tender and fluffy every time.
Delicious topping: Just a dusting of sugar and cinnamon adds a slightly crumbly topping and irresistible taste.
Nutritious: Made with whole wheat flour and sweetened with maple syrup, applesauce, and grated apples.
Customizable: These cinnamon apple muffins can be made with whole wheat flour, spelt flour or all-purpose flour.
Use up lots of apples: Apple season is in full swing, and this easy muffin recipe is perfect for using up a few of those fresh apples. If you have lots, you can even make your own Instant Pot applesauce!
Easy recipe: You'll only need one bowl, no mixer, and simple ingredients. Better yet, muffins are ready in 45 minutes and freezer-friendly, so they're perfect for your busy back-to-school schedule.
Ingredients for Apple Cinnamon Muffins
The best apple cinnamon muffins are made with everyday ingredients. Here's a short list of everything you'll need.
Apples: Choose 3 sweet apples like Honeycrisp, Fuji or Gala apples. We will be grating them to add more moisture and sweetness, and you can peel them or keep the skin on for more nutrients.
Eggs: Use 2 large eggs for binding and structure.
Applesauce: I use unsweetened applesauce. You can use sweetened applesauce and end up with a bit more sweet muffins.
Maple syrup: Any other liquid sweetener would work like honey or agave nectar. I prefer the hint of caramel flavor maple syrup adds to these apple muffins.
Oil: Avocado oil or coconut would yield the healthiest results. Other neutral oils such as light olive oil or grapeseed oil would work too.
Baking essentials: The muchly needed essentials for healthy muffins recipes include pure vanilla extract, cinnamon, baking powder, baking soda, and salt.
Flour: I used whole wheat flour. However, you can sub an equal amount of spelt flour or use all-purpose flour but will need more, see recipe card below.
Cinnamon topping: Melted butter or coconut oil, sugar – I used coconut sugar, and cinnamon enhances the flavor of apples.
How to Make Cinnamon Apple Muffins
The recipe for these apple cinnamon muffins comes in three folds – grating the apples, baking the muffins and then dipping them into the delicious topping (don't skip!).
Here's a step-by-step overview, there is a full recipe card below.
Prep: Set your oven to 375 F, grab your muffin tin, add parchment paper liners (if using), and spray with cooking spray. Then grate apples on large holes of a box grater.
Combine wet ingredients: In a large mixing bowl, whisk eggs, applesauce, maple syrup, oil and vanilla extract together until combined.
Add dry ingredients: Add cinnamon, baking powder, baking soda, and salt to the same bowl and whisk until baking powder and soda are dissolved.
Mix in apples: Transfer grated apples and stir.
Add flour: Finish the batter by adding flour to the bowl and gently stirring just enough to combine. Be careful not to over mix, so muffins don't turn out tough.
Bake: Fill your prepared muffin pan with batter, the cups will be very full but should not spread. I always use my trigger ice cream scoop, so each muffin is the same size. Bake for 23 minutes or until a toothpick inserted in the middle comes out clean.
Let muffins cool: After removing muffins from the oven, allow them to cool in the tin first for roughly 10 minutes, then transfer to a wire rack until they have reached room temperature or completely cooled.
How to Add Topping to Apple Muffins
Mix cinnamon sugar: In a medium size bowl, whisk sugar and cinnamon together.
Brush muffin tops: Starting with one muffin, brush the top with the melted coconut oil or butter works well too.
Dip in cinnamon sugar: Gently dip muffin top into the bowl with cinnamon sugar until it's well coated.
Finish muffins: Repeat the same three steps with the remaining apple cinnamon muffins and enjoy!
What Apples Are Best When Baking Muffins?
Truthfully, any apple is good for baking as long as they are sweet!
I recommend using any sweet variety such as Honeycrisp, Fuji, Pink Lady, or Gala apples. I also like to combine one tart apple, like Granny Smith, with two sweet apples but that is 100% personal preference.
And if you have different sweet apples in your region I have not listed, go ahead and use them.
Tips for Best Results
Here are my top tips for making these fall favorite muffins.
Grate the apples: Grate your apples on the coarse side of a box grater, they add moisture vs chopping them. Don't grate them on the smallest holes because it will take a while and it will be more of an apple puree.
Measure flour correctly: Scoop the flour into the measuring cup, then level it off with the flat edge of a knife. Don't scoop the cup directly into the flour bag! The scoop and level method always yields better results.
Don't overbake: Your apple muffins could come out dry if baked for too long. Remove from the oven as soon as the toothpick comes out clean. A few crumbs is OK but not wet.
Use any sugar in topping: Any sugar like turbinado sugar, cane sugar, granulated sugar, brown sugar, or coarse white sugar will add a sweet crust.
Follow the recipe: I've kept this recipe simple but baking is a science, so be sure to follow the measurements and instructions.
Don't skip oil: Oil is important as it keeps the muffins moist and tender, and without even a little bit of fat your muffins will be rubbery.
Don't use granulated sugar: Only liquid sweetener will keep the wet to dry ingredient ratio. If you use granulated sugar, the batter consistency will be off.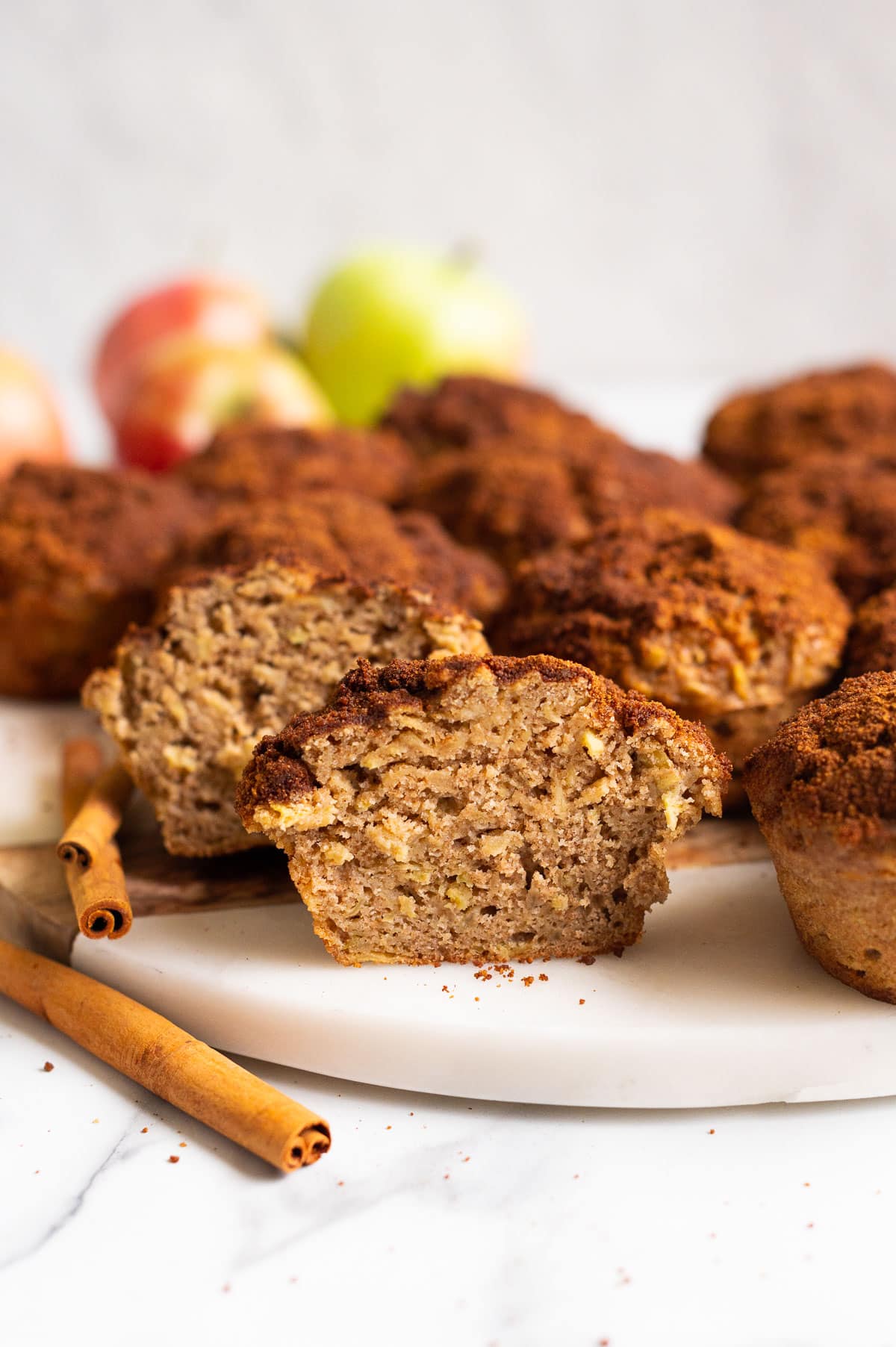 Variations
Add up to 1/2 cup of each or 1 teaspoon of these simple variations to these already delicious cinnamon apple muffins.
Nuts: An easy way to add crunch, taste, and extra nutrition is to incorporate nuts into the batter. You can add walnuts, pecans, or almonds as chunks or chop them, so they spread evenly throughout the mixture.
Almond extract: Add a nutty flavor without the added crunch with a dash of almond extract.
Dried fruit: Bring a pop of color and even more sweetness with dried apricots, cranberries, or blueberries.
Coconut flakes: Unsweetened coconut flakes can be added to the batter mixture and the muffin top for a fun tropical twist.
Chocolate chips: Because chocolate chips taste good in any muffin!
Citrus: A splash of lemon, lime or orange juice and zest will enhance all the flavors.
Streusel instead of cinnamon sugar: Just like in my raspberry muffins, you can make crumb topping by combining 1/4 cup flour, 2 tablespoons sugar and 1 tablespoon butter. Mix until small crumbs form and sprinkle on top of muffins before baking.
How to Store
Store: Transfer muffins to an airtight container and keep them in a cool dry place for up to 3 days. You can also store them in the refrigerator for up to 5 days.
Freeze: Let them cool completely, then arrange in a single layer in either a resealable plastic bag or any freezer safe container with a lid. If using the bag method, be sure to remove as much air as possible. Straw works well to suck it out!
Set in the freezer and enjoy within 3 months.
FAQs
Can I use any other flour?
I have tested this recipe with whole wheat flour and all-purpose flour. You can also use whole wheat pastry flour or white whole wheat flour. Unfortunately other flours will require recipe changes.
Can I make mini muffins with this recipe?
Yes. To make mini muffins follow the recipe, distribute batter evenly between mini muffin cups and bake for 12-15 minutes or until a toothpick comes out clean.
Can I turn it into apple cinnamon bread?
Yes. The two main rules to follow when turning muffins to a quick bread are to bake at a lower temperature, and extend the bake time. Preheat oven to 350 degrees F and bake for 50 – 60 minutes. All ovens vary, I recommend doing a toothpick test around 50 minutes.
Can I omit the cinnamon sugar topping?
Yes, but note your muffins will be less sweet.
More Apple Recipes to Try
More Muffin Recipes to Try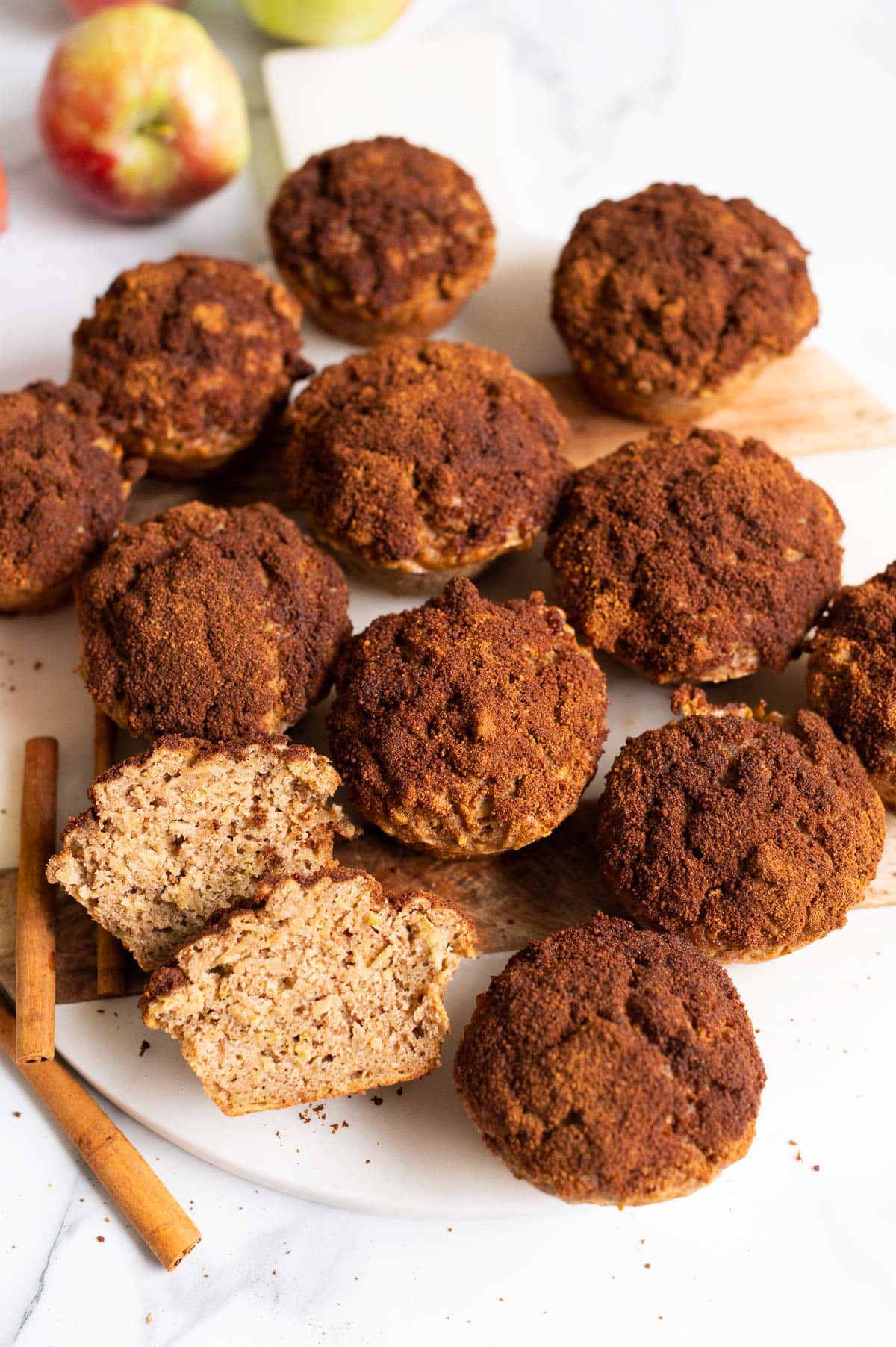 Apple Cinnamon Muffins
Apple Cinnamon Muffins are filled with fall flavors, grated apples, and dipped in a fragrant cinnamon topping. One bowl, easy recipe!
Instructions
Preheat oven to 375 degrees F and line muffin tin with parchment paper liners and spray with cooking spray. Set aside. Grate apples.

In a large mixing bowl, add eggs, applesauce, maple syrup, oil and vanilla extract. Whisk well to combine. Then add cinnamon, baking powder, baking soda, and salt. Whisk very well again, making sure baking powder and soda are dissolved.

Add grated apples and stir. Add flour and stir gently just enough to combine. Do not over mix.

Using large ice cream scoop, fill muffin 12 tin openings with batter. They will be very full. Bake for 23 minutes or until toothpick inserted in the middle comes out clean.

Remove muffins from the oven, let cool in the tin for 10 minutes and then transfer to a cooling rack to cool until room temperature or completely.

In a medium bowl, combine sugar and cinnamon, whisk. Brush each muffin top with coconut oil and dip it into cinnamon sugar until well coated. Repeat with remaining muffins.
Notes
Store: Store in an airtight container in a cool dry place for up to 3 days or in a fridge for up to 5 days.
Freeze: Bake and cool muffins completely. Arrange in a single layer in resealable plastic bag or any container with a lid. Freeze for up to 3 months.
Apples: Best apples to use are any sweet variety like

Honeycrisp, Fuji, Pink Lady or Gala apples work. You can also use one sweet apple and one tart apple like Granny Smith. Grated is better than chopped, and it's up to you if you want to peel it or not.
Nutrition
Serving:
1
muffin
|
Calories:
245
kcal
|
Carbohydrates:
41
g
|
Protein:
5
g
|
Fat:
8
g
|
Saturated Fat:
3
g
|
Trans Fat:
0.003
g
|
Cholesterol:
31
mg
|
Sodium:
238
mg
|
Fiber:
5
g
|
Sugar:
18
g