This vegan vanilla ice cream was so good we devoured it at 10:30 PM last Saturday after getting home from watching fireworks. I have been meaning to make coconut ice cream in simple vanilla flavour for a while and started experimenting on Friday night. It was trial and error big time. Thank goodness I stocked up on 10 cans of my favourite coconut milk that was on a sale (2 for $5). Kids were so anxious to try it that they even skipped an ice cream shop before the fireworks. I promised we will have some when we get home. Money and "a slice" of health saved.
This coconut ice cream turned out SO good! And so much healthier than a store-bought one. Think healthy fats from coconut milk versus cholesterol from heavy cream and eggs. Pure maple syrup full of 54 antioxidants, manganese and zinc in place of refined GMO sugar. And vanilla. That is it. 3 ingredients ice cream.
Since I am on a dairy free experiment I can't even if I want to have regular ice cream. My face will explode with acne. Ice cream and wine are my favourite treats and honestly I have quite a lot of fun making ice cream in summer – healthy chocolate ice cream, coconut mango ice cream and strawberry rhubarb ice cream are just a few to name. Makes me feel super fuzzy inside knowing my kids do not eat any non-sense and it tastes amazing.
Let's go through a bit of homemade vegan vanilla ice cream science. I learnt a few tricks the hard way last weekend.
First, you start with full fat coconut milk. I used Compliments brand (Sobeys, IGA and Thrifty Foods generic brand). Thai Kitchen and Trader Joe's coconut cream work very well too. Do not try to use Asian brands with additives or low fat coconut milk. Won't work.
You can use pure vanilla extract or vanilla beans. I tried both and both were good. For vanilla extract I recommend good quality pure one. I have Costco's vanilla extract and I taste more alcohol than vanilla. When I tried pure one – it is day and night.
Vanilla beans are expensive and are not necessary. I have got some as a sample and decided would be super cool to have those black dots (vanilla bean seeds) in photos. Now I am thinking to invest into vanilla bean powder…
Blend it all. Food processor works too. Haven't tried to whisk manually so can't tell. Another trick I learnt – mixture should be sweeter than final result. Somehow and I am not a scientist, ice cream tastes less sweet than mixture. Don't ask – just do it.
Then important step – you have to chill the mixture. Learnt that hard way. It was a hot day plus warm mixture even in a frozen ice cream bowl – ice cream just wouldn't freeze. No way. So, I recommend to chill the mixture overnight or at least for a day. If placing ice cream bowl in a freezer the night before, make the vegan vanilla ice cream mixture at same time and refrigerate overnight. Done. Simple just a bit of planning ahead.
I finally gave in and bought these cones. $6 for 12 but we don't eat ice cream often. They are delicious sugar cones without any chemicals. Still cheaper than an ice cream cone at an ice cream shop at $4 each on average. I feel so good giving these to kids.
Now, pour chilled mixture into frozen ice cream bowl and turn machine on. I have a cheap ice cream maker from Superstore, similar to this one. I suspect it takes longer to churn than a brand one like Cuisinart. I mean I paid $25 for mine and whatever. If it breaks I will buy Cuisinart.
So, churning time varies from 20-60 minutes but please note your ice cream doesn't have to be ready serve frozen consistency. It should be more of a soft serve. Thicker than mine in a photo above because I was still experimenting. I refrigerated maple syrup and coconut milk overnight thinking to skip chilling mixture but that wasn't great. So, chill your mixture for sure.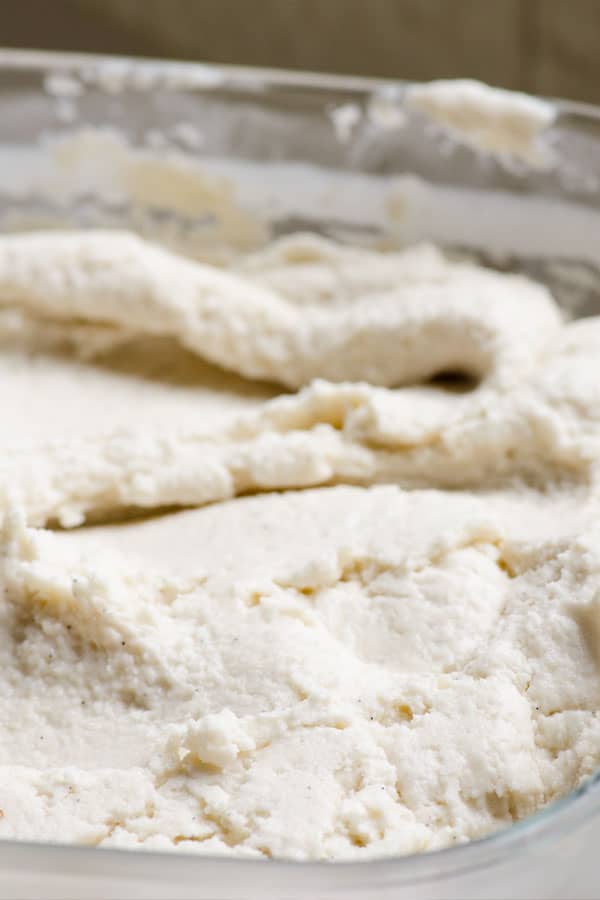 Then all you have to do is place churned vanilla ice cream into a freezer for about an hour. At this point you can start get everyone excited.
Also please note you need an ice cream machine to make this vegan vanilla ice cream! No shortcuts. Otherwise it will be a solid rock. Coconut milk crystallizes during churning creating air in ice cream thus making it soft.
Pillowy soft, creamy and delicious! This was so good! I was amazed once again how simple things can be the most delicious. And no condensed milk, sugar or heavy cream. I love using maple syrup but you can try honey, especially the light one with a mild taste.
Have a great Friday, make yourself this vegan vanilla ice cream on the weekend and let me know how you liked it on Monday! Happy weekend! It is going to be a cold and rainy one in Vancouver (kind of a nice change from the beach past weekend) so we are planning to warm up with some hot tub, wine and Ikea shopping.
Vegan Vanilla Ice Cream
Vegan vanilla ice cream is easy healthy coconut ice cream recipe made with coconut milk, maple syrup and vanilla extract.
Print
Rate
Instructions
Also the night before, in

a blender

or

food processor

, add coconut milk, maple syrup and vanilla extract. If using vanilla beans, lay them on a cutting board, cut in the middle lengthwise and scrape out the seeds with a paring knife. Add to the blender and process until well combined. Place mixture in a fridge to chill overnight. This is important step otherwise your ice cream won't crystallize, especially if it is hot outside.

The next day, pour ice cream mixture into frozen ice cream bowl, place lid on top and turn it on to start churning. Depending on your ice cream machine it may take 20-60 minutes to bring ice cream to a soft serve consistency. It won't fully freeze.

Transfer soft serve ice cream into any container with a lid and freeze for another hour or so. To serve, let thaw for 5-10 minutes.
Store: Freeze in a glass airtight container for up to a few months.
Notes
*I highly recommend to use Thai Kitchen, Compliments or Trader Joe's full fat coconut milk as it produces creamy and smooth ice cream thanks to a guar gum. It is available organic and regular.
I have tried other brands with less favourable results. Coconut cream from Trader Joe's is good too.
**I prefer maple syrup for making ice cream and haven't tried this vanilla ice cream with honey. It will work but taste will depend on the type of honey you use. Light colour honey is usually mild tasting vs. dark with more prominent honey taste.
Nutrition
Serving:
0.5
cup
|
Calories:
284
kcal
|
Carbohydrates:
26
g
|
Protein:
2
g
|
Fat:
21
g
|
Saturated Fat:
19
g
|
Sodium:
14
mg
|
Potassium:
233
mg
|
Fiber:
1
g
|
Sugar:
23
g
|
Vitamin C:
1
mg
|
Calcium:
20
mg
|
Iron:
3
mg
Join today and start saving your favorite recipes
Recipes and images are a copyright of ifoodreal.com. It is against the law to republish recipes anywhere including social media, print and all world wide web. Nutritional info is provided for informational purposes only and to the best knowledge.