How to Make a Flax Egg with only two ingredients. This versatile vegan egg substitute can be used as a binder for all sorts of baked goods and recipes!
Lately, I've found myself adding recipe notes on how to customize healthy baked goods to be egg free. Largely with the use of vegan egg substitutes like Instant Pot applesauce, chia egg, and now a recipe for how to make a flax egg!
This flaxseed egg substitute works as a binder and adds similar moisture to what is found in a regular egg. While baked goods won't be quite as fluffy and tall, flax eggs make impressive results.
Plus, they are so simple to prepare with just two ingredients!
What is a Flax Egg?
A flax egg is an egg substitute that is made with ground flax seeds and water.
When ground flaxseeds are mixed with water, it creates a gel like consistency, similar to an egg in baked goods and many other recipes.
Plus, you get all the nutritional benefits of plant based flax including fiber, protein and omega-3 fatty acids.
Whether you have an egg allergy, just ran out of eggs, or need a vegan substitute for eggs, this natural egg replacement is also gluten free, dairy free, and paleo!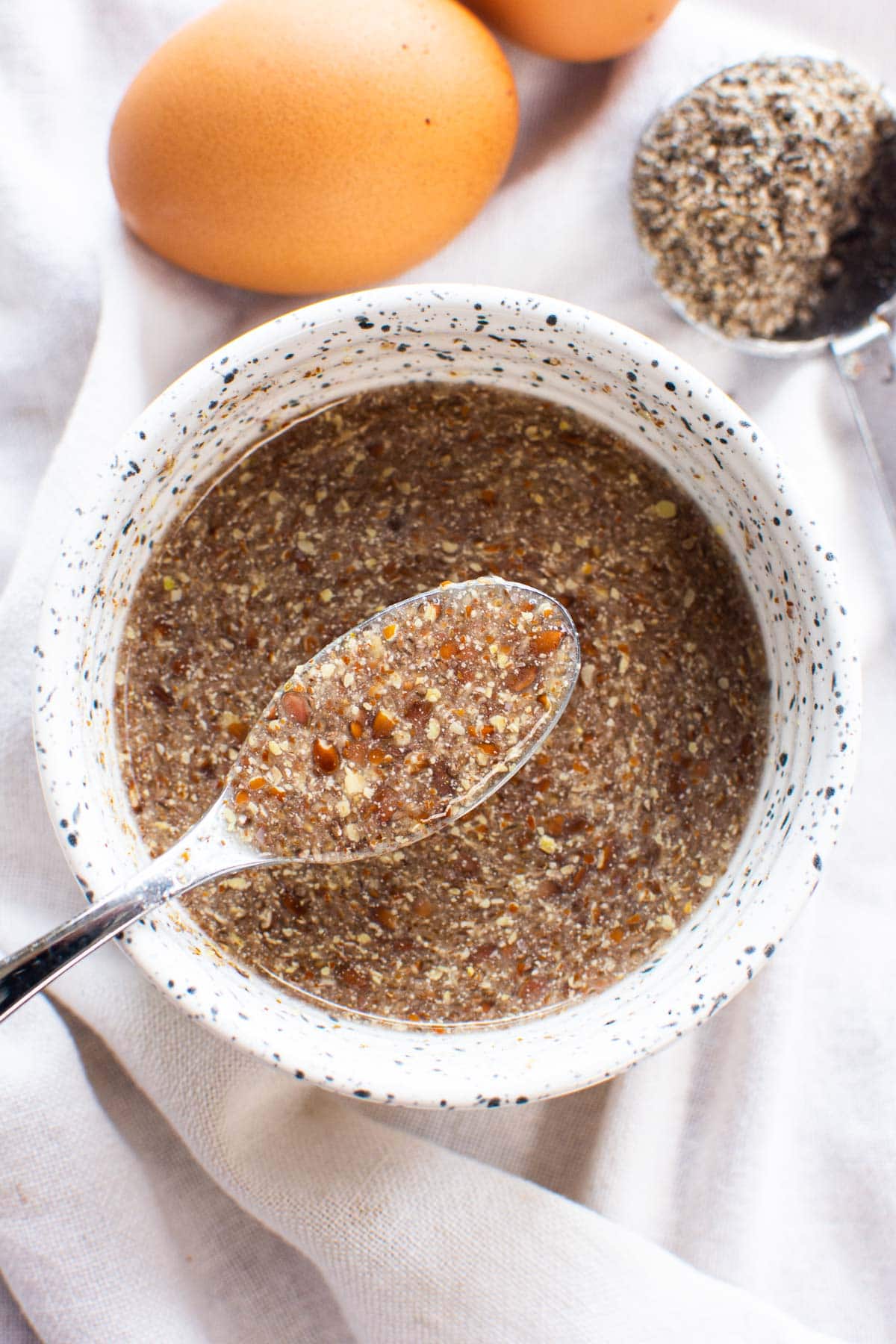 Are Flax Seeds Healthy?
Incredibly so! Flax seeds are also known as linseeds or "common flax" and are from a flowering plant called the Linum Usitatissimum, which is a food and fiber crop.
Plant based source of fiber
High in omega-3 fatty acids
One tablespoon ground flax contains 1.3g of protein
Contains the B vitamin thiamine which supports metabolism
Ingredients You'll Need
Flaxseed: You'll need ground flax seeds (also called milled flaxseed). You can buy it pre-milled, called flaxseed meal, or grind it at home.
Water: All you need is regular water.
How to Make a Flax Egg
I've found that the best flax egg ratio is 1:2.5! This is 1 tablespoon of ground flaxseed to 2.5 tablespoons of water.
This makes for a stickier, thicker "egg", which I've found works better in baked goods.
Combine the ground flaxseed and water in a small bowl. One flax egg is equal to one egg.
If you need more than one egg, multiply ingredients accordingly.
Using a fork or spoon, stir your flaxseed and water together. Then set the bowl aside and allow it to sit for 10 minutes, or until the mixture is gelatinous and thick, with a "gloopy" consistency.
Once prepared, I prefer to use flax eggs immediately. However, they can be stored in an airtight container in the fridge for up to 5 days.
Do I Have to Use Flaxseeds?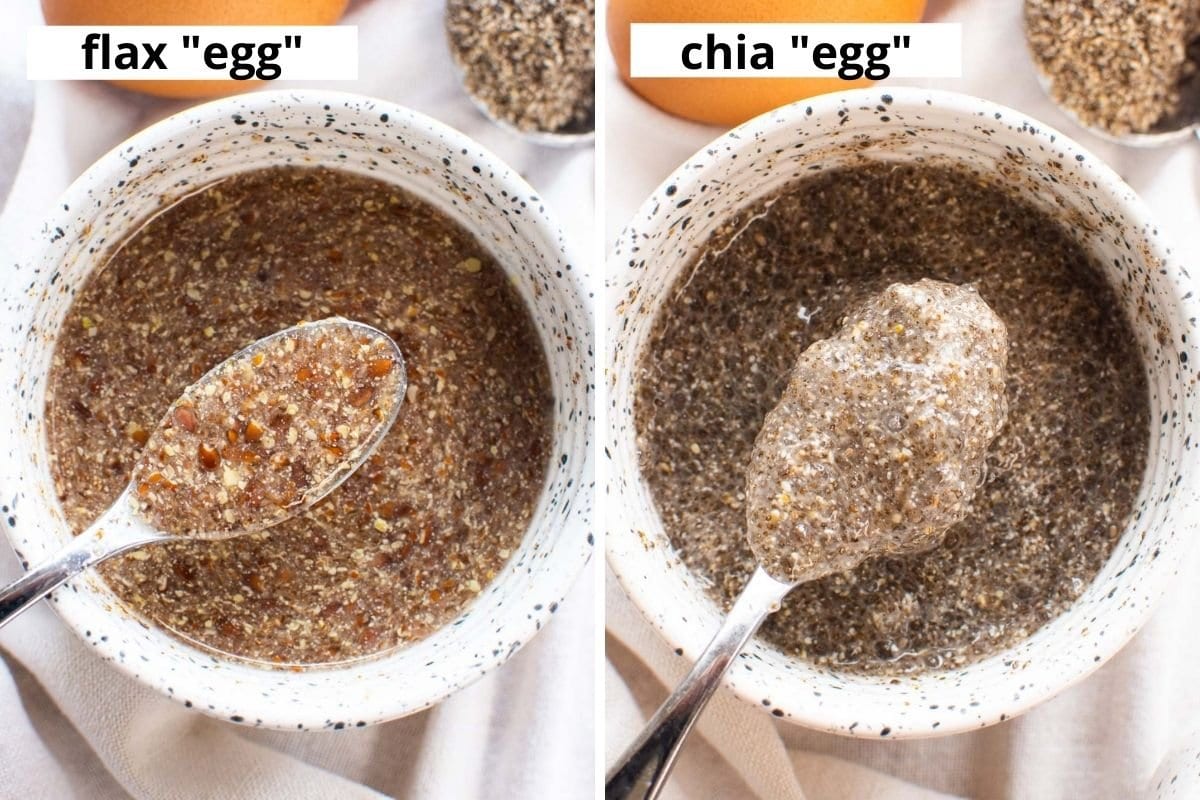 No. This flax egg ratio also work identically with chia seeds!
Combine 1 tablespoon of ground chia seeds with 2.5 tablespoons of water and allow to rest until thick and goopy.
I've found that chia seed eggs are harder to "disguise" in baked goods when they have subtler flavors (like vanilla). However, they work well in anything chocolatey or recipes that use flavorful flours.
What Flax Meal Is Best to Use?
While you can use brown or golden flax seeds, brown flaxseed eggs may impact the color of your baked goods (i.e., when making healthy vanilla cupcakes or something else light).
Note that either color of flaxseed will need to be ground. You can easily grind your own at home by using a coffee grinder. Or add the amount to a high speed blender or food processor and grind it into a powder.
How Do Flax Eggs Taste?
Flax eggs have a very neutral flavor that you're unlikely to taste within your baked goods. In fact, that's one of the reasons they're such a popular option.
Can I Substitute for Real Eggs Equally?
In many cases, you can substitute flax eggs with a 1:1 ratio instead of a regular egg in recipes that require only 1 – 2 eggs. After that, the differences between eggs and flax eggs becomes more apparent, and things can go a little sideways.
Flax eggs cannot be used in recipes where eggs are the main ingredient like frittata or quiche. Or any recipe where they're meant to whip like mousses, souffle, macaroons and most cakes that may rely on egg whites.
I've also found that they don't work as well in brownies, which rely on the eggs for lift and structure.
I have successfully used flax eggs in a couple of gluten free baked goods. However, it's important to note that eggs add important structure in gluten free recipes that flax eggs can't mimic in the same way. For example, I do not recommend them in almond flour pancakes.
Always check the recipe notes to see if it is suggested to use an egg replacement or not.
Troubleshooting Tips
Use room temperature water: Room temperature and slightly warm water seem to speed up the gelling process over cold water.
Ensure your flax meal is fresh: Ground flax meal should be replaced every few months. Storing ground flax meal in the fridge or freezer helps extends its shelf life. If it smells like old playdough or paint varnish it's possible it has gone rancid.
Make sure to mix the flax egg first

:

If you try to add the ground flax and water separately to a recipe and are expecting the same results, you're going to be disappointed.

Expect less volume and rise: Remember that recipes with flax eggs do not rise as much as with real eggs.
Let baked goods cool sufficiently: When you first remove your bread or muffins from the oven, they will appear soft but after cooling for 45 minutes or longer the texture will firm up for better holding, slicing, or eating.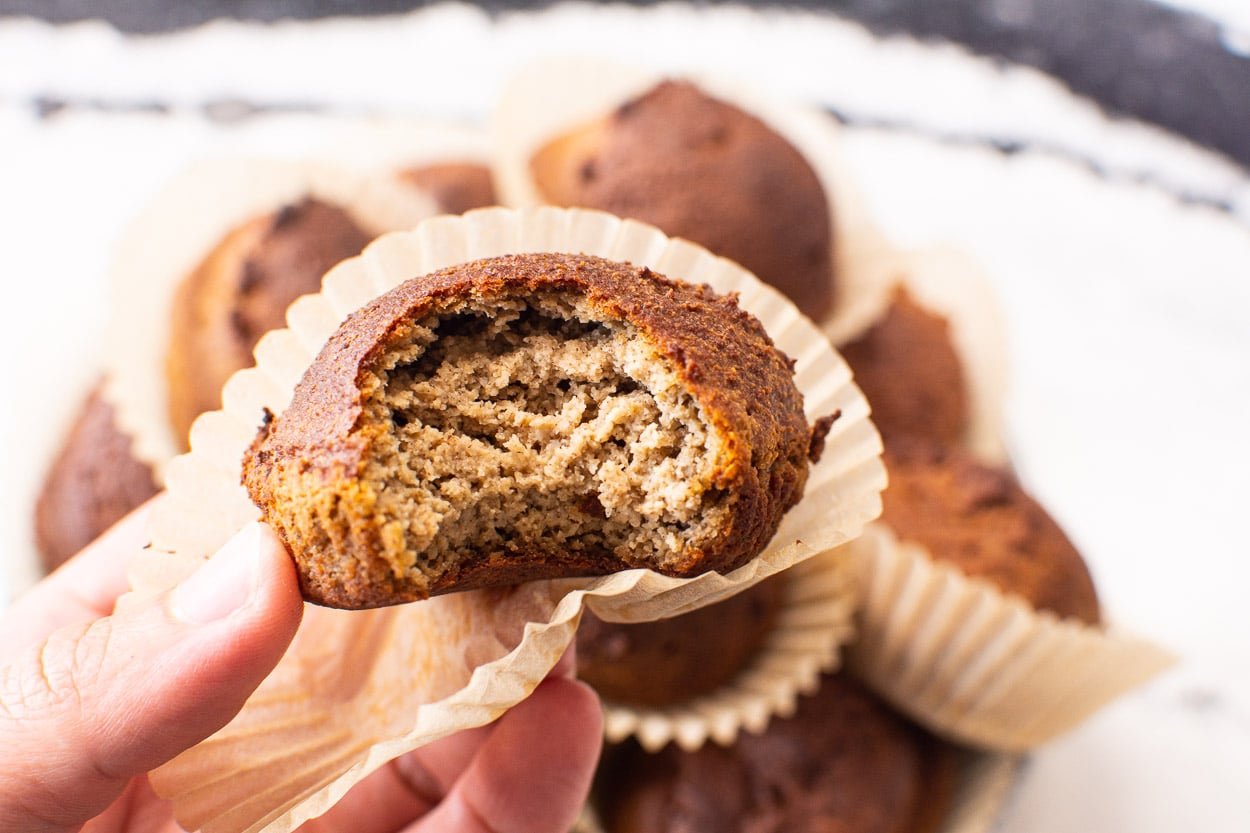 Recipes Using Flax Eggs
Here are some recipes that work well with using a flax seed egg!
How to Make A Flax Egg
How to Make a Flax Egg with only two ingredients. This versatile vegan egg substitute can be used as a binder for baked goods and other recipes!
Ingredients
1

tbsp

ground flaxseed

2.5

tbsp

water

cold or warm
Instructions
In a small bowl, add ground flaxseed and water. If need multiple eggs, just multiply the ingredients.

Stir with a fork and let sit for 10 minutes, until the mixture is thick, "gloppy" or congealed.
Notes
Store: Refrigerate in an airtight container for up to 5 days.
Can I use whole flax seeds? No, for seeds to thicken they have to be ground.
How to grind flaxseed: Add desired amount of whole flax seeds to a high speed blender or food processor and grind until powder forms. Do not overprocess into paste.
2.5 tbsp vs. 3 tbsp of water: Using 2.5 tbsp of water makes stickier and thicker flax egg.
Let baked goods cool sufficiently: At first baked goods will appear soft. Cool for 45 minutes or longer to allow baked goods to settle into a firmer texture.
Nutrition
Serving:
1
egg
|
Calories:
37
kcal
|
Carbohydrates:
2
g
|
Protein:
1
g
|
Fat:
3
g
|
Saturated Fat:
1
g
|
Sodium:
4
mg
|
Fiber:
2
g
|
Sugar:
1
g