If you can find a more simple healthy banana bread recipe sweetened only with 1/3 cup maple syrup/honey and not using a cup of vegetable oil, feel free to leave it in the comments. Your perfect banana bread should be moist and the top should be cracking, gloss-ing and sticking. And when you take a bite it melts in your mouth. That in my world is a perfect banana bread and you are looking at it right now!
I also have amazing banana coconut flour bread with peanut butter and banana zucchini muffins with chocolate chunks recipes, if you are looking for a variation of banana bread recipe; as well as to-die-for delicious without a cup of oil and simple healthy zucchini bread.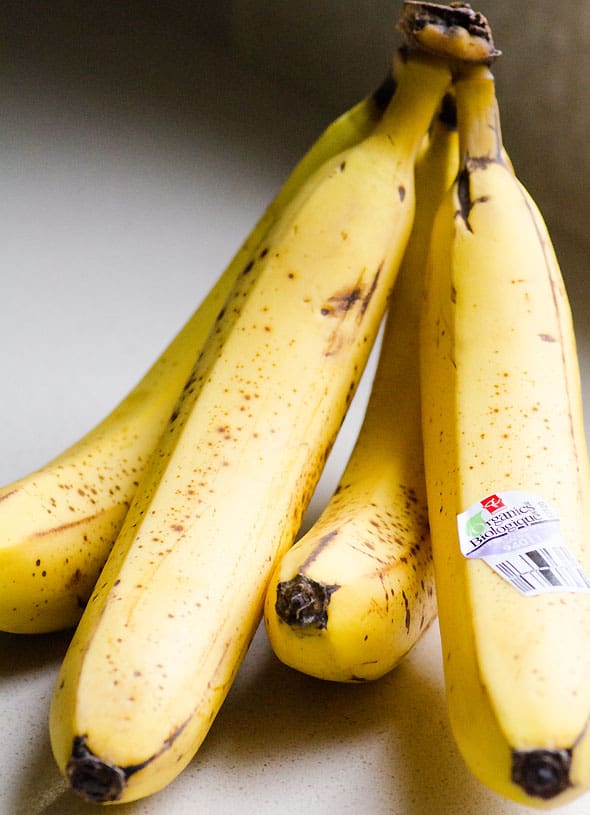 Your first key to a success with banana bread is going bad bananas. Even uglier than I have pictured above. With a lot of brown spots. They make perfectly moist bread with little dark threads throughout. You know those?! That is one of the signs of a good banana bread to me.
This is the rest of the gang…Applesauce from my backyard that I froze in portions. Emergency vanilla extract because I ran out of an organic one and a homemade one is in the making. Aluminum free baking powder…who wants to eat aluminum?! Maple syrup and spelt flour.
A few weeks ago I was introduced to these wonderful people from Daybreak Mill from Saskatchewan, that is in Canada, people. I assume not many of you are familiar with our prairies where you can watch your dog run away for 3 days. So, this wonderful family has been producing organic grains, flours and cereal since 1953. That sweetest old man somehow makes me believe I'm getting the best of the best left in this poisoned part of the world. You won't find Daybreak Mill's products in big box stores but rather look in smaller local and health food stores in Canada or online. Their spelt flour was amazing in this bread! On my list is to try their einkorn flour which I have personally never heard of. I also have used whole wheat flour which produces a little less fluffier bread which I personally prefer.
This healthy banana recipe is so simple my 9 year old made this bread following only ingredients list without directions drafted on my phone. The bread came out exceptional. So, you can make it. It is super-duper that good. My Italian neighbour is whipping it up right now too.
Enjoy and stop eating Starbucks.:)
Print
Healthy Banana Bread
Simple Healthy Banana Bread with applesauce, coconut oil, whole wheat or spelt flour, and honey or maple syrup. Healthy recipe with rave reviews.
Author:
Prep Time:

15 minutes

Cook Time:

60 minutes

Total Time:

1 hour 15 minutes

Yield:

10 servings
Instructions
Preheat oven to 350 degrees F. Line 9 x 5 loaf pan with unbleached parchment paper.
In a large bowl, mash bananas with a fork or a masher. Push to a side, add eggs and whisk. Add applesauce, honey, oil, vanilla, baking powder, baking soda and salt; whisk to combine.
Add flour and stir gently just enough to mix. Pour batter in prepared loaf pan and bake for 50 – 60 minutes or until a toothpick inserted in the middle comes out clean. Remove from the oven and let cool for 15 minutes. Then transfer to a cooling rack to cool off completely. Cut into 10 slices and enjoy.
Store: Keep in a cool dry place in a glass airtight container for up to 4 days or freeze for up to 3 months.
★ Did you make this recipe? Please give it a star rating in the comments.