This Healthy Lemon Zucchini Bread recipe is super moist with a delicious burst of zingy, zesty lemon flavor, nutrient-dense almond flour, and a hidden green veggie – sure to be a family favorite! This lemon bread is also naturally gluten-free, refined sugar-free, oil-free, wheat flour-free, and can be enjoyed as a snack, healthy breakfast idea, or dessert!
If you've never hidden zucchini into your baked goods before, it's time to start now with almond flour zucchini muffins and healthy zucchini brownies. I even have a recipe for whole wheat/spelt lemon zucchini muffins, too!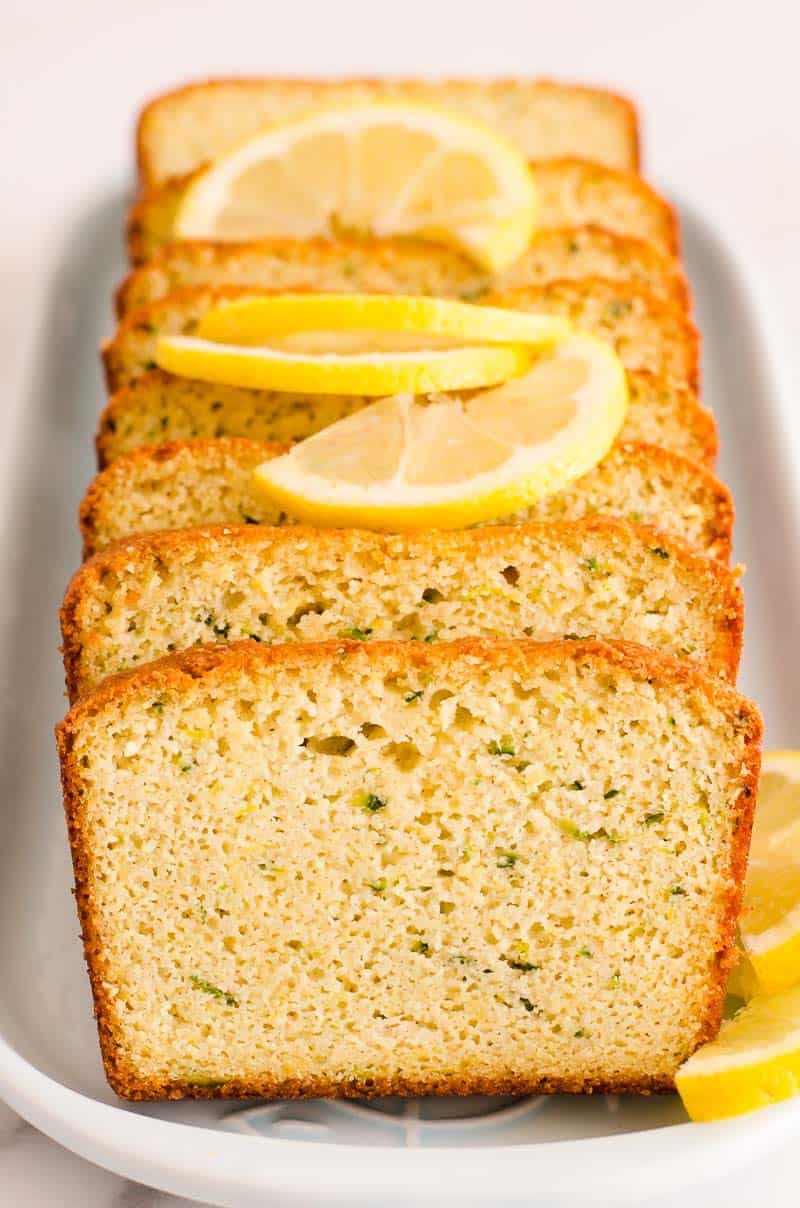 Moist, Zingy, Summer-Ready Lemon Zucchini Bread
This lemon zucchini bread recipe is one of my all-time favorites on the blog and is something I've made for almost a decade for healthy snacks! Try it for yourself and you'll realize this lemon zucchini bread tastes like a super-indulgent version that uses all the regular white flours, sugars, etc. Except that it isn't!
Instead, this lemon bread is zesty, sweet, and decadent without being overly sweet using just unrefined sugar. It's also super moist from zucchini (like this almond flour zucchini bread and healthy zucchini banana bread too- so soft and moist!), zingy from lemon juice and zest, and even more nutrient-dense with the use of wheat-free almond flour.
Like zucchini, almond flour has become a favorite baking ingredient of mine. Made up of finely ground blanched almonds, almond flour is low-carb, high-fiber, high-protein, and packed with heart-healthy fats. This combination means that it creates rich baked goods that fill you up without feeling 'heavy' on your tummy.
However, even with all these healthier ingredients, this lemon bread is a family favorite (even with kids), and no one would guess it's filled with zucchini. It's the perfect summery loaf to make during summer when there's an overflow of zucchini in your (or your neighbors) garden. I mean, there's only so much grilled zucchini and zucchini fritters you can make, right?! Plus, my kids love anything lemony – like these healthy lemon bars, too.
Best of all, the baked lemon zucchini loaf is healthy and wholesome enough that you can enjoy it as a snack, breakfast, brunch, or dessert dish! And if you're still looking for more inspiration on how to use up leftover zucchini, why not check out this list of 30 healthy zucchini recipes!
Why This Lemon Zucchini Bread Recipe Works?
This lemon zucchini bread is soft, sweet, and moist but much healthier than regular lemon bread recipes!
It's also bursting with fresh, zesty lemon flavor!
The addition of zucchini yields a super-moist cake, with no zucchini flavor. It practically melts in the mouth!
Yet it still manages to have that delicious slightly crispy crusty edges!
Made from just 5 simple ingredients and a handful of baking essentials!
This lemon zucchini bread recipe is naturally gluten-free with the use of high-protein, nutrient-dense almond flour!
You may also love to browse over 20 almond flour recipes!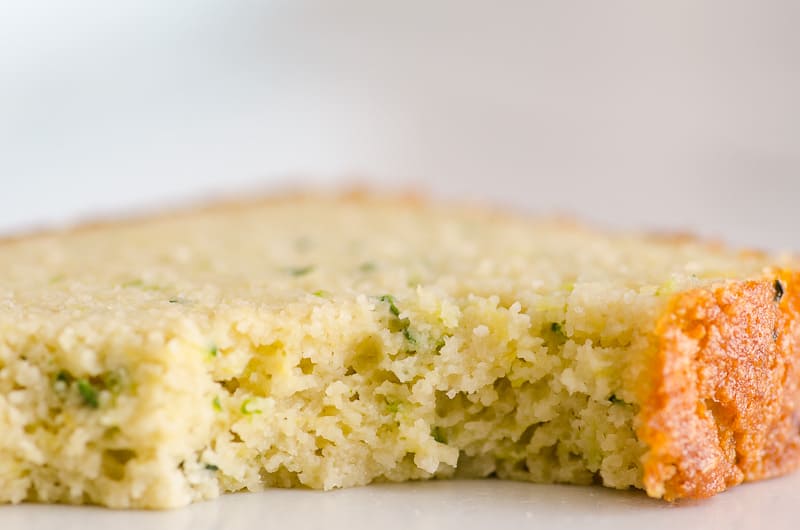 Ingredients for Lemon Zucchini Bread
All you need for this lemon zucchini cake is just 5 simple ingredients and a handful of baking essentials including baking powder and soda, salt, and vanilla extract.
Eggs: Use room-temperature eggs for the best results. I have not tested with learning how to make a flax egg or chia egg but they may work.
Zucchini: You'll need around 1/2 a medium zucchini – this will help to add moisture to the lemon zucchini bread without impacting flavor.
Lemon: It's best to use an unwaxed organic lemon since we're using the zest and juice. Use one large or two small lemons. Try healthy lemon poppy seed muffins!
Sweetener: I've used maple syrup and honey before. Other liquid sweeteners will also work, but the flavor will vary.
Almond flour: Use superfine blanched almond flour for the best results. You can experiment with a coarser almond meal, but the texture will differ. Make almond flour bread next!
Leavening agents: Baking powder and baking soda both work to provide lift and texture to the lemon bread.
Salt: Just a little is needed to balance and enhance the depth of flavor.
Vanilla Extract: I recommend using natural vanilla for the best flavor.
How To Make Gluten Free Lemon Zucchini Bread
Preheat the oven: to 350F/180C and line a 9×5-inch loaf tin with parchment paper (leave some overhang) and cooking spray. Then set aside.
Prep your lemon and zucchini: Zest and juice the lemon, and grate the zucchini on the medium side of a manual grater or using a food processor disk. Don't squeeze any of the liquid from the zucchini.
Mix the wet ingredients: In a large bowl combine the eggs, lemon zest + juice, maple syrup, vanilla extract, baking powder and baking soda, and salt. Whisk until light and foamy.
Fold in the zucchini and almond flour: Use a spatula to gently fold the almond flour and then the zucchini into the batter until well combined. When ready, the batter should be thick – like muffin batter consistency.
Bake the lemon zucchini bread: Bake the lemon bread in the oven for around 50 minutes, or until a toothpick inserted in the center of the cake comes out clean. Then remove it from the oven and allow it to cool for 10 minutes in the tin before removing it to cool completely on a wire rack. Then slice and enjoy!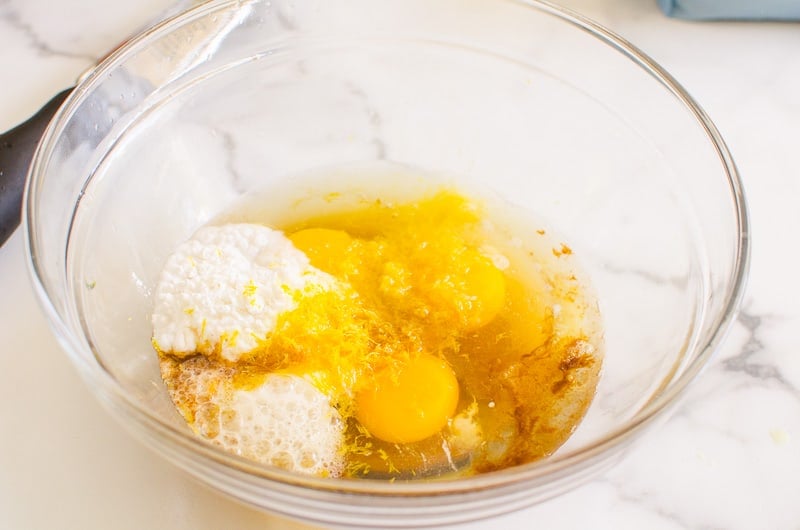 Tips for Best Results
Make sure to allow it cool: I know it's hard to resist, but please let the lemon zucchini bread cool for at least 20 minutes before cutting it with a serrated knife. That way it won't fall apart on you!
Grease the pan: That way it should be easy to remove the lemon bread from your pan. I actually find that parchment paper is unnecessary but I recommend it, just in case. I recently bought this ceramic non-stick loaf pan and I adore it – no parchment paper needed!
Making substitutions to the recipe: Any time a substitution is made it can impact the flavor and/or texture of the lemon bread. For that reason, I recommend making the recipe as written for the best results. However, I've included several substitutions I have tried though, too.
Make sure to use the spoon and level method: When measuring the almond flour (rather than scooping the cup directly into the flour bag).
If you use too much flour, this lemon zucchini almond cake will end up dense. Be sure to measure almond flour exactly.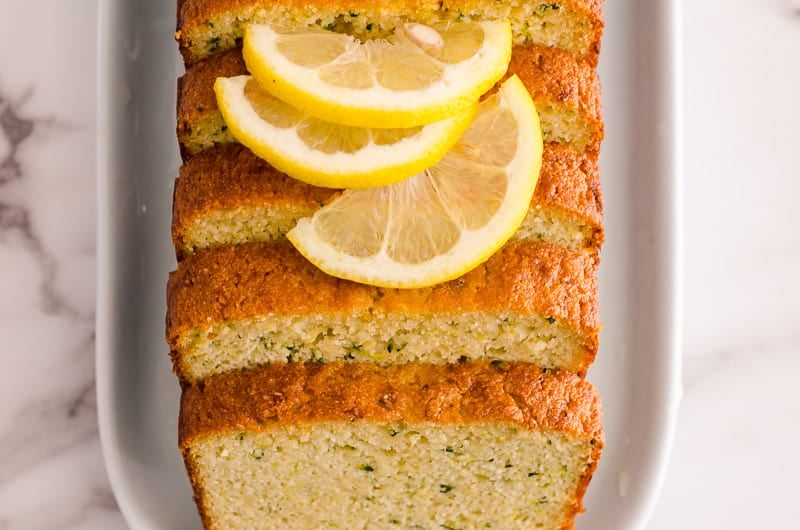 Variations and Optional Add in's
Once you have the basic lemon zucchini bread recipe sorted, feel free to experiment with optional extras for another boost in flavor. Here are some of my top suggestions that pair well with lemon bread.
Tea: Earl Grey pairs particularly well with lemon bread. I recommend mixing the leaves from around 2 Earl Grey tea bags into the cake batter. Alternatively, regular black tea (2 tea bags) would also work.
Lavender: Just 1 tsp of culinary grade dried lavender is enough to delicately scent the lemon bread without overwhelming.
Poppy seeds: Lemon and poppyseed are a classic pairing. Add 1 tbsp of poppy seeds to this lemon zucchini bread. You may also love this healthy lemon poppy seed bread made with almond flour, too!
Berries: This lemon zucchini bread recipe is already very moist, thanks to the zucchini. If adding berries, you may want to squeeze out a little excess liquid from the zucchini. I recommend adding around 1/2 cup of blueberries, chopped strawberries, or raspberries (try berry trifle next!). Keep some of that to dot the top of the loaf with before baking. You can also use dried fruits/berries too.
You could also attempt to make a healthier 'glaze' – try this healthy lemon one from almond flour lemon cookies or this vanilla one from healthy cinnamon rolls.
FAQs
Can I use other flour for this quick bread?

Almond flour is essentially finely ground blanched almonds, so most wheat flours won't work for this recipe as they absorb liquids differently and interact with the ingredients differently. Make this whole wheat healthy lemon blueberry bread or healthy lemon blueberry muffins instead!

In terms of substitutes, you may be able to use cashew flour (which is similar in fat and structure). For a nut-free option, sunflower seed flour may work but can turn green from the leavening agents. I haven't tested either though, so I recommend using almond flour!
Can I make lemon zucchini bread with honey?
Yes, I've used honey or maple syrup with this recipe with excellent results.
Do you leave the skin on zucchini when making bread?
You sure do. Zucchini skin in very thin and, once baked, practically disappears into the lemon zucchini loaf (or any baked good). That's what makes it such an easy addition to baked goods- just grate, mix, and bake for extra nutrients but no zucchini taste!
Can I make muffins with this quick bread batter?
According to a reader, yes. You can make 12 muffins, baked in a silicone muffin pan for 22 minutes – no parchment paper/greasing requires. Then cool for 20 minutes and enjoy.
Can you use granulated monkfruit sweetener instead of honey or maple syrup?
I haven't tested that with this lemon zucchini loaf. However, I have previously with my almond flour banana bread (replacing 1/4 cup honey) so it may work. If you try, let me know your results – note that the texture may differ!
Can I try other citrus instead of lemon?
You sure can- this citrus zucchini loaf will work amazingly with lime, orange, or blood orange too! It may even work with grapefruit, though I haven't tried.
Can I use flax egg?
This isn't something I've tried, though readers have done so with success. You can use a flax/chia egg by combining 1tbsp ground flax/chia with 3tbsp water (per egg). Mix well and leave to 'thicken' for 5 minutes.
What if my bread is browning too quickly on the outside?
Some ovens seem to have an issue with baking the outside of cakes too quickly. If this seems to be happening, cover the lemon bread loosely with parchment paper halfway through to prevent the outside from burning.
Serving Recommendations
You can enjoy a slice of this lemon zucchini bread in several ways including as-is, at room temperature, or even warmed up (just 10-20 seconds in the microwave). Here are a few of my top suggestions:
Butter: Spread a little butter or go one step further with honey butter (just a little is all you need).
Yogurt and fruit: Top a slice of the lemon bread with a dollop of my Instant Pot yogurt and some berries or fruit.
Whipped 'cream': Use a dollop of whipped coconut cream with berries instead of yogurt.
Ice cream: For a simple dessert, add a small scoop of ice cream (like this vegan vanilla ice cream) over a warmed slice of lemon zucchini bread.
Making This Lemon Quick Bread in Advance
I'll be honest, in my house, this lemon zucchini bread is gone within 12 hours, so I've never had to struggle with storing. However, if you do have leftovers (lucky you!), then:
Storing: Store it covered with a kitchen towel on a counter for several days (4-5) or in the fridge for up to a week.
Freeze: You can bake 2 loaves and freeze one for up to 3 months in a sealed Ziploc bag. To thaw, just leave it on a counter for 3-4 hours.
You can also prepare the lemon zucchini batter in advance:
Make ahead: Prepare the batter minus the leavening agents up to a day in advance and store covered in the refrigerator. When you want to continue the lemon zucchini bread recipe, add the baking powder and soda, mix well, and then bake for healthy breakfast ideas.
More Healthy Recipes to Try
Alternatively, you can browse through my entire collection of healthy muffins and breads!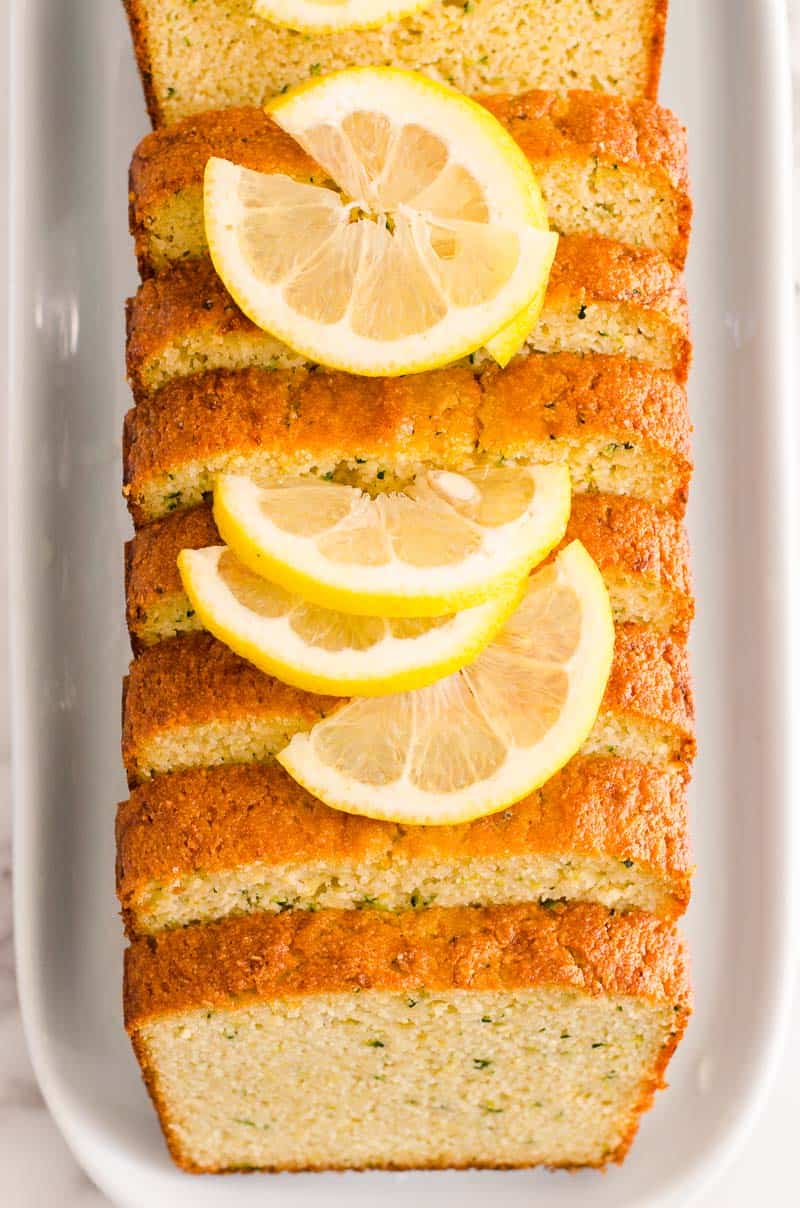 Lemon Zucchini Bread
This healthy Lemon Zucchini Bread recipe is super moist with a delicious burst of zingy, zesty lemon flavor, nutrient-dense almond flour, and a hidden green veggie – sure to be a family favorite! This lemon bread is also naturally gluten-free, refined sugar-free, oil-free, wheat flour-free, and can be enjoyed as a snack, breakfast, or dessert!
Instructions
Preheat oven to 350 degrees F, line 9 x 5 loaf pan with unbleached parchment paper and spray with cooking spray. Set aside.

In a large mixing bowl, add eggs, lemon zest and juice (zest first before squeezing juice), maple syrup, baking powder, baking soda, vanilla extract and salt. Whisk until combined. Mixture will be foamy.

Add zucchini and almond flour (don't forget to skim the top of measuring cup with a knife) . Mix gently with spatula to combine.

Pour batter into previously prepared loaf pan and bake for 50 minutes or until the toothpick inserted in the middle comes out clean.

Remove bread from the oven and transfer to a cooling rack to cool off for 10 minutes. Holding onto the flaps of parchment paper remove bread from a loaf pan and let it cool off completely before slicing with sharp serrated knife.
Notes
Store: Store covered in a cool dry place for up to 5 days.
Freeze: In an airtight container for up to 3 months.
Almond flour does not contain gluten like wheat. Nor it is thirsty like coconut flour. All flours differ. You have to use almond flour in this recipe.
Feel free to add 1/2 cup blueberries or 1 tbsp of poppy seeds to the batter.
And about the baking dish. This bread will not stick and should slide right out of your baking dish if you spray it with cooking spray. You do not have to use parchment paper but I included that recommendation just in case.
Nutrition
Serving:
1
slice
|
Calories:
280
kcal
|
Carbohydrates:
20
g
|
Protein:
10
g
|
Fat:
20
g
|
Saturated Fat:
2
g
|
Cholesterol:
49
mg
|
Sodium:
254
mg
|
Fiber:
4
g
|
Sugar:
12
g