How to Make a Chia Egg at home with just two simple ingredients. It is an excellent and easy substitute in vegan and egg-free baking.
Having just shared my method for creating a flax egg, I thought I'd do the same for another popular vegan egg replacement, a chia egg!
This chia seed egg substitute works remarkably similar to ground flax seed egg and can be used as a binder to create several vegan baked goods including muffins, quick bread, simple cookies, waffles, and pancakes!
Not only is this chia egg "egg free" but it's also gluten-free, paleo, and whole30. Making for a great diet-friendly egg substitute.
What Is Chia Egg?
Chia egg is made by combining chia seeds with water and letting it sit for 10 minutes until it has gelatinized. If you have eaten a chia pudding before, then you know that chia seeds become gelatinous when combined with any liquid.
Although whole chia seeds do gelatinize, just try it in chocolate chia pudding, I prefer using ground chia seeds for 'eggs'. This will create the right "single" congealed consistency rather than separate gelatinized seeds.
Chia eggs don't contain the same structural benefits as eggs, meaning that your baked goods won't rise as much. This can be slightly fixed with leavening agents but it still won't be an exact replica.
While the results aren't an exact match to an egg, this chia seed egg substitute has impressive binding skills in quick breads, muffins, waffles, and certain pancakes recipes.
Chia seeds are actually jam-packed with nutrients and health benefits for body and brain health!
Chia Egg Replacer vs. Flax Egg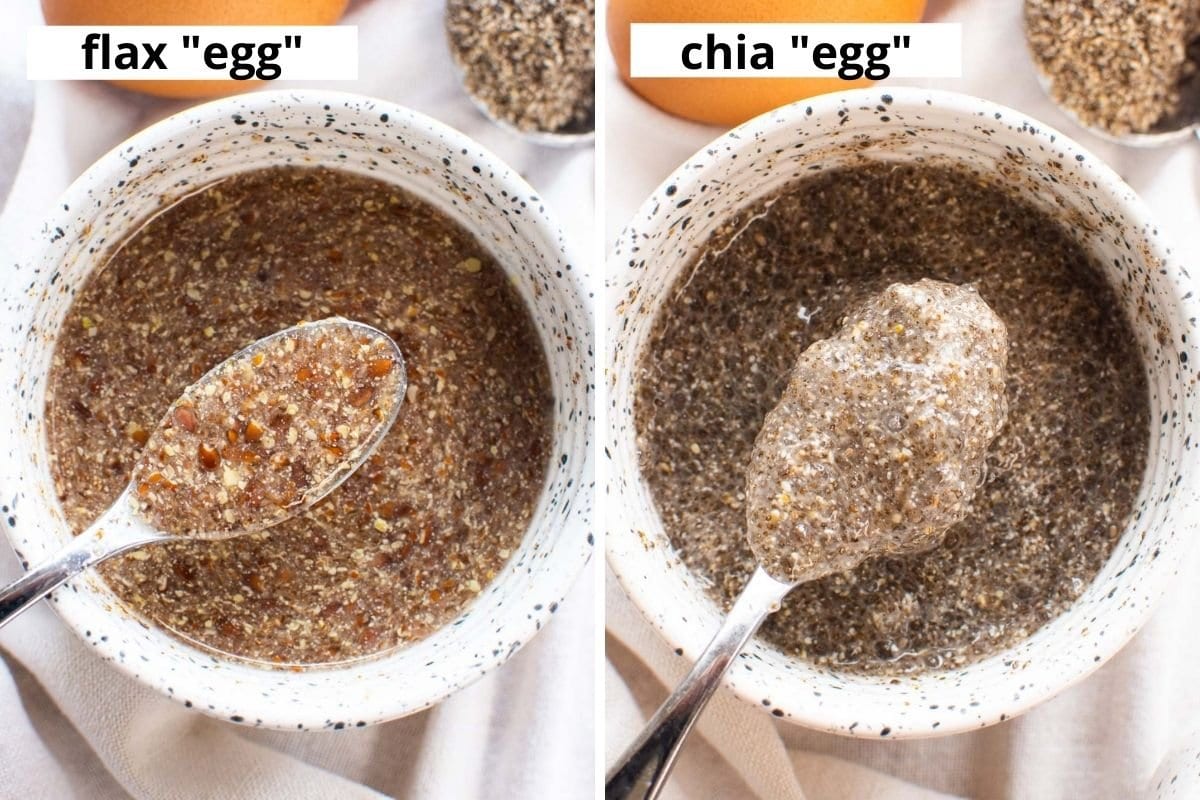 Having also shared my instructions for making a flax egg, let's take a moment to explore the differences between the two.
As a vegan egg replacement, the two are similar in their uses. They work best for recipes that only require a few eggs, are smaller bakes, and have stronger (not vanilla) flavors.
However, there are a couple of main differences.
For example, I've found that chia seed eggs are slightly harder to disguise in subtle-flavored recipes. Not only with flavor but the color can also impact the bake. However, they do seem to be slightly stronger as a binder than flax eggs.
One of the main differences is the nutritional value between the two. Chia seeds contain higher levels of calcium and fiber but flaxseed contains higher levels of omega-3 fatty acids.
Also chia seeds are the more expensive of the two. If you're new to egg free baking, I recommend experimenting with the two.
Ingredients You Will Need
Chia seeds: There are two types of chia seeds: white and black. Both are almost identical nutritionally and in flavor, so either should work.
Water: Can be cold or warm.
How to Make a Chia Egg
Unlike pumpkin chia pudding where you want the seeds whole, for an egg substitute you need to grind chia seeds first before using.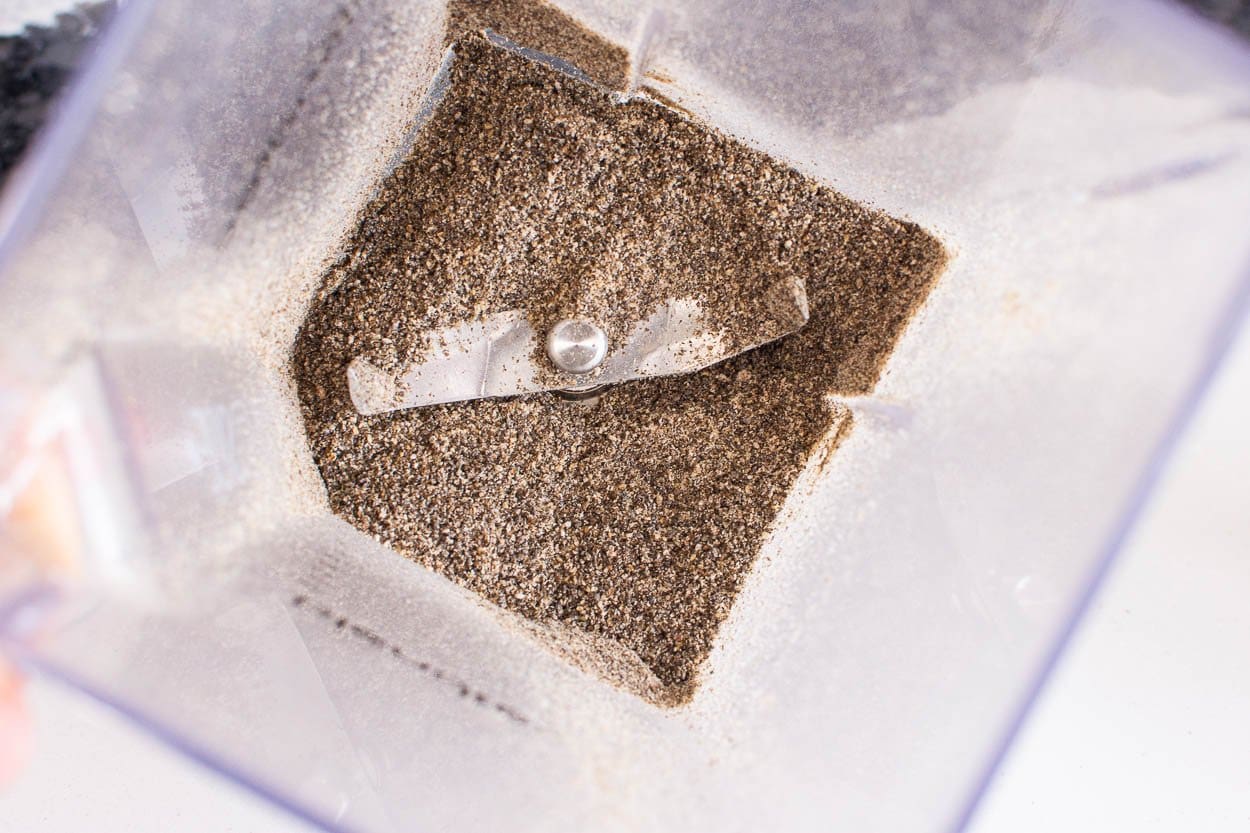 Grind chia seeds: When working in small batches with your whole chia seeds, it's best to use a coffee or spice grinder. For larger batches, a high-speed blender or food processor can grind the whole seeds into a powdery consistency.
However, be careful not to over process the seeds, or they can start to become paste like.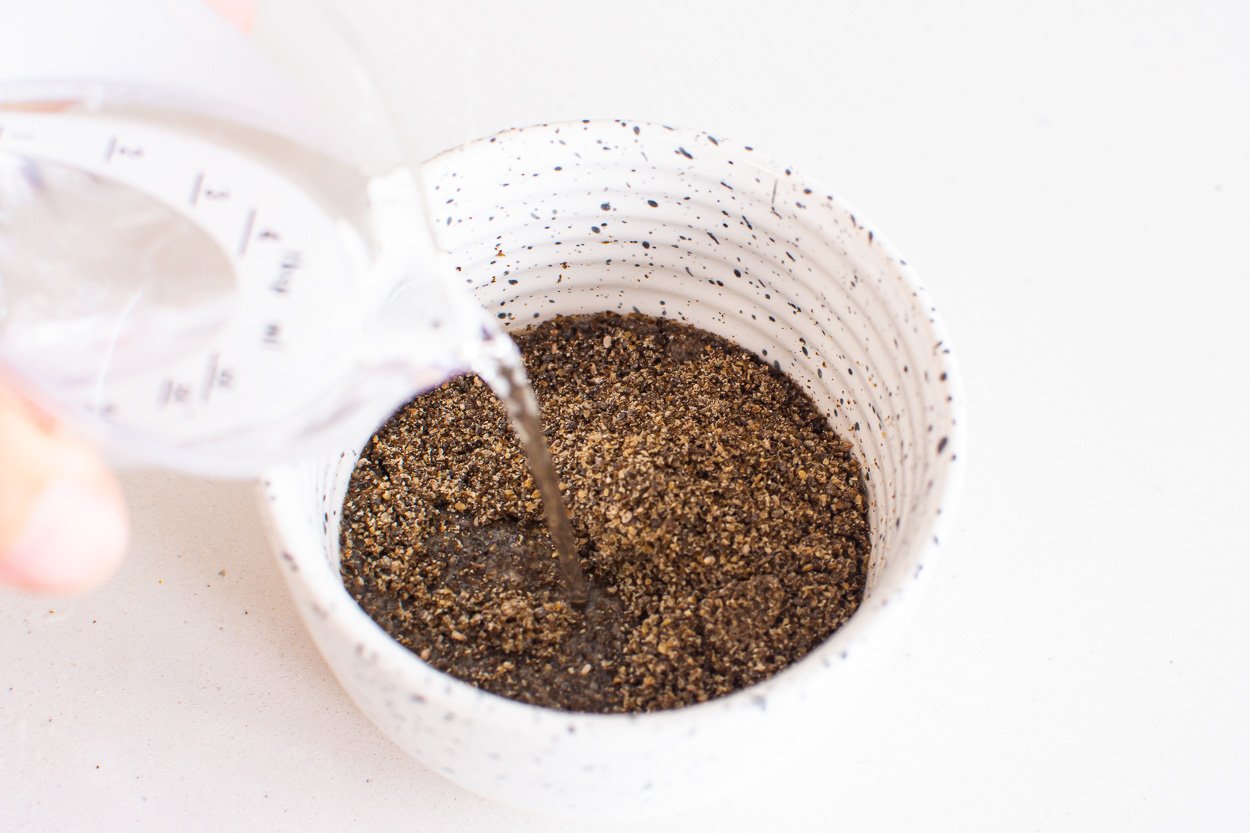 Mix the ingredients: Combine the ground chia seeds and water in a small bowl and mix well. Then set aside.
Adjust the amount of ingredients based on how many chia seed eggs are needed.
It's also best to use room temperature or slightly warm water, which tends to cause quicker gelatinization.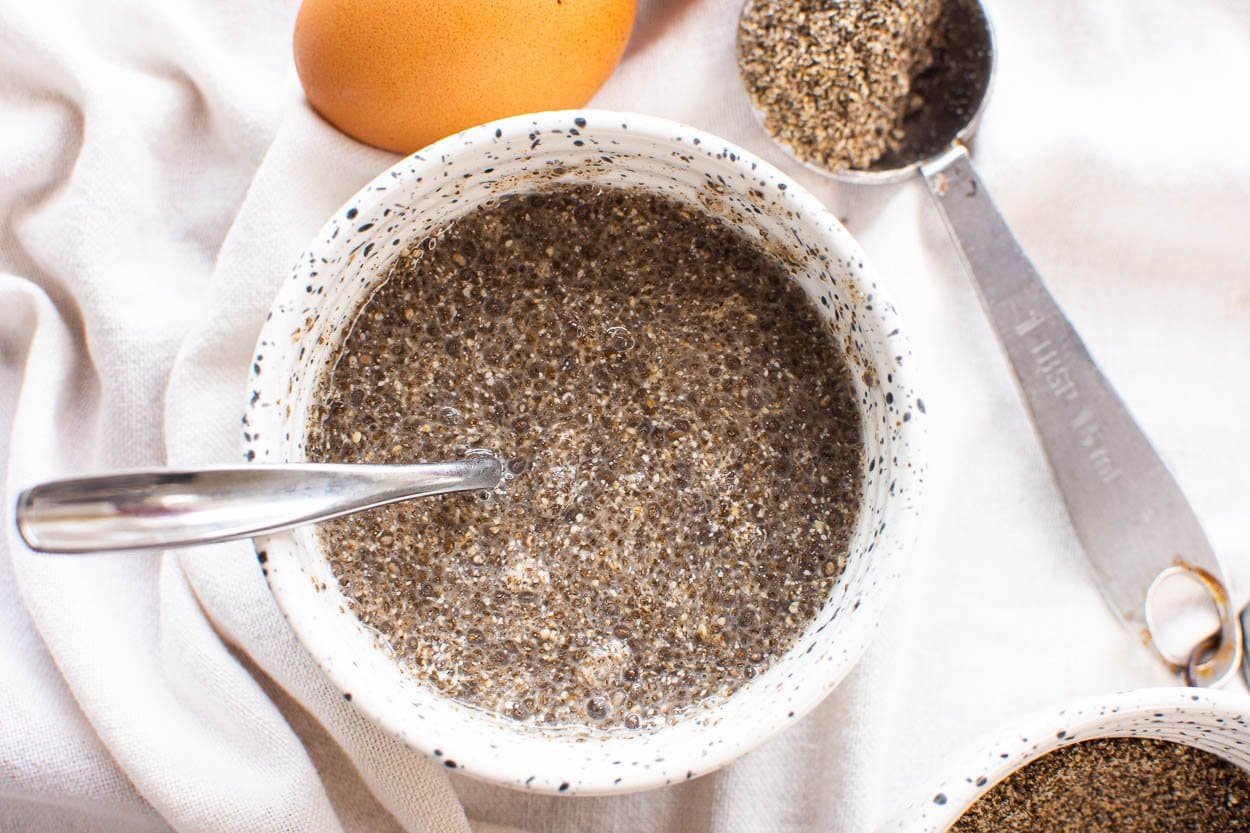 Allow it to rest: Allow the chia egg mixture to sit for 10 minutes, or until the mixture thickens and becomes congealed and gloopy. It's amazing how they gel due to their soluble fiber content.
Once prepared, you can store the prepared chia seed egg substitute in an airtight container in the fridge for up to 5 days.
How to Use a Chia Egg as an Egg Replacer
One chia egg replaces one whole egg.
Chia egg works best in baking recipes where eggs act as a binder rather than a star of the show. I also do not recommend to replace more than 3 eggs. Baked goods also do not rise that well with this vegan egg replacer.
If a recipe calls for a flax egg, you are safe to use a chia egg instead. While I haven't tested every single recipe with this replacement, here are a few I think will work with chia seed egg.
More How to Recipes to Try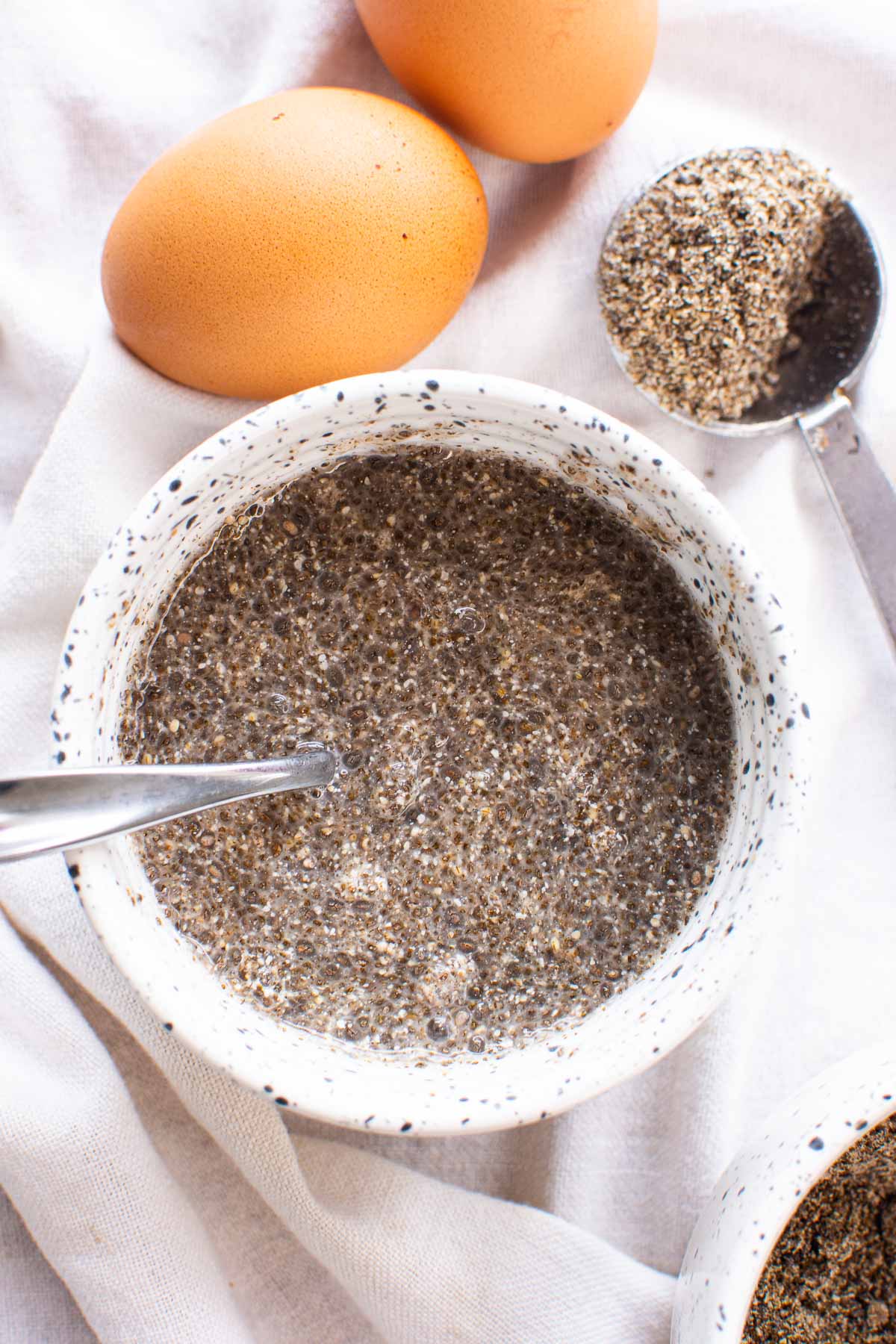 How to Make a Chia Egg
How to Make a Chia Egg at home with just two simple ingredients. It is an excellent and easy substitute in vegan and egg-free baking.
Instructions
In a small bowl, add ground chia seeds and water. If need multiple eggs, just multiply the ingredients.

Stir with a fork and let sit for 10 minutes, until the mixture is thick, "gloppy" or congealed.
Notes
Store: Refrigerate in an airtight container for up to 5 days.
Can I use whole chia seeds? No, for chia seeds to thicken in 10 minutes and become an "egg", seeds have to be ground.
How to grind chia seeds: Add desired amount of whole chia seeds to a high speed blender or food processor and grind until powder forms. Do not overprocess into paste.
Expect less volume and rise: Keep in mind that recipes with chia eggs do not rise as much as with real eggs.
Let baked goods cool sufficiently: When you first remove your bread or muffins from the oven, it will appear soft but let it cool for 45 minutes or so (the longer the better for a loaf) before eating or slicing.
Nutrition
Serving:
1
chia egg
|
Calories:
58
kcal
|
Carbohydrates:
5
g
|
Protein:
2
g
|
Fat:
4
g
|
Saturated Fat:
1
g
|
Trans Fat:
1
g
|
Sodium:
4
mg
|
Fiber:
4
g