Healthy Iced Tea is made with brewed tea, lime, lemon, club soda, and a touch of maple syrup for a healthy, refreshing sip to keep you hydrated on even the hottest days!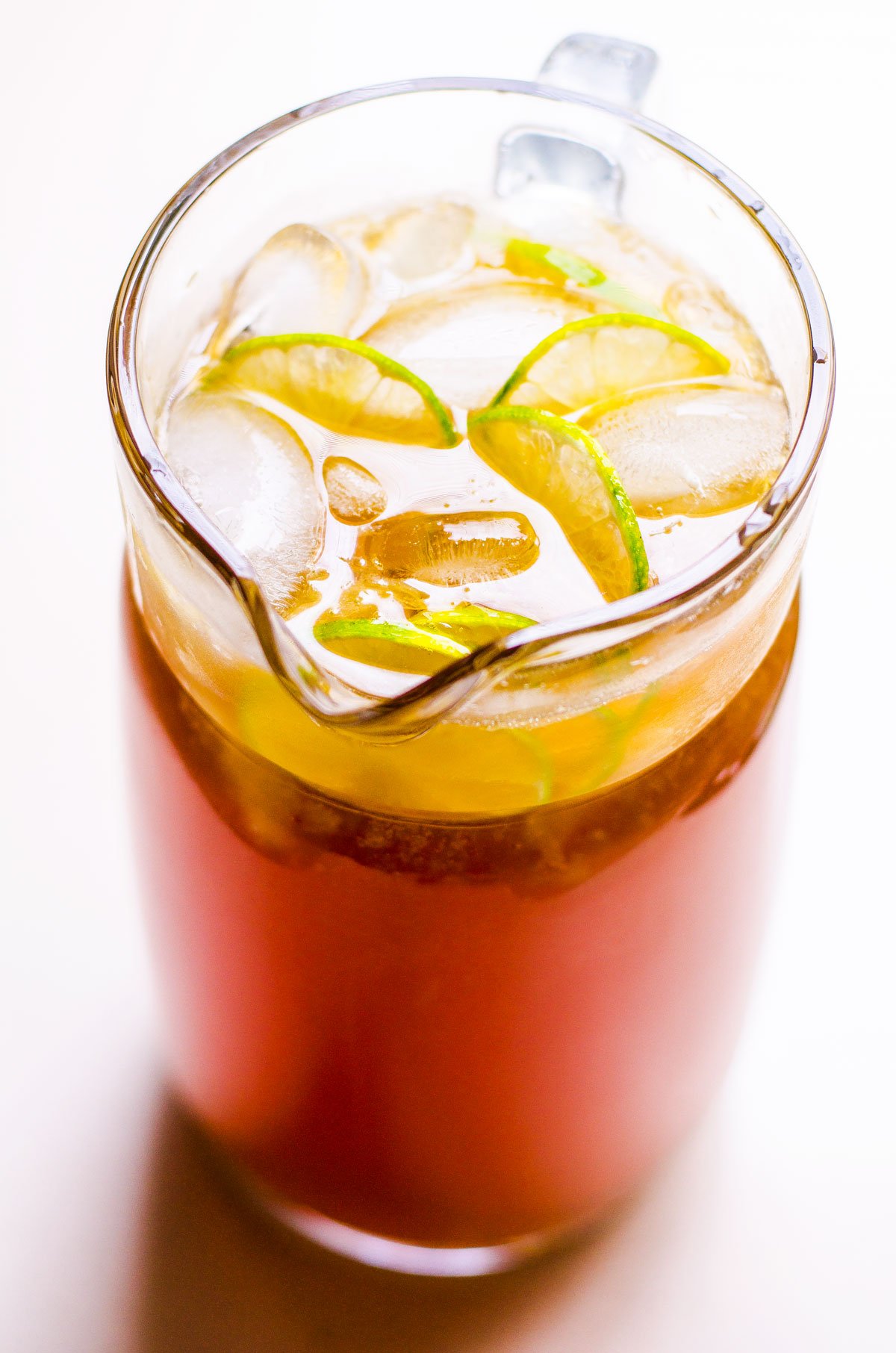 For years I thought there was a big secret that made store-bought iced tea special. Turns out that for years I was wrong. Once I started making homemade iced tea I quickly realized that THAT is what is special!
When I make it from scratch I know there is nothing artificial about it, no refined sugars, and no preservatives that are often found in store-bought bottles.
My kids love it, and knowing they're drinking healthy iced tea full of antioxidants and vitamin C makes me love it even more!
After making this kombucha recipe from scratch, I became quite experienced with brewing tea in pots instead of cups. And so, this delicious lime iced tea was created.
I like to add sparkling water to mine for that extra bit of refreshing fizz! Both lemon and lime give it all the flavor it needs and pairs well with the natural sweetness of maple syrup for sweetness and tang.
The bubbles up our noses is just a bonus.
Enjoy this delicious lime iced tea as a delicious way to switch from drinking plain old water and stay hydrated all summer long.
Is Iced Tea Healthy?
The answer is, it certainly can be! As with anything, what you put into it matters. Tea on its own has many beneficial properties. Some are great for providing detox, anti-inflammation, or antioxidants, while others are soothing for the soul!
What you add to yours can determine whether it is as healthy as it can be. Here are some things to consider:
Avoid overdoing caffeine.
Use small amounts of non-refined sugars.
Use fresh ingredients, using organic whenever possible.
Limit yourself to 1 or 2 glasses a day.
To Make Healthy Iced Tea You Will Need
To make healthy homemade iced tea recipe, all you need is:
Loose leaf tea or tea bags of black tea or green tea.
Maple syrup
Club soda
Lemon and lime.
I do find a huge taste difference between tea bags and loose leaf tea. With loose tea, the flavor is more robust and pure.
With tea bags, you are not only tasting the actual baggie but are drinking more chemicals that are used in the process of bleaching and manufacturing that paper.
How to Make Healthy Iced Tea
There are just a few easy steps that rest between you and this refreshing beverage. Here's how it's done:
Bring a medium pot of water to boil then remove it from the heat. Drop in the tea and allow it to steep as the water cools.
On hot days, I place the pot outside in a shade on a stone patio to cool off. It helps keeps the kitchen cool!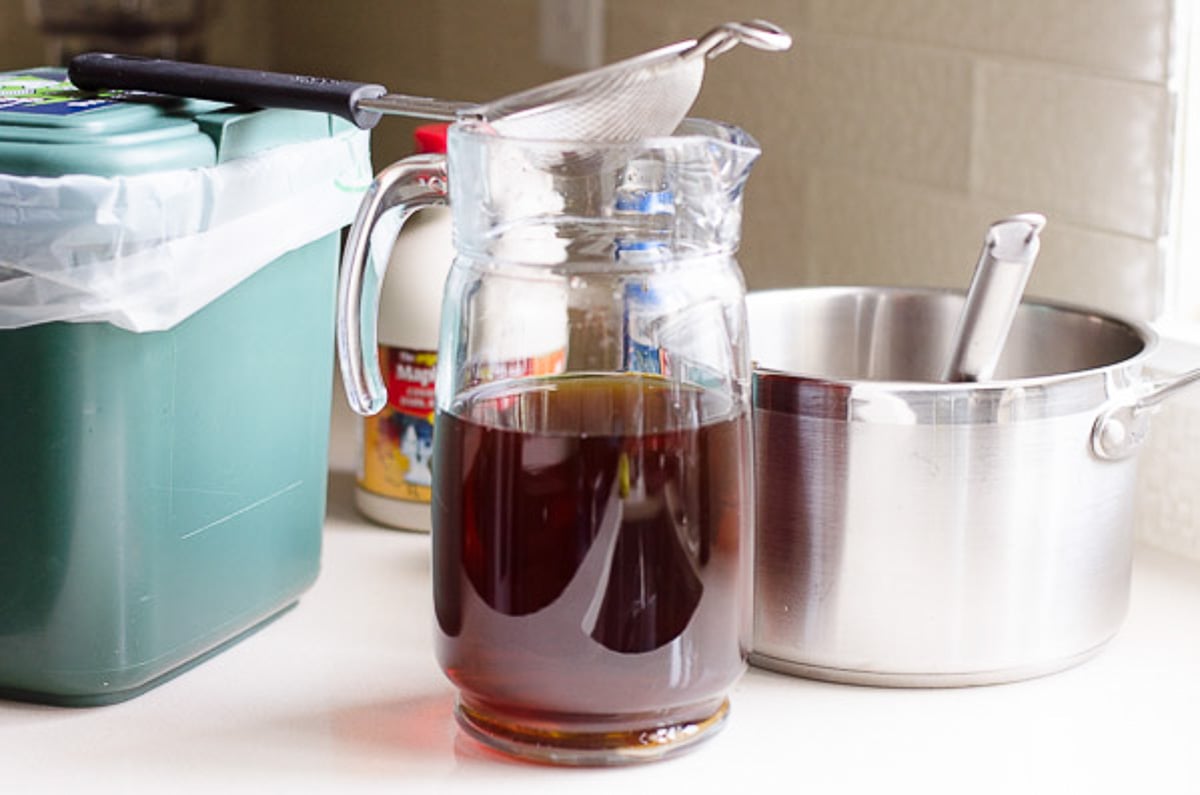 After the tea is lukewarm, transfer it to a pitcher by ladling through a mesh strainer. Discard the leaves.
The tea doesn't need to be completely cool to do this. It will continue to cool as it sits and chills in the fridge.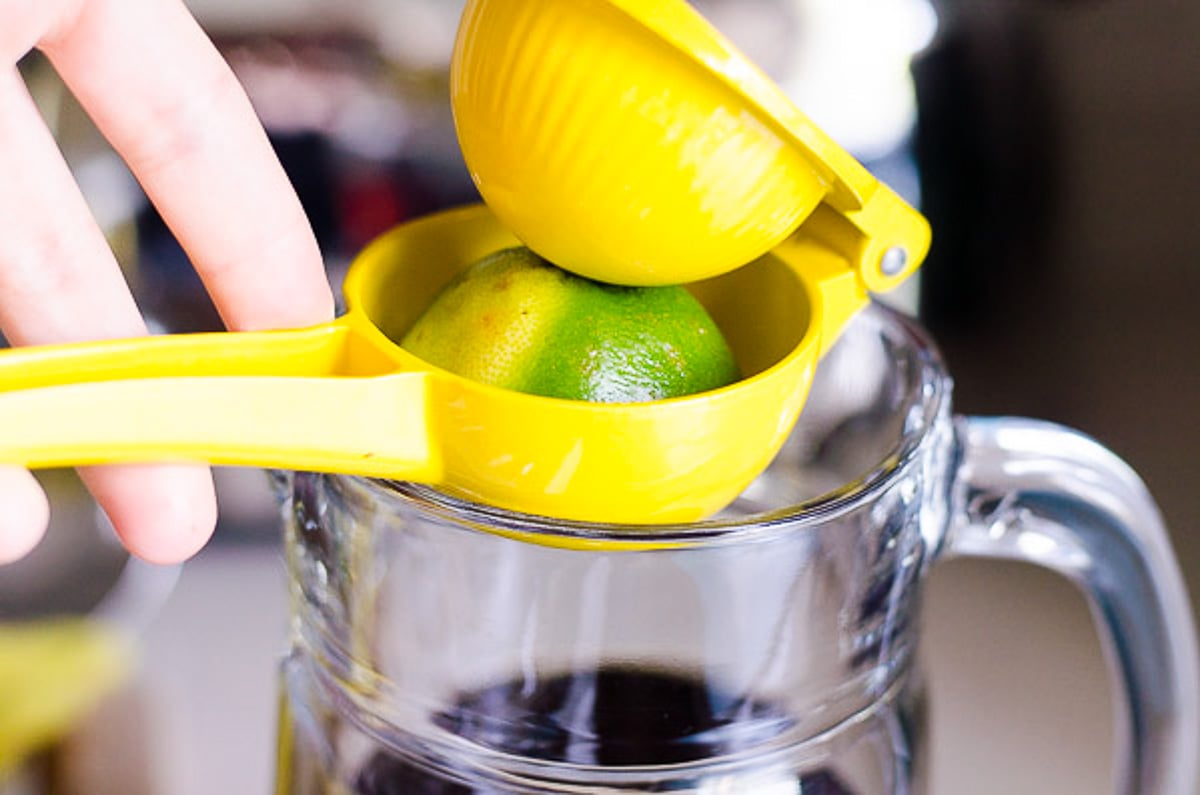 Squeeze in the lime and lemon juice. The trick with using this type of squeezer is to place fruit cut side down.
Toss the peels into the pitcher and allow it to sit for 10 minutes.
Pour in the maple syrup, and stir the sweet tea, using a wooden spoon. Discard skins after 10 minutes, which is plenty of time to get that extra flavor out without making it bitter.
How to Serve
Kids love this cold ice tea with a bit of extra maple syrup! I say extra because the flavor of the maple syrup will be less prominent the longer it sits.
If serving a crowd, add a can of unflavored club soda or your favorite sparkling water to the pitcher with ice and a few slices of lime. Or you can add it those to individual glasses as you serve.
The extra bit of carbonation tastes amazing. We discovered this combo by mixing plain unsweetened iced tea with lime lemon soda which takes traditional homemade iced tea to the next level!
At this point, your healthy drink is ready to be enjoyed or refrigerated. I cover my pitcher with plastic wrap and refrigerate it for days.
FAQs
What other flavors could I make?
Creating new flavors is really just about infusing different elements into your tea. Peach ginger is a great combo, blackberry mint is another one, and even just a plain lime or plain lemon.

Toss in fresh mint or basil and berries in whatever combo you like!
Can I use honey?
Yes. You will just have to stir a bit longer to dilute the strength of the honey. It will taste slightly different but still delivers many health benefits that won't be destroyed by using hot water.
Can I make iced tea without sugar?
Absolutely! Although we are using natural sweeteners, they are still sugary and can alter blood sugar levels to some degree. If you are looking to enjoy a glass without any additional sweetener at all, omit the maple syrup or honey altogether.

If you're not quite there yet and still find the taste of tea too bitter, use just a bit of maple syrup, using less and less every you make it.
More Healthy Cold Drinks to Try
Healthy Iced Tea
Healthy Iced Tea is made with brewed tea, lime, lemon, club soda, and a touch of maple syrup for a healthy, refreshing sip!
Ingredients
6

cups

water

1/4

cup

maple syrup

1

large lemon

1

large lime + more for garnish

1

can club soda

any sparkling water

Ice cubes
Instructions
In a medium pot, bring water to a boil. Turn off heat, add tea, stir and let steep while cooling down completely or until lukewarm (I place mine in a shady spot on a stone patio outside on hot summer days).

Transfer tea to a large pitcher by laddling it through a mesh strainer; discard the tea leaves.

Add maple syrup, squeeze lemon and lime juice, add the peels (skins) to the pitcher, stir with a long wooden spoon and let tea sit for 10 minutes. Discard the citrus skins otherwise iced tea will be bitter tasting.

Now you can store your iced tea covered with plastic wrap or lid in a fridge for quite a few days. Right before serving, add ice and a can of club soda to a pitcher, stir and enjoy. Garnish with thin lime slices, if desired.
Notes
Tea tastes amazing without club soda too, adjust sweetness to taste. Kids LOVE this lime iced tea with a bit of extra maple syrup in their glasses.
Nutrition
Calories:
31
kcal
|
Carbohydrates:
8
g
|
Protein:
1
g
|
Fat:
1
g
|
Saturated Fat:
1
g
|
Sodium:
23
mg
|
Fiber:
1
g
|
Sugar:
6
g