Learn how to make a large batch of homemade Chicken Broth and have leftover chicken for all your favorite recipes. It's my family's easy recipe with lots of tips and tricks!
We also keep Instant Pot chicken broth, vegetable broth and Instant Pot beef bone broth recipes in our cooking basics arsenal.
Everyone needs to know how to make a big batch of the most delicious chicken broth! You can't compare it to store-bought!
Whether you are making a pot of healthy chicken noodle soup or Instant Pot chicken noodle soup, any flavorful chicken soup starts with properly prepared chicken broth.
Why You'll Love This Recipe
Family recipe: This is my grandma's foolproof recipe I have been cooking for 20 years, it's the best!
Clear broth: I will share a few tips and tricks how to end up with the best homemade chicken broth that is not cloudy.
Super easy: This was the first recipe I learnt to make. It's so easy! Even for a beginner cook.
Budget friendly: Whenever I make a batch, it lasts me weeks in the fridge and freezer to make soup and stews like chicken noodle vegetable soup and extra chicken meat to make lunches like healthy chicken salad.
Versatile: Use as much or as little chicken you have, and use any kind besides chicken breasts. Also, broth can be made with or without vegetables.
Ingredients for Chicken Broth Recipe
Making chicken broth at home is super easy, and you'll only need a handful of simple ingredients.
Chicken: This recipe uses 2-3 pounds of bone-in chicken, not chicken breasts. Use chicken thighs, drumsticks, wings, necks, raw chicken carcass or whole raw chicken.
Onion: Be sure to keep your onion whole or halved if you have a large onion but peel it. The hairy end holds it together.
Veggies: Use fresh veggies or even saved frozen vegetable scraps. I peeled and chopped fresh carrots and tossed in a few celery ribs.
Bay leaves and whole black peppercorns: For more flavor. I like to add them straight to the pot but you can add them to a sachet, a piece of cheesecloth, or linen towel tied with kitchen twine.
Spices: Salt and pepper to taste.
How to Make Chicken Broth
Here's a quick overview of how to make chicken broth, you'll love making it in your very own kitchen!
There is a full recipe card below.
Add everything to a pot: To a large pot or Dutch oven, add chicken, onion, carrots, celery, bay leaves, and peppercorns.
Cover with water: Fill the pot with cold water until it's almost to the top.
Bring to a boil: Cover and bring to a rolling boil, careful not to let it boil over. Reduce heat to low and use a fine mesh strainer to skim the foam off the top.
Simmer: Leave the lid half way covering the pot and simmer gently for 1.5 – 2 hours, you should see bubbles occasionally showing up on top.
Remove and separate chicken: Carefully remove chicken and transfer to a large bowl. Once it's cooled, separate the meat and skin from the bones, save them for other chicken recipes and discard the bones.
Strain the broth: Using small mesh strainer, remove the onion, celery, bay leaves, and peppercorns and discard them. Next, remove the carrots and save them for eating or discard. Skim any remaining small pieces with a fine mesh strainer or strain into a different pot.
Season the broth: Add salt and pepper to taste, then divide homemade chicken broth between large Mason jars and let cool to room temperature.
Recipe Tip
I love to season my broth at the end, just a bit to bring out its flavors. Since most of my recipes call for low sodium chicken broth, I recommend to stick to up to 1-2 teaspoons per large pot. I also don't recommend to skip seasoning it completely because broth will taste less flavorful.
Tips for Best Results
Here are the top tips and tricks from my grandma's kitchen, to my kitchen, to yours.
Always use cold water: This is key to keeping the broth clear.
Don't skip the onion: Onions add extra flavor but also helps make your broth clear.
Remove some chicken skin: The skin adds flavor to the liquid and the meat but to avoid extra fat, I always remove some of the skin.
Don't fully cover the pot with a lid: Simmering while fully covered will make broth cloudy and bubble vigorously.
A note about cooking time: The longer you cook, the more flavorful it is. The minimum for best results is 1.5 hours up to 5 hours.
Variations
There are so many uses and variations for chicken broth, here's a few you can try.
Add more herbs and spices: With more herbs comes more flavor. Add parsley stems, thyme, rosemary, or garlic cloves. You can also add other spices like cayenne pepper, turmeric, and ginger.
Start with frozen chicken: The process stays the same but cook time will be longer.
Turn it into chicken noodle soup: After broth is ready, keep the carrots, remove and shred the chicken and just add cubed potatoes, cook for 10 minutes. Then add noodles and cook for another 3-5 minutes, then add shredded chicken back in along with fresh herbs like parsley or dill.
Drink chicken broth by itself: As kids, we always enjoyed a hot cup of chicken broth. I love to season it with salt, freshly ground black pepper and fresh dill or parsley. So good when you are feeling under the weather!
Are Chicken Stock and Chicken Broth the Same?
No, chicken stock and chicken broth are not the same. A lot of recipes call for stock or broth because they can have the same uses, but they are different.
Chicken stock is made from just bones, takes longer to make, and creates a thicker liquid. Chicken broth is made with meat, bones, and sometimes vegetables yielding a thinner liquid with more flavor.
How to Store
Store: I store my broth in the fridge for up to 4 days, if I know I will be making soup or chili.
Freeze: Make sure to leave room for expansion at the top of your jar or airtight container, my favorite containers are glass mason jars. You can also freeze it in ice cube trays for recipes that call for just a bit of it such as sauces etc.
Reheat and reuse: Bring cold broth to a boil and then proceed with soup recipe. Or add cold to recipes like healthy white chicken chili or slow cooker chicken stew.
Recipe Tip
Sometimes after cooling in the fridge, fat collects on top. Feel free to scrape it with a tablespoon and discard or leave and use in the recipe. Because I removed the skin from half of chicken drumsticks, I didn't end up with a lot of fat on top of chicken broth. And a little bit of it is good for you!
FAQs
Can I make chicken broth with rotisserie chicken carcass?
No. If you want to make chicken broth with leftover rotisserie chicken carcass, I recommend to add some raw chicken as well. Only rotisserie chicken carcass will yield not flavorful and thin chicken broth.
Why did my chicken broth gel?
Your chicken broth gelled probably because you cooked it for 3-5 hours. During long cooking time collagen releases from chicken bones and skin making it very thick. It's a sign you have next level chicken broth, almost bone broth. Heat it up on the stove to thin out or add a bit of water.
Can I add more water during or after cooking?
If you simmered chicken broth without a lid, more likely some liquid have evaporated. Or if your broth looks very rich at the end, it is perfectly fine to add 3-5 cups of boiled water during or after cooking, stir and season to taste. It will not affect the flavor.
Recipes to Use Homemade Chicken Broth In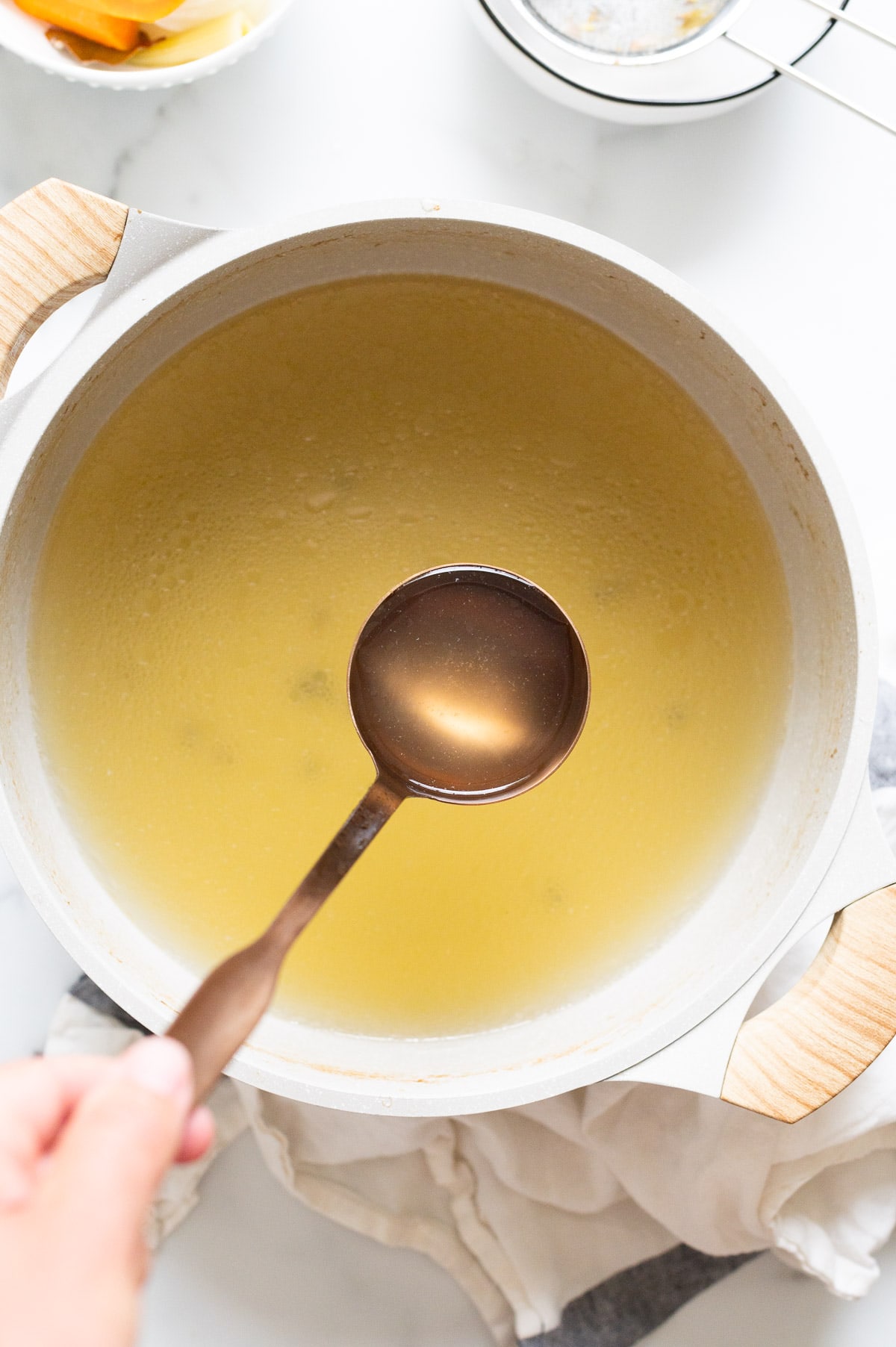 How to Make Chicken Broth
Make a batch of homemade Chicken Broth and have leftover chicken for all your favorite recipes. Easy recipe and lots of tips to keep it clear!
Ingredients
2-3

pounds

bone-in chicken like chicken drumsticks, thighs, carcass or whole chicken

1

medium

onion

whole and peeled

2

medium

carrots

peeled and coarsely chopped

3

medium

celery ribs

coarsely chopped

3-4

bay leaves

Cold water

Salt and ground black pepper

to taste
Instructions
In a large pot, add chicken, onion, carrots, celery, bay leaves, peppercorns and cold water to almost the top of the pot.

Cover with a lid and bring to a boil, watching it closely not to run. Then immediately reduce heat to low and skim the foam off the top with a fine mesh strainer.

Simmer gently with bubbles occasionally showing up on top and the lid half way covering the pot for 1.5 – 2 hours. The longer broth simmers, the more flavorful it is.

Remove chicken into a large bowl and let it cool. Separate chicken meat and skin from bones, saving meat and skin for other recipes and discarding the bones.

Remove and discard the onion, celery, bay leaves and peppercorns with a mesh strainer. Remove carrots and save them for eating later or discard. Then I like to skim more small pieces from the broth with a fine mesh strainer or you can strain it into a different pot.

Season broth with salt and pepper to taste, I like to start with 1 teaspoon salt and 1/2 teaspoon pepper. It depends what you will use it for. Then divide chicken broth between large Mason jars or airtight containers and let cool to room temperature.
Notes
Chicken skin: I recommend to remove some chicken skin by holding onto it with paper towel, to avoid broth being extra fatty.
Store:

Refrigerate chicken broth for up to 4 days or freeze for up to 3 months.
Nutrition
Serving:
1
cup
|
Calories:
50
kcal
|
Protein:
8
g
|
Fat:
2
g
|
Saturated Fat:
0.4
g
|
Trans Fat:
0.01
g
|
Cholesterol:
39
mg
|
Sodium:
241
mg