This Crock Pot Pulled Pork is smoky, delicious, and an easy slow cooker recipe perfect for pulled pork sandwiches with healthy coleslaw.
Also be sure to try my crockpot BBQ pulled chicken.
What if I told you that you can make healthy pulled pork in crock pot from scratch, with simple ingredients while you do something else for 8 hours?!
My slow cooker pulled pork recipe is cooked in homemade healthy barbecue sauce minus the sodium, sugar and preservatives found in other pulled pork recipes.
This pulled pork comes out amazingly tender, saucy and smoky! Just add to your favorite bun and top it off with creamy coleslaw alongside some applesauce or go full picnic style and make Instant Pot potato salad.
Let's dive in and make the best crock pot pulled pork!
What Cut of Pork Is the Best for Pulled Pork?
Pork shoulder or also known as pork butt or Boston butt is the best cut of meat for making slow cooker pulled pork. It comes from the upper part of the pig's shoulder and is not part of a butt.
"Butt" goes back to the days when butchers in Boston area packed the pork shoulder unto barrels called "butts". Other names include picnic shoulder, shoulder roast, Boston butt roast.
This cut of meat is full of connective tissue that needs to be broken down during slow cooking. It also has quite high amount of marbling aka fat which helps keep meat moist, flavorful and results in most tender and juicy pulled pork.
Ingredients You Will Need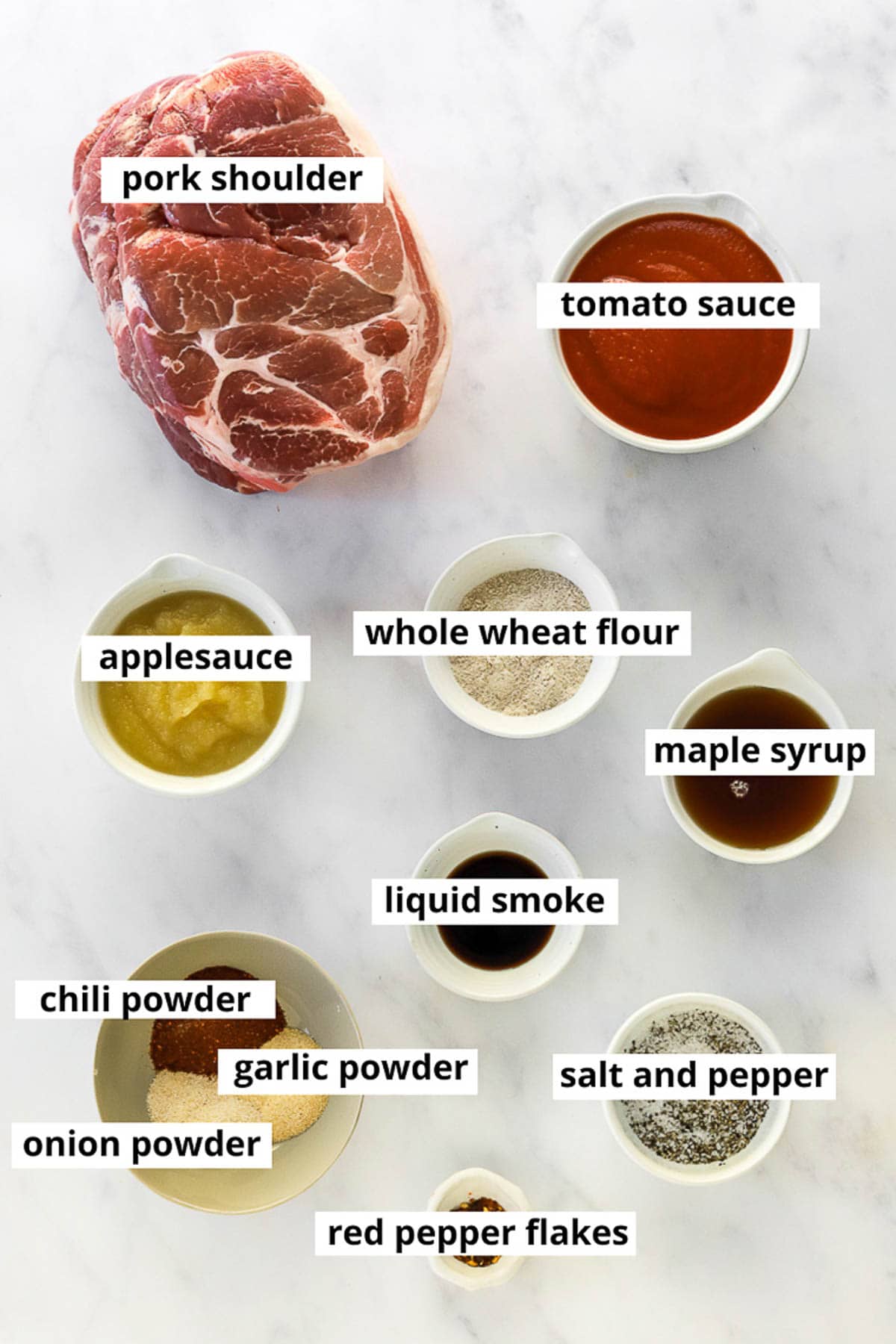 To make this crock pot pulled pork recipe you will need a few simple ingredients. Most are pantry staples more likely you have on hand right now.
Pork: Bone-in or boneless pork shoulder, picnic roast, pork butt or Boston butt are recommended cuts of meat for the best pulled pork. You can also try leaner cuts of pork like pork tenderloin and pork sirloin roast.
Liquids: Applesauce, tomato sauce, and maple syrup or honey.
Liquid smoke: Please don't be intimidated by this ingredient and don't give up on making crockpot shredded pork because of it. It is a common item you can find in many grocery stores and online. Liquid smoke costs $5-6 a bottle and lasts you a lifetime in the fridge.
Spices: Chili powder, garlic powder, onion powder, red pepper flakes, salt, and pepper.
Flour: This ingredient is added at the end to thicken the sauce. You can omit it or use half the amount of cornstarch instead.
How to Make Pulled Pork in Crock Pot
Here is a quick rundown how to make pulled pork in crock pot with less than 5 minutes of prep. To make this recipe, I use my beloved 7 quart Crock Pot. There is also a full recipe card below.
Make the BBQ sauce: Whisk together tomato sauce, applesauce, maple syrup, liquid smoke, chili powder, garlic powder, onion powder, red pepper flakes, salt and pepper. You are basically making barbecue sauce from scratch.
Add meat: Then add the pork roast and spoon some sauce on top.
Cook: Cover and let the slow cooker do its thing on low heat for 10 hours. I highly recommend to use low setting versus high heat.
Shred the meat: Remove the meat from the slow cooker onto a cutting board, cover it with foil and let rest for 20 minutes while sauce is cooking. Then using two forks, shred the meat and discard any bones, tough tissue or excess fat.
Thicken the BBQ sauce: Crank the slow cooker to high heat. Slowly whisk flour into the juices at the bottom of slow cooker. Cover and cook for 20 minutes. Once done, add back the shredded pork in crock pot and stir.
How Long to Cook Pork Shoulder in Crockpot?
How long to cook pork shoulder for pulled pork in slow cooker totally depends on its size and your appliance.
As per USDA, pork meat is safe for human consumption when it has reached 145 F. To test, insert a meat thermometer into the thickest part without touching the bone, fat or gristle.
To be able easily shred meat for pulled pork, it has to be cooked to at least 200 F.
Cook smaller pork, 3 lbs, for 8 hours on Low and check with an instant read thermometer. If it is not ready, cook for 2 more hours. And cook large cuts of meat, 4-5 lbs, for 10 hours. These cooking times will be enough to break down the connective tissues.
I have owned a few slow cookers over the years and timing can vary from one to another by an hour or so. That's why it's best to go by an internal temperature when deciding if your slow-cooked pork is ready.
Recipe Tip
If you don't have a meat thermometer, you know good pulled pork is ready if you can easily shred it with a fork.
Serving Crock Pot Pulled Pork
Coleslaw: I highly-highly recommend making my super easy coleslaw recipe to go with this crockpot pulled pork. It is as easy as opening a store bought bag of cabbage and mixing it with a creamy yogurt based dressing.
Hamburger buns: Serve on a whole grain bun or any bun like brioche bun topped with creamy slaw.
Quinoa or rice: Add whole grains for a wholesome meal.
Nachos or tacos: Make pork nachos by topping air fryer nachos with pork shreds. Make pork tacos by wrapping it with slaw and greens in a corn tortilla.
Corn: Serve with corn on the cob in crock pot or Instant Pot corn on the cob.
Low carb: Serve tender pork on a bed of shredded lettuce or baby salad greens.
How to Store and Reheat
Store: Transfer cooled leftovers in an airtight container and refrigerate for up to 5 days.
Reheat: While you can reheat pulled pork in a microwave I think it tastes amazing when reheated in a skillet with a little bit of butter or olive oil until crispy.
Freeze: Freeze in an airtight container in the freezer for up to 3 months. Thaw on a counter for a few hours or in the fridge overnight and make easy dinner on busy days.
Make ahead: You can prep crock pot pulled pork ahead of time by combining all of the ingredients, minus the flour, into a large ziploc bag. Then keep in the fridge for no longer than 48 hours and when ready, cook as per recipe.
FAQs
Do you need liquid in slow cooker for pulled pork?
No. Pork butt roast has good amount of fat and water in the meat which is being released as pork cooks. I add bbq sauce to it for flavor but technically you can just cook pork meat in dry seasonings.
Can you cook pulled pork too long in slow cooker?
No. It is very hard to overcook fatty cut of meat like pork butt in slow cooker. But it is possible if you cook pulled pork in crockpot too long on high heat, for over 10 hours. Otherwise, it should be fine. I would not recommend to go over 10 hours on low heat though because acid in other ingredients will make meat mushy.
Does pulled pork get more tender the longer you cook it?
Yes. But do not go over 10 hours on Low setting.
Can you shred pork after it has cooled?
No. You will have a very hard time shredding cold cooked pork. Instead, wrap cooked roast in foil and reheat at 200 F for 45 minutes to an hour in the oven, and then pull.
More Slow Cooker Recipes to Try
More Health(ier) Pork Recipes
Healthy Crock Pot Pulled Pork
Instructions
In a large slow cooker, add tomato sauce, applesauce, maple syrup, liquid smoke, chili powder, garlic powder, onion powder, red pepper flakes, salt and pepper; whisk to combine.

Place meat on top and spoon some sauce over it. Cover and cook smaller roast, 3 lbs, on Low for 8 hours and larger roast, 4-5 lbs, for 10 hours. I recommend to cook on low heat for most tender meat but you can try on High heat for 5 hours.

Remove meat onto a cutting board, cover with foil and let rest while sauce is cooking. Turn up heat to High. In slow cooker, slowly add flour while whisking until completely dissolved, cover and cook for 20 minutes.

After shred meat with 2 forks discarding the bones, tough tissues and fat (if any). Add shredded meat to the sauce, stir and serve on a bun topped with healthy coleslaw.
Notes
Store: Refrigerate in an airtight container for up to 5 days.
Freeze: Leftovers for up to 3 months.
Make ahead: In a large Ziploc bag, add all ingredients (except flour) and refrigerate for up to 48 hours. Cook as per instructions.
Sodium: I used low sodium tomato sauce, so if yours is not, add less salt to taste.
Liquid smoke: You can find liquid smoke in a condiment aisle of many grocery stores, or on Amazon.
Nutrition
Calories:
225
kcal
|
Carbohydrates:
15
g
|
Protein:
23
g
|
Fat:
8
g
|
Saturated Fat:
3
g
|
Cholesterol:
74
mg
|
Sodium:
463
mg
|
Fiber:
2
g
|
Sugar:
10
g