Simple Vegetarian Borscht Recipe is Ukrainian beet soup made with cabbage, root vegetables and beans. Then we serve it with a dollop of sour cream and pampushky. So good!
This green borscht and Instant Pot borscht are also on repeat in our Slavic household.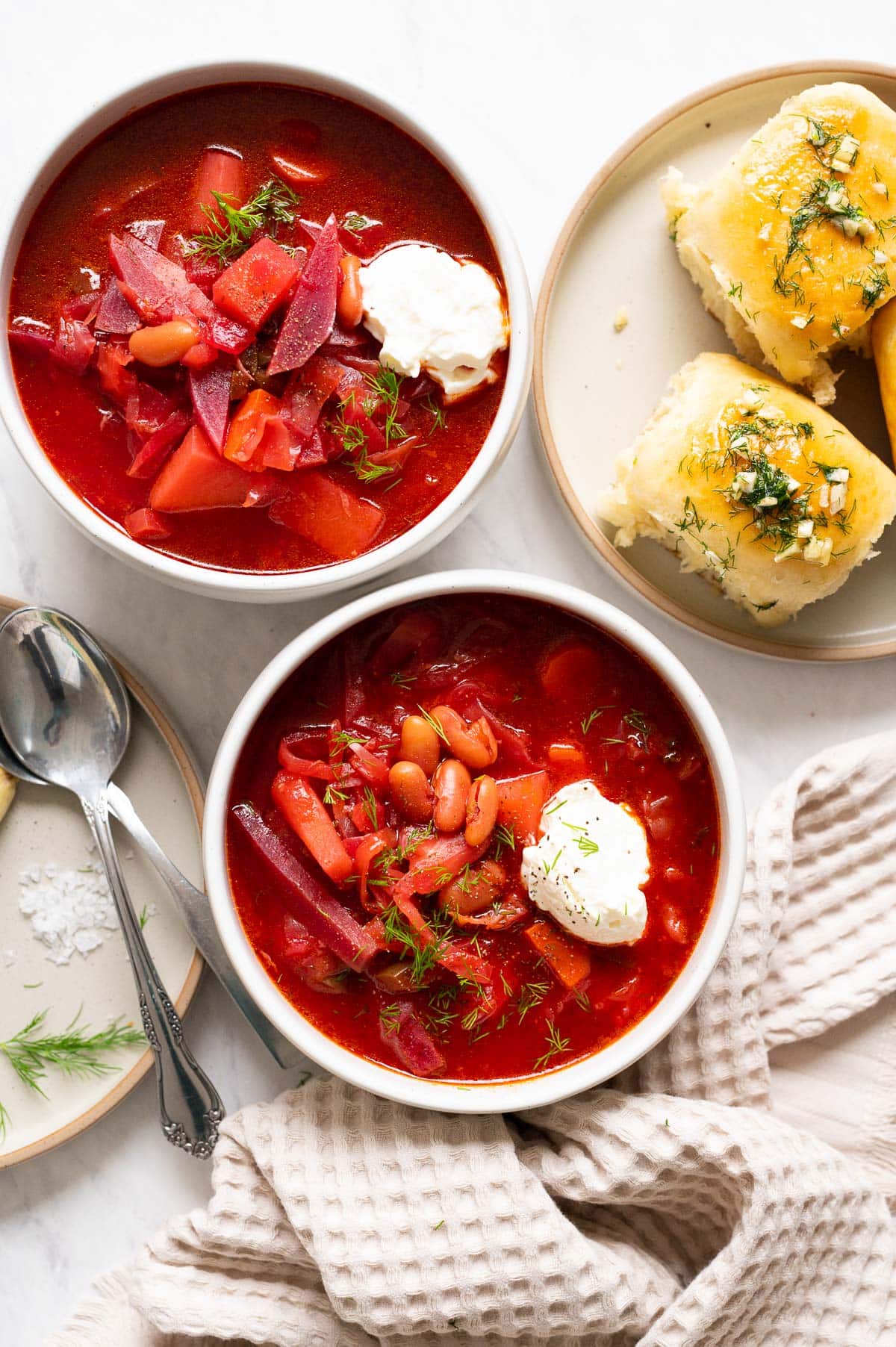 Here I am with another best borscht recipe ever. We, people of Ukraine, love this traditional beet soup that much!
This vegetarian borscht recipe is a variation of my super popular grandma's borscht soup made with beef bones. This version omits the meat and uses beans to add extra protein and fiber.
What Is Borscht?
Borscht is a hearty soup that's loaded with a variety of root vegetables, cabbage and then seasoned generously with garlic and dill. It tastes sweet and sour, and is traditionally served with a dollop of sour cream and pampushky (Ukrainian garlic bread).
Borsch can be made with or without meat. Borscht can be green, white and red.
Where is borscht from? Recently Unesco has confirmed that borscht originated in Ukraine. Many Eastern European countries have their own variations of borscht and names as well.
Borscht means "point, stubble cow parsnip or hogweed". In Poland, it is called "barszcz", in Russia it is called "borshch", and in Romania and Moldova it is known as "borş". Slavic countries love this soup and if you ask 100 Ukrainian housewives, everyone one of them will give you a different recipe. And each one is authentic.
Ingredients and Substitutions
To make this vegetarian borscht you will need quite a few ingredients but most of them are fridge and pantry staples, and are available at any grocery store near you.
Also, this is not only vegetarian but also vegan borscht recipe! And naturally gluten-free.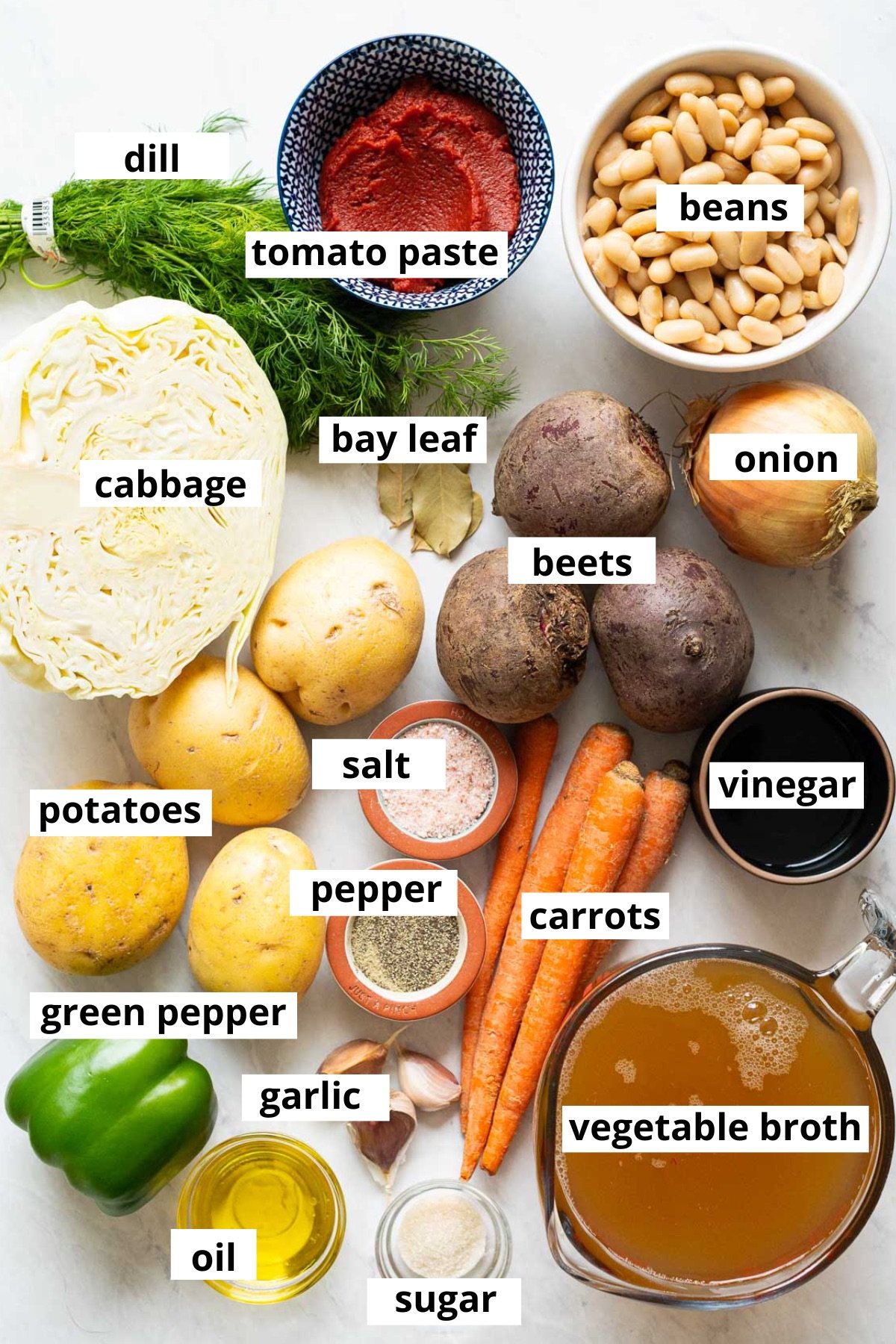 Beets: Red beets are the main ingredient in borscht. Buy the ones that are firm to the touch. You can use yellow beets but it won't have typical red deep color.
Cabbage: Any cabbage like green cabbage or red cabbage works. You can also use softer savoy cabbage or Taiwanese cabbage but reduce cook time by 10 minutes as it's softer.
Potatoes: I like to use yellow potatoes or red potatoes. Russet potatoes are OK to use as well, they will come out more fall-apart.
Green pepper: Used to add another layer of flavor to vegetarian borscht. You can omit it or use celery instead.
Other vegetables: Onion and carrots plus any oil for frying them.
Garlic: Lots of fresh garlic to season sweet and sour soup at the end. If using more potent garlic like Russian garlic, use less of it. Also if you are a garlic lover, use more to taste.
Dill: Fresh dill is a must in Ukrainian borscht and is a staple in Ukrainian cuisine. Please do not use dried dill weed as soup will not taste good. Other fresh herbs like fresh parsley or green onion will taste delicious in this recipe for vegetarian borscht.
Beans: One can of cannellini beans also known as white kidney beans. You can also use other meaty beans like red kidney beans or pinto beans. Just make sure to drain the slimy liquid and rinse with cold water. Or learn how to cook dried beans from scratch.
Tomato paste: To add a depth of flavor and enhance the bright color of red beet soup we all know it for. You can also use a can of tomato sauce instead.
Vegetable stock: Vegetable broth from a carton, vegetable broth or I also like to use vegetable base diluted with water (use less salt then).
Vinegar: White vinegar is added to make soup sour. You can also use lemon juice, white wine vinegar, apple cider vinegar and red wine vinegar.
Seasonings: A pinch of sugar to compliment vinegar. Bay leaves, salt and pepper.
How to Make Vegetarian Borscht
Here is a quick overview how to make vegetarian borscht recipe in 4 simple steps. There is a full recipe card below.
You can make this tasty soup in one pot since we do not have to cook beef broth prior like with regular borscht recipe.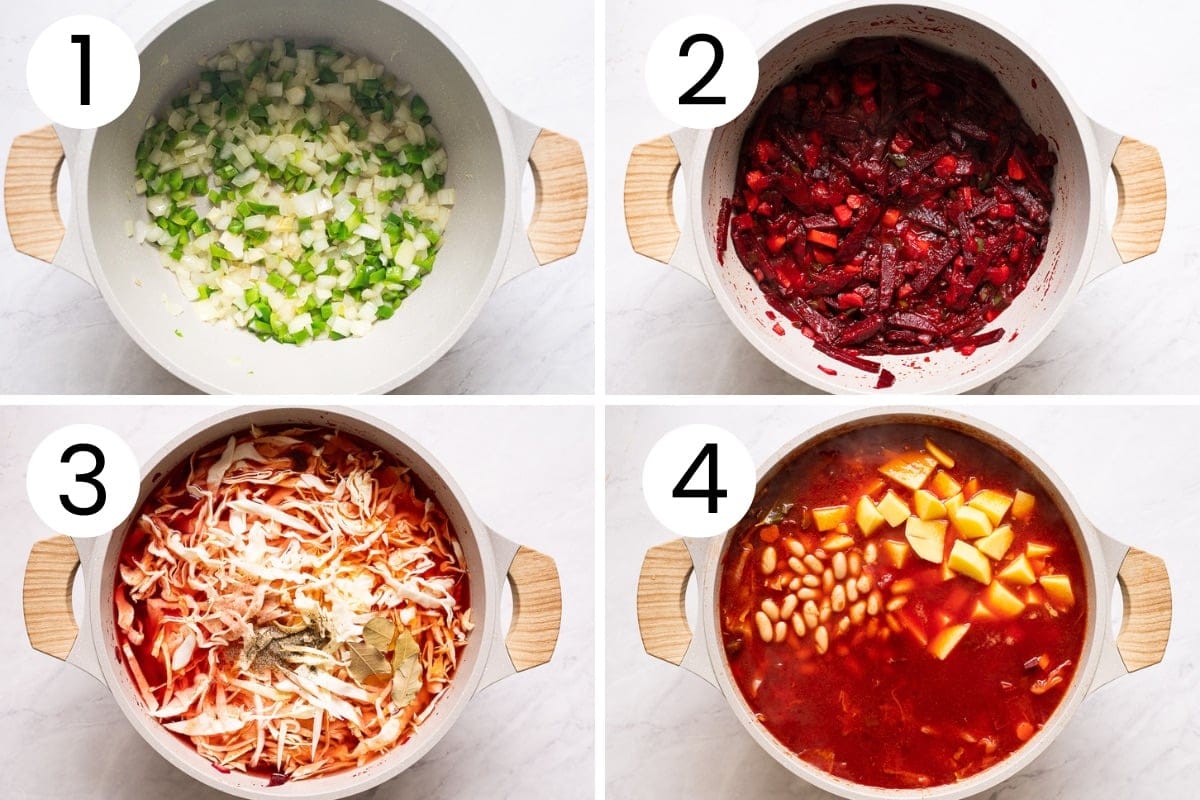 Saute vegetables: First, we want to saute onion and pepper with oil until fragrant, in a large soup pot or heavy-bottomed pot. Then add carrots, beets and cook to add another layer of flavor.
Make soup base: Add tomato paste and stir it with vegetables very well. Saute a few more minutes to solidify flavorful borsch base. Now pour in a little bit of broth and mix well into uniform texture. It helps to avoid chunks of tomato paste.
Cook cabbage, beans and potatoes: Add shredded cabbage and broth and cook for 20 minutes. Only after we add beans and potatoes and cook them for another 10-15 minutes. If we add all vegetables at once, some will be overcooked and some undercooked.
Season: I like to season my simple borscht recipe with salt and pepper a few times during cooking. Once when I add veggies and another time at the end. Also sugar, vinegar, freshly grated garlic and lots of fresh dill are added in this step and off the heat.
Tips for Best Results
Vegetable preparation: To make soup making process faster, I recommend to chop and shred all your vegetables first. Keep peeled and cubed potatoes in a bowl with cold water to prevent browning.
Beet stains: Do not worry about beet stains on your hands or cutting board, they will come off within a few washes. If you would like to remove them immediately, rub your hands and surfaces with lemon juice.
Sauerkraut: Replace 2 cups of shredded cabbage with sauerkraut and add less salt. Vegetarian borscht will taste a little bit like kapustnyak.
Avoid dried dill weed: Save dried dill weed for pickling. In Ukraine, fresh dill was available only during summer. So in fall, winter and spring, we served borscht without any dill. Dried dill weed will ruin the taste of this delicious soup.
Beet greens: If you use fresh beets and have beet greens (especially from organic beets), chop them up and use up to 2 cups in addition to other vegetables. They add more earthy flavor, so I would not use more than recommended amount.
Thicken it: My mom loves thick borscht. If you do too, then add 2 tablespoons with tomato paste.
How Do You Serve Borscht?
In Ukraine, borscht is served for lunch or dinner. It is also served during special occasions or to welcome anyone on Ukrainian soil.
Serve borscht warm, almost piping hot. With a dollop of sour cream or plain yogurt as a lighter alternative. Garnish with more fresh dill and ground black pepper in each individual bowl. I like to add more dill and garlic than many of you can handle. 🙂
As for bread, classic is a slice of rye bread or sourdough bread. Or serve with true side dish – Ukrainian garlic bread called "pampushky". If you have time, make them, so good!
Older generation Ukrainians and true Ukrainians also like to bite on a clove of garlic while dipping it into salt with each bite and between each spoonful of borscht.
You can eat borscht cold during hot summer days.
How to Store and Freeze Borscht
This vegetarian borscht does store well and becomes even more tasty the next day and day after.
Store: Refrigerate borscht leftovers in airtight container for up to 5 days.
Freeze: Usually I do not like to freeze any dishes containing potato but because there are a lot of vegetables in this soup, borsch freezes well. Freeze in an airtight container, leaving some room for expansion, for up to 3 months.
Reheat: Thaw borscht in the fridge overnight, if necessary. Reheat only desired amount in a small pot simmering on low heat while covered, about 5-7 minutes. It is not a good food safety practice to reheat entire pot of soup and put it back in the fridge.
FAQs
How to peel and cut beets?
To peel beets, first cut off the ends with a paring knife. Then using a vegetable peeler, peel around the beet in circular motion. To slice beets, cut in half, then cut each half into 3 more layers lengthwise, and then slice into thin matchsticks crosswise.
Is borscht soup healthy?
Yes. Borscht soup is loaded with beets that are high in folate, manganese and copper, according to Healthline. Also variety of other vegetables add fiber, vitamins and minerals to the soup.
Do you serve borscht hot or cold?
Traditionally borsch is served hot but during hot summer months you can see it being served as cold soup.
Can I add ketchup?
Yes. You can use 3 ounces of ketchup instead of tomato paste. Then also skip adding sugar at the end since ketchup has added sugar. My mom loves to add ketchup.
More Recipes with Beets and Cabbage
More Vegetarian Soups to Try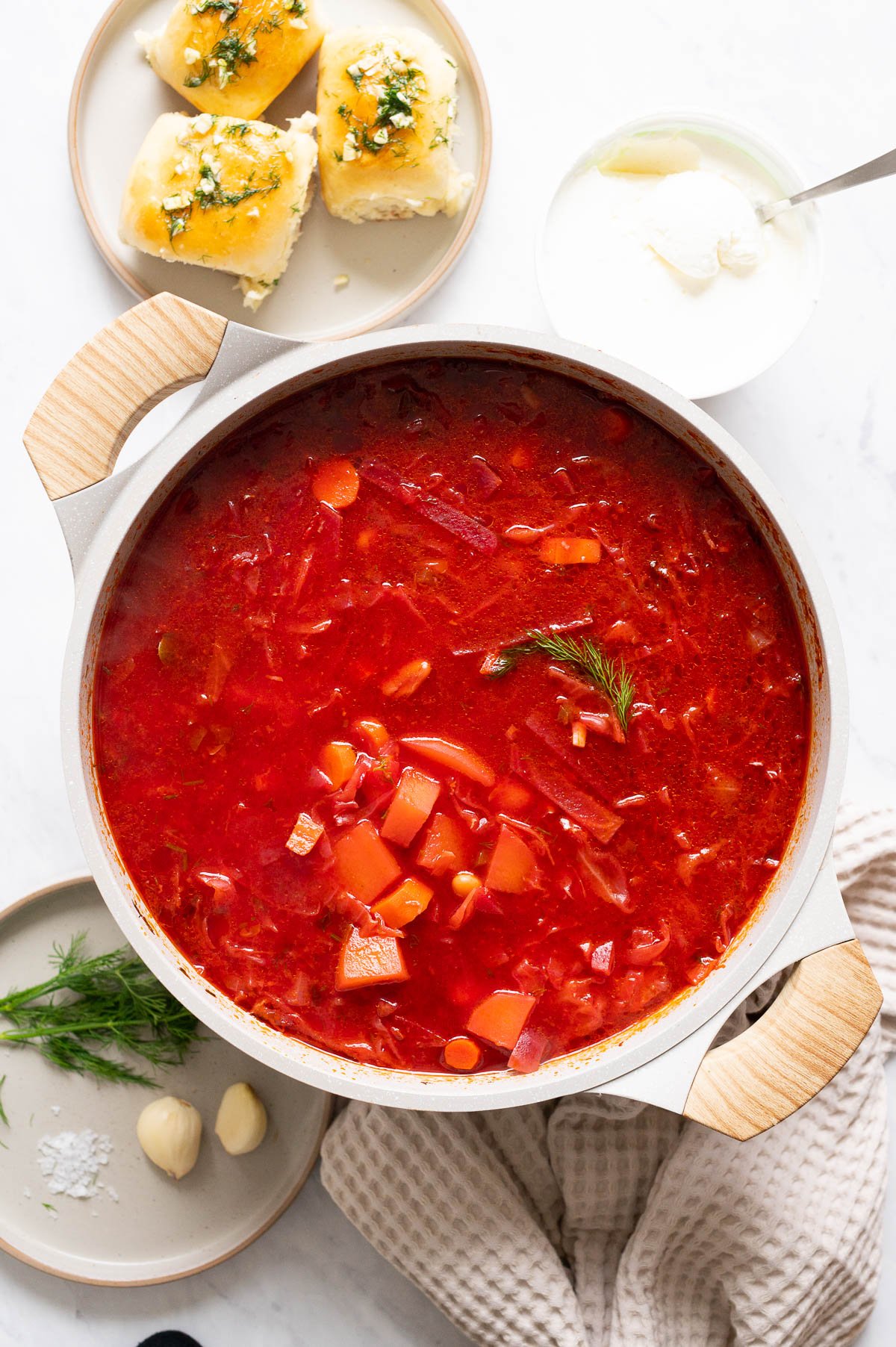 Simple Vegetarian Borscht Recipe
Simple Vegetarian Borscht Recipe is Ukrainian beet soup made with cabbage, root vegetables and beans. Served with sour cream and pampushky.
Instructions
Preheat large pot or Dutch oven on medium-high heat and add oil. Add onion and green bell pepper, and saute for 4-5 minutes, stirring occasionally.

Then add carrots and beets, and saute for another 4-5 minutes, stirring occasionally. Stir in tomato paste and cook for another 2 minutes. Add 1 cup broth and stir well.

Add cabbage, remaining vegetable broth, bay leaf, salt and pepper. Cover, bring to a boil, then reduce heat to low and simmer for 20 minutes.

Add potatoes and beans, cook for another 20 minutes.

Turn off heat. Add vinegar, sugar and garlic. Stir and let borscht sit for 10 minutes to allow flavors to marry each other. Add dill, stir and adjust any seasonings to taste, if desired.

Serve borscht hot with a dollop of yogurt or sour cream, bread or pampushky and garlic clove on the side (this is not for everyone).
Notes
Store: Refrigerate borscht in an airtight container for up to 5 days. Reheat by simmering on low in small pot only amount you are planning to consume.
Freeze: Freeze in an airtight glass container for up to 3 months. Then thaw in the fridge overnight and reheat.
Green bell pepper: You can skip it or use any other color.
Beans: Any large white, red kidney or pinto beans.
Sauerkraut: If you replace 2 cups of cabbage with 2 cups of sauerkraut, borscht will have even more umph.
Nutrition
Serving:
2
cups
|
Calories:
325
kcal
|
Carbohydrates:
66
g
|
Protein:
10
g
|
Fat:
4
g
|
Saturated Fat:
1
g
|
Sodium:
720
mg
|
Fiber:
13
g
|
Sugar:
18
g