Having a steaming hot bowl of delicious and healthy homemade soup on your table in 30 minutes or less has never been easier! Instant Pot Potato Soup is a thick, creamy, and hearty loaded soup made with tender potatoes, aromatics, and herbs all made in one pot.
This is my favorite time of the year to make big batches of warm and cozy soup. Whether they are made on the stovetop, slow cooker, or in the Instant Pot, they are perfect for the chilly days ahead. It's hockey season which means, I make a few different kinds at once and then, keep them in the freezer for a later date- it's a total mom win for me!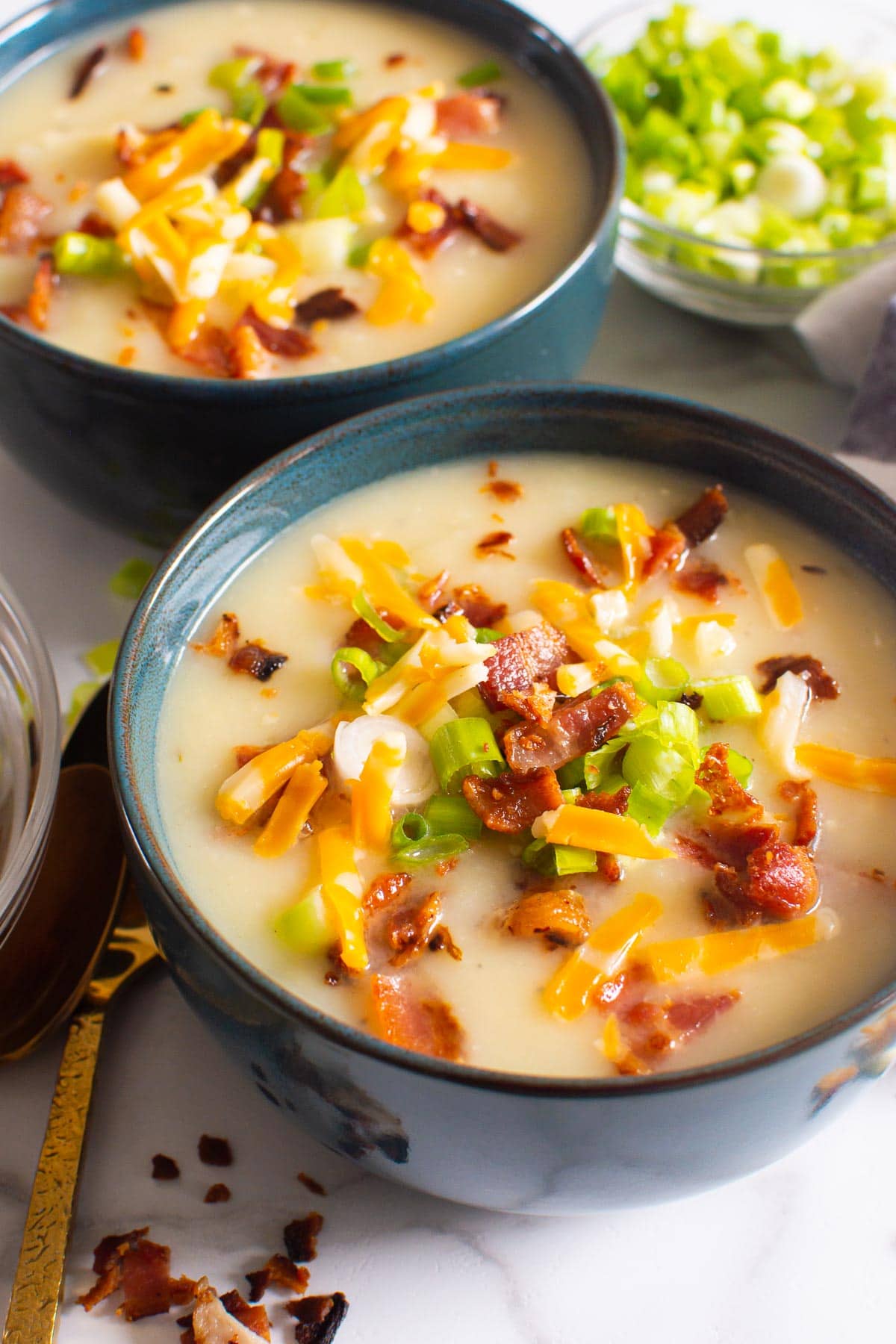 EASY Instant Pot Potato Soup
A really good 'baked' potato soup should taste like it's been simmering for hours. The flavour infusion of each ingredient should come together in harmony with every spoonful. On days where we don't have that kind of time, using a pressure cooker will get you those same results in a fraction of the time!
Talk about a game-changer for busy families, especially during the week! There's no reason you can't enjoy coming home to a cozy bowl of soup even when life gets crazy. What better way to ground yourself than a warming comfort meal – Instant Pot beef stew, chili and chicken stew are a few other favorites that give the same cozy food feels after a long day. And the best part about this hearty Instant Pot potato soup is, that like most soups, it's customizable and makes a large batch, meaning you can have soup leftovers for days!
Why Make This Loaded Potato Soup Recipe?
It's (almost) a hands-off, quick and easy, 30-minute soup recipe.
A homemade potato bacon soup is so much healthier than anything store-bought.
Nutrient dense with fiber, potassium and vitamin A & C and low sodium, too!
So much flavour in this thick and creamy soup from simple ingredients like potatoes, onion, garlic and herbs.
Flexible ingredients mean you can play around with some of the seasonings, and pick and choose what toppings you want to add, just like your favorite 'baked potato' but in soup form.
Gluten-free and can be made dairy-free and vegetarian if preferred.
Makes great leftovers for lunch or an easy dinner idea the next day.
Ingredients You Will Need
Potatoes: Russets are great for loaded potato soup because of their starch content. They have enough starch that when you pressure cook the potatoes, they break down and become super tender. Waxier potatoes, like red potatoes or Yukon gold potatoes, will have a harder time becoming a thick and creamy soup.
Aromatics: Yellow or white onions and cloves of garlic are sauteed in butter to produce incredible flavour. If you've cooked onions in butter before, you know what that smells like. Basically heaven.
Butter: Needed to saute the thyme, garlic, and onions initially to create the flavour base of the soup.
Dried thyme: A great herb that generally pairs well with potatoes. It's a great combination.
Broth: You can use either chicken or vegetable broth. A great way to use up any homemade broth you've made, but you can also use store-bought broth. Aim for low-sodium.
Salt & pepper: Just a bit of salt and earthy black pepper to add a grounding note to this soup and to bring out the flavors of this savory soup.
Milk: Whole milk added once the cooking time is done, helps to add creamy rich consistency to the potato soup.
Toppings: Green onion and cheddar cheese are very popular toppings for this soup! Add cooked then chopped crispy bacon for 'potato bacon' soup (bacon + potato are perfect pairs just like with Ukrainian breakfast potatoes.) Load it up with however much you want, or swap out or omit what you don't want.
How to Make Potato Soup in an Instant Pot
Prep: On the Instant Pot, press saute and wait until the display says Hot. If you haven't peeled and chopped your russet potatoes yet, do that while you're waiting.
Add butter, onion, garlic, and thyme to the pot. Saute for 5 minutes or until onions are translucent. Watch for burning garlic! Press cancel.
Stir in potatoes, broth, salt, and pepper and close the lid. Use a wooden spoon to scrape up any brown bits at the bottom of the pot. They will add lots of flavour. Turn the pressure valve to Sealing. Pressure cook on high for 5 minutes.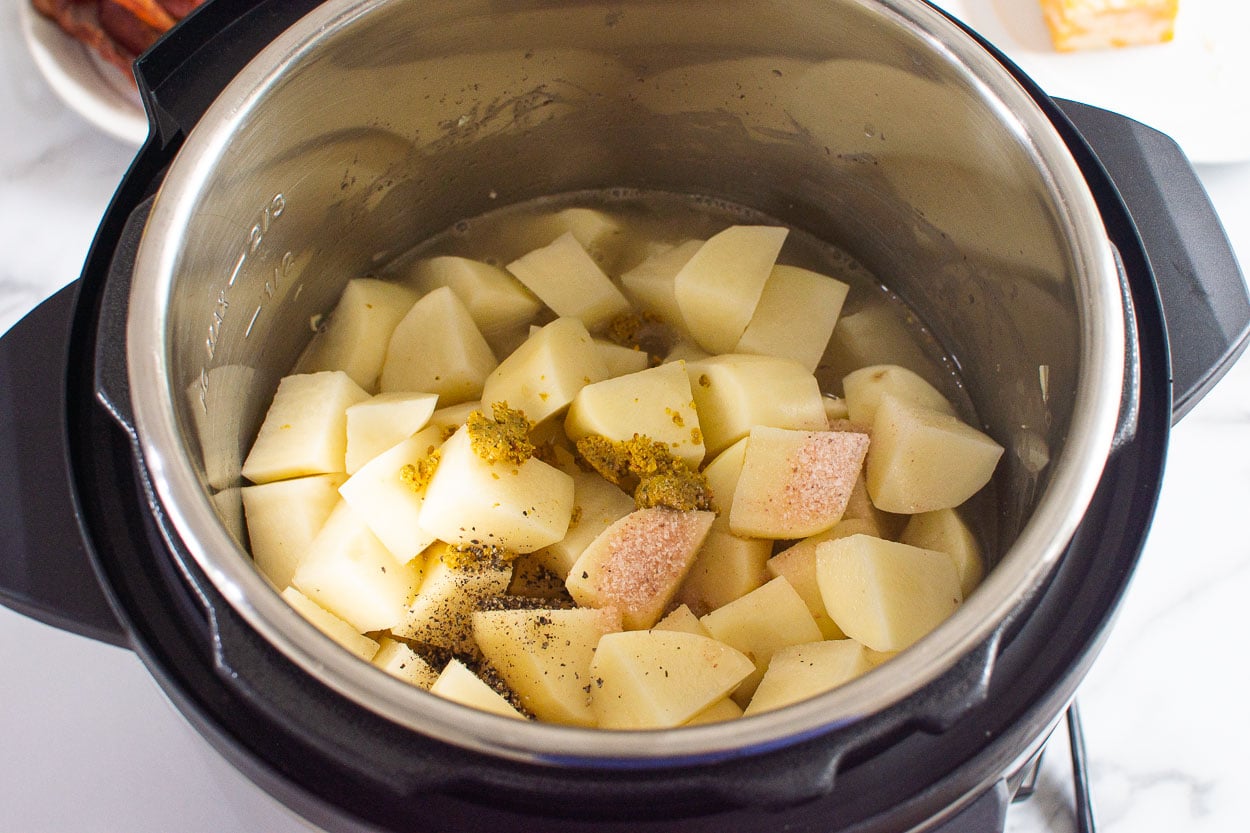 It will take some time for the pressure to build. 5 minutes is just the cook time!
While the soup is cooking, cook bacon in batches in a non-stick skillet on medium heat until crispy. Transfer to a paper towel-lined plate to cool off before chopping in to bits.
Do this in advance and use the bacon drippings to saute the garlic, onions, and thyme for even more flavour!
Once the cooking time is over it will beep. Do a 3-minute natural release (meaning, do nothing for 3 minutes) and then release the remaining pressure using the quick-release method.
Open the lid and add the milk. Mash potatoes with a masher until desired consistency. The pressure cooker will have made the potatoes so tender that it won't be difficult to mash. Use an immersion blender for a few quick pulses. Careful not to over mix.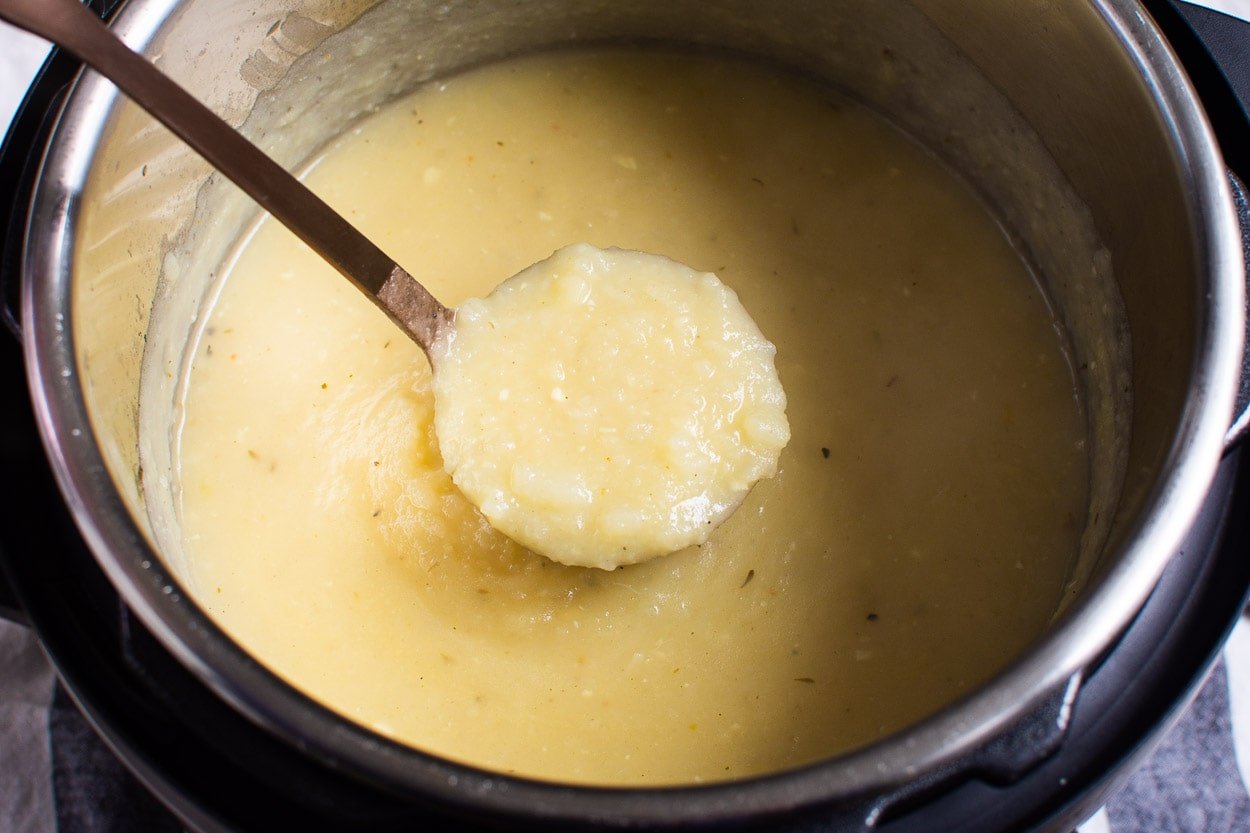 If you find you would like your soup a bit thicker, make a quick slurry in a small bowl. Whisk cold milk and cornstarch together. Pour it in the soup. Keep in mind the soup will thicken as it cools!
Serve hot garnished with your favorite toppings! My family loves the classic potato bacon soup, green onion, and grated cheese combo.
Optional Add-In's and Variations
Bacon grease is your friend! Whether you've cooked the bacon in the oven or on the stovetop ahead of time, use the grease in place of the butter for the initial saute. That extra bit of flavour in pressure cooker potato soup makes a difference!
For a low-carb version, swap half of the potatoes for cauliflower. The soup will be a bit lighter, but just as creamy and flavourful.
A quick extra step takes you from Instant Pot 'baked' potato soup to potato and leek soup. Add 1-2 chopped leeks to the pot when you begin sauteing the onion.
Toss in some carrots and celery for added tender veggies (think vegetable soup meets pressure cooker potato soup!). You could even throw in some canned corn kernels and diced ham right into the soup for added protein.
Fun additional toppings I like to add are diced or sliced jalapenos, hot sauce, and everything bagel seasoning. Seriously, invest in some everything bagel seasoning. You'll love it!
Load up this soup as you would a loaded baked potato! Add a dollop of sour cream on top or some plain yogurt for that extra cool and creaminess to make it an Instant Pot loaded potato soup!
Tips for Best Results
Top Tip: DO NOT over blend your soup. Doing this will very quickly cause the potatoes to release too much starch and when blended with the liquid will become gluey.
Use freshly grated cheese for the toppings. It not only tastes better but melts better and is just generally healthier. Using pre-shredded cheese comes with additives that you don't need in a healthy soup!
If you make your bacon while your soup is cooking, you can still save the grease! It's a great flavourful alternative to butter and oil when used in cooking.
FAQs
What potatoes are best for potato soup?

Russets are always a go-to for making a creamy potato soup. They're readily available in most grocery stores, they're higher in starch and they break down easily, which is why they make great mashed potatoes. I don't recommend using red potatoes or Yukon gold potatoes in this type of soup because of their low starch level. They are waxier potatoes so they do well in soups that have potato as an added ingredient. When you want tender chunky potatoes that hold their shape in stews and chowders, these are your go-to's. Otherwise, stick to the russets.
Should I add flour to potato soup?

No need. This soup is already thick. It's only once it is done that you'll be able to decide how you'd like to adjust the consistency. Flour can be used as a last resort if you don't have any cornstarch. I might prefer a thinner soup than tasting clumps of flour, though, and then adjust for next time.

When cooking it on the stovetop, some people do use flour to make a roux at the start, but again, it's not necessary.
Can I use cream instead of milk in this soup?

Using cream instead of milk is definitely doable. They are both higher in fat and will add a rich creamy texture to the consistency of the soup without making it runny or too thin.
How do I thicken potato soup?

This soup is quite thick on its own and it does continue to thicken as it cools. If, however, you do find you've added too much liquid and need to thicken it up to your liking, you can use a bit of cornstarch. Grab a small bowl and whisk together cold milk (or cold water or broth) and cornstarch. Add to the pot and it will thicken it up nicely.
Can I freeze potato soup for later?

Oh yes! This is a great freezer-friendly soup that can last for months when sealed properly. It's great to make big batches of soup to have on hand for getting a weeknight dinner on the table even faster or lazy weekend lunch!
Can I make this soup without an Instant Pot?

You can make this soup on the stovetop as well as the slow cooker! For the slow cooker, toss all ingredient into the cooker, close the lid and set it for 7-8 hours on low or 3-4 hours on high.
Serving Reccomendations
A classic soup and salad combo is always a good idea! Serve this soup with lettuce salad recipe, an easy savoy cabbage salad, healthy broccoli salad, or this tomato mozzarella salad.
Serve it alongside your favorite sandwich. Think Greek yogurt egg salad, healthy tuna salad, grilled cheese, you name it!
On the side: Potato soup is a tad high in carbohydrates, so balancing it out with a higher protein main dish just makes sense! Serve a smaller portion as a starter to pesto chicken, Greek chicken kabobs, or grilled lemon rosemary chicken.
Making This Recipe in Advance
Store: This Instant pot potato soup recipe makes great leftovers when kept refrigerated in an airtight container for up to 3 days. You can also keep it in the lining of the Instant Pot if you've got a lid for it. Super convenient for heating the entire batch of leftovers.
Freezing: Freeze in a glass container or resealable silicone bags. Leave extra room for expansion. Can be kept frozen for up to 3 months.
Reheating: If frozen, thaw overnight or on the counter for 6 hours. Reheat the amount you need by simmering on low in a pot on the stove top. This should take about 5-7 minutes. You can add more broth or milk to thin it out as necessary.
More Instant Pot Soups to Try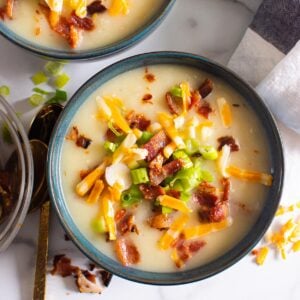 Instant Pot Potato Soup
Having a steaming hot bowl of delicious and healthy homemade soup on your table in 30 minutes or less has never been easier! Instant Pot Potato Soup is a thick, creamy, and hearty loaded soup made with tender potatoes, aromatics, and herbs all made in one pot.
Print
Rate
Ingredients
3

lbs

(5 medium) russet potatoes

peeled & cubed

1

large

yellow or white onion

finely chopped

3

large

garlic cloves

minced

2

tbsp

butter

1/2

tsp

thyme

dried

2 1/2

cups

chicken or vegetable broth

low sodium

`1

tsp

salt

1/4

tsp

ground black pepper

1

cup

whole milk

10

bacon slices

3

green onion sprigs

finely chopped

1/2

cup

cheddar cheese

grated
Instructions
On Instant Pot, press Saute and wait until display says Hot.

Add butter, onion, garlic and thyme; saute for about 5 minutes. Press Cancel.

Add potatoes, broth, salt and pepper. Close the lid, turn pressure vent to Sealing and press Pressure Cook on High for 5 minutes.

While soup is cooking, preheat large ceramic non-stick skillet on medium heat and cook bacon in batches until crispy. Transfer to a plate to cool off, then chop.

After Instant Pot has finished cooking, wait 3 minutes and release pressure using Quick Release method.

Open the lid, add milk and mash potatoes with a masher until desired consistency. You can also give just a few whirls with an immersion blender but do not overprocess.

Serve potato soup hot garnished with bacon bits, green onion and grated cheese.
Store: Refrigerate in an airtight container or right in the pot for up to 3 days.
Freeze: Freeze in a glass container or resealable silicone bags leaving room for expansion for up to 3 months. Thaw in the fridge overnight or on the counter for 6 hours.
Reheat: Reheat amount you will consume at that time by simmering on low heat in a pot. Shouldn't take more than 5-7 minutes. Add more broth or milk to thin out the soup if necessary.
Notes
Bacon grease: If you pan fry bacon before cooking the soup, you can use half of the grease instead of butter to add more flavor.
Do not overblend: If you decide to puree soup with an immersion blender, do not puree for too long because the released starches mix with the liquid in the cooked potatoes, and the soup will become gluey mess within minutes.
Red or yellow potatoes: I do not recommend using red or yellow potatoes for the soup, just like not for mashed potatoes, because they are too waxy to be enjoyable when mashed. Russets break down easily making soup creamy.
Lower in carbs: Use half cauliflower instead of potatoes to make soup lighter.
Other additions: You can add 1-2 chopped leeks when sauteeing the onion to make potato leek soup.
Adjusting soup's thickness: As potato soup cools down, it thickens. Add more broth, milk or water, stir and see if soup's consistency needs more adjustment.
See pot for more tips and FAQs.
Nutrition
Calories:
459
kcal
|
Carbohydrates:
48
g
|
Protein:
16
g
|
Fat:
24
g
|
Saturated Fat:
10
g
|
Trans Fat:
1
g
|
Cholesterol:
48
mg
|
Sodium:
783
mg
|
Fiber:
4
g
|
Sugar:
5
g
Recipes and images are a copyright of ifoodreal.com. It is against the law to republish recipes without permission. Nutritional info is approximate.