Warm up this season with a bowl of Simple Red Lentil Soup. It's a nutritious, flavorful vegan soup seasoned with cumin and coriander that is both comforting and satisfying!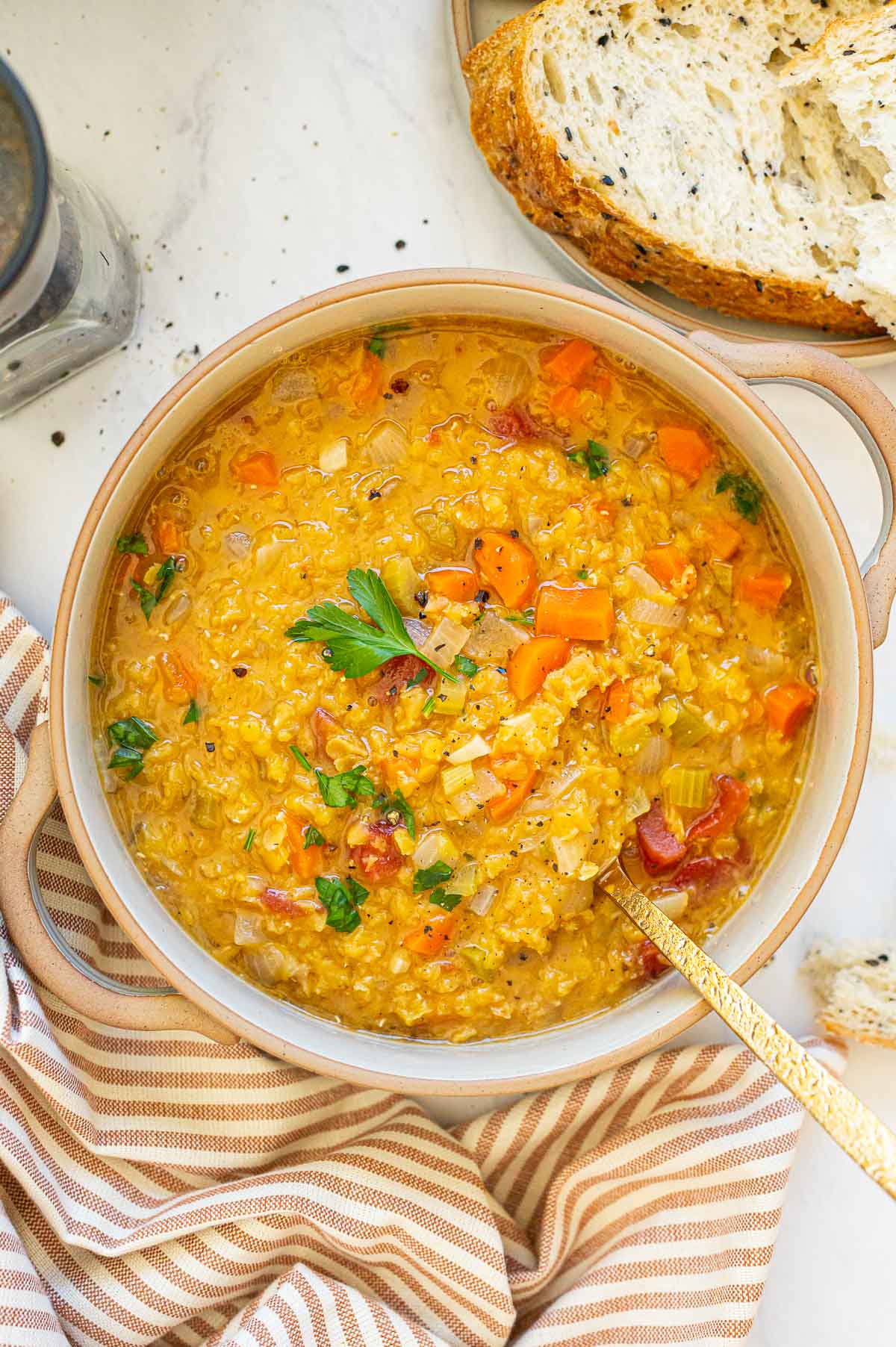 Red lentil soup is not only healthy but incredibly filling. Its cousins slow cooker lentil soup and chicken lentil soup are in our regular rotation and kids do not mind at all!
We all need a good healthy soup to bring back some balance to our lives from time to time!
The flavors of onion, garlic, cumin and coriander will fill your kitchen with incredible aromas. Make a big batch and freeze some for later.
Packed with plant based protein, fiber and iron from the split red lentils, this nutrient-dense soup is delicious! One serving contains 19 grams of protein and 23 grams of fiber. Now, that's a healthy soup!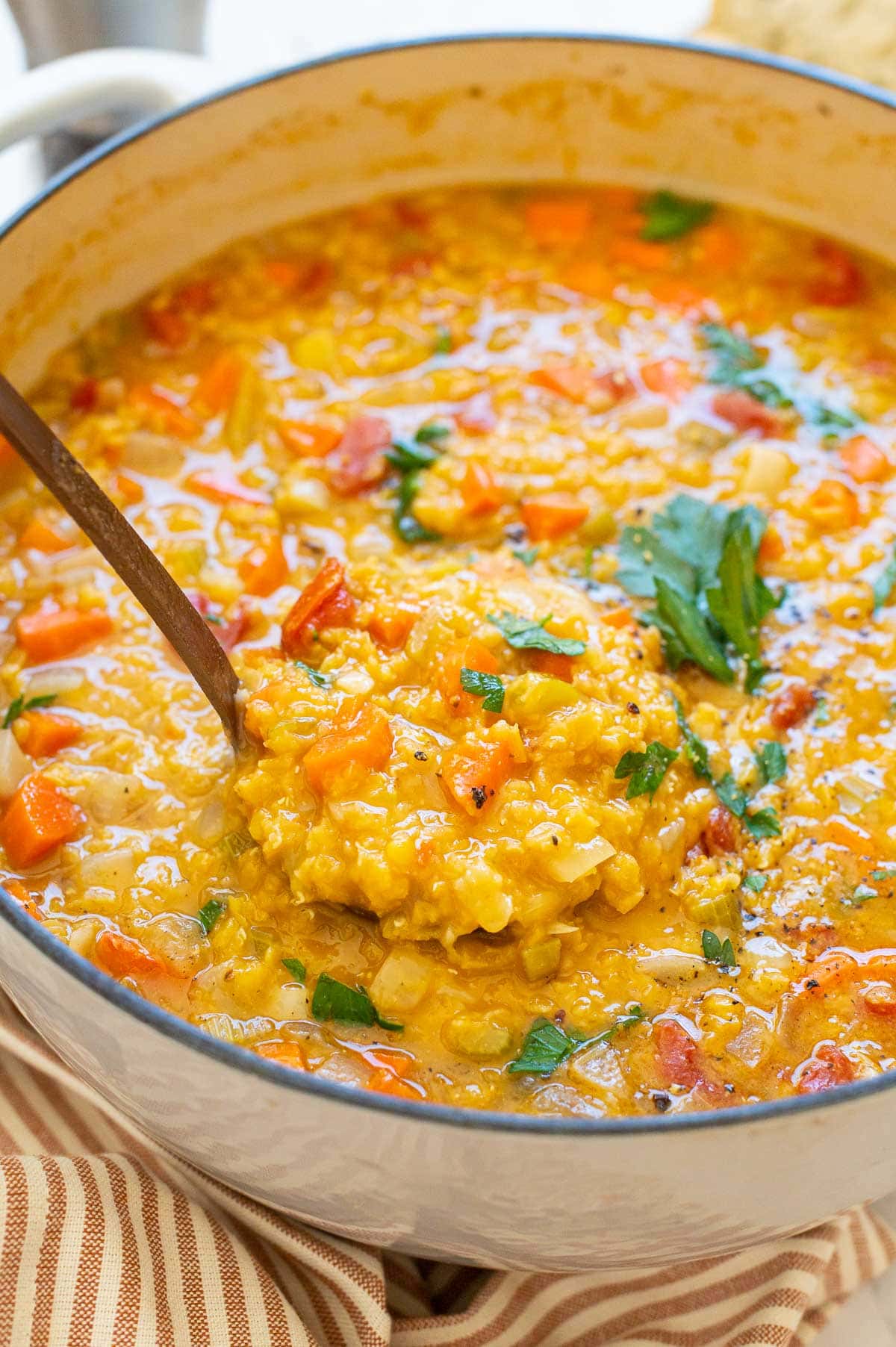 What Are Split Red Lentils?
Red lentils are easily spotted in the legume section of the grocery store due to their orange pinkish color! They are quick cooking, do not need soaking, and are perfect for quick cooking soups.
And they are so cheap!
While, red lentils can be purchased as whole, most stores carry only split red lentils which is what you will need for this recipe.
If the package indicates it is a whole red lentil, skip purchasing as that requires a different cooking time.
These small legumes are naturally gluten free, packed with fiber and plant based protein plus many other vitamins and minerals!
They are sweet and slightly nutty and their texture breaks down in soup to almost a creamy consistency.
Ingredients You'll Need
Simple ingredients make this naturally vegan red lentil soup delicious and warming.
How to Make Red Lentil Soup
After a quick saute of your vegetables and spices, most time is hands off as your soup simmers on the stove and develops amazing flavor.
Prep: Preheat dutch oven or big pot over medium heat and add oil to coat the bottom.
Saute: Add the onion and garlic and begin to saute, stirring occasionally.
Add celery and carrots and continue to stir.
Add spices: Add spices and red pepper flakes and continue to cook, stirring frequently.
Boil: Add red lentils, diced tomatoes, and broth. Bring to a boil and cover to cook.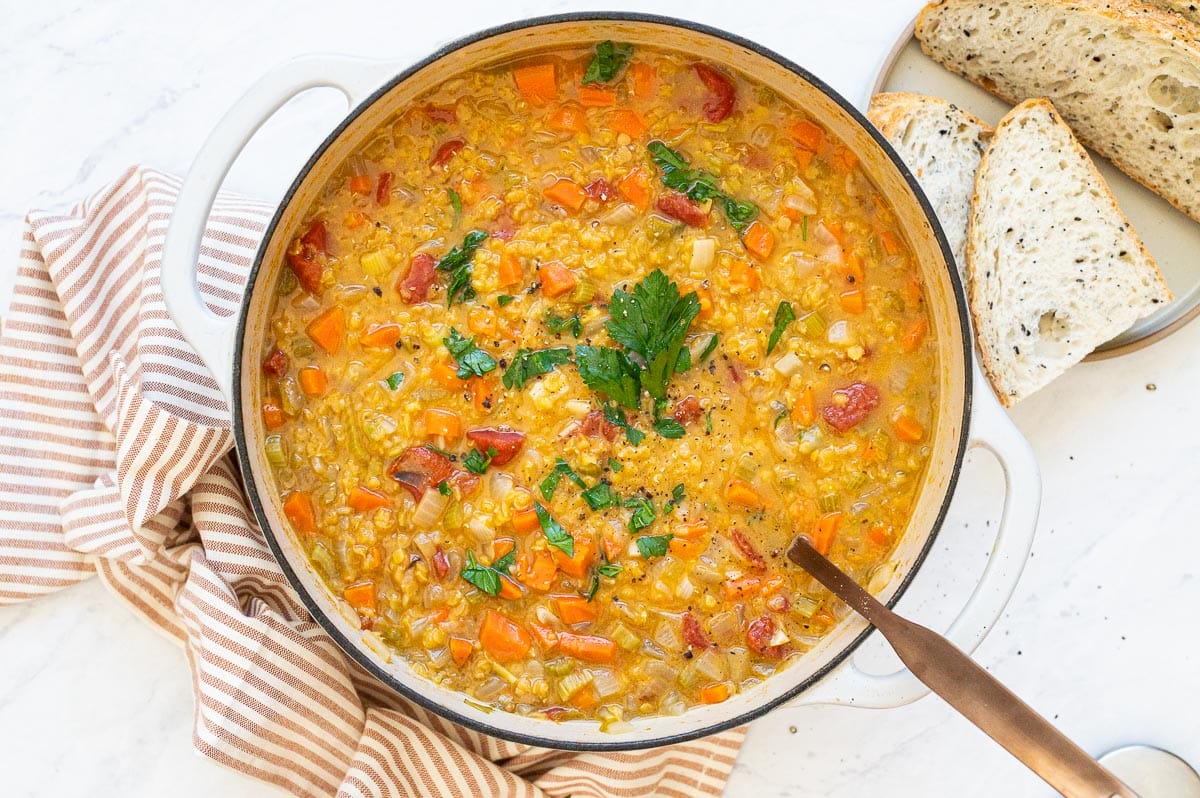 Serve: Add parsley, give it a final stir and serve your lentil soup hot.
Tips
Leftovers and Reheating
Storing: Store this soup in an airtight container in the fridge for up to 5 days.
Freezing: Freeze in an airtight container for up to 3 months. If you have made a big batch, freeze in smaller amounts and thaw only what you need.
Reheating: Reheat this soup on the stovetop covered on low heat.
Serving Suggestions
While this red lentil soup is perfect for light healthy lunch ideas, when serving it as a dinner main you may want to include a few sides!
FAQs
How should I garnish my soup before serving?
Greek yogurt or sour cream and some fresh chopped cilantro or fresh parsley would be delicious toppings! Some freshly ground black pepper is always restaurant quality good.
How long does it keep?
You can store this soup for up to 5 days in the refrigerator or freeze it for up to 3 months as meal prep for busy nights.
Can I make this soup in the Instant Pot?
While it has not been tested, it is possible for most soup recipes. Quickly Saute your vegetables, then spices. Add red lentils, diced tomatoes and broth. Seal and cook on High or Manual 10 minutes. Use Natural Release to avoid splattering of brothy soup mixture.
Can I use chicken stock?
Sure. If you are not a strict vegetarian or vegan, go for it.
More Lentil Recipes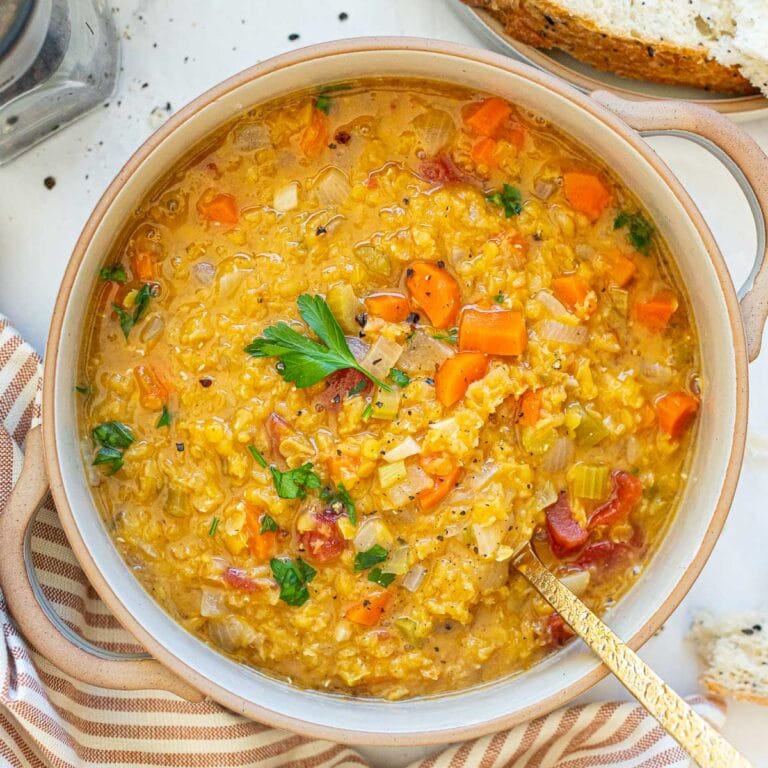 Simple Red Lentil Soup
Nutritious and flavorful Simple Red Lentil Soup is naturally vegan, comforting and satisfying!
Instructions
Preheat large pot or Dutch oven on medium heat and swirl oil to coat. Add onion and garlic; sauté for 3 minutes, stirring occasionally.

Add celery and carrots; sauté for 5 more minutes, stirring occasionally.

Add cumin, coriander, salt, red pepper flakes, and cook for 30 seconds, stirring frequently.

Add red lentils, vegetable broth, diced tomatoes and stir. Bring to a boil, cover and cook for 20 minutes.

Add parsley and serve hot.
Notes
Store: Refrigerate in an airtight container for up to 5 days.
Freeze: Fully cook, cool completely and freeze in an airtight container for up to 3 months. Thaw on a stovetop covered on low.
Nutrition
Serving:
2
cups
|
Calories:
331
kcal
|
Carbohydrates:
54
g
|
Protein:
19
g
|
Fat:
5
g
|
Saturated Fat:
1
g
|
Sodium:
368
mg
|
Fiber:
23
g
|
Sugar:
8
g